Make Model

Yamaha XT 660X

Year

2009

Engine

Four stroke, single cylinder, SOHC, 4 valve

Capacity

659 cc/ 40.2 cu-in

Bore x Stroke

100 x 84 mm

Compression Ratio

10: 1
Cooling System
Liquid cooled

Induction

Fuel injection, 44 mm throttle body
Lubrication
Dry sump
Oil Capacity
2.9 Litres / 0.19 quarts

Ignition

TCI

Starting
Electric

Max Power

33.8 kW / 48 hp @ 6000 rpm

Max Torque

58.4 Nm / 5.7 kgf-m @ 5250 rpm
Clutch
Wet, multiple-disc coil spring

Transmission

5 Speed
Final Drive
Chain
Frame
Steel tubular diamond frame with dual tank rails

Front Suspension

43 mm Telescopic forks,
Front Wheel Travel
225 mm / 8.8 in

Rear Suspension

Oscillating arm standard Monocross.
Rear Wheel Travel
200 mm / 7.9 in

Front Brakes

Single 320mm disc 4 piston caliper

Rear Brakes

Single 245mm disc 1 piston caliper

Front Tyre

120/700-17

Rear Tyre

160/60-17
Rake
26.0°
Trail
94 mm / 3.7 in
Dimensions
Height 1170 mm / 461 in
Length 2175 mm / 85.6 in
Width: 860 mm / 33.9 in
Wheelbase
1505 mm / 59.3 in
Ground Clearance
210 mm / 8.3 in
Seat Height
875mm / 34.4 in

Dry Weight

173 kg / 318.4 lbs
Wet Weight
186 kg / 410.1 lbs

Fuel Capacity

15 Litres / 3.9 gal
Yamaha's XT660 is the latest of a series stretching back to the XT500 of 1976 (1975, if you live in the US) and, like the Virginia Slims lady, it's come a long way.

The XT660 comes in two flavours: the XT660R is a conventional dual-purpose bike with narrow trials universal tyres on large wheels while the XT660X is a genuine street-legal supermotard with chunky 17" Pirelli superbike tyres on Excel alloy rims and a muscular four-pot Brembo calliper on a 320mm disc for race-track standard braking – accompanied, as on all supermotards, by extravagant front-end dive.

The old Yammie singles had a fearsome - and well-deserved - reputation for kicking back when you tried to start them (one broke one of my feet on Christmas Eve 1999) but the 660 is a whole new motor with two camshafts, four valves, electronic fuel injection and (hallelujah!) an electric foot
The 660 is a whole new motor with dual camshafts, four valves, fuel injection and an electric foot
It's a free-revving, smooth-spinning, surprisingly compact, watercooled engine with balance shafts inside to reduce vibration and a very un-Yamahalike rat's nest of cables, pipes and oil lines on the outside.

The bikes are built by MBK in France and the industry grapevine has it the engines come from Italian single-cylinder specialist Minarelli. I was unable to confirm this, but it does look very Italian.

The fuel injection system, however, is pure Japanese and made by Mikuni. It breathes through a 44mm throttle body and provides very rapid throttle response, with a secondary valve operated by inlet vacuum to smooth out the slamming-door effect of suddenly closing the throttle to which all such bike set-ups are prone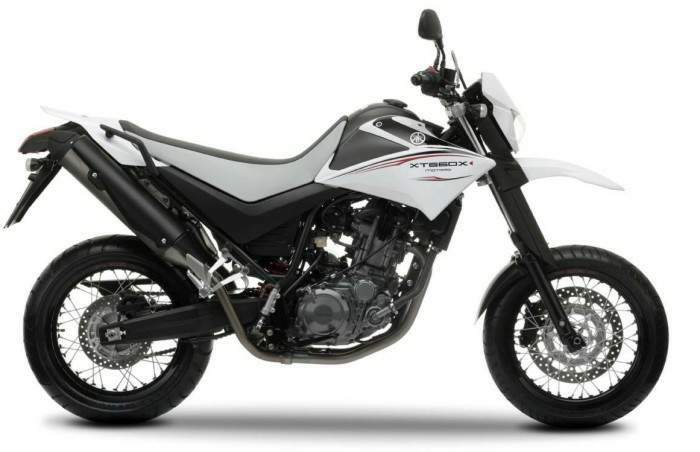 The bike went up to 155km/h very quickly, but topped out at a disappointing 162
Even at low speed in traffic, it works; engine revs are easy to modulate and the stonking mid-range provides punchy acceleration for grabbing the gaps, making the XT660X a superb city bike.

There's quite a strong feeling, however, that the bike is breathless at the top end but without a rev-counter it's very difficult to quantify, so we have to go back to the numbers.

Yamaha claims 35.3kW at 6000rpm, about on par with BMW's F650 GS, the benchmark for the class, along with peak torque of 58.4Nm at a highish (for a single) 5250, although at 173kg its four kilograms lighter than the Spandau single.

The bike went up to 155km/h very quickly but topped out at a disappointing 162 – and I had to work for that. I suspect that the XT has been geared short for sparkling acceleration and that it was way past its power peak at full taps.

The only way to prove it would be to change one or both sprockets – it's likely you'd get appreciably longer legs at the expense of a little mid-range.
Of you could shift the power peak upwards by replacing the woosy-sounding standard pipes with something a little less restrictive; the fuel injection would compensate for the higher gas velocities and you should get mid-range and top end - plus a whole lot more noise.

As issued, the bike is commendably quick through the gears and quiet enough to satisfy the Noise Police – but not very fast.

It drives through a nicely modulated clutch and a slick five-speed gearbox with a long lever throw. The bike didn't miss a shift, with or without the clutch, throughout the test although I wasn't always sure that the cogs had engaged.

It didn't bother me but it was the one feature of the bike that my wife didn't like; "vague" was her word for it.
Conventional frame

The frame is a very ordinary, open-cradle diamond made of round steel tubing with a welded-on sub-frame of the same stuff and a heavy-duty, rectangular-section steel swing-arm. It looks like something out of the 1970s but workswell.

The suspension is quality stuff: 43mm conventional forks by Paioli – complete with a built-in, laser-cut fork brace looking after the front wheel and monocross linkage ensuring rising-rate movement at the back.

Each end is supple, without discernable stiction, soaking up the worst that our poorly-maintained roads can throw at them without the bike getting out of shape - and don't forget, this is essentially an off-road set-up.


Hard braking has it diving like a gannet after a fish, quickening the already steep steering-head angle and to some extent compromising the bike's stability.
The back end gets very light indeed; the slightest prod on the rear brake will have it hopping and sliding – and suddenly you understand how supermotards work.

Hard cornering

The bike isn't built for stability – if you want that, get a Ducati – it's built to hammer up to a corner, slide the rear wheel round to help it turn in faster than you'll believe possible until you've done it and punch away from walking pace with its front wheel in the air.

It won't reward a tentative approach; you have to throw your heart – and your inside shoulder – into every corner like it was the last before the flat. Then it comes into its own, changing direction with dizzying suddenness.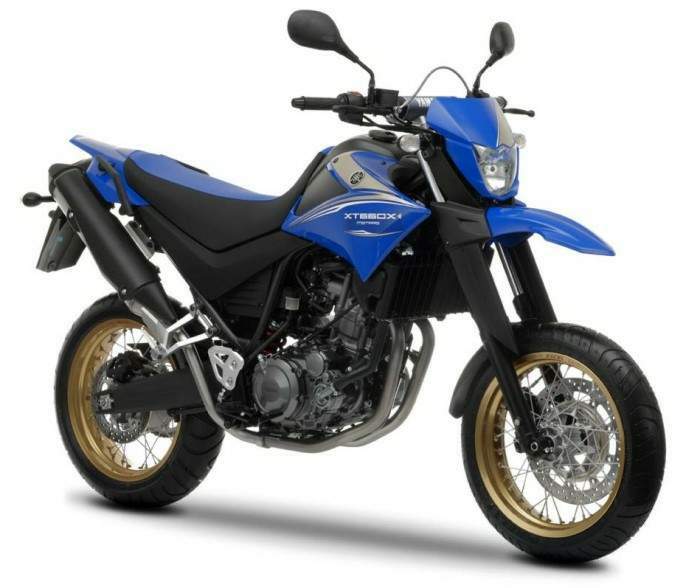 With this bike even an old-school rider such as me can dive under supposedly much quicker machinery going into tight corners - the Grin Factor, let me assure you, is huge.

Superb brakes

You need superlative brakes to get away with such riding so the XT660X has a class-leading Brembo four-pot calliper clamping a 320mm platter through braided stainless-steel hose - straight out of the box.

A wise choice of master cylinder specifications gives it superb bite, feel and feedback and enough power to pull spectacular stoppies. This is one of the best front brakes I've used and is responsible for the bike's agility under pressure.

Getting very naughty indeed is both easy and fun on the XT; even the rear brake, a supposedly ordinary single-pot Brembo, has more feel than any rear other I've tried so makes those lurid slides eminently surviveable.

All motorcycle handling is essentially a compromise; the other side of the XT660X coin is that the bike has a tendency to shake its head above 140km/h no matter how gently you hold the bars.

The top-end runs were done with my left hand holding the fork stanchion below the lower triple clamp and just two fingers holding the twistgrip – and even then I felt a slight shimmy through the frame.

Aggessive styling

But that's not what it's for; the bike is in its element as an inner-city hooligan tool – and it certainly looks the part.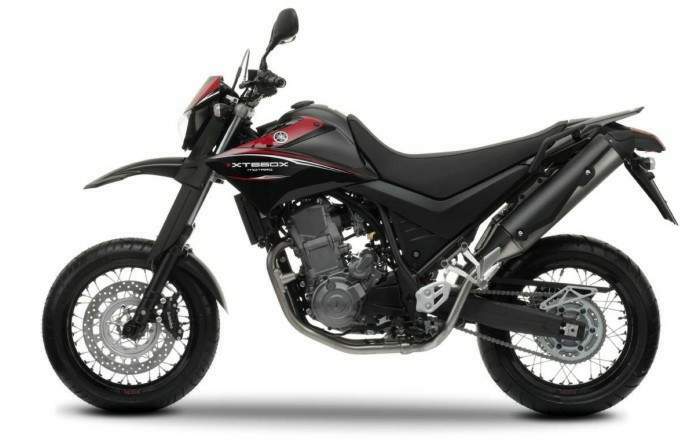 Start with an abbreviated flyscreen, bare-bones digital intrumentation, shrouded forks and a two-piece front mudguard. OK, the bike loses street cred because the headlight is big enough to actually work but let's forgive the occasional lapse into practicality.

The hump-backed, 15-litre motocross fuel tank is emphasised by faired-in side panels down to the radiator and at 5.8 liters /100km will take you at least 240km. The two-tone seat is wide and flat so you can transfer your weight quickly to where it'll do the most good.

There's a separate pipe for each exhaust port, sweeping dramatically up under the knife-edged tailpiece into two neat, though rather large, mufflers with a neatly curved little tail light between them.

The wide, off-road style handlebars end in neat, French-styled, switchgear and a pair of chic oval mirrors that give you the unfortunately obligatory clear view of your elbows.

The bike is rudely and aggressively styled; that's to be expected since it comes from France, the home of the supermotard. It looks like exactly what it is, an enduro bike on street wheels, but its relaxed seating position is surprisingly comfortable and it's eminently rideable thanks to its uncomplicated power delivery, agile handling and magnificent brakes.

It's a little twitchy in a straight line but it's not as raw a ride as it looks; it's a motocross-based tarmac terrorist cleaned up for the street as only the French could do it.
Source motoring.co.za