Austin, TexasóWhat a combination: Ducatiís 1199 Panigale R, the ultimate iteration of the Italian companyís Superbike range, and the brand-new Circuit of The Americas in Austin, Texas, the incredible racetrack that will host MotoGP in April. Wow! How did I get so lucky? At this first-ever motorcycle press launch at the track, I would be following in the actual tire tracks laid down by the likes of Jorge Lorenzo and Marc Marquez at the recent MotoGP test. And while CoTA shines as a world-class facility, itís the new Panigale R that I wonít soon forget.
Ducati has a long history of building incredible top-of-the-range superbikes. Think of the exclusive versions of the 851, 916, 999, 1098 and 1198. None of those, however, compare to the new 1199 R. Beyond the carbon-fiber bits, fancy tank and forged Marchesini wheels that adorn the R, there are numerous performance upgrades that make this bike worthy of its steep $29,995 sticker price. At the top of that list the Superquadro engineís titanium connecting rods and lightweight flywheel that are a combined 2.9 pounds lighter than those in the standard and S model. Not only does this allow the engine to rev quicker, but it also means that the rev limit could be raised by 500 rpm to 12,000.
Those extra revs allow a similar top speed to the standard/S models, even though the R has two extra teeth out back, for 15/41 final gearing. Moreover, Ducati has shifted the torque down a bit to be more effective in high-speed track riding. At 125 mph in sixth gear, there is 18 percent more available torque according to provided dyno charts. Peak horsepower is rated at 195 at 10,750 rpm, with 97.3 foot-pounds of peak torque at 9000. Ducati says the only factor limiting the bikeís top speed is gearing; as such, the R doesnít have an electronic governor to prevent it from exceeding the 186-mph limit agreed upon by the motorcycle manufacturers for more than a decade.
Although I never got a good-enough drive onto the 3/4-mile-long back straight to hit the rev limiter in sixth gear, special guest and factory Ducati MotoGP racer Nicky Hayden said he was seeing the shift lights just start to flicker before he braked for Turn 12. Interestingly, Ducati makes the speedometer go blank once you exceed 185 mph, a speed I repeatedly failed to reach by just a few mph. For what itís worth, Hayden said the R was still pulling well after the speedo went blank. I canít wait until we point a radar gun at the Panigale R and get an accurate top-speed reading. This may well be the fastest stock, production model currently made.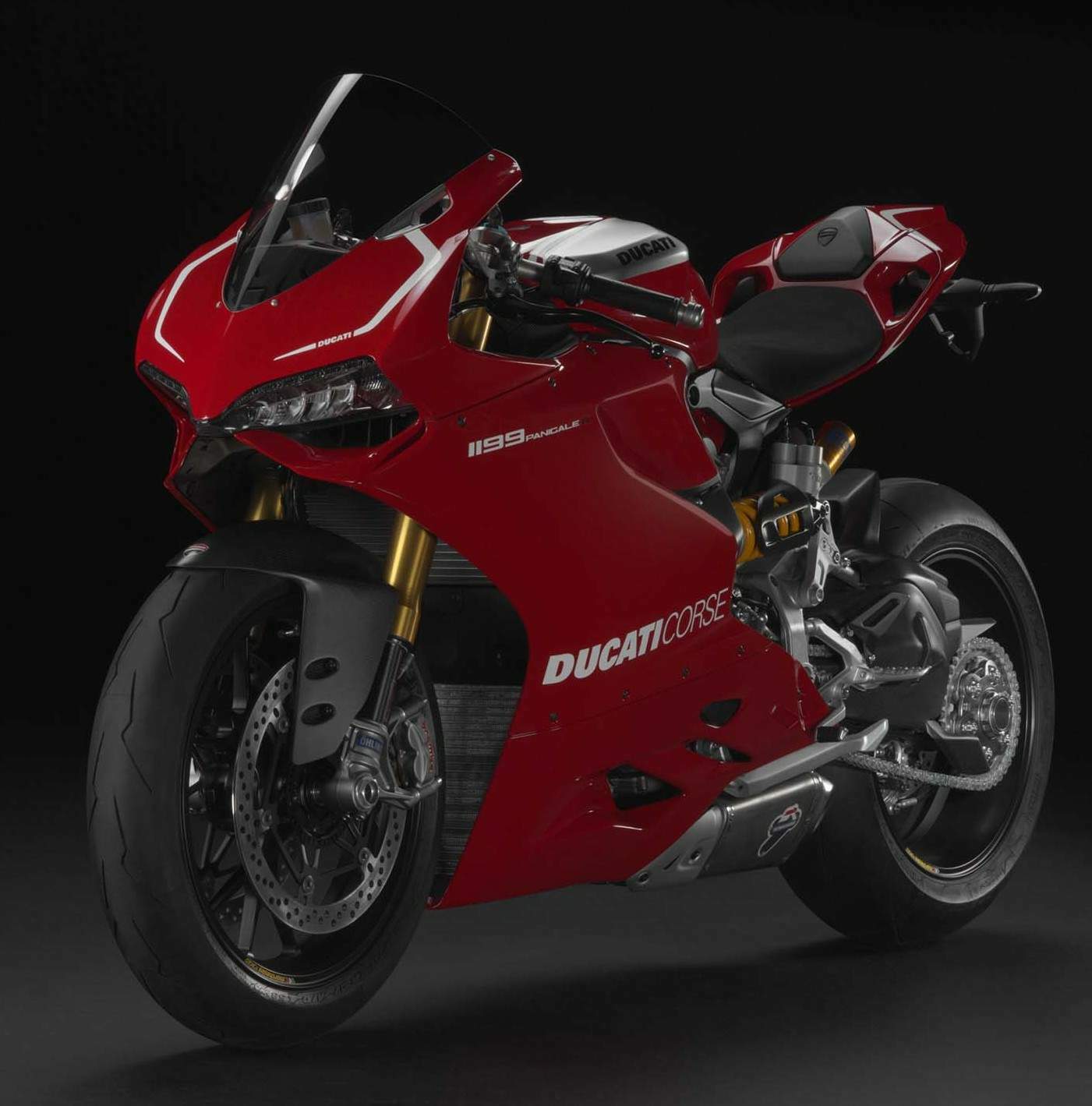 With six corners that can be called hairpins, CoTA allowed me to experience the Rís raw acceleration. Each of those bends could be taken in second gear, and the drive off the apex felt particularly lively in Race (the other power-delivery modes are Sport and Wet). The revised engine (with updated mapping) eagerly snatches up revs, while the traction control allows the bike to wheelie a bit before taming lift in the quest for maximum drive. Hayden and new Ducati recruit Ben Spies, also on hand for the introduction, both say they were impressed with the sophistication of Ducatiís production-level electronics package. In particular, they liked the TC and how difficult it was to detectóa testament to its effectiveness.
With speed comes the need to shed it, and Bremboís M50 monoblock, radial-mount front calipers with three-level Bosch ABS provide awesome stopping power despite occasionally inconsistent lever travel. If the ABS ever cycled, it was completely transparent to me. The steep uphill approach into turn one allowed me to carry fifth gear far deeper than possible if it were flat. While that called for some mental adjustments, this dramatic turn definitely is one of the signature features of the Austin track.
The R also has some significant chassis upgrades. Track-day riders and Superstock racers will appreciate the adjustable swingarm pivot, which can be set in four positions: 0 (same as standard/S models), +2, -2 and -4mm. The higher pivot position increases agility by decreasing squat, while the two lower positions increase squat and improve traction for low-grip conditions, but at the expense of quicker handling. At CoTA, the pivot was set at 0 (its most neutral setting), providing a good compromise between stability and quick turn-in for the hairpins.
I was impressed with the Panigale Rís track manners. This bike likes to be leaned over on the side of its excellent Pirelli Supercorsa SC tires, and it can be aggressively trail-braked all the way to the apex without consequence. Aside from the aforementioned hairpins, CoTA has ultra-fast esses and some long, blind corners that require accurate entries and good chassis balance through the apex. The 1199 R delivered in every situation. Ducatiís test riders set up the ÷hlins/Ducati Electronic Suspension (DES) quite well, and despite the ease of making adjustments on the TFT dash (thin film transistor liquid crystal display), I never touched a thing. Other benefits are the bikeís incredibly light feel (claimed dry weight is 364 pounds) and lithe steering, the latter aided by the Rís forged 17-in. wheels, which have a 3-spoke design.
Everything about the new 1199 R is designed for going fast, right down to the aerodynamic upgrades. Which were appreciated, given how fast CoTA is. A taller racing windscreen, combined with the upper fairing aero kit (winglets that help provide more wind protection), create an incredibly calm cockpit, even at speeds over 180 mph. For track use, slick machined-aluminum caps fit in place of the mirrors to provide a clean appearance and, more importantly, reduce drag.
Our biggest complaint about previous Panigales weíve tested has been excessive heat off the rear exhaust header cooking the back of our legs and butt, even on days that are only moderately warm. A new heat shield addresses this, and although I was not able to go on a street ride and check its effectiveness, it does seem to reduce the amount of heat reaching the rider.
Other standard features on the 1199 Panigale R include the GPS-enabled Ducati Data Analyzer, which offers downloadable track data that can be used for comparison. Ducati Quick-Shift, Engine Brake Control and a wonderful-sounding Termignoni race exhaust are also standard equipment.
Riding the Ducati 1199 Panigale R at CoTA was the experience of a lifetime. Without doubt, this is the best stock, production motorcycle Iíve ever ridden on a circuit. And with only around 250 of these amazing machines headed to the U.S., owners will immediately become part of a very exclusive club.
Source Cycle World