Perhaps it is an idea whose time has come again: small displacement dirt bikes for road and trail. But can an idea that reached its zenith over 30 years ago cut it in the modern world? Maybe so, with Honda's CRF230L and Yamaha's XT250. While the rage for retro styled motorcycles continues, our agreed-upon definition means that we only consider bikes that visually emulate their antecedents—usage doesn't factor into the equation. But there is nothing that captures the '60s and '70s boom in motorcycling quite like small capacity trail bikes. Even the term "trail," as applied to a segment of motorcycles, is an artefact of the era, but 40 years ago a motorcycle that didn't have at least some capability off road was an anomaly, and the stock advertising image of the age was a bike sitting amid flowing grasses with a helmet-less young couple smooching as the sun set behind them.
With the idealism of the age, it is startling to reflect that its motorcycles were surprisingly down to earth. The cliché for straight-line performance may be that there is no substitute for displacement, but the inverse is equally true, at least for dirt bikes: there is no substitute for lack of displacement. Agility decreases incrementally for each cubic centimetre of displacement added, so it shouldn't be a surprise that 1,000 cc motorcycles are pigs in the dirt. But knock displacement down to 250 cc and you needn't be a Paris-Dakar veteran to be comfortable off road. Beginners of the era learned on lightweight motorcycles that were easy to ride, frugal on fuel, and light-footed in the dirt—attributes that never go out of style, as the two machines on test illustrate.
Advertising literature from both Honda and Yamaha brazenly touts that the CRF230L and XT250 are new, but these play bikes (a hideous term, can we call them trail bikes, please?) do not employ the sophisticated technology that adorns a new sport bike, for instance. The Honda is a street-friendly version of the CRF230F off-road bike, while the XT250 is a generational upgrade of the former XT225. Both engines (223 cc for the Honda, 249 cc for the Yamaha) are air-cooled, single-overhead-cam, two-valve singles. They compensate for their lack of technical sophistication with remarkable robustness: if you pour something remotely flammable into the fuel tank and dump anything slippery into the crankcases they'll run forever. (The preceding sentence was written with artistic licence, just in case you're so daft that you'd try burning french-fry grease or lubricating with olive oil. Such frivolity would also void your warranty.)
What is most curious when you ride the two bikes back-to-back is how different they are, despite specifications sheets of virtual unanimity. Seat height for both is 810 mm (31.9 in.) and yet the Yamaha feels the taller of the two, but shorter riders shouldn't dismiss either bike based on quoted seat height, as both machines are so narrow that it would be hard to fathom an inseam too short.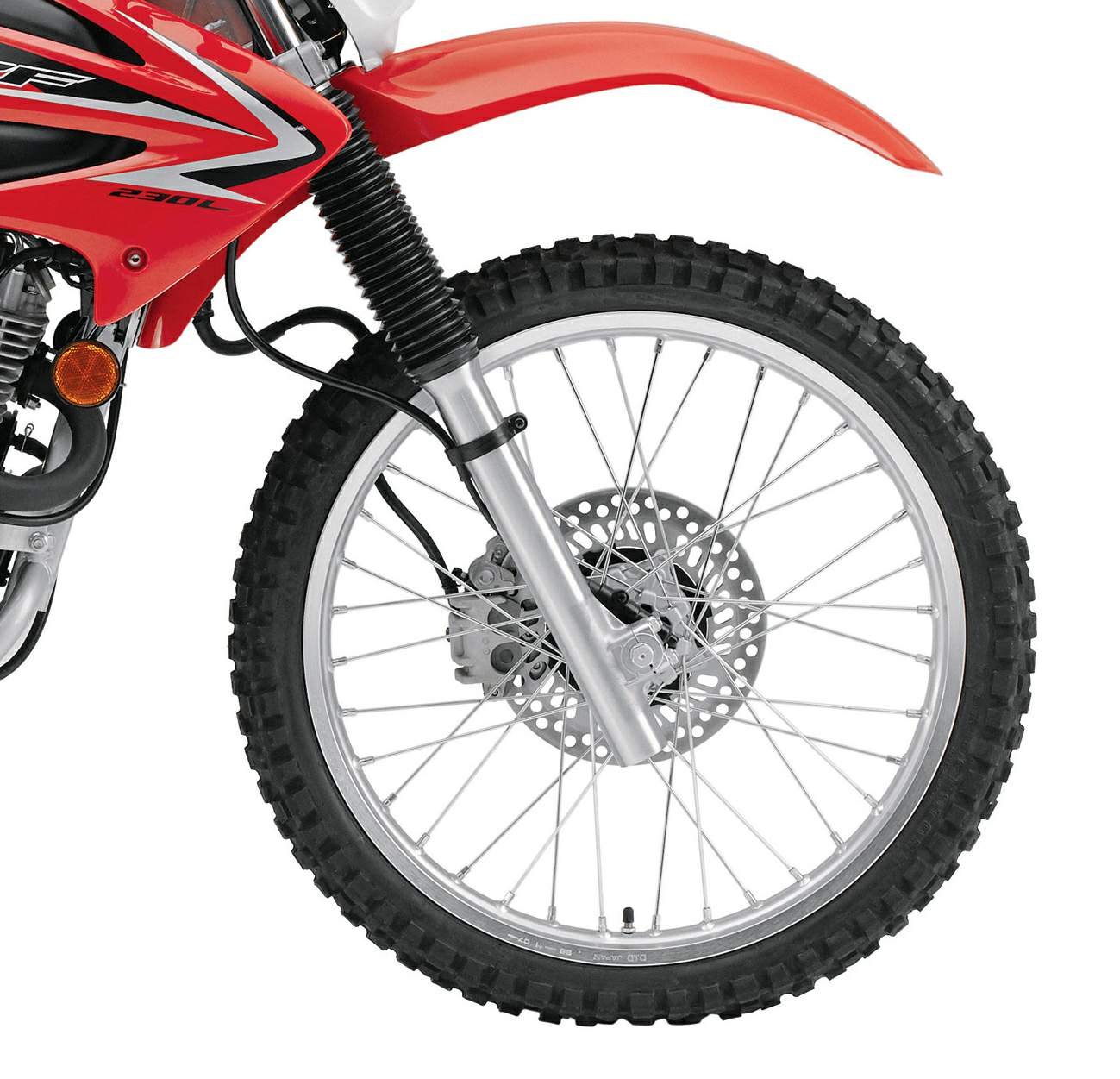 Front suspension travel on the Yamaha is just a few millimetres less than the Honda's 228 mm (9 in.), but at the rear the Yamaha has nearly an inch more travel than the Honda at 180 mm (7.1 in.), which contributes to better off road compliance. Additionally, the Yamaha has nearly two inches more ground clearance (285 mm/11.2 in.), which helps while traversing dense terrain. But the Honda has attributes of its own, including a six-speed transmission (the Yamaha is five-speed) with a first gear so low that it's nearly impossible to stall, and the extra ratio means that there is usually a gear to suit your speed, which reduces the necessity for slipping the clutch if you're a little too fast for one gear but too slow for the next. The Honda's lower centre of gravity also makes it more manoeuvrable in the tightly wooded areas we ride through. The Yamaha is the better machine for standing in the rough, as the high-mounted fuel tank gives good purchase for the knees; the Honda fuel tank disappears when you're standing, making it more difficult to use body English to control the bike.
When we first headed down a paved country road, the tester riding the Yamaha thought that the road had been smeared with grease, as the XT was very unsettling, with the front wheel reluctant to respond to rider input. At the next town we added 10 psi of air pressure to the front tire to bring it to 30 psi, and while it mostly cured the problem, front-end response on the XT never matched the Honda's stability.
The Honda's six-speed transmission, which proved so useful off road, was less endearing on the street. In order to keep with traffic flow you needed to shuffle through the gearbox quickly to work your way through closely spaced ratios, just like a dump-truck driver with two tonnes of gravel. The XT would leave the Honda behind on the open road, and while indicated top speed on each machine was 120 km/h, the Yamaha would reach it faster and better maintain it on grades. Lack of weight and not a lot of speed makes it an easy chore for the brakes, and the single disc on both machines is sufficient for the task—not so forceful that it makes braking on dirt terrifying but strong enough for good stopping on pavement. Both rear brakes were prone to early lockup, a decided detriment off road, but a problem that can usually be rectified by adjustment of the lever to allow for less mechanical advantage.
Digital instrumentation on the Yamaha makes it seem the more contemporary design, where the analogue gauges on the Honda look like they're from a 1970s XR. Less appealing were the Honda's weedy warning lights that reflected bright sunlight, making it difficult to trust the neutral light. Another area where the Yamaha edged the Honda was in engine smoothness, as the XT's counterbalancer-equipped engine had less buzz at speed, helped along by overall gearing slightly taller than the Honda.
You might expect that given the information above we would crown the Yamaha the winner of our comparison, but it's not that straightforward. If you are an experienced rider—and particularly if you're a six-footer—the Yamaha makes the most sense, especially if riding on public roads is in your future. But at Cycle Canada we're beefy louts, and one of the riders in this comparison, our unnamed but newly appointed web editor, weighs in at a pro-wrestling-approved 225 lbs, so our bulk makes it difficult for us to appreciate the group that the Honda best suits: young dirt riders on the way up or smaller riders tentatively sticking a foot into the world of motorcycling.
Claimed weights show that the Honda is 121 kg (267 lb) with a full tank of fuel, 10 kg less than the Yamaha, but numbers alone do not reveal all. The weight difference, allied with the Honda's lower centre of gravity, makes the CRF the much lighter feeling machine, and while we have (finally) mastered working a manual clutch, the ultra-low first gear would be a big confidence booster for first timers and gawky kids learning a motorcycle's controls.
Used within their capabilities, the XT and the CRF are entertaining motorcycles. While shuffling around town, exploring back roads or trailing down a dusty lane, fun is there to be had. The more relaxed the pace off road, the more rewarding the ride will be, as joy evaporates once the pace exceeds the suspension's capabilities. At $5,499 each, neither make particular sense as street-only machines, as Honda's CBR125R is $2,000 less and even Kawasaki's potent Ninja 250R is more than $1,000 cheaper. But neither of those machines allows you to veer off the pavement down a lonely cow trail, and there are times when just a little less civilization is just what the civilized mind needs.
From the Saddle
Simply put, I'm just too big to enjoy the Honda for any length of time, as it's too cramped for my frame. I'm more comfortable on the Yamaha, but the viability of either machine requires a hard look at your living situation. As an urban dweller the lack of gumption, particularly from the Honda, would be a drawback. Power, if used prudently, is safety on a motorcycle, but my 185 lb and the aggressiveness of modern traffic would make highway jaunts a chilling proposition.
But if I lived in the mountains of BC, or on Saskatchewan's prairie, or in the rolling Quebec hills north of Ottawa, either machine would be a logical choice. For those of you who have never veered off the road most travelled, it is surprisingly liberating to nip down a trail between two fields past a sign that says use at own risk just to see what lies beyond the reach of pavement. —Neil Graham
Fun and play are terms often used in motorcycle sales brochures to describe small displacement dual-sports, which is fitting given the inability of these two bikes to tackle anything more serious than a leisurely pace on-road or off. Between the two, I'd take the keys to the XT250. Its plusher suspension, smoother motor and more spacious riding position are better for a large person. It also wins on aesthetic appeal; digital instrumentation and bright white paint make it seem the more contemporary machine.
The Honda suits young adults or those shorter in stature, and while I preferred its more versatile off-road gearing, its harsher suspension and greater vibration made it more tiring to ride. But these criticisms do not mean that these motorcycles won't find satisfied customers. City dwellers and beginners will find them a viable alternative to scooters or small displacement cruisers and sport bikes. However, limiting these motorcycles to pavement takes the dual out of their purpose. Where they really make sense is in a rural setting where an off-road jaunt can be a daily occurrence.
Source cyclecanadaweb.com