Mike Beland of A-1 Cycles out of Wellington, tels us his story.
I was displaying one of my custom bikes at a local yacht show [wait a minute...did he just say yacht show? Are you kidding? They're making Harley-powered yachts now?], and I was approached by a gentleman who liked my bikes and said the design and execution were awesome. He asked me what my design limitations were, and I said, "I only have one limitation, and that's the budget. The guy responded by asking me, "What if you had no budget? Could you build the sickest, most insane bike ever?" Without hesitating, I said, "Sure, of course."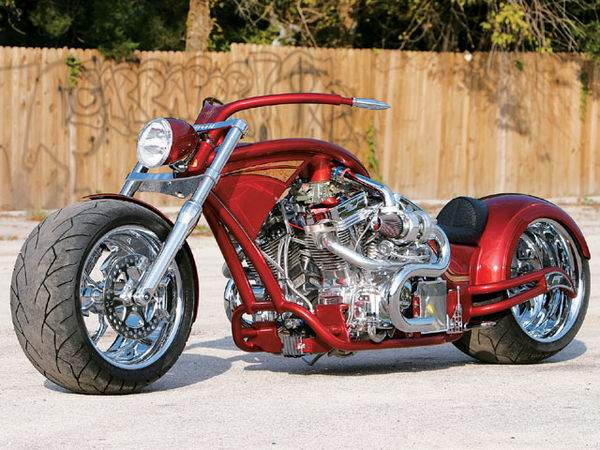 After talking with the guy for a while, I found out he was the owner of four Ripley's Believe It or Not! locations, and he was looking for a crazy bike for the lobby of his latest location. Money was no object. Three months of designing, sketching, and figuring out how to build this bike on paper turned into six months. I basically designed this bike to be the best and most extreme of everything that was hot in the custom bike industry, then doubled it-dual 300mm-plus tires, dual 121ci TP engines, dual turbos, electric shift, and auto clutch. Then, when I had the design finalized, the guy showed up at the shop, dropped the bomb on me, and ditched out on the project. [Sounds like the guy had too many Yacht-tinis and thought he was just seeing double, then soiled his Dockers and split when he realized his eyes weren't deceiving him.]
Having spent all that time, effort, and creative energy trying to figure out the bike on paper, it was too much for me to just let it die. I took out a second mortgage on my property and dumped all of my money into this beast. I had all of the machine work and the couplers done by a local machine shop. No one could believe what I was doing. [Some people still can't believe what they are looking at. C'mon, people, stop climbing all over the bike. No, your kid can't sit on it! It's not a pony.]
Accutronix made me the custom trees for the 310mm front tire in two weeks. It took longer to get the new 49mm forks from Harley than it did to have the custom trees made. Nick Trask from Trask Performance sold me the turbos and gaskets, and then I fabbed up the exhaust, pressure tubing, and the 750 Holley carb mounting system in my shop. The intake was tricky because it had to run at an angle since the left motor runs in reverse. TP Engineering helped out with setting up the reverse-run motor, but I had to figure out my own ignition system for a reverse firing rotation. I discovered that there was a 5/16-inch difference from the front motor-mount bolts to the centerline of the crank and the rear motor-mount bolts to the centerline of the crank, so the motors look misaligned, but the cranks are inline. [Just like mom used to say: "It's not how you look, it's what's inside that counts.] So that put the intake tracks at a slight angle. But it all worked out with some machining and welding. All of this was done on a build table so I could give my frame guy measurements.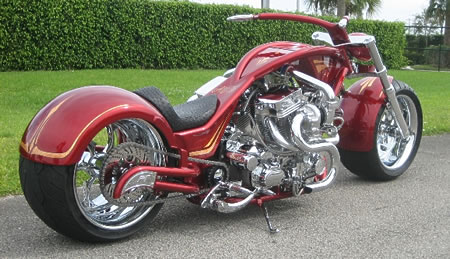 Jim from Protube Frameworks built the one-off frame for me in two weeks. After I took delivery of the frame, I had it all fabbed up, including the exhaust, intake, pressure hat, bars, front and rear jackshafts, front and rear fenders, gas tank, oil tank, battery mount, and coil mounts, and then it was off to the painter in seven days. No one believes it, but I have the time-stamped photos to prove it.
I love to work hard and complete something on time. The painter, the chromer, and the pinstriper all turned the work around in fewer than seven days. After it was back in my hands, the assembly, wiring, and firing took another 10 days. It was tricky to get the timing right on the left motor, but I got it figured out. The bike idles sweet and rides nice. The Pingle electric shifter works well, and the EFM auto clutch gets everything moving smoothly. [Electric shifter. Auto clutch. What the hell...does this bike fill itself up with gas as well?] Once I had everything wrapped up and dialed in, it was off to Biketoberfest to win the Rat's Hole Show. I think the name "All In" is about as close to reality as it gets. Anybody can hang a gas tank and chop a fender. This is truly a hand-built bike, and I put everything I had into it, physically, mentally, and monetarily. Oh, yeah, we build regular bikes also."