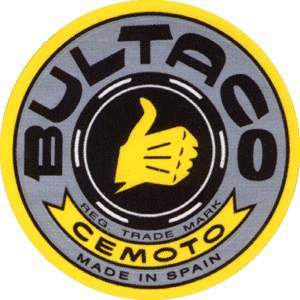 Bultaco was founded in 1958 in Spain by Francisco Bulto. Bultaco had a reputation for competition bikes. the Bultaco factory was closed December 22, 1979 after a long strike.

The origin of the Bultaco motorcycle company dates back to May of 1958. Francisco "Paco" Bultó was a director of the Montesa motorcycle company founded in 1944. After several years of steady growth and road racing success, in 1957 Montesa moved to larger facilities.
The move was protracted, disrupting production and was followed by a downturn in the Spanish economy. This slump bought to a head disagreements between Bultó and the other senior director Pedro Permanyer.[1] As an economy measure, Permanyer (the majority shareholder) felt that the company should withdraw from racing. Bultó, the driving force behind the racing program and responsible for much of the companies technical expertise was violently opposed. Failing to reach a compromise, Bultó decided to leave Montesa to concentrate on his other business interests.
Perhaps unsurprisingly, the majority of Montesa's racing department left shortly afterwards as well.[1] The suggestion to form a new company is said to have come a few days later when Sr. Bultó was invited to a meeting by several of the former staff of Montesa's racing department.
Keen to return to racing, they persuaded him that their greatest hope lay in forming a new company.[1] Setting up shop in very primitive conditions at an old farm owned by Bultó, things developed quickly and in February 1959 Bultaco held a press day, launching their first bike, the road-going 125cc Bultaco Trala 101. Although the factory did re-open, it was eventually merged with Montesa and Ossa, but in the end only Montesa survived.