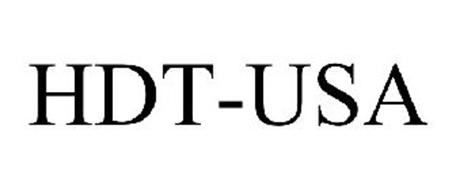 HDTUSA - Company History

Defense and Aerospace:
HDT started business in 1961. During the 60's and 70's, we specialized in the development and manufacture of electro-mechanical switches and relays for defense and aerospace.

HDT also developed unique injection and compression molding equipment that produced plastic components for the electronics industry.

The majority of our business has been with the
U.S. Department of Defense.

We were also OEM for major defense companies, including Lockheed, Boeing, Control Data, and Unisys.

Commercial Motorcycles:

In 1970, HDT expanded into commercial motorcycles sales.

Under the trade name METTCO, we enjoyed selling and racing PENTON Sport Cycles. We also developed and produced performance modifications for both European and Japanese off-road motorcycles.

From 1976 through 1979, we were consultants to Honda's off-road racing and enduro teams. We produced suspension components and provided 2-stroke engine performance modifications for their winning efforts from 1977 through 1979.

Military Motorcycles:
In early 1981 the United States Army put forth a Request for Proposal for the first official production of tactical military motorcycles since World War II.

HDT was able to combine its experience as a government
contractor with many years of successful off-road motorcycle development to put together the winning bid.

As a result of our proposal, HDT was awarded the first modern military motorcycle contract.

Since that first contract, HDT has been awarded more than 45 contracts, resulting in over 2500 military motorcycles being delivered to the U.S. and allied military forces.

Our latest military motorcycle production contract was for 466 modified Kawasaki KLR650s. Previous contracts had been based on the KLR250. The move to the bigger, more powerful 650 was seen as somewhat of a risk for the Marine Corps. However, the risk paid off. The modified KLR650, now known as the M1030B1 Marine Corps motorcycle has proved to be the best performing, most reliable tactical military motorcycle now in service with any military organization. This includes competitive machines from BMW and KTM.

Diesel Fueled Military Motorcycles In 1984 all NATO military forces adopted a long-term goal of a "single battlefield fuel" to reduce the logistics burden of supplying gasoline, diesel fuel, aviation gasoline, and aviation kerosene (jet fuel). The objective was to convert or replace all existing fueled equipment, including trucks, tanks, light transport equipment, and aircraft to operate on aviation kerosene.

To implement the single battlefield fuel concept, the U.S. Navy announced in 1997 that, beginning in the year 2005, they would no longer transport or supply gasoline in any form. They would only supply "heavy" fuels, such as, diesel and jet fuel.

At that time there were only two major tactical military systems still using gasoline, small field generator sets and motorcycles. The military approached both generator set and motorcycle manufacturers to determine what alternatives might be available. The generator set manufacturers responded immediately with some diesel fueled options. However, all the motorcycle manufacturers approached indicated that a diesel fueled motorcycle was neither commercially practical, cost effective, or, in some cases even possible given the performance requirements.

As a last resort, the U.S. Marine Corps requested proposals from all interested sources, offering to pay for the development of a diesel/jet fuel powered military motorcycle through the Small Business Innovation Research Program (SBIR). They received over 40 responses. The Marine Corps selected two companies for the initial feasibility study, HDT and a small company in Oklahoma.

After reviewing the studies from both companies, HDT was
selected as the sole source for Phase II, which was to actually produce a total of 15 diesel motorcycles.

HDT successfully completed the first part of Phase II in May of 2001, when they demonstrated the first motorcycle that used a diesel engine specifically designed as a motorcycle engine. The motorcycle exceeded all expectations and was received with great acclaim by both the news media and potential military customers.

The final part of the Phase II effort was completed in September of 2001 when a total of nine diesel motorcycles completed two field user trials conducted by the Marine Corps.

HDT Marine Corps Commerative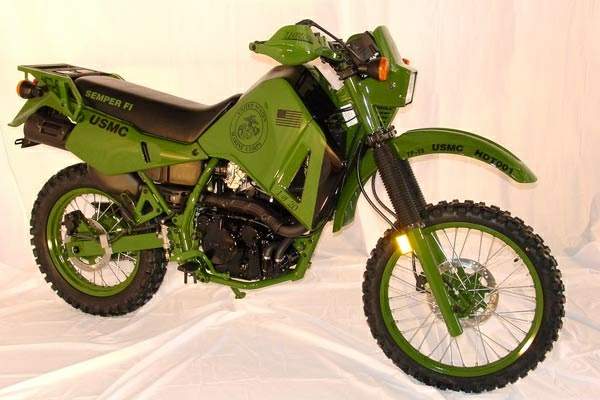 | | |
| --- | --- |
| Make Model | HDT Marine Corps Commerative |
| Engine | Four stroke, single cylinder |
| Capacity | 651 cc / 39.7 cu-in |
| Bore x Stroke | 100 x 83 mm |
| Cooling System | Liquid cooled |
| Compression Ratio | 9.5:1 |
| Induction | Keihin CVK40 carburetor |
| Ignition | Digital TCBI |
| Starting | Electric |
| Max Power | 48 hp / 35.0 kW @ 6500 rpm |
| Max Torque | 5.3 kgf-m / 38.3 lb-ft @ 5500 rpm |
| Transmission | 5 Speed |
| Final Drive | Chain |
| Front Suspension | 41mm telescopic forks |
| Rear Suspension | Rising-rate Uni-Trak |
| Front Brakes | Single 252mm disc 2 piston caliper |
| Rear Brakes | Single 203mm disc 1 piston caliper |
| Front Tyre | 90/90-21 |
| Rear Tyre | 120/90-17 |
| Rake | 28° |
| Trail | 111 mm / 4.4 in |
| Seat Height | 889 mm / 35.0 in |
| Dry Weight | 153 kg / 337.3 lbs |
| Wet Weight | 189 kg / 416 lbs |
| Fuel Capacity | 23 Litres / 6.0 US gal |
| Consumption Average | 55 mpg |
| Top Speed | 105 mph |
HDT M1030-M2 670cc JP8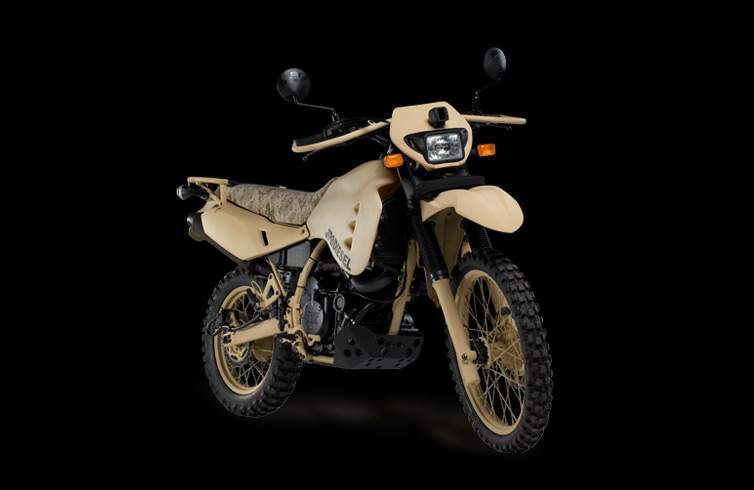 Make Model

HDT M1030-M2 670cc JP8

Engine

Liquid/oil cooled, four stroke, single cylinder

Capacity

671 cc / 40.9 cu-in
Cooling System
Liquid cooled

Induction

Fuel injection

Ignition

Digital TCBI
Starting
Electric

Max Power

53

Nm

5.4 kgf-m

@

3300

rpm

(cranksh)

Clutch

Wet, cable operated

Transmission

5 Speed
Final Drive
Chain

Front Suspension

41mm telescopic forks Cartridge

Rear Suspension

Twin shock

Front Brakes

Single 240mm disc 2 piston caliper

Rear Brakes

Single 240mm disc 1 piston caliper

Front Tyre

90/90-21

Rear Tyre

120/90-17

Dry Weight

176

kg

Fuel Capacity

NA
This here's the HDT M1030-M2 670cc JP8, but don't let the charming name deceive you, this military-grade motorcycle is as tough as old boots.

Boasting a (patent pending) "heavy fuel" engine capable of running on Diesel, Biofuel, Aviation fuel and four other military grades of petroleum, it can traverse water 2ft deep and has a tank range of over 300 miles.

Its single, four-stroke cylinder will reach 95mph in the heat of combat, and at 33bhp it's even suitable for restricted licence holders.

Despite a price tag of $18,500 there's already a significant waiting list of survivalists, mercenaries and prospectors hoping to get their hands on its high tensile steel frame.

Hayes Diversified Technologies Inc. claim the M1030 is a "breakthrough in military ground vehicle technology", one that comes decorated in Desert Tan, Military Green or Black.