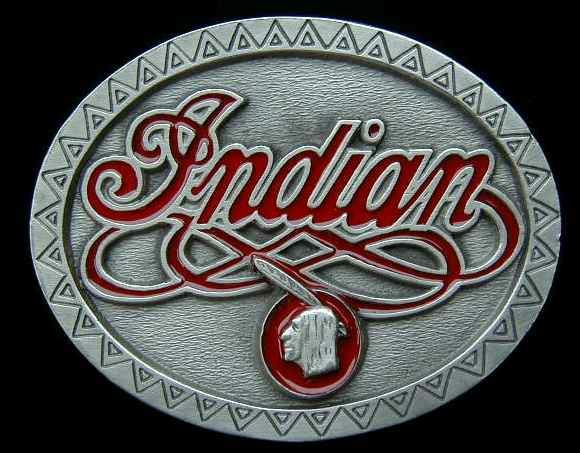 Indian History

Indian Motorcycle History,
Knowing your ride has never been so easy!

An icon on the road and for a few years the leading manufacturer of motorcycles world wide. However the strong racing wins and famous loved road style could not save Indian from doom and life just ran out of the brand. A few enthusiasts are trying to revitalize the Indian that once was.

Quick Guide to Indian Motorcycle History

Started in 1901 by two bicycle racers George Hendee and Oscar Hedstrom who produced a small bicycle / motorcycle with a top speed of 50 km/h (30 mph). The first bike was a huge success and pickup up very well and by 1913 - 32000 motorcycles were being produced annually. Indian brought out their bikes in a deep red color which later became one of their trademarks.
In 1907 Indian built a v-twin engine which later made way for the Powerplus in 1916. This model had a more quite engine and remained a success and only had minor changes done to it until 1924.

Indian had both engineering success and racing success which saw the company grow in a tremendous rate during the early 1900's . And by 1920 Indian could say it was the largest motorcycle manufacturer.

The most popular models of the Indian company still had to be introduced and by 1922 the most famous Chief model was introduced. Together with the Scout these models became the icons of the Indian brand.

The Chief's design was based on the powerplus from the years before but quite a few improvements were made to the chief original 1922 model. In 1927 the Scout was also introduced.

By this time Indian was a well known brand (the factory was known as the wigwam). All models got the classic large skirted fenders, the cool Indian head logo on the tank and together with the dark red color an absolute icon on the road.

Indian was producing beautiful bikes in the 1940's and offered a more comfortable ride than big rival Harley Davidson due to the sprung frames of the Indian bike.

Indian bought the Ace firm in 1927 and produced a series of Indian four models. The model was very famous and recognizable but no real success to the company. Problems with the 'four' seemed to put extra pressure on the Indian firm who was already having a hard time toward the end of 1950's.

Indian tried to survive by selling other bikes with an Indian logo on it (matchless & Enfields) but by 1970's Indian had died away. There are still attempts to restart the brand but so far only a few 'new' Chief have been developed
Polaris Acquires Indian Motorcycle
Polaris brings world-class engineering, manufacturing and distribution to Indian's rich American heritage and historic brand.
MINNEAPOLIS (April 19, 2011) — Polaris Industries Inc. (NYSE: PII) today announced the acquisition of Indian Motorcycle. The business was acquired from Indian Motorcycle Limited ("IML"), a company advised by Stellican Limited and Novator Partners LLP, U.K. Private Equity firms. Terms of the transaction were not disclosed.
"We are excited to be part of the revitalization of a quintessentially American brand," said Scott Wine, CEO of Polaris Industries Inc. "Indian built America's first motorcycle. With our technology and vision, we are confident we will deliver the classic Indian motorcycle, enhanced by the quality and performance for which Polaris and Victory are known."
With this acquisition, Polaris adds one of motorcycling's legendary brands to its strong stable of Victory cruiser and touring bikes. Indian will operate as an autonomous business unit, building upon the potent combination of Polaris' engineering acumen and innovative technology with Indian's premium brand, iconic design and rich American heritage.
"We are delighted to have reached an agreement with Polaris. Polaris will utilize its well-known strengths in engineering, manufacturing, and distribution to complete the mission we undertook upon re-launching the brand in 2006: harness the enormous potential of the Indian brand," said Stephen Julius, chairman of Indian and managing director of Stellican. "Polaris is the most logical owner of Indian Motorcycle. Indian's heritage brand will allow Polaris to aggressively compete across an expanded spectrum of the motorcycle market."
Novator Partners LLP is a London based alternative investment firm founded and led by the investor Mr. Thor Bjorgolfsson. An avid motorcycle enthusiast, Mr. Bjorgolfsson said "After a troubled past, our goal was to bring the legendary Indian bikes back on the roads. The initial phase of that project is done and now our great partners at Polaris will carry on the work to realize the full potential of this classic American brand."
About Polaris
With annual 2010 sales of $1.991 billion, Polaris designs, engineers, manufactures and markets off-road vehicles (ORVs), including all-terrain vehicles (ATVs) and the Polaris RANGER Side X Side vehicles, snowmobiles and Victory motorcycles for recreational and utility use and has recently introduced a new on-road electric powered neighborhood vehicle.
Polaris is a recognized leader in the snowmobile industry; and one of the largest manufacturers of ORVs in the world. Victory motorcycles, established in 1998 and representing the first all-new American-made motorcycle from a major company in nearly 60 years, are making in-roads into the cruiser and touring motorcycle marketplace. Polaris also enhances the riding experience with a complete line of Pure Polaris apparel, accessories and parts, available at Polaris dealerships.
Polaris Industries Inc. trades on the New York Stock Exchange under the symbol "PII", and the Company is included in the S&P MidCap 400 stock price index.
Information about the complete line of Polaris products, apparel and vehicle accessories are available from authorized Polaris dealers or anytime from the Polaris homepage at www.polarisindustries.com.
About Indian Motorcycle
Founded in 1901, Indian was America's first motorcycle company, producing some of the industry's most iconic models and becoming the world's largest motorcycle manufacturer. In recent years, Indian has continued to produce these legendary motorcycles on a smaller scale. The company's instantly recognizable badge is still associated with premium products and strong American heritage by casual consumers and motorcycle enthusiasts alike.
About Stellican
Stellican is a U.K. Private Equity firm specializing in the purchase, turnaround and re-launch of iconic, heritage brands which have gone bankrupt. In the last ten years, Stellican has been particularly active in the power sport industry. It currently advises funds which own Chris-Craft Corporation, a premium boat and yacht builder based in Sarasota, Florida, which it acquired in 2001. Previously, Stellican advised funds which owned Riva boats in Italy
About Novator
Novator is an alternative investment firm founded and led by the international investor and entrepreneur Björgólfur Thor Björgólfsson. Novator's investment portfolio is focused around following sectors: Telecommunications, Pharmaceuticals, IT and Renewable Energy. In addition, Novator operates a Private Equity Fund and a Credit Opportunities Fund.