Yamaha YZF 600R Thunder cat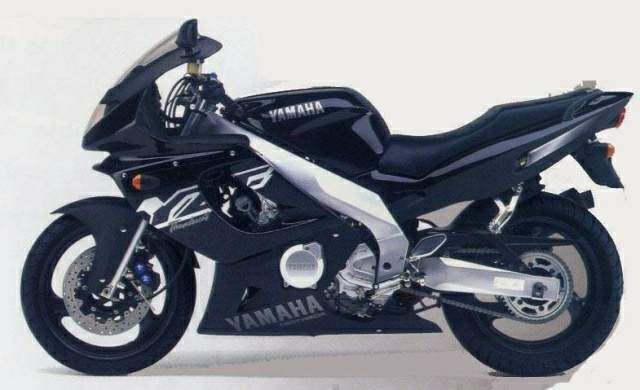 Make Model.

Yamaha YZF 600R Thundercat

Year

199

8

Engine

Four stroke, transverse four cylinder, DOHC, 4 valves per cylinder

Capacity

599 cc / 36.5 cu-in

Bore x Stroke

62 x 49.6 mm
Cooling System
Liquid cooled

Compression Ratio

12.0:1

Induction

4 x 36 mm Keihin CV downdraft carburetors

Ignition

Digital TCI
Starting
Electric

Max Power

72.9 kW / 100 hp @ 11500 rpm

Max Power Rear Tyre

67.9 kW / 91.0 hp @ 11500 rpm

Max Torque

65.7 Nm / 6.7 kgf-m / 48.7 lb/ft @ 9500 rpm

Transmission

6 Speed
Final Drive
530 O-ring chain OEM sprocket sizes per tooth Front= 15 Back= 47
Frame
Twin spar, steel, delta box

Front Suspension

45 mm Machined 2 section conventional forks adjustable for preload rebound and damping

Rear Suspension

Ohlins monoshock adjustable preload, bump and rebound.

Front Brakes

2x 300 mm Discs, 4 piston calipers

Rear Brakes

Single 245mm disc, 2 piston caliper

Front Tyre

120/60-17

Rear Tyre

160/60-17
Rake
25.0°
Trail
97 mm / 3.82 in
Dimensions
Length 2060mm / 81.1 in
Width 754 mm / 29.6 in
Height 1190 mm / 46.8 in
Wheelbase
1415 mm / 55.7 in
Seat Height
810 mm / 31.7 in
Ground Clearance
135 mm / 5.3 in

Dry Weight

189 kg / 417 lbs
Wet Weight
210 kg / 463 lbs

Fuel Capacity

19 Litres / 5.0 US gal / 4.2 Imp gal

Consumption Average

6.1 L/100 km / 16.4 km/l / 38.6 US mpg / 46.3 Imp mpg

Braking 60 km/h - 0

13.5 m / 44.3 ft

Braking 100 km/h - 0

37.5 m / 123 ft

Standing ¼ Mile

11.3 sec / 194.7 km/h / 121 mph

Top Speed

246.8 km/h / 153.3 mph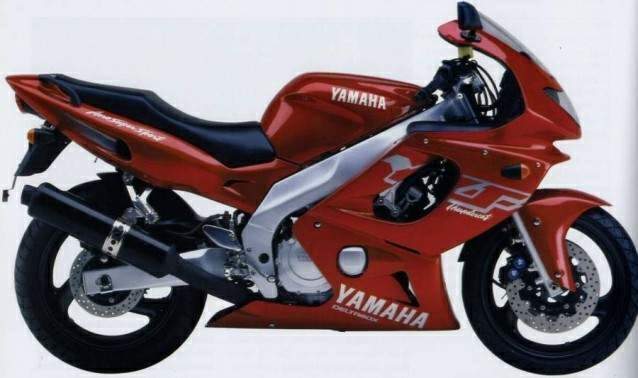 YAMAHA'S REVISED AND REFINED YZF600R OFFERS NUMEROUS facets for admiration. First glance will become a stare because Yamaha's stylists have finally found a look that works for their midsize sport bike, from the uniquely shaped, wind-tunnel-tested fairing complete with ram-air scoop to the tasteful and, dare we say it, classy paint work.
The same strong YZF chassis that took Jamie James to the '94 AMA 600 Super-Sport championship is updated with all-new cartridge front suspenders matched to a recalibrated shock, while the ram-air scoop feeds pressurized air to carburetors measuring two millimeters larger than last year's mixers. The power increase we noticed from the seat was blunted amazingly well by the YZF's stunning front stoppers, a beautiful set of one-piece, cast-aluminum calipers that add whoa to the YZF's show-and-go. After two months of tireless flogging, touring and track-testing, Yamaha's YZF600 threatens to be the best 600cc street bike Sport Rider has tested.
Yamaha's positioning of the '97 YZF600 depends upon your perspective. Racers will claim Yamaha's target is the 600 SuperSport class, pointing to the fully adjustable suspension components and reciting the 88 rear-wheel ponies we saw on the Graves Motor-sports Dynojet dyno, then referring to the 11.48-second quarter-mile and 119.8-mph trap speed as proof that Yamaha is chasing all-out performance first and foremost. Street riders, however, will find substantial proof that Yamaha's sights were focused on their interests, fingering the same suspension adjustability that can adapt to differing roads and loads and wrapping their argument around the YZF's real-world ergonomics and outstanding wind protection from the all-new fairing. Each faction will find strong points to support its views, but as the Sport Rider staff came to know our black and silver 600 m6re intimately, we found ourselves convinced that Yamaha aimed its revised YZF600 more at the real-world street rider than the relatively few racers who will make the jump to the track.
The bare-bones look of many repli-racers just isn't apparent in Yamaha's latest 600. In fact, the YZF's fit and finish are significantly updated over last year and put the bike on par with Honda's benchmark CBR600F3, as we discovered when stripping the bike in the studio. The styling received significantly more positive comments than the flash-boy F3 graphics, or last year's YZF for that matter, and no one can deny the importance of styling in the pride-of- ownership debate.
Yamaha's YZF600R appears 750-sized and offers 750-size ergonomics as well, with excellent legroom for those under 6 feet 2 inches tall and a relatively short reach to the handlebars mounted just above the upper triple clamp. While the seating position isn't significantly different from that of the other 600-class competitors, the wind protection from the revised fairing is certainly the best in the class, with a smooth plane of air coming off the sculpted windscreen that is bracketed by wide ABS-plastic borders, similar to Biaggi's Aprilia racer. You might not notice the improvement in a short ride, but we certainly appreciated the air management during our two months of testing. Last year's comfortable two-piece seat is now a single unit and is good for most hauls, though some felt it a bit too soft for day-long rides. The YZF spent few if any nights in the SR garage and was a popular ride for weekend duty.
The YZF extracts no penalty for its performance in day-today living. Cold starts need only the smallest enrichener settings, facilitated by the bar-mounted lever, and carbure-tion was marred only by a slight off-idle lean stutter that muddied throttle response below 2500 rpm. Last year the YZF mixed gas and air in a set of 34mm Keihin carbs, but the '97 wears 36mm units that are better suited to the engine, not just helping to produce more power, but offering cleaner jetting choices as well. The street-based ergonomics are backed by a street-based torque curve that peaks at only 9500 rpm with 45.9 foot-pounds of torque, meaning you don't need to rev the rings out of it to squirt ahead in traffic; we found ourselves short-shifting the YZF just as if it were a 750 or 900. The bike shifted nicely prior to our dragstrip testing, but a few abusive launches took an early toll on the clutch, affecting not just leaving a stop sign, but the bike's ability to shift smoothly as well.
First-time sport-bike buyers might be surprised to find no centerstand, but that, along with terribly weak horns, is the norm rather than the exception. Unfortunately, Yamaha ditched last year's electronic reserve switch in favor of a single low-fuel warning light that increases the fuel-level guessing game. Also, Yamaha added a helmet lock that leaves your helmet dangling against the chain side of the swingarm, which isn't the cleanest place on a motorcycle; the underseat hooks of last year are preferable.
ARE THOSE BRAKES AS GOOD AS THEY LOOK?
In a word: yes. The racy blue-anodized plugs on the outside of the Sumitomo calipers signify the one-piece design of the cast-aluminum calipers, which required the pistons to be inserted from the outside. They're attractive, distinctive and 18 percent more rigid than last year's binders, bringing world-class braking to the front of the YFZ in terms of both feel and strength. Despite the YZF's relatively hefty wet weight of 485 pounds, only one finger is needed on the adjustable brake lever, no matter what speed you're traveling or how hard you need to stop. Jumping off any other bike and onto the Yamaha necessitates a mental adjustment, because you don't just grab brakes this strong without either putting your helmet through the windscreen or pivoting the whole machine into the air in a stoppie. And, yes, those are illegal.
Yamaha's componentry update isn't just confined to the front brakes, it also includes revised damping rates in the cartridge fork, focusing on a more progressive compression action at the bottom of the fork stroke. We praised the YZF's around-town ride last year, and the kudos are still applicable. If anything, the YZF seems more poised and confidence-inspiring than last year's bike, at least at street speeds. Many testers used the word "exact" in their descriptions of the light-steering Yamaha because it could be placed in the corner with precision and slight adjustments were little more than a thought away. The '96 YZF didn't care much for small, quick stutter bumps, but the suspension revisions have improved the '97's ability to deal with these small jolts. But as we'd later discover during our track testing, the chosen spring rates are biased a bit more toward comfort than performance, being a bit softer than even an aggressive street rider would choose.
ARE THE SPRINGS TOO SORT?
The answer depends upon how you ride. If you hammer hard or ride extremely rough roads, you may find yourself running the shock and fork springs near their maximum preload, with correspondingly high rebound and compression settings. Our lighter and smoother testers had few complaints, but the hammerheads among us felt the bike a bit loose and in need of an extra moment before it settled during aggressive or bumpy corner entrances. The YZF's weight certainly hurts in this instance.
We were pleased with the mileage and traction quotient of the stock Bridge-stone tires, even at elevated street speeds. Hard-core corner chargers would be smart to look at spring upgrades and stickier skins, simple updates that would make the YZF a delightfully responsive canyon charger.
HOW DOES IT WORK IN THE REAL WORLD?
Yamaha's suspension choices that may prove marginal at the racetrack's elevated speeds make perfect sense on the pot-holed streets of the real world. (We'll pit the YZF against the CBR, ZX-6R and GSX-R for a full street and track shootout in the near future.) The '97 model absorbed sharp-edged jolts like frost heaves and cement freeway undulations significantly better than last year's YZF, the trade-off being slightly increased fork dive under hard braking, even with the preload adjusters showing only three lines. Each tester remarked on the tight, exact steering characteristics, and the planted feel of the bike at same street speeds. The standard (noninverted) fork was praised for its feedback, even on the stock tires that usually mask traction information, and everyone that rode our black beauty commented on the light, willing steering that made the relatively large 600 immediately ridable. The YZF tends to fall into the corner at steep lean angles due to the triangulated front Bridgestone, but the steering remains predictable and neutral at less radical lean angles, which translates into a bike that's easy to go quick on.
The engine really helps the first few miles of acclimation because it revs with a willingness that belies its relatively long-stroke design, which has a 62mm piston moving through a 49.6mm stroke (Honda's F3 uses a 65mm piston in a 45.2mm stroke). Theoretically, the YZF's longer stroke can limit engine rpm due to elevated piston speed, but the Yamaha redlines at 13,000 rpm, or 250 rpm below the F3. A second long-stroke theory centers around increased midrange due to more complete cylinder filling, and that theory is borne out by the YZF's willingness to pull from any rpm, with anything over 6000 rpm getting your attention and 8500 rpm serving as the take-off point as the YZF starts making some serious steam. The power flattens about 500 rpm before redline, but we can't remember a more rev-happy 600cc engine coming from Yamaha since the FJ/FZ600 two-valver. It makes every facet of riding more enjoyable, from zipping through city traffic to grabbing gears on the way up the mountain. One ride will impress you with the packaging that Yamaha has at last achieved with its YZF600.
At $7399, Yamaha has created a 600cc sport bike that breaks through the class barrier to ride and feel more like a 750, stressing streetability over racetrack performance. And that's what the majority of us do most of the time, or so Yamaha hopes by producing a package that combines a street-oriented powerband and chassis with stunning styling that says "beautiful motorcycle" not "repli-racer." Don't misunderstand, the YZF600R gets around a racetrack just fine, but it gets through daily life in the real world amazingly well.
Source SPORT RIDER 1997
Supersport shootout
Highly anticipated and hard fought, it is an annual event with weighty social, political and economic implications. Sort of like Chelsea Clinton's coming-out party with knee pucks and Z-rated rubber. Inked with the same blood-red Sharpie(R) we use to mark Pamplona's running of the bulls, Indy's 500 and Eddie Lawson's birthday, it is Motorcyclist's annual 600cc supersport skirmish. And it is time.
Unlike the near-three-mile-per-minute proclivities of Honda's CBR1100XX or the focused, hormonal purity of Ducati's 916, the archetypical 600 sporty bike shines brightest not from any single facet. Instead, following the wonderfully (if you're Honda) frustrating (if you're not) tire tracks of the CBR600 series, the conventional middleweight paradigm aims at that elusive point where the marketeer's price and performance curves cross. That's why the reigning 600cc champion, Honda's F3, spreads its broadband brilliance over most any sort of riding the Great Unwashed Sporting Hordes can think up. It is the proverbial jack-of-all-trades, and master of some. >
Thus, traditionally, middleweight warfare is a game of inches--millimeters even. But watching Honda kick the can a bit farther than everybody else every year was becoming an exercise in predictability--predictably monotonous.
Then, Suzuki shrunk its 750cc GSX-R track-scalpel to 600cc scale and blew the game wide open. It is the first real deal--a no-apologies, no-regrets, take-no-prisoners 600cc racer replica. The 1997 GSX-R600, odds-on wild card in this year's deck, provokes a new question: Does unadulterated sporting brilliance beat all-around aptitude? Is the latest F3 strong enough to keep Honda's middleweight CBR dynasty alive? Can the revamped YZF600R hold its own? Will Sister Ruby overcome brucellosis and a bad NyQuil habit to rejoin the roller derby? Oops, wrong story. What about Kawasaki's highly rapid ZX-6R, then? Keep your shoes and socks on, boys and girls. The answers are just around the corner.
The path to conclusive answers starts with knowing where to look. On the advice of Feature Editor Burns's parole officer, we began with a Track Flog at Willow Springs International Raceway. Otherwise, exploring all four corners of a current 600-classer's performance envelope can land you in solitary confinement or intensive care in an L.A.P.D. minute. From there, we hammered the middleweight Class of '97 over the surface streets, interstates, back alleys and Taco Bell drive-thrus of Los Angeles, which led to perfect Sunday morning rides straightening out serpentine blacktop. But first, take a few seconds to get your mind straight.
Look closely. Move beyond the obvious similarities in engine size and mission statements. After a few days and miles, each combatant will assert its own distinct character. As the once and future king of seamless, digital refinement, Honda's latest F3 feels small, tight, narrow, agile and ergonomically correct. At 459 pounds soaking wet, it is seven pounds heavier than Kawasaki's more compact ZX-6R. The Ninja's rider and passenger accommodations are less capacious than the Honda's as well, making the Kawasaki a more comfortable ride for the sub-six-foot set. Adjustable brake and clutch levers are exclusive to the Ninja, as is the idiot-resistant neutral finder.
On to the Suzuki. Everything from the steep, rakish windscreen and low clip-ons to the high-mount aluminum footpegs and slippery tail section, peg the 440-pound GSX-R as a narrow-focus, no-apologies sporting weapon. Planted on its wide, flat seat, you're further from the pavement than on any of the others. The Suzuki is a track spike among training shoes. Neither short of leg nor faint of heart need apply.
Next door, the 485-pound YZF-R is a roomier, more comfortable, everyday fit for most riders--especially tall ones. Along with the extra mass and room comes more faring protection and real space for two. Call it the GT of the bunch.
Now start the engines. Blip the throttles. The practiced ear can tell one 600 from another with no help from the practiced eye. The CBR's familiar, veiled gear whine dominates its aural signature. Then there's the throaty, ram-air bark of the otherwise eerily quiet Ninja engine. The GSX-R is a cold-blooded warrior, only settling into a loping, cammy, metallic-raspy idle after it warms up a bit. In contrast, the calm precise-idling YZF four recalls nothing more than a 16-valve Rolex.
Once clear of the driveway, all our contestants happily suffer the necessary indignities of urban commuter duty with the sort of athletic moves you'd expect. Still, some suffer more happily than others. Blessed with the lightest steering, bump-erasing suspension, roomiest rider accommodations and marvelously accessible midrange horses, the YZF wins the war between 8:00 a.m. Monday and 6:00 p.m. Friday. The Yamaha's only glitch (and a minor one) is a fragile-feeling clutch with a narrow, sometimes grabby, engagement band.
A much-improved transmission cleans up the '97 CBR's urban report card. The Honda's carburetion and driveability are dead-on perfect. Still, this year's more sporting HMAS suspension is a bit less compliant over the post-apocalyptic moonscape of L.A. city "streets." Even less-compliant suspension bits conspire with an exasperating off-idle lean stumble to drop the quicker-steering ZX-6R behind the F3 in urban warfare. In traffic, the GSX-R is a Navy Seal at High Tea: uncomfortable.
Despite more humane ergos than its '92-spec predecessor, the GSX-R's warlike riding posture overloads tired wrists around town, enforcing a tuck that, for anybody over 5 foot 9 inches, is too near fetal for comfort. Factor in a nasty 4200-rpm lean spot, a lashy driveline and you have a bike that's (much) happier beyond the stop lights and city limits. No surprise there.
Once traffic lights give way to the appropriate on-ramp, the YZF wins again. Plying rain-grooved freeway at a silky-smooth 75 mph, scanning crystal-clear mirrors for Officer Speed, the Yamaha's artfully sculpted one-piece saddle and sport-touring-size fairing let you drain well over 200 miles from every 4.9-gallon tankful. No other 600 comes with a longer leash. With those comfy suspension bits along for the ride, the YZF is the 600cc solution for interstate twisty-road exploration.
Second place in the interstate battle is a tie you can settle for yourself. Choose less wind protection and more vibration on the CBR, or the less roomy, slightly better-protected cockpit of Kawasaki's smoother, more powerful ZX-6R. At or around legal freeway speeds, a handful of Kawasaki throttle delivers the most convincing forward thrust of the foursome. Most sub-six-footers will go with the smooth and fast Kawi every time.
Despite the least wind protection of the foursome and relatively cruel ergos, the Suzuki's reasonably smooth engine and humane seat make it a survivable freeway ride for the sub-six-foot set. Relatively unforgiving suspension and precious little wind protection make it our port of last resort for high-mileage, straight-line missions. Again, no surprise.
But if touring is your central joy in life, try the Gold Wing aisle. All those "practical," comfortable, commuter considerations serve only to begrease, beguile and otherwise mollify the significant-other/live-in loan officer. It takes horsepower to open the doors of your dirty little weekend kingdom. Lots of it. But more, as Pamela Anderson Lee's plastic surgeon has proven, is not necessarily better.
Judged on dyno curves alone, the GSX-R and ZX-6R rise to the top with identical outputs of 96 rear-wheel horses apiece. The Suzuki's arrive at 12,000 rpm; the Kawasaki's 250 revs earlier. Differences end there. The GSX-R's steeper trace concentrates the real muscle above the 9000-rpm point, whereas the torquier Kawasaki delivers potent thrust from 7500 rpm, followed by another surge of Green Meanness at 10,000.
Source Motorcyclist 1997