Make Model

Yamaha YX 600 Radian

Year

1986-90

Engine

Four stroke, transverse four cylinder, DOHC, 4 valves per cylinder.

Capacity

599 cc / 36.5 cu-in

Bore x Stroke

58.5 x 55.7 mm
Cooling System
Air cooled

Compression Ratio

10.0:1

Induction

4X BS30 Mikuni Carburetor type

Ignition

TCI
Spark Plug
D8EA (NGK) or X24ESU (NIPPON DENSO)
Starting
Electric
Battery 12N
12A-4A/12V 12AH

Max Power

66 hp / 49.2 kW @ 9500 rpm

Max Torque

51.9 Nm / 38,3 ft.-lbs @ 7500 rpm
Clutch
Wet malt-plate

Transmission

6 Speed
Final Drive
Chain
Primary Reduction Ratio
22/21 x 65/28 (2.431)
Secondary Reduction Ratio
45/16 (2.812)
Gear Ratio
1st (2.733) 2nd 37/19 (1.947) 3rd 34/22 (1.545) 4th 31/25 (1.240) 5th 29/28 (1.035) 6th 27/30 (0.900)
Frame
Double cradle

Front Suspension

Telescopic forks, Coil spring, oil damper
Front Wheel Travel
140 mm / 5.5 in

Rear Suspension

Swing arm, dual shock Coil spring, oil damper
Rear Wheel Travel
98 mm / 3.9 in

Front Brakes

2x 266mm discs 2 piston caliper

Rear Brakes

Drum

Front Tyre

110/90-16-59H

Rear Tyre

130/90-16 67H
Caster Angle
27°
Trail
128 mm / 5.04 in
Dimensions
Lngth 2075 mm / 81.7 in
Width 770 mm / 30.3 in
Height 1095 mm / 43.1 in

Dry Weight

186 kg /
Wet Weight
197 kg / 434 lbs

Fuel Capacity

12. Litres / 3.2 US gal
Reserve
2.5 Litres / 0.7 US gal

Consumption Average

44 mpg

Standing ¼ Mile

12.7 sec / 103 8 mph

Top Speed

125 mph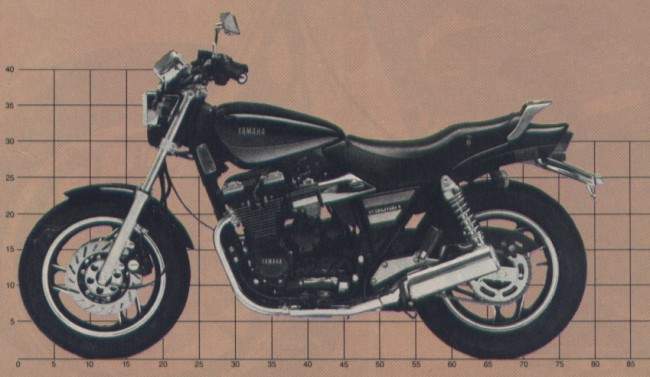 IF EVER A MOTORCYCLE HAD ALL,
the ingredients for mediocrity, Yamaha's new 600 Radian seems to be that machine. It's a parts-room special, you see, a new model that Yamaha fabricated by merely bolting together a collection of relatively low-tech components borrowed from several of its existing models. The styling is one of the few things not lifted from any other Yamaha, but even it is not truly original, for the Radian is simply a slightly modernized rendition of the UJM (Universal Japanese Motorcycle), the "Standard" type of bike that has been on the endangered-species list for the past few years.
This sounds like a description of a bike that has very little going for it. But nothing could be farther from the truth. The Radian is an excellent motorcycle, one that's versatile enough to perform superbly in just about any kind of street-riding scenarios, and able lo excel in many of them, it has the most exciting engine performance of any current motorcycle of its size and type, and it'll outhandle most anything but pure sportbikes. It's so competent that the average rider will probably ride better and have more fun on it than he would on any of the narrow-focus middleweight sportbikes. So rather than being a forgettable motorcycle, the Radian just might turn out to be the success story of 1986.
If that happens, it won't be because the Radian is built of leading-edge componentry. The engine, for example, is the same basic powerplant that has been powering the FJ600 lor the past couple of years. But while that two-valve-per-cylinder, air-cooled inline-Four might seem almost anachronistic in this era of four- and five-valve cylinders and liquid-cooling, the fact is that the FJ600 has been murdering its competition in box-stock roadraces—due, in large part, to its engine. It has simply outrun everything else on the track.
Before being slipped into the Radian, however, the six-speed, dohc engine was mildly retuned for more low-end and mid-range power. Slightly smaller carburetors and a recalibrated exhaust system were what did the trick, along with revised intake-cam timing.
These minor engine changes are intended to make this general-purpose bike more pleasant for around-town riding than the FJ600 sport-bike, which was kind of dead at low and medium rpm. And while the Radian's power output in those rev ranges is still not likely to cause any dislocated shoulders, the bike is nonetheless quite peppy and responsive at moderate engine speeds by middleweight standards. Roll-on acceleration is decent if not spectacular, and the engine has an almost linear power output from around 3000 rpm all the way up to its 10,000-rpm redline. The end result is a motorcycle that, in most normal riding situations, at least feels every bit as quick as the racer-replicas in the 50O-6OOcc class, even if it really isn't.
Like the engine, the frame comes from another Yamaha, but the donor in this case is the discontinued XJ550 Maxim. The 550 and 600 engines share the same basic main cases, so the frame required no reworking to allow the larger engine to fit. It has, however, been beefed up to handle the 600's extra power and weight.
To get brakes for the Radian, Yamaha used RZ350 rotors and FJ600 calipers up front, and put a drum brake on the rear that is much like several other Yamaha rear drum setups. That rear brake tends to lock easily in panic-stop situations, but the discs work very well. The front brakes have a positive feel and give a lot of feedback, allowing quick, predictable stops without front-wheel lockup.
Two key areas of the Radian that were not equipped with recycled parts are the front fork and the rear shocks, all of which were built for this bike alone. The fork offers no adjustments whatsoever, but it works well in situations ranging from cruising in town to thrashing around a racetrack.
The shocks aren't quite as good as the fork, though, for the Radian's twin rear units suffer from inadequate rebound damping. That trait is most noticeable on short, choppy bumps, especially at higher speeds. The ride is fairly smooth most of the time, and larger bumps at moderate speeds are no problem.
Altogether, the Radian handles far better than its chassis specifications might indicate. On backroads, the bike is not only a blast to ride, it's easy to ride. It responds best to a smooth touch, because the chassis requires only subtle rider inputs to change direction. And because it responds so immediately to the rider's actions, the Radian feels very sporty, despite its fairly upright seating position and medium-rise handlebar. Getting through the turns quickly is an almost effortless affair, as the steering is light and precise, and the bike is quite stable. This ease of maneuvering is aided by the fact that you don't have to keep the engine wound tightly to get from turn to turn quickly. And riders who choose to corner the Radian aggressively will take comfort in knowing that its Dun-lop tires provide good traction, and that the cornering clearance is adequate for all but the most gonzo of charges along a twisty backroad.
Around town, the Radian is equally delightful. The clutch has a light pull and the engine comes on reasonably strong off idle, making the bike easy to get moving. The low-speed handling is exceptional, due to the bike's light feel and responsiveness. And its small size, dictated by the dimensions of the XJ550's frame, is an asset for urban riding.
Of course, the flip side of the Radi-
an's smallness is that the bike is not all that roomy. Larger riders might find the seating position somewhat restrictive, mostly because of a comparatively tight footpeg/seat relationship. For a beginning rider, though, or one who is rather small, the compactness of the Radian will be one of its more attractive features. Nonetheless, the bike still is capable of handling a wide variety of assignments, while keeping a rider of almost any size reasonably comfortable in the process. A rubber engine-mounting system isolates virtually all vibration from the rider, and the seat offers good support and is narrow enough to allow him to move about freely. So after all is said and done, the
Radian is everything it promises not to be. Its parts-bin heritage and standard-bike configuration lead one to think that it would be a dead-boring, middle-of-the-paek performer; but in actuality it is a fast, agile middleweight that is as exhilarating to ride as many more technically sophisticated machines.
But by far the best thing about the Radian is not its spirited engine performance or roadracer-like handling; it's the bike's price. This is a machine that would be a solid buy at around three grand, but at $2399 it's a screaming deal. It has to be the best buy of the year. And perhaps, in terms of motorcycle per dollar, the best buy in quite a few years. Just as
important, that bargain price puts a full-size motorcycle of top quality and high performance within the reach of a lot more first-time buyers, a consideration that the manufacturers have too long neglected.
In the end, the Radian is a welcome solution to some of the problems that confront motorcycling today: over-complexity, planned obsolescence, increasing specialization and high prices, to name just a few. The Radian represents a more-rational approach to building and marketing new models, and a timely one, as well. Someone at Yamaha had the right idea; after that, building a motorcycle as good as the Radian had to be the easy part. E3
Source Cycle Word 1986