Yamaha XV 1100 Virago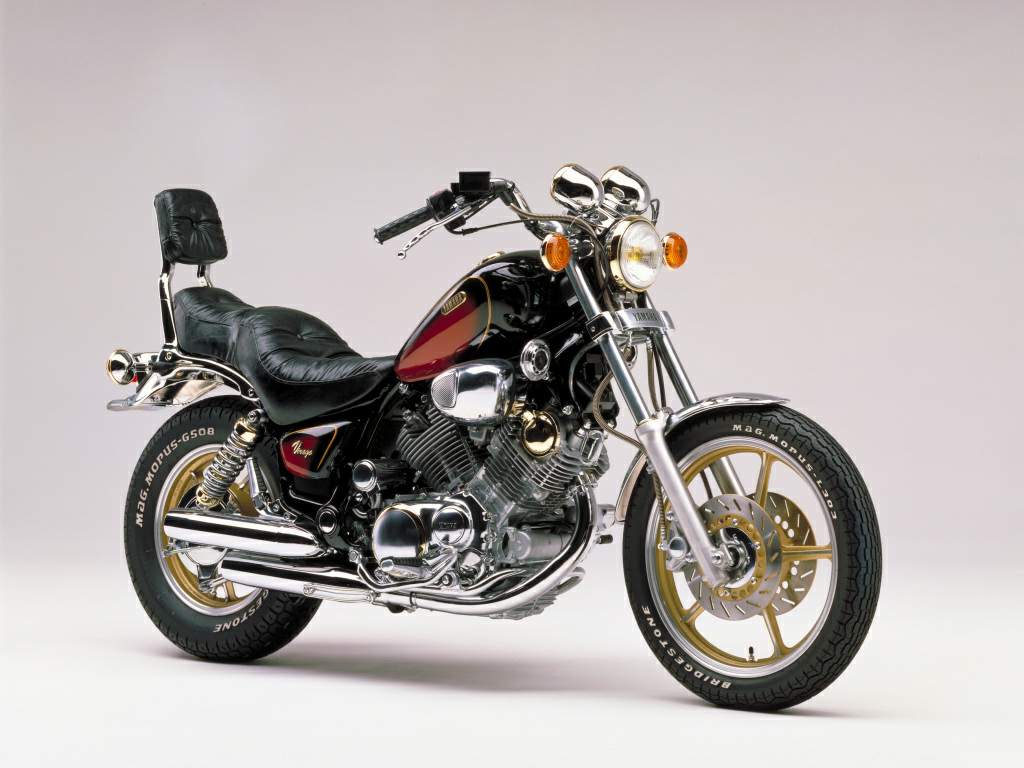 Make Model

Yamaha XV 1100 Virago

Year

1989 - 92

Engine

Four stroke, 75° V-twin cylinder,, SOHC. 2 valve per cylinder

Capacity

1063 cc / 64.9 cu-in

Bore x Stroke

95 x 75 mm
Cooling System
Air cooled

Compression Ratio

8.3:1

Induction

2 x Mikuni BST40 carburetors

Ignition

Digital
Starting
Electric

Max Power

61.7 hp / 45.4 kW @ 6000 rpm
Max Power Rear Tyre
57.9 hp @ 6000 rpm

Max Torque

8.7 kgf-m / 85.3 Nm @ 3000 rpm
Clutch
Wet multi-plate clutch

Transmission

5 Speed
Final Drive
Shaft
Frame
Pressed steel backbone

Front Suspension

38mm Telescopic fork
Front Wheel Travel
150 mm / 5.9 in

Rear Suspension

Dual shocks, 5-way preload adjustment.
Rear Wheel Travel
97 mm / 3.8 in

Front Brakes

2x 282mm discs

Rear Brakes

Drum

Front Tyre

100/90-19 57H

Rear Tyre

140/90-15 M/C 70H
Rake
32°
Trail
129 mm / 5.1 in
Dimensions
Length 2285 mm / 90.0 in
Width 840 mm / 33 in
Height 1190 mm / 47 in
Wheelbase
1525 mm / 60.0 in
Seat Height
715 mm / 28.1 in

Dry Weight

221 kg / 487.2 lbs
Wet Weight
241 kg / 531.2 lbs

Fuel Capacity

16.8 Litres / 4.4 US gal

Consumption Average

17.0 km/lit

Braking 60 - 0 / 100 - 0

13.6 m / 40.7 m

Standing ¼ Mile

13.2 sec / 156.3 km/h

Top Speed

187.9 km/h / 116.7 mph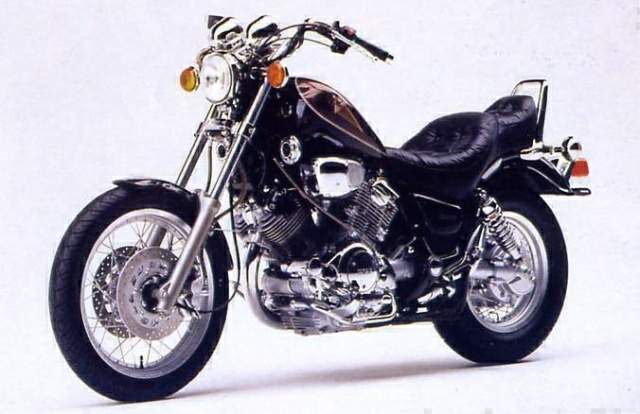 Road Test 1989
Before the first Virago hit U.S. shores in 1981, Japanese motorcycle companies had followed an unspoken agreement that the big V-twin niche was reserved for America's own manufacturer. Yamaha slyly skirted the unspeakable by making the Virago a different sort of machine—one that nicked rather than blew away the Milwaukee bull's-eye. It was an immediate success.
But once Yamaha's toe was in the door, there was no closing it. Other Japanese factories throbbed their way into America's garages with their own V-engined customs. By 1984, Yamaha marketing experts couldn't help noticing the success of Honda's Magna and Shadow 750s—far closer H-D clones than the Virago. Buyers responded to the additional flash, and to the more traditional Yankee look.
While the Japanese manufacturers were just beginning to open point-blank fire at one another on the sport bike front, many American motorcyclists-58 percent of new bike purchasers in 1983, to be precise—cared little about those machines. Of a total 400,000 street motorcycles sold in the U.S. that year, 233,000 were "cruisers."
In 1984 the Virago's loins were re-girded accordingly. Twin shocks replaced the original Monoshock rear end, footpegs were mounted way up front on the engine cases, twin chrome pipes flowed from the exhaust ports, and a sissy bar sprouted aft of a more stepped seat. The more American Viragos moved like proverbial hotcakes, and a lesson was learned. Custom cruisers didn't need LCD instrument clusters and sophisticated on-board computers, like the '82 XV920 Virago had; they needed simplicity, and style, and big throbbing engines.
That 1984 Virago is still with us today with even more throb. Its original 981 cc displacement was obtained by boring its 920cc predecessor 3mm larger; and in 1986, a stroke increase pushed displacement to its current 1063cc size. Though flywheel weight was also added with the stroke increase for smoother power delivery, the air-cooled, two-valve, oversquare Yamaha still is the most free-revving of the big twins as well as the smoothest.
Speaking of rpm, tables turn very fast in the international motorcycle business. In sobering contrast to the 233,000 customs sold in 1983, the motorcycle industry sold just under 92,000 last year according a Yamaha official—and a third of those were Harley-Davidsons. The price gap that once made Japanese customs impossible to ignore has all but evaporated. The Virago is still at the bottom of the price line at $5500, with Suzuki's big Intruder occupying the high end at $6500. But all big Japanese cruisers are now priced dangerously close to 1200 Sportster territory, and Yamaha expects that Harleys will account for fully half of the custom market in the 1990s.
Custom cruisers still accounted for 32 percent of Yamaha's total cycle revenue last year, so there can be no thought of discontinuing the line, but the sagging dollar also renders expensive upgrading unfeasible. This year's Virago differs from last year's in color only. In the Virago's case, that's not a bad thing.
Sport-bike riders who sight along their noses at the Virago might be surprised at how well it works on unfamiliar two-lanes. The Virago has no intention or chance of sucking headlights from GSXRs, but it's no pooch either. Pumping 6 to 8 psi of air into the fork (one valve fills both tubes) cures its mushiness, and gives reasonable medium-speed Ground Clearance while still allowing amateurs the distinction of peg-dragging and showing off planed heels. You can usually just leave the transmission in fifth. What's this? Unexpected decreasing radius curve? Roll off the throttle and chassis attitude barely changes thanks to the stiff rear shocks and pumped-up fork; roll back on when the coast is clear and accelerate smoothly away. Virago brakes are the best in cruiserville, light and powerful.
The Virago is the lightest and quickest steering of its big-twin competitors, despite 32 degrees of rake and 5 inches trail. While rake and trail numbers like those were last seen on a sport bike in the early seventies, they are relatively steep and short by current custom standards. At 537 pounds wet, the Virago undercuts the next lightest cruiser—the 1400 Intruder—by 36 pounds. It's also the shortest, with a wheelbase of 60 inches in a class where the norm is 4 or 5 inches more. The smallness of the bike once cramped taller riders, but last year's revisions included a handlebar bend that moved hand position forward 1.6 inches and upward 1.3, and footpegs were pushed almost 2 inches forward.
While Yamaha may have reacted to complaints about the cramped riding position, it still has work to do on the rear shock absorbers. Set to the least pre- loaded position, the springs are too stiff for riders under 150 pounds, and the ride is worsened by unsophisticated compression damping. That can be painful on the Virago, which positions all the rider's weight squarely on his coccyx. The shocks are adjustable for rebound damping, but it's difficult to tell if twisting the collars really has any effect other than to satisfy the rider's need to tinker. The Virago's rear end spends a lot of time in the air over rough roads if you insist on speed.
As in the first Virago, the engine hangs from the pressed steel backbone via oversize cylinder head studs, and it is still one of the more polite large-displacement twins on the road. Vibration is no stranger to big twins, and the Virago is no exception, but its shivering never becomes bothersome until rpm exceeds about 4000. By 4500 rpm, the handlebar begins to feel like a high-voltage cable; footpegs and seat, and the rider's eyeballs join in around 5000. Redline is set at 7000 rpm, but there's no reward at all for revving the engine that far. Any speed beyond about 75 mph or 4200 rpm is really not what this bike is about. The Virago would benefit from taller gearing; in top gear its big engine spins nearly as fast as the 647cc Honda Hawk's.
Other than high-speed vibration, the Virago engine gives little cause for complaint. While its 54.1-horsepower peak at 5500 rpm may not seem high, more telling is a torque curve that starts as low and stays as flat as the Gulf Coast of Texas. The Virago engine pumps out 50 foot-pounds at 2000 rpm; it peaks at 54 foot-pounds at 3000 rpm; and it holds above 50 foot-pounds until past 5500 rpm. That's the kind of low-speed, short-shifting grunt that V-twins are famous for, but don't always deliver.
The bottom-weighted power curve combines with the Virago's light weight to make it the quickest big V-twin cruiser: It covers a quarter mile in 12.90 seconds at 98 mph. That's about the same performance as . our Harley FX project bike after modification, and quicker than any of the Japanese competition.
If you're not bent on speeding, long distance travel on the Virago can be surprisingly pleasant, provided you pack something soft on the pillion to provide back support—otherwise, as with most cruisers, hands and lower back fatigue early. The Virago places its rider in a rearward list, and without something to lean on at speed, the task of staying on the bike falls entirely on the wrists and on the step in the seat. That seat is excellent, considering its difficult task of supporting all the rider's weight, but when butt-burn sets in, there aren't a lot of alternate positions available. The bike tracks great over a long haul. Its long rake and trail figures result in a chassis that ignores rain grooves and goes straight.
Hacking a path through the urban jungle is the bike's real forte. It loves to cruise Brando-like through town in a quietly testicular way, and doesn't mind stopping at every intersection any more than a dog minds sniffing every bush on its daily rounds. Volvo-ingested urbanites, who wouldn't notice Team Lucky Strike practicing nude, seldom fail to worriedly sideglance the Virago, while certain other denizens of the city frankly ogle it. The laid-back riding position works as intended at low speeds, and the strong off-idle power lets the bike burble away from stops with ease; you couldn't kill the engine with a club unless it were a very large one. Clutch pull is light, and short people have no reason not to like the Virago. A little more character from the exhaust pipes would be nice, but Yamaha can't help that. Even God's Harley has to satisfy the EPA.
Though the market share for Japanese customs has dwindled in recent years, the demand shows no sign of vanishing and neither does the Virago. It benefits from the same gradual refinement policy Yamaha so successfully applies to the other veterans in its lineup—a policy that has kept the Virago the most economical big V-twin on the market while making it the most functional. If you subscribe to the theory that motorcyclists are modern cowboys and bikes their horses, then this particular steed is ol' Paint. A little long of tooth, perhaps, but an honest and reliable companion.
Source Cycle 1989