Yamaha XTZ 660 Ténéré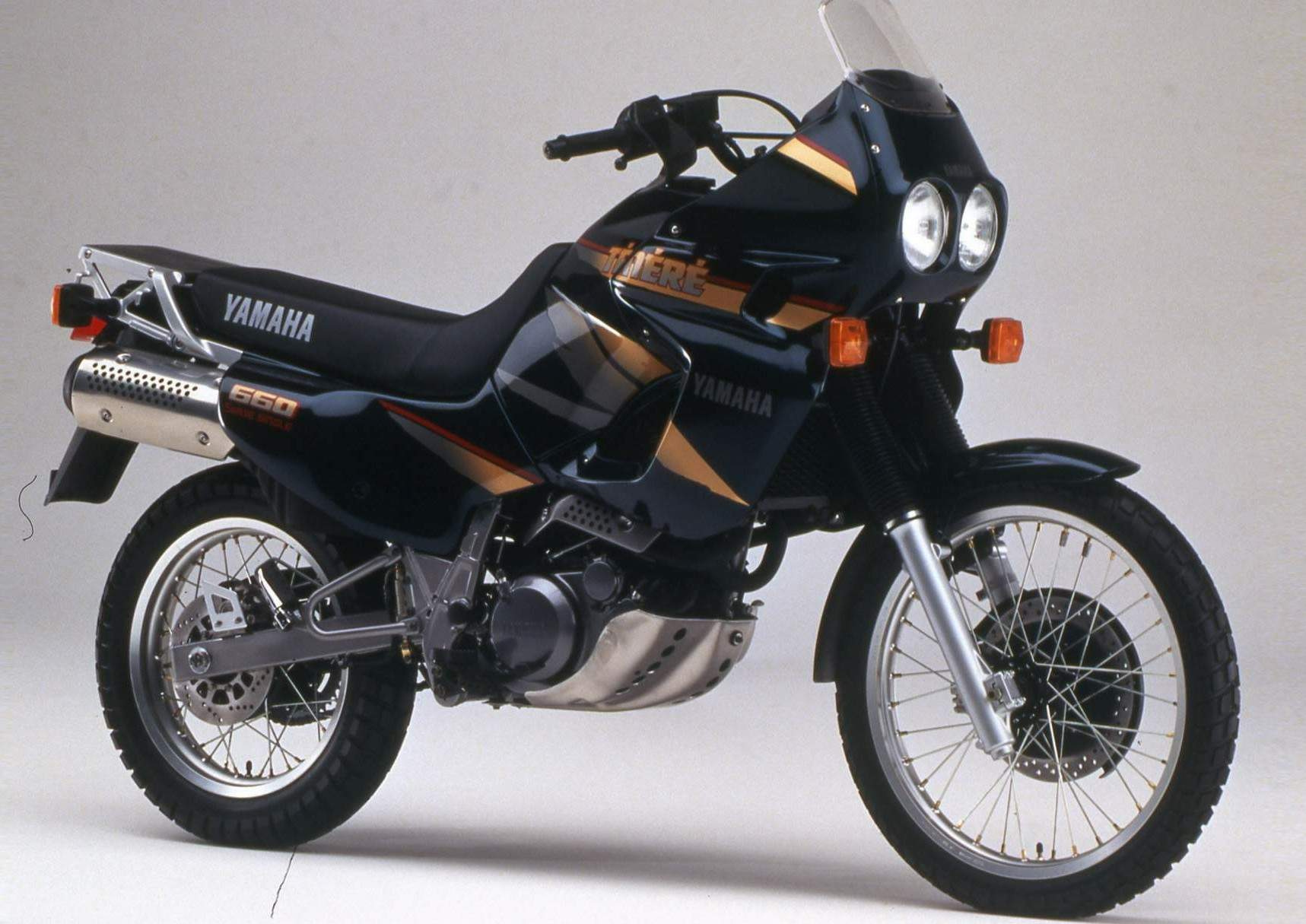 Make Model

Yamaha XTZ 660 Ténéré

Year

1996 - 98

Engine

Four stroke, single cylinder, SOHC, 5 valves per cylinder

Capacity

660 cc / 40.2 cu-in

Bore x Stroke

100 x 84 mm
Cooling System
Liquid cooled,

Compression Ratio

9.2:1
Lubrication
Dry sump

Induction

TEIKEI Y 26 PV / 3YF 00

Ignition

Transistor Controlled

Starting
Electric

Max Power

46 hp / 35.5 kW @ 6000 rpm

Max Power Rear Tyre

42.9 hp @ 6400 rpm

Max Torque

55.9 Nm / 42 ft. lb @ 5000 rpm

Transmission

5 Speed

Final Drive
Chain
Gear Ratio
1st 2,583 2nd 1,588 3rd 1,200 4th 0,954 5th 0,792

Front Suspension

43mm Telescopic forks

Rear Suspension

Monocross adjustable for preload, 5-way rebound damping

Front Brakes

Single 282mm disc 4 piston caliper

Rear Brakes

Single 245mm disc 1 piston caliper

Front Tyre

90/90-21

Rear Tyre

120/90-17

Oil Capacity
3.0 Litres
Dimensions
Length 2265 mm / 89.1 in
Width 885 mm / 34.8 in
Height 1355 mm / 53.3 in
Wheelbase
1495 mm / 58.9 in
Seat Height
865 mm / 34.1 in
Dry Weight
169 kg / 372.5 lbs

Wet Weight

195 kg / 429 lbs

Fuel Capacity

20 Litres / 5.3 US gal

Reserve
3.5 Litres

Consumption Average

16.7 km/lit

Braking 60 - 0 / 100 - 0

14.7 m / 40.8 m

Standing ź Mile

14.0 sec / 145.3 km/h

Top Speed

167.5 km/h / 104 mph
Fifth generation: Streamlined
The last generation of the 5-valve XTZ 660 Ténéré appeared in 1994. This last evolution had a completely new streamlined bodywork with a dual front headlamp inspired by the famous Super Ténéré 750cc twin. There were no significant mechanical changes to engine or chassis.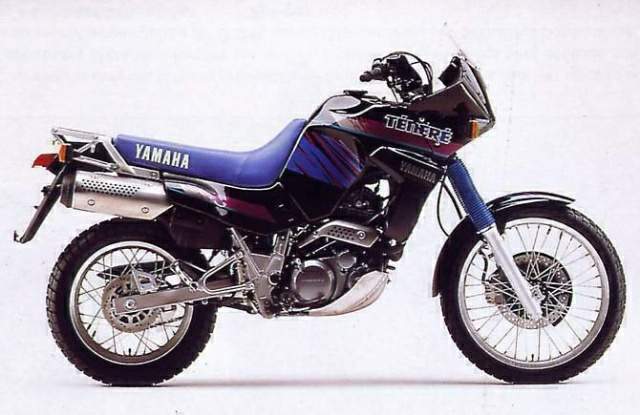 BMW has a bike to take on the established stars in the competitive single-cylinder dual-sport class - the F650 GS Dakar. Mark Fattore of Australian Motorcycle News tried it on for size against Yamaha's loyal XTZ660 in July 2000.
Ever had anything to do with the United Nations? Sorry, silly question, so let me fill you in on something. There is a large body of countries that comprises the General Assembly, which gets together annually to debate on a wide variety of issues - everything from the impact of cow flatulence on the ozone layer to the question of reunification on the Korean peninsula. Outside of the General Assembly, there are a number of nations which are granted observer status - sort of like an apprenticeship in the big bad world of diplomacy.
Sure, they can watch what's happening and drink the red cordial and eat the alfalfa sandwiches during regular breaks in proceedings, but when it comes to actual participation and voting rights they are lame ducks. And other countries probably laugh at them.
Now, I must admit there's been a bit of that observer status feeling in me. You see, I've unfortunately managed to miss every dual-sport comparo at AMCN since I started in 1996, all for a variety of plausible reasons - except for one when I was domiciled in Japan trying to teach English. But all the while, I knew what was happening - eg dirt bunny Mr Ed struggling to keep his bike upright in slippery gravel - and I yearned to be a part of it. Well, after a recent wild day aboard the stylish-looking Yamaha XTZ660 Ténéré and the BMW F650 GS Dakar - hereafter the Ténéré and Dakar respectively - that feeling of emptiness is no more.
TWO EXTREMES
Really, this match-up is the tale of two extremes; the venerable veteran (Ténéré) against the new upstart (Dakar), which in competition guise won the 2000 Dakar-Cairo rally under the control of French maestro Richard Sainct.
The $8439 Ténéré has been available in Australia since 1995, since then passing time without any major updates or modifications. However, that doesn't seem to be hurting Yamaha's hip pocket too much, with the Ténéré recording 54 registrations year-to-date - for a mature product reaching the end of its life-cycle, that's a very sound outcome. The big bonus is that the bike also copped a $360 drop in price since July 1, opening up more leverage on the showroom floor.
The limited-edition Dakar, on the other hand, is one half of the new F650 GS range, which also includes the standard road-going model. AMCN staffer Rod Chapman attended the national launch of the 650 GS in April (Vol 49 No 19), after which the bike came into our hands for an extended sojourn, culminating in another appraisal in Vol 49 No 22. With a stonking new Rotax-sourced engine and all-round versatility, the F650 GS was certainly lauded as a far superior product to its Funduro-monikored predecessors, which date back to 1993.
The Dakar, meanwhile, is basically an adjunct to the standard F650 GS - the same potent template, but with some extra off-road hardware, including a 21-inch front wheel, (standard is 19-inch, with a 17-inch rear), longer 210mm suspension front and rear, a higher screen (from the marque's 650RR), hand protectors, a 870mm seat height and a longer front guard. On the other side of the coin, there's no ABS option on the Dakar - in the bush, that means diddly-squat anyway.
So while the standard F650 GS may have made the initial move towards a dirt ideology, the Dakar has taken that mandate one step further on.
THE REAL STUFF
Okay, that's the abbreviated history lesson - how does it all translate to the real stuff? To find some answers, Mr Chapman and myself set off for a day's riding, which fell into three distinct segments: urban warfare, a 200km ride through the twisties and 100-odd-km through the bevy of dirt roads that criss-cross the Great Dividing Range.
On first impressions, you can't help but notice the Rotax-built, four-valve, liquid-cooled 652cc fuel-injected powerplant in the Dakar is an absolute gem. The donk, while sharing many of the same characteristics as the earlier carburetted Funduro incarnations, has a new cylinder head that follows a grounding found in BMW's M3 car. BMW claims 50ps at 6500rpm for the Dakar, the same figure Yamaha quotes for the liquid-cooled, five-valve SOHC Ténéré.
From a standing start there's very little between the bikes, although as the wrist gets more willing, the Dakar comes into its own - it's still pulling strongly at 120km/h while the Ténéré begins to cry enough. In fact, the Dakar's strength over the Ténéré builds incrementally right through the rev range, with most of its bullocking work done between 3000 and 6000rpm. Roll-ons in top gear confirmed that Dakar advantage.
As an illustration of what the Dakar engine is capable of, in the Dakar-Cairo Rally, Sainct's machine pumped out an intimidating 76ps in full-factory guise - that's reason enough why the engine will continue to be a popular supermono choice in its updated guise, along with the Ténéré's for that matter.
Both the F650s now have fuel-injection - the only mass-produced, road-going single-cylinders to do so - which is claimed to have added 2ps to the whole shebang. The BMS-based injection system is a revelation and there's none of that well-documented lurching that besets some fuel-injection systems. The Ténéré follows a more traditional path with a relatively small 26mm carby, which goes a long way to explaining why its motor has more mongrel in the bottom end and midrange - to the detriment of the top end.
Both incarnations cruise along at 100km/h at just a shade over 4000rpm - confirming the fact that these bikes are tailor-made for long distance touring. On that note, the BMW averaged 18.2km/lt during its time at AMCN and the Ténéré 16.6km/lt. With the latter's huge 20lt fuel tank, that equates to about 330km with a full payload before reserve has to be activated. Meanwhile, the BMW's 17lt tank will see out around 300km before the fuel warning light is pressed into life.
I'M NOT DRIBBLING
You can't escape the fact - I reckon Aussie basketballer Luc Longley has some clandestine sponsorship arrangement with the R&D departments at BMW and Yamaha, as both have quite high seat heights, straight from the motocross handbook. The BMW's (comfy) seat is 870mm, 5mm more than the Ténéré. To be fair, that's a function of increased travel in the suspension to accommodate the duo's off-road intentions, but at 172cm around the city it caused me a few concerns - at lights, it's akin to that nervy feeling when you're waiting for a plane's wheels to touch the runway on landing.
BMW has a ready-made solution to the seat dilemma - there's an optional smaller seat (780mm), which is the standard seat height on the F650 GS.
High seats are in themselves not a problem, as long as they form a viable part of the bike's overall equation. For example, there's not much point in pitching with a tarmac-friendly dual-sport with sticky road-based tyres, 17-inch wheels, hard suspension and aggressive riding position if the seat is too high for the average Joe Bloggs. Unfortunately, a few dual-sports have fallen into that trap over the years.
Gladly, neither the Ténéré or the $11,980 Dakar (down from 13K pre-GST) do in this case, although the Dakar has probably got more reason too with its greater dirt capability and suspension travel - more on that in a moment.
A CUT ABOVE
After using roadside kerbs as a stationary launching pad through the city, it was a soon a welcome change to venture into some twisty terrain east of Melbourne. Really, this is one step away from utopia for the Ténéré - open terrain where its fairing protection is top-notch, its top-heaviness is not such a concern and the huge twin headlights do the job with aplomb.
The Dakar is really a cut above in the twisty stuff. Its peakier motor, tripled with a lower centre of gravity and shorter wheelbase (1489mm versus 1495mm), leaves the Ténéré quite a way in arrears. A key factor in the advantage is attributable to the location of the Dakar fuel tank, which is mounted under the seat, concentrating the centre of mass to the centre of gravity.
One area where Ténéré did have the runs on the board in this environment was the brakes - its twin-piston Nissin set-up on the front had the edge over the Brembos on the Dakar for both feel and power; quite an achievement considering that the Nissins are forever trying to pull up a heavier mass.
The Ténéré's suspension is definitely harder, although that feeling may be exacerbated by the bike's harder and narrower seat. On that score, the bike tends to struggle on a dirt road, as it would rather skate over the bumps than soak them up. The Ténéré has slightly beefier forks than the Dakar (43mm to 41mm), although both are non-adjustable units. On the rear, both are adjustable for preload and rebound. Only the Ténéré has compression adjustment.
The Dakar has a nifty remote 40-click preload adjustment knob, which is located on the right hand side of the bike, near the base of the cylinder. Suspension travel is 200m front and rear on the Ténéré, with 210mm on the Dakar.
As mentioned earlier, the latter is more dirt-like in its outlook with a combination of slightly more aggressive footpeg positioning and softer suspension. And, of course, like the Ténéré, it does come standard with a trail-based hoop that at least manages to keep things respectable away from the blacktop. The Dakar has Bridgestone Trail Wings front and rear and the Ténéré Dunlop Trailmaxs. Actually, it's a refreshing thought that there are at least a few dual-sports that can be ridden with some confidence away from the tar - for a lot of the brethren in this class it's strictly a taboo subject.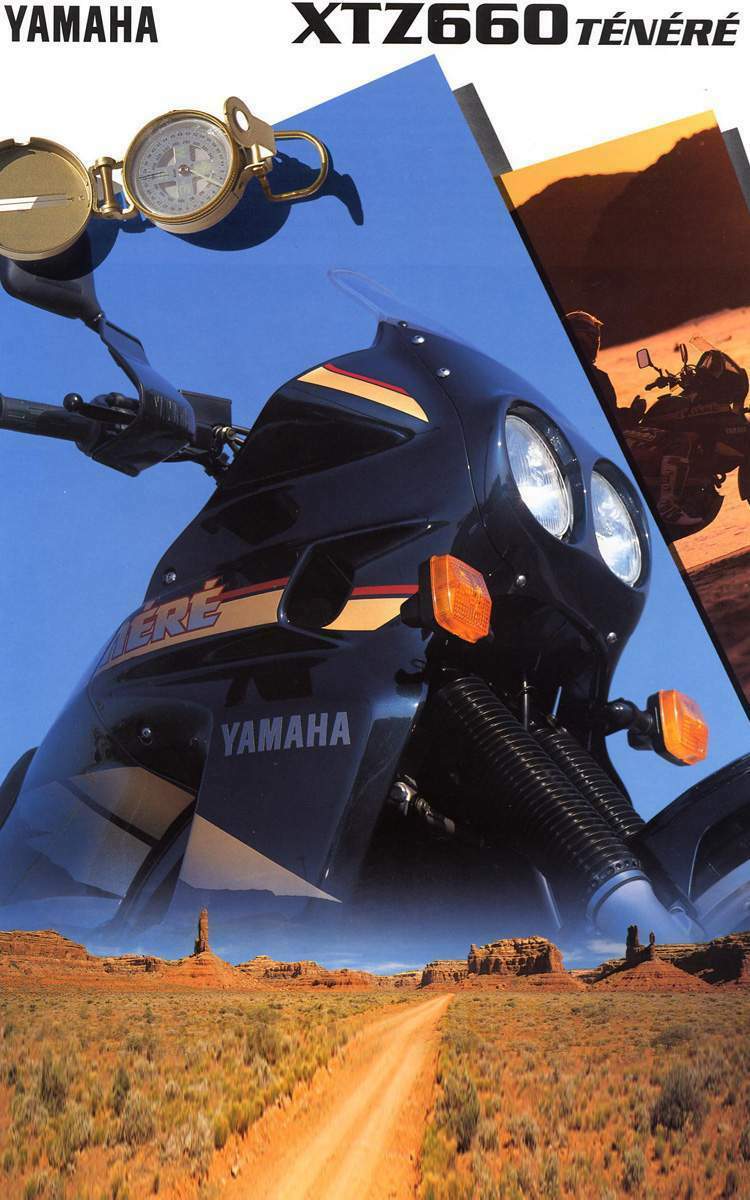 INTEGRATION WINS OUT
Both the machines sport a smallish rear rack for carrying luggage. And pillions haven't been forgotten about either, with meaty grab rails mounted either side of the rear racks. And wait, there's a little more on the Dakar - a lockable storage area to keep your maps safe for when you compete in the Australian Safari.
So what's the bike of choice? Well, there are some clearcuts - the Dakar has definitely got the upper hand on the Ténéré through town and on middle-distance trips. Even on the more open stuff where the Ténéré lifts its workrate, the BMW is there all the way with its heated hand grips, plusher seat and higher screen.
Yes, you do pay for those privileges with the Dakar - and it mightn't have the aesthetics to quite match the Ténéré - but even so it's more of a complete package. In a word, integration at its best. I just don't think I could shy away from that too easily.
Mark Fattore, Photos: Stuart Grant
BMW SPECIFICATIONS
ENGINE
Engine type: Liquid-cooled, four-stroke, DOHC, four valves per cylinder, single-cylinder;
Bore x stroke: 100mm x 83mm;
Displacement: 652cc;
Compression Ratio: 11.5:1;
Ignition/fuel system: BMS electronic fuel injection;
Starting system: Electric;
Lubrication system: Dry sump.
TRANSMISSION
Type: Five speed, constant mesh;
Primary drive: Gear;
Clutch: Cable-actuated, wet, multi-plate;
Final drive: Chain.
CHASSIS AND RUNNING GEAR
Frame type: Rectangular steel bridge-tube frame;
Rake: 29 degrees;
Trail: 113mm;
Wheelbase: 1489mm;
Front suspension: Non-adjustable 41mm telescopic Showa fork, 210mm travel;
Rear suspension: Monoshock with adjustable preload and rebound, 210mm travel;
Front/rear wheels: wire spoked wheels, 2.50 x 21in front, 3.00 x 17in rear;
Front/rear tyres (as tested): Bridgestone Trail Wing,100/90-19 front, 130/80-17 rear;
Front brake: Single 300mm stainless-steel floating disc with twin-piston Brembo caliper;
Rear brake: Single 240mm Brembo stainless steel floating disc with Brembo single-piston caliper.
DIMENSIONS AND CAPACITIES
Wet weight (claimed): 192kg;
Seat height (claimed): 870mm;
Oil capacity: 2.3lt;
Fuel capacity: 17ltFuel consumption (average): 18km/lt.
PERFORMANCE
Maximum power (claimed): 50ps@6500rpm;
Maximum torque (claimed): 6.12kgf-m@5000rpm;
Top speed (claimed): 166km/h.
MISCELLANEOUS
Test bike supplied by: BMW Australia, Springvale (Vic);
Recommended retail price: $11,980 plus ORC;
Warranty: 12-month/unlimited kilometer;
Colour options: White (Dakar).
YAMAHA SPECIFICATIONS
ENGINE
Engine type: Liquid-cooled, four-stroke, five-valve SOHC, single-cylinder;
Bore x stroke: 100mm x 84.5mm;
Displacement: 660cc;
Compression ratio: 9.2:1;
Ignition: Electronic;
Carburation: Y26PV;
Starting system: Electric;
Lubrication system: Dry sump.
TRANSMISSION
Type: Five-speed;
Primary drive: Gear;
Clutch: Cable-operated wet multi-plate;
Final drive: O-ring chain.
CHASSIS AND RUNNING GEAR
Frame type: Box-section steel frame;
Rake: not given;
Trail: 112mm;
Wheelbase: 1495mm;
Front suspension.: Non-adjustable conventional 43mm forks with 200mm travel;
Rear suspension: Shock absorber with compression, rebound and preload adjustment with 200mm travel;
Front/rear wheels: Wire-spoked wheels, 21 x 1.85 front, 17 x 2.75 rear;
Front/rear tyres: Dunlop Trailmax, 90/90-21 front, 130/80-17 rear;
Front brake: Single 282mm disc with twin-piston Nissin caliper;
Rear brake: Single 220mm disc with single-piston Nissin caliper.
DIMENSIONS AND CAPACITIES
Dry weight (claimed): 171kg;
Seat height (claimed): 865mm;
Oil capacity: 3.2lt;
Fuel capacity: 20lt;
Fuel consumption (average): 16.5km/lt.
PERFORMANCE
Maximum power (claimed): 50ps at 6500rpm;
Maximum torque (claimed): 5.8kgf-m at 5250rpm.
MISCELLANEOUS
Test bike supplied by: Yamaha Australia, Wetherill Park (NSW);
Recommended retail price: $8439 plus ORC;
Warranty: 24 mths/unlimited km;
Colour options: Dark green, blue.
Source Bikepoint