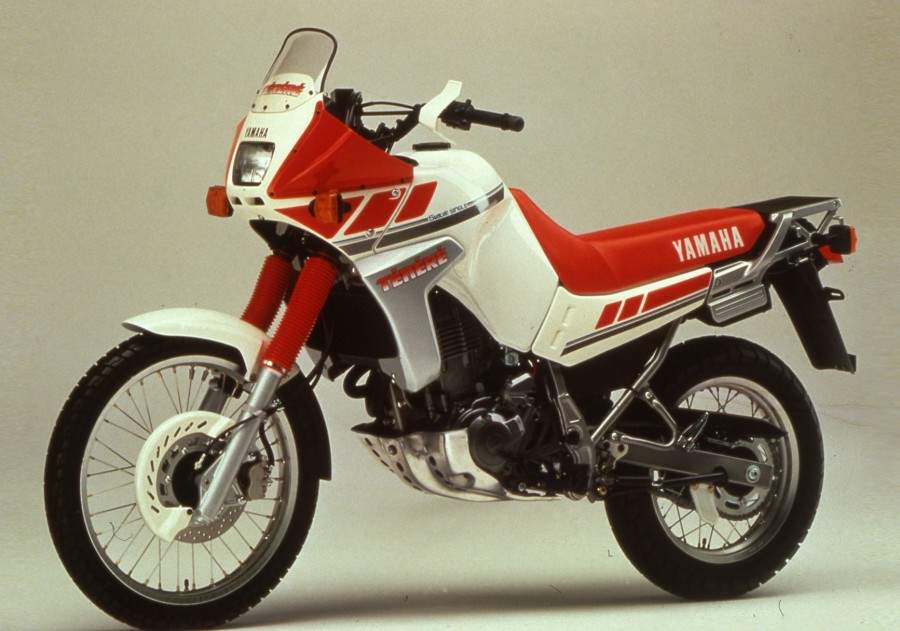 Review

Yamaha XTZ660 Ténéré: the all-purpose thumper now has a middle inlet valve, a water jacket and revised everything else. Dirt animal Tom Crees went to the launch in France.

Yamaha claimed the first three places in the Paris-Dakar this year, so they must know something about off-road bikes. With the Culf war delaying the scheduled UK launch of the completely redesigned XTZ660 Ténéré single we went to France where Sonauto, the French Yamaha importer, had some pre-production models for evaluation.

Yamaha have increased mid-range torque and top end power over the 1990 600 Ténéré by upping the capacity to 660cc and, for the first time on a single, using a five valve head. A bigger single is more prone to heat distortion so to keep temperatures stable, liquid cooling has been introduced and this also keeps engine noise down. Bolted to the bottom is a whopping great skid plate that not only prevents entry to the sump by a foreign object such as a rock, but will protect the engine from damage in an unscheduled trip down the road on its side.

The motor is a stressed member of the new diamond-pattern frame which, Yamaha say, increases rigidity. Carrying the oil in the frame dispenses with the oil tank, allowing a narrower seat area which is also reduced in height by a full inch to 34'/:>in (Yamaha quote 34.1 — Ed). The cockpit area has a new instrument panel recessed into a Paris-Dakar style fairing which does a fair job of deflecting air off the rider. The sit-up-and-beg riding position results in considerable wind blast at high speed but tucking in behind the screen alleviates this.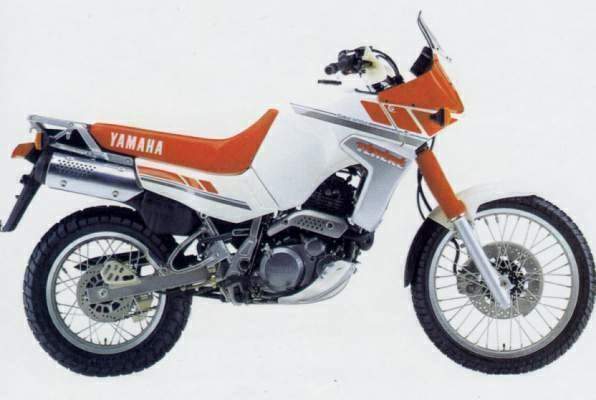 The 660 is very comfortable despite the bulbous Ténéré fuel tank, it's been slimmed down in the rear section to keep 'leg spread' to a minimum. The seat extends up to the fuel tank in the kind of smooth contour likely to protect one's gonads in a rapid de-acceleration situation.
The aluminium rear carrier is the business with all the tie hooks and brackets your bungee straps need. It also has a passenger grabrail which doubles as a convenient grappling point for pulling the bike out of the mire should you become over-ambitious in your off-road riding.
As with most big bore trailies the 660 Ténéré feels tall, but once underway is no problem. The new power characteristics mean a very flexible engine (it'll pull from 3,000rpm in top without transmission snatch), with little rider input needed to get the best out of it. Clutchless, first gear wheelies are a cinch when lifting the front for an off-road obstacle or showing off on the street. There's no point revving out in every gear; short shifting is the way to go, but if the engine does bog down a bit and you need some instant zap then a dab of the clutch will have things back on song.
Mixing with aggressive French drivers the Ténéré proved a formidable tool, flowing with Paris rush hour traffic in top gear up to an indicated 175kph (105mph-ish). There wasn't much engine braking so it was down to the single discs front and rear to haul up 370lb of dry Ténéré (plus varying quantities of fuel, oil and rider). The front brake was spongy, without much feel to the action, but it had the desired effect. The rear brake had a good, progressive feel to it.
The front end had a vague, wishy-washy feeling and above 70mph a weave set in. It was nothing alarming and didn't increase with speed; simply stiffening the rear rebound damping cured it, which outlines the significance of experimeriting with the suspension set-up. Vibration levels were very low due to the combination of the engine balancer shaft and rubber-mounted bars and end weights. The mirrors were effective and worked at all speeds.
Fuel consumption worked out at around 40mpg — but that was with hard riding; I'd expect around 50mpg with more normal use. The 20 litre (4.4 gallon) tank should therefore be good for over 200 miles.
One gripe was with the non-self-cancelling indicators. Following lunatic French photographer Patrick Curtet, well know to PB testers for his fluent riding style and last-second directional changes, I found that life was made more interesting than necessary by his constant failure to cancel his indicators.
Off the autoroutes the Ténéré coped with all situations. Fast, winding, country roads were gobbled up effortlessly, the quick steering making it easy to chuck into bends. The Dunlop Trailmax tyres did a fine job and never produced any awkWard moments. Trail tyres are always a compromise, though, so if you don't ride off-road a smaller front rim and road tyres would further enhance the handling to make a great scratcher's bike.
The Ténéré is obviously no serious dirt tool but as long as you realise its limitations a lot of fun can be had. Forest road-type going and trails are no problem but in deep mud or sand the 660 overheats. This is immediately counteracted by the electric fan.
The Ténéré makes an ideal all-round, do-it-all motorcycle. Its user-friendly engine, super handling and multi-purpose abilities should appeal to many types of rider: commuters, despatch riders, tourers. When I can no longer live with the potential licence-eating properties of my EXUP then the Ténéré would be the kind of bike I'd via Tom Crees