Yamaha XT 250G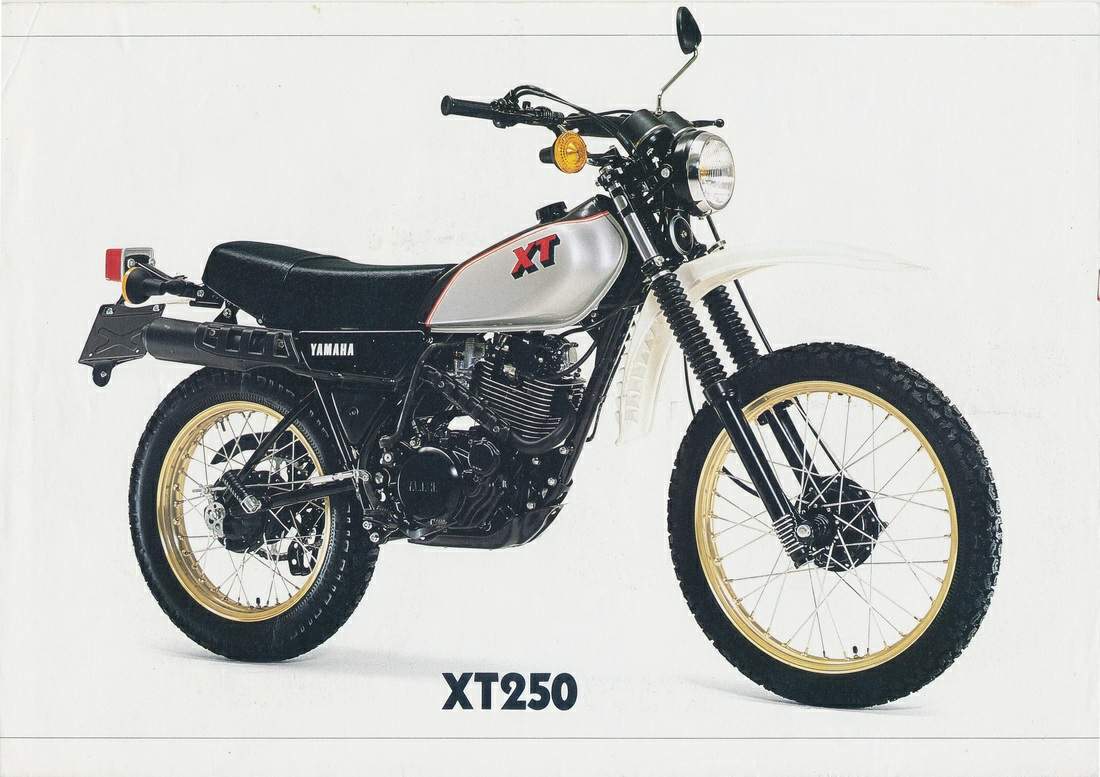 Make Model

Yamaha XT 250

Year

1981

- 8

2

Engine

Four stroke, single cylinder, SOHC, 2 valve

Capacity

249 cc / 15.2 cu-in

Bore x Stroke

75 х 56.5 mm
Cooling System
Air cooled

Compression Ratio

9.2:1
Lubrication
Wet sump

Induction

Single 28mm Mikuni caruretor

Ignition

CDI
Starting
Kick

Max Power

22 hp / 16.1 kW @ 8000 rpm

Max Torque

2 kgf-m / 14.4 lb-ft @ 6500 rpm

Transmission

5 Speed
Final Drive
Chain

Front Suspension

Leading axle, coil spring forks

Rear Suspension

Swing arm single Kayaba shock

Front Brakes

130mm Drum

Rear Brakes

130mm Drum

Front Tyre

3.00-21

Rear Tyre

4.60-17
Wheelbase
1395 mm / 54.9 in
Seat Height
840 mm / 33.0 in
Ground Clearance
255 mm / 10.0 in

Dry Weight

114 kg / 251.3 lbs

Fuel Capacity

8 Litres / 2.1 US gal

Consumption Average

70 mpg

Braking 60 - 0 / 100 - 0

- / 41.1 m

Standing ¼ Mile

16.4 sec / 74.5 mph 120 km/h

Top Speed

80 mph 128.7 km/h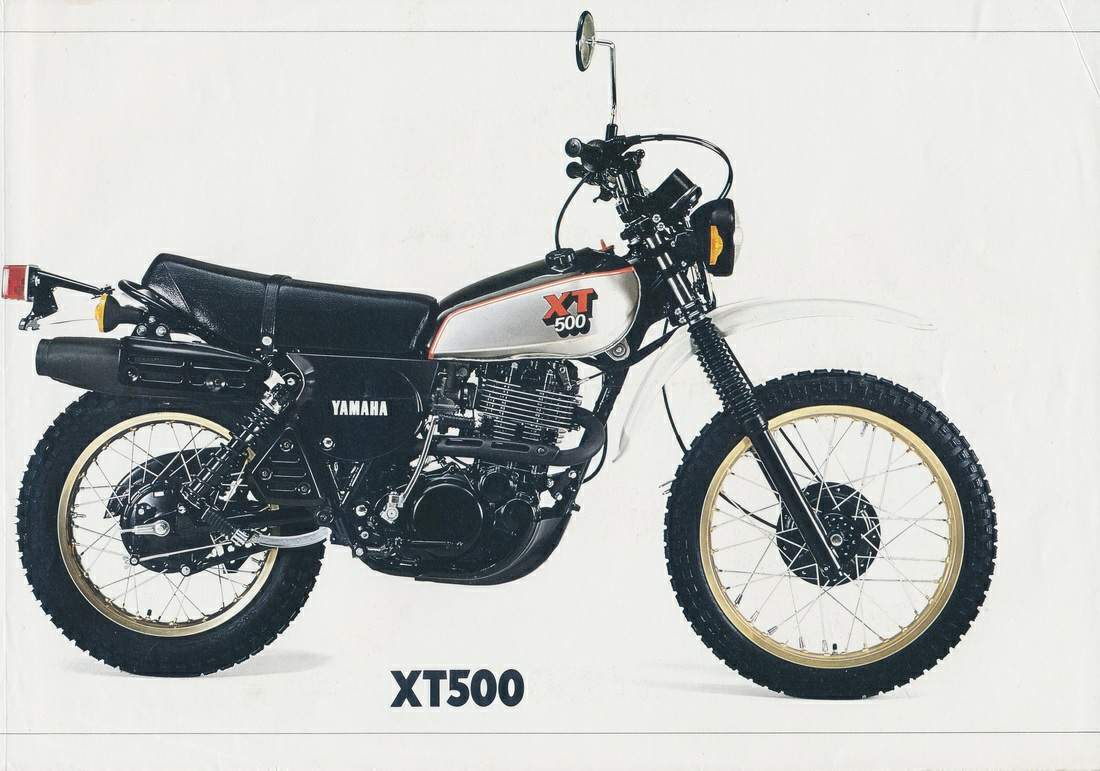 Considerable abuse has been aimed at dual-purpose bikes over the years. Those multi-role machines with single-purpose stablemates were the most common target. Yamaha reversed that trend, though, with the introduction of the XT250G, which not only grabs best-in-class honors but proves as noteworthy as the dirt-only TT And that was no small feat, given the almost instant popularity of the new playduro. But rather than a challenge to the TT's success, the XT's competence is simply supportive, since the bikes share much of the same technology.
Creative use of lightweight materials—such as all-plastic countershaft sprocket covers—lightened up both bikes, while using the engine as a stressed frame member did away with a couple of frame rails and kept the engine weight low to the ground. The rider's weight is kept down low, too, since the XT and TT both run 17-inch rear wheels, producing a comfortably low seat height.
Similarities between the two bikes continue to their engines, which differ largely at the exhaust pipe. Like the TT, the XT's SOHC engine is tuned for torque, while power pulses are calmed with a gear-driven counterbalancer. Also like the TT, the XT uses an automatic compression release to ease starting. And furthering the likeness, the XT's compression release also stopped working after a few days. Although Yamaha has a fix in the works, we found that simply disconnecting the release returned things to their one-kick norm.
All that attention devoted to light weight and torquey, predictable engine response paid off in the XT, which handles its street chores as well as most street-only 250s. The XT can be flicked about easily when you're in traffic, while an accelerator pump grafted to the 28mm Mikuni carb insures that most of the time you'll be able to get ahead of the game. And for those with an eye to the superslab, the well-matched suspension and smooth-running engine make real-world highway speeds attainable—without the vibration and bob-and-weave associated with most dual-purpose bikes.
Those same attentions to good design show up when you put the XT on the dirt or better yet, ride it there. If your preference is for serious dirt thrills you won't find the XT's performance awe-inspiring, but it sure is confidence-inspiring. The low seat height allows dabbing where dabbing is due, and the
four-stroke traction transferred through claw-action-type Bridgestones puts most hills within the XT's grasp. You can bottom the softly sprung Monoshock with motocross berm-shooting, but that's not really what the XT is for. After all, Yamaha's on-again-off-again 250 is not about to steal the thunder of a full-time dirt bike, just to borrow some of it
Source Cycle Magazine