| | |
| --- | --- |
| Make Model | Yamaha XJ6 |
| Year | 2009 - 10 |
| Engine | Four stroke, transverse four cylinder, DOHC, 4 valves per cylinder. |
| Capacity | 600 cc / 36.6 cu-in |
| Bore x Stroke | 65.5 x 44.5 mm |
| Cooling System | Liquid cooled |
| Compression Ratio | 12.2:1 |
| Induction | Group injection type fuel injection |
| Ignition | TCI |
| Starting | Electric |
| Max Power | 78 hp / 57 kW @ 10000 rpm |
| Max Torque | 59.7 Nm / 6.1 kgf-m @ 8500 rpm |
| Clutch | Wet Multi-plat disc |
| Transmission | 6 Speed |
| Final Drive | Chain |
| Gear Ratio | 1st 37/13 (2.846) 2nd 37/19 (1.947) 3rd 28/18 (1.556) 4th 32/24 (1.333) 5th 25/21 (1.190) 6th 26/24 (1.083) |
| Frame | Aluminium die-cast, diamond shaped |
| Front Suspension | 43mm Telescopic fork, 130mm wheel travel |
| Rear Suspension | Swingarm Link less type Monocross, 130mm wheel travel |
| Front Brakes | 2x 298 mm discs |
| Rear Brakes | Single 245 mm disc |
| Front Tyre | 120/70 ZR17 |
| Rear Tyre | 160/60 ZR17 |
| Wheelbase | 1440 mm / 56.7 in |
| Seat Height | 785 mm / 30.9 in |
| Ground Clearance | 140 mm / 5.5 in |
| Wet Weight | 205 kg / 452 lbs |
| Fuel Capacity | 17.3 Litres / 4.5 US gal |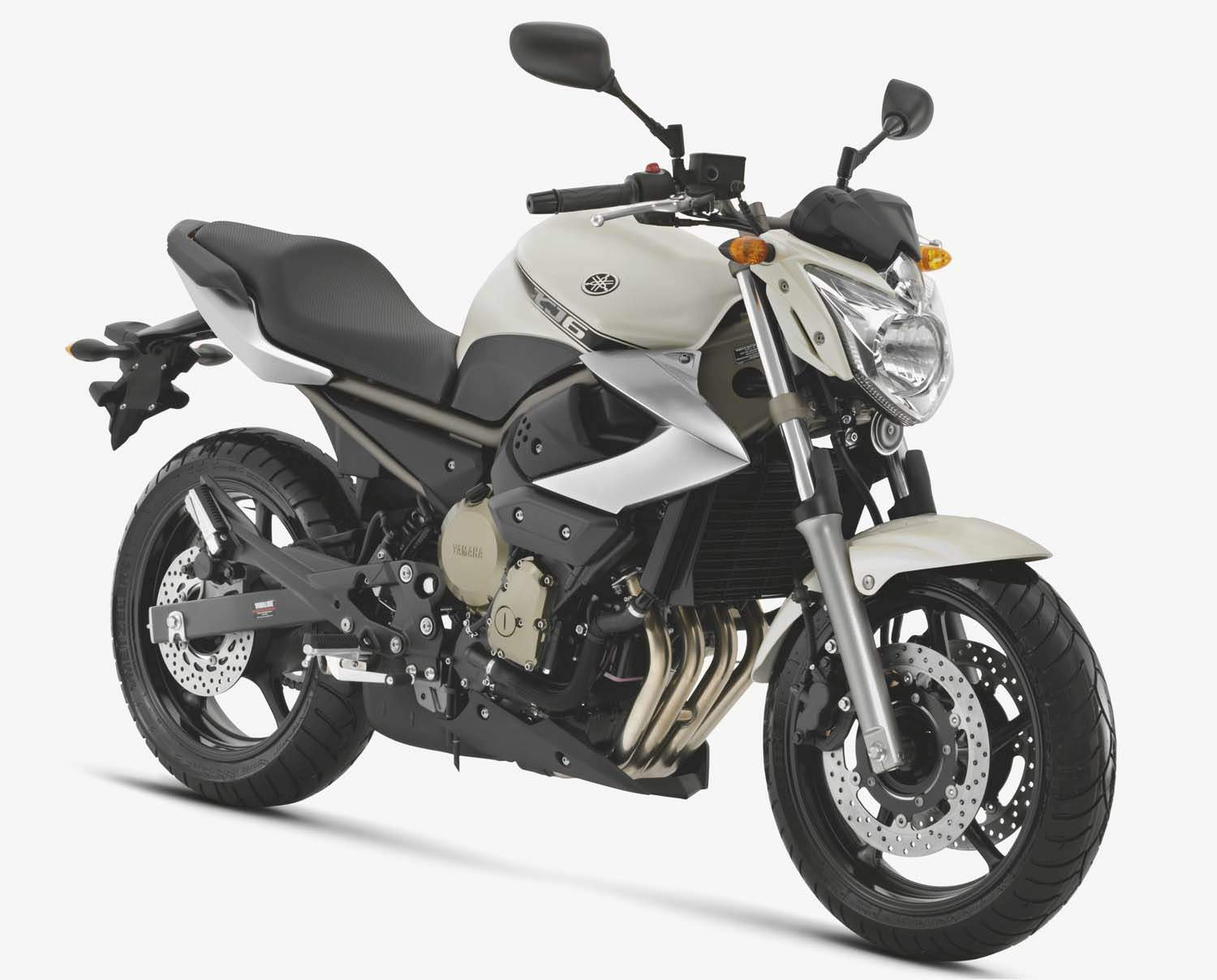 THE COOL NEW MIDDLEWEIGHT
A contemporary and dynamic all-rounder
For 2009 the Yamaha middleweight line-up is further strengthened with the arrival of the dynamic and agile new XJ6, a naked version of the 2009 XJ6 Diversion.
This all-new 600 is one of the coolest and desirable models in the important naked 600 category, and is powered by an inline 4-cylinder engine that has been tuned to deliver responsive low to mid-range torque for fun riding. With its strong flow of easy-to-handle power, this cool new 600 is a genuine all rounder, designed to make the rider feel at home in town, on twisty back roads, and on the highway.
The lightweight, slim and compact new chassis features a low seat height, making the XJ6 an ideal machine for both new and experienced riders of all ages who want a stylish middleweight that can handle just about any situation. While offering high levels of practicality, the contemporary design of the new chassis and bodywork on the new XJ6 underlines its position as one of the capable and attractive machines in the category.
Its newly-developed FZ6-based engine, combined with the compact, rider-friendly chassis design and agile handling feel ensure that this new naked 600 offers a truly special ride quality. Combined with its high levels of riding enjoyment and outstanding overall performance, the new XJ6 looks set to establish itself as a real favourite with a wide range of new owners in 2009 and beyond.
Technically the XJ6 shares the same bases as the XJ6 Diversion, while its body work gives the XJ6 a cool, light and agile roadster look.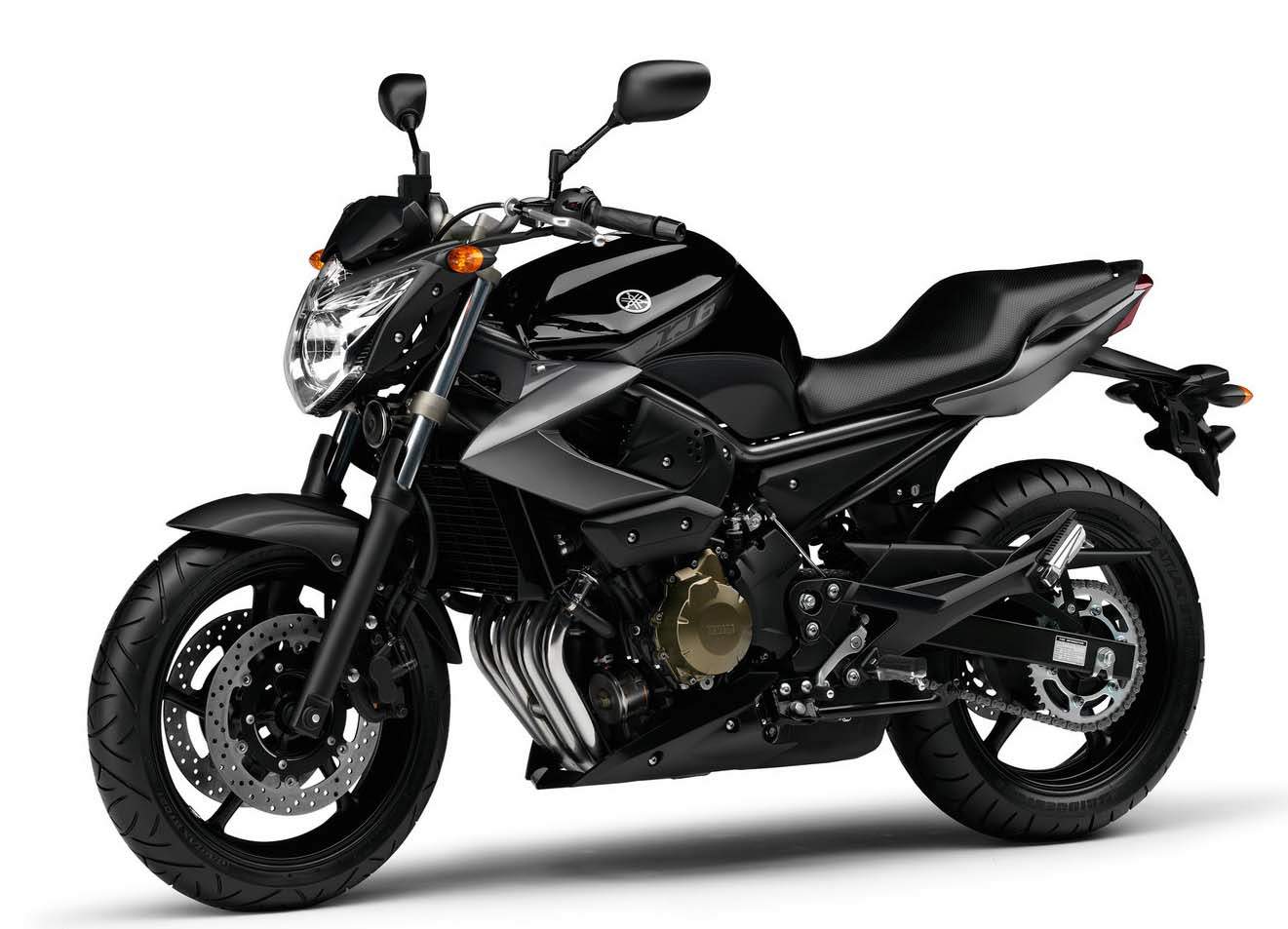 XJ6 Model Overview
•
Easy-handling, dynamic and stylish new middleweight
•
Rider-friendly linear power characteristics
•
Slim and lightweight handling feel
•
Ideal balance of controllability and performance
•
Newly-developed FZ6-based 600cc engine
•
Plenty of low to mid-range torque
•
Compact and attractive chassis
•
Contemporary bodywork design give cool, light and agile roadster look
•
Outstanding levels of fun, enjoyment and performance
•
Also available with ABS
Engine Technical Highlights
•
600cc liquid-cooled inline 4-cylinder 4-valve DOHC
•
Newly-developed high-compression cylinder head
•
Slimmer inlet ports
•
Cam profile designed for strong and linear low to mid-range torque
•
One-piece cylinder and upper crankcase for good rigidity
•
Bore x stroke 65.5 mm x 44.5 mm
•
Lightweight forged aluminium pistons
•
Four-hole two-direction fuel injection system
•
4-2-1 exhaust with midship muffler located beneath chassis
•
3-way catalyzer and exhaust O2 sensor
•
New inner-push type clutch for easy action
•
Redesigned shift mechanism for smooth and easy gearchanging
Chassis Technical Highlights
•
Newly-designed high-tensile steel diamond-type frame
•
Idealised balance of lateral rigidity for strong cornering performance
•
1,440mm wheelbase
•
Easy-handling caster angle of 26 degrees and 103.5mm trail
•
Hexagonal slimline fuel tank with comfortable knee-grip area
•
New slimline swingarm with inner bracket design
•
41mm diameter conventional front forks
•
Monocross rear suspension
•
17.3 litre fuel tank capacity
•
Low 785 mm seat height
•
Lightweight 298 mm front discs and 245 mm rear disc, thickness 4.5mm
•
120/70-ZR17 front tyre and 160/60-ZR17 rear tyre
•
Lightweight, low-drag 520 chain (FZ6 is 530)
•
Newly-designed lightweight cast wheels
•
Timeless new styling emphasises concentration of mass
•
Linear-control ABS available as an option
•
New multi-function instrumentation
•
Adjustable handlebar position
Colours both XJ6 and XJ6 ABS
Cloudy White Extreme Yellow Midnight Black
Accessories
Yamaha will offer a range of accessories created specifically for the XJ6, and the line-up will be available from authorized Yamaha Dealers. The accessory range will include:
Aluminium rear carrier
Centre stand
Engine guard
City tank bag
Roller protectors
Tank pad
46-litre top case Inner bag for top case Back rest for top case
Motociclismo impression
For those who don't want an R1 or even an R6, Yamaha have the do-it-all XJ6. It won't knock your socks off in terms of styling or performance, but it's easy to ride, low on maintenance and even provides a reasonable amount of fun as long as you remember it's an XJ6 and not the YZR-M1. The guys at Motociclismo recently tested the bike, and here are some excerpts from what they have to say about the new XJ6:

Right away, the Yamaha's ergonomics work for most people. It's a small, short bike that feels light and narrow, and offers a decent amount of legroom for the rider and the pillion seat passenger. The seat is comfortable, the suspension is soft-ish and the handlebar feels just right.

The XJ6's 600cc inline-four produces 78bhp and with its decent low-rpm torque delivery, it's quite usable in town. Out on the highway, the Yamaha engine continues to impress – it's low on vibration and does a mileage of about 16.4km/l, which, given the bike's 17.3-litre fuel tank, means a range of around 285km.

The brakes work well, offering adequate stopping power even in streaming wet conditions. And things should be even better with the optional ABS installed. Even with its basic suspension – 41mm fork and monoshock (with adjustable preload) – and tubular steel chassis, the XJ6 offers good cornering stability. As you gain confidence in the bike's abilities, you can safely increase your cornering speeds without any problem. Overall, it's a good bike, especially for beginners. If you're just starting off on two wheels, you definitely want to take a good look at this one!
Source Faster and Faster & Motociclismo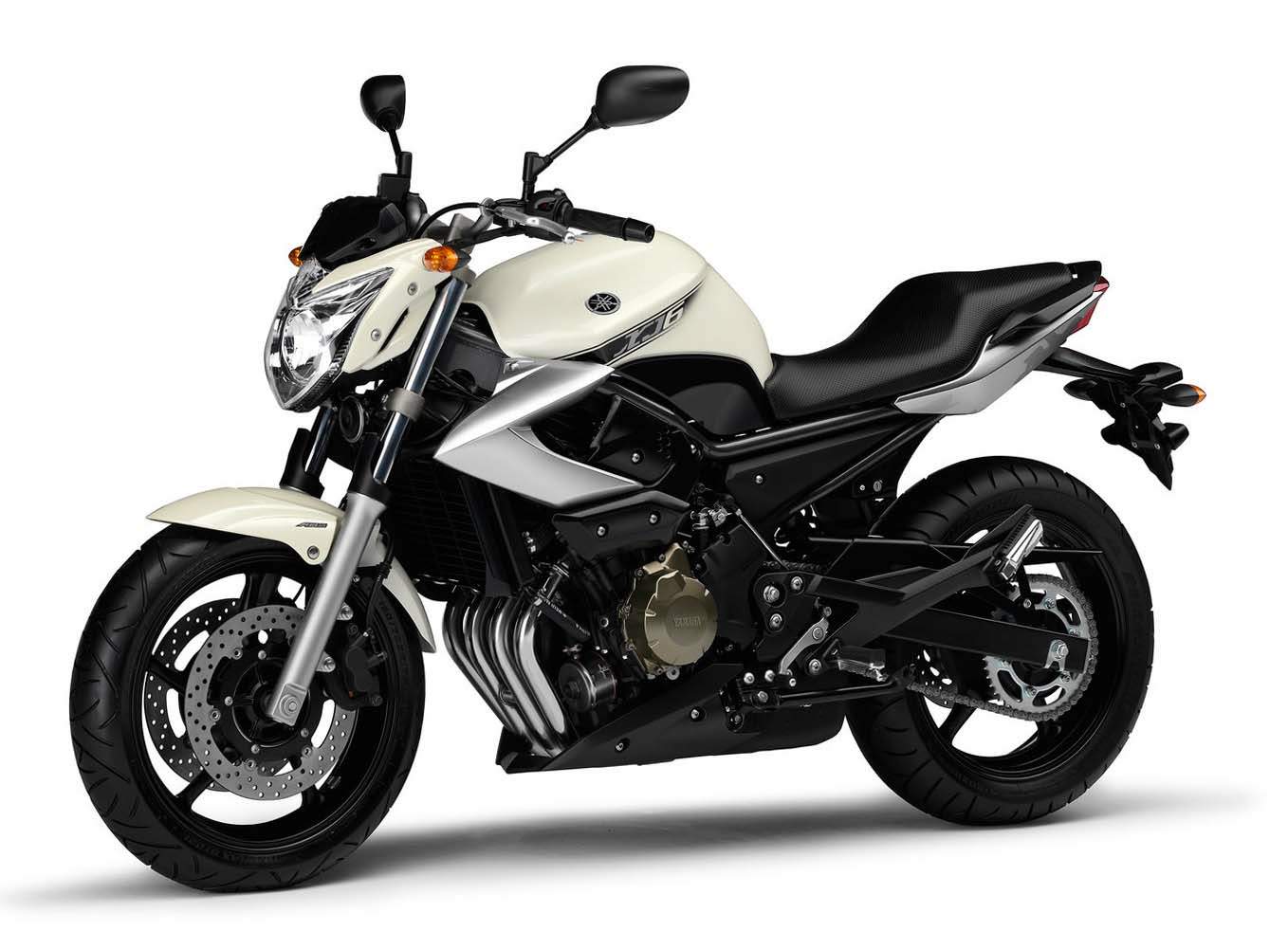 Review
The Diversion is like the VMax, a Ghost from the '80s brought back to life by Yamaha in 2009. After years of the FZ6 acting as Yamaha's entry-level model into multi-cylinder motorcycles, the XJ6 is back. Its aims to be easier to ride slow, with less power but more torque in lower revs, and above all - to be even more affordable.

Nothing about the XJ6 is intimidating even in the slightest sense, apart from the aggressive looking headlight.

The XJ6 Diversion differs from its XJ6 sibling by having a half fairing.

After Honda proved there is a market for friendly middleweights with the CBF600, Yamaha has decided to do the same in the new XJ6 series. The concept is pretty much identical to the original Diversion of the 1980s and '90s, but in all new trim. The XJ6 and XJ6 Diversion are made to be an attractive entry-level model. To achieve that, there was a need to be less sharp and edgy than the R6-derived FZ6. The current FZ6 sports around 100 hp, and everything from the engine to the chassis can be traced back to the pre-2006 R6 model.

The XJ6 differs in several key areas, such as the detuned FZ6 600cc inline-Four engine, new and simpler chassis and different ergonomics. It's all done to make the XJ6 as easy to get along with as possible.

First gear easily allows for some air underneath that front tire.

And easy it is to ride, indeed. As I first set off, the engine buzzes silently and the XJ6 obediently pushes away from the traffic lights in the city centre of Sydney. The engine specs are almost identical to Honda's CBF600, which results in 78 hp at 10,000 rpm with almost 44 ft-lbs of torque at a relatively low 8,500 rpm. Relatively because these small 600cc inline Fours like revs by nature, but the maximum torque figure is reached more than 1,500 rpm earlier than on the more highly strung FZ6.

This also means that the XJ6 is easier to launch and few revs are needed for decisive stop-and-go city riding. The Yamaha XJ6 also feels more powerful in the lower gears than the Honda. True, it's been a while since I rode the CBF600, but I do remember that it feels both heavier and softer than my experience on the 2009 Yamaha XJ6. Spec sheets tell us that the curb weight is nearly 18 lbs lower than the CBF.

It took me about a minute to get used to the short-rider-biased ergonomics and controls, and then all I had to do was to enjoy the view of the famous Australian city and its beautiful surroundings. Everything from the clutch response to the gearbox feels as smooth as butter. Nothing about the XJ6 is intimidating even in the slightest sense, apart from the aggressive looking headlight. This is essential for someone just getting into bikes or for the more subtle personalities out there.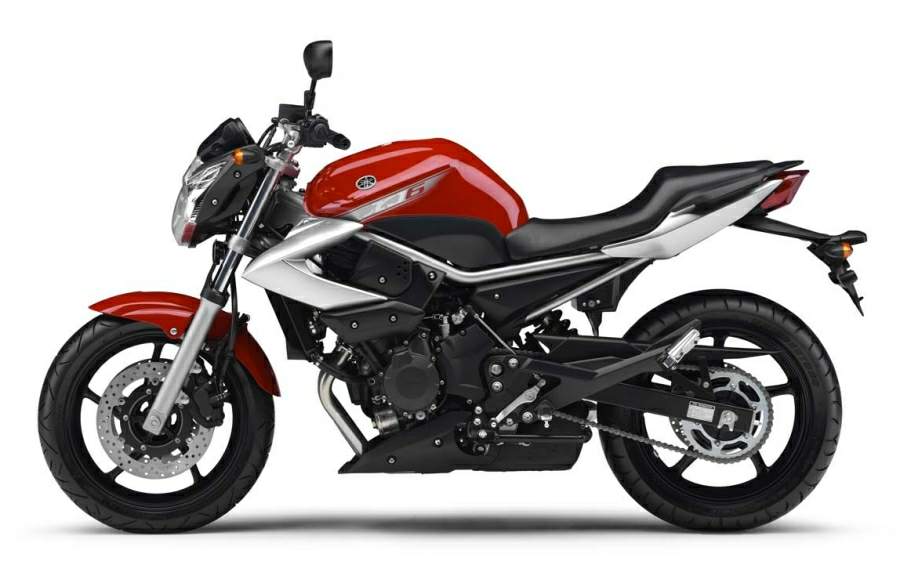 For me, the XJ6 only appeals in the scenario where I couldn't afford riding anything else. The level of finish and design adds value to what essentially is a budget entry-level motorcycle. I wouldn't have to even test the XJ6 to see that it offers great value for money. But if I were looking, I would have been happy that I tested first because the XJ6 isn't all that comfy for the touring part.

It took a while to get out of the Sydney city limits and onto some beautiful roads through the bush where we finally rode the Pacific Highway. In the really tight stuff, the suspension and bulk of the 452-lb XJ6 isn't ideal. It has a tendency to jumps up and down a bit on the budget-minded suspension. The steel tubular frame chassis suits this bike perfectly, but is not quite as light as the aluminum perimeter frame on the FZ6. You lack some of the fine feedback that expert riders are looking for, but that feedback you can't really utilize fully as a new rider, so why pay extra for it? The XJ6 and XJ6 Diversion have got what it takes to be mildly entertaining out on the open roads but not more, and that fits snugly into the concept I think.

One thing worth mentioning about the tires is the fact that Yamaha have opted for a very agile 160-section rear tire. This narrow rear tire (the FZ6 has a 180) makes the bike quicker tipping into corners despite the weight, and easier to make quick maneuvers in the city.

The XJ6 Diversion differs from its XJ6 sibling by having a half fairing. That fairing is a well designed and attractive option for those planning to do more touring than city riding. The only major difference riding the two (apart from some extra wind protection) is that the mirrors stick out further. This is good for touring, but I also felt that the mirrors on the naked XJ6 were very good. Contributing to that is the fact that there's very little vibration from the quiet engine. There's some high frequency vibration that can be felt both in the handlebars and footpegs, which didn't bother me much and only appeared after riding many miles.

What did start bothering me after a few miles however, was the thinly padded seat. After far too few miles, my bottom started aching. The low seat height made me feel quite big on the bike, and with footpegs touching the ground fairly early you can't really lower those either. So I found myself trying to push my bottom backWards whilst riding to find some more padding towards the pillion seat to no avail. I can see a great opportunity for aftermarket gel seat makers here.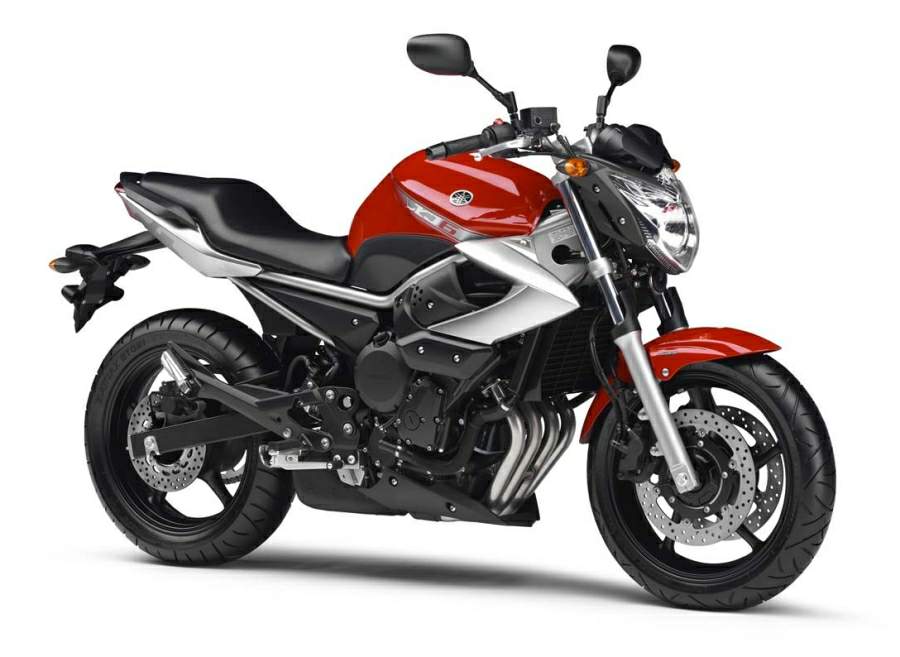 Riding back into Sydney, we were treated to a great photo location in front of the Sydney Harbour Bridge, popularly called the Coat Hanger. Wheelies allowed, it would have been rude not to! Besides, first gear easily allows for some air underneath that front tire. The XJ6 is a great city bike or commuter, and I'd say that this is budget with style.

The instruments are easy to read and identical on both XJ6 models. There's a digital speedo on the left console and an analog rev counter to the right.

The XJ6 and XJ6 Diversion are also available with ABS at £350 extra. The XJ6 starts at £4,499 and the XJ6 Diversion at £4,949. Colors for the XJ6 are white, yellow and black, whilst the Diversion is available in red, blue and graphite.

Conclusion

Yamaha has now filled a gap in its model range, and overall I think the XJ6 and XJ6 Diversion offer great value for the money. The high level of finish makes the bikes look more expensive than they are, which should be well received in the market. Should you grow tired of it after a year or two, the XJ6 will be easy to shift on the second-hand market too. The only downside for me, were the thinly padded seats, but everything else was what you would expect for a model in this market segment. Diversion is back and it complements Yamaha's increasing middleweight range nicely.
Source Motorcycle.com