Yamaha TT 600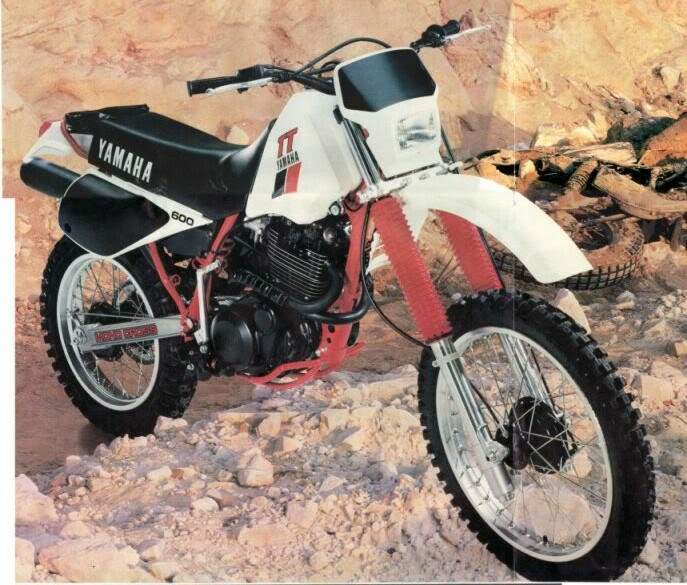 Make Model

Yamaha TT 600

Year

1983 -84

Engine

Four stroke, single cylinder, SOHC, 4 Valve

Capacity

595 cc / 36.5 cu-in

Bore x Stroke

95 x 84 mm
Cooling System
Air cooled

Compression Ratio

8.5:1
Lubrication
Dry sump

Induction

27mm Dual stage Teikei Y27PVX1 carburetor

Ignition

CDI
Spark plug
NGK DPR7EA or DP7EA
Starting
Kick

Max Power

45 hp / 34 kW @ 6500 rpm

Max Torque

50 Nm / 4.7 kgf-m @ 5500 rpm

Transmission

5 Speed
Final Drive
Chain
Gear Ratio
1st 30/13 (2.367) 2nd 27/17(1.588) 3rd 24/20 (1.200) 4th 21/22 (0.954)
5th 21/27 (0.777)
Gearing Front / Rear
14 / 50

Front Suspension

43mm Telescopic forks
Front Wheel Travel
300 mm / 11.8 in

Rear Suspension

Monocross single shock 20-way compression, reload and rebound adjustment.
Rear Wheel Travel
270 mm / 10.6 in

Front Brakes

Drum

Rear Brakes

Drum

Front Tyre

100/80-21

Rear Tyre

140/90-18
Rake
28°
Trail
130 mm / 5.1 in
Wheelbase
1485 mm / 58.5 in.
Seat height
935mm / 36.8 in.
Ground Clearance
300mm / 11.8 in.

Dry Weight

124 kg / 273.3 lbs

Fuel Capacity

11 liters / 2.9 US gal

Consumption Average

45 mpg

Standing ¼ Mile

14.8 sec

Top Speed

88 mph
THE four-stroke off road market has always been limited to a certain segment of eccentrics. Two-strokes, by virtue of their inherent design characteristics, perform and handle better — and are often cheaper. Logically, the two-stroke should be the serious offroad rider's choice.
In fact up to now, the big bore four-stroke has had very little going for it except the fact that it is, well... a four-stroke. It makes a satisfying noise and somehow reminds us of those tales about Velo-cettes and Manx Nortons being the only real bikes ever built on God's Earth.
A four-stroke, like a slice of quiche, has always been to some men, A Real Man's Motorcycle. As a dirt bike, not always very practical, hardly ever the quickest, but nevertheless a proper bike.
The XT 500 and its more competition-orientated brother, the TT 500, were proper bikes, lusty four-strokes with a following that ranged from Durban potheads to desert adventurers. But on the bottom line, when it came to competition use, nobody in their right minds would enter an old XT or TT in an enduro. At least not in standard form — they were too slow, much too heavy and handled like pigs.
In contrast Yamaha's 1983 TT 600 is something of a revelation. It replaces its predecessor so completely and with so much flair, that one wonders whether there wasn't an intermediate model that we missed out somewhere along the line.
The new TT 600 is a street scrambler in the sense that it is sold in a form that barely covers most municipalities' and provincial authorities' requirements for street-legal machines. What I am saying is that it is conceivable that you could ride it to work in the mornings and not get hassled by a man in khaki.
But it is far more than a street scrambler because it's very evident that this bike is not a compromise. Let's look at it: the TT 600 engine is simply an enlarged version of the TT 500 engine which made its first appearance in this country last year, and soon gained a reputation for being a fast, reliable street scrambler.
Bore and stroke are now 95 x 84 mm to give a displacement of 595 cm3. The inherent vibration of the large capacity, big bore single is damped out by a contra-rotating balance shaft geared directly to the crankshaft and mounted just behind it. A single overhead camshaft is driven from the crank via a Hy-Vo chain with an automatic tensioner. This operates four valves.
Like Honda, Yamaha have gone the four-valve route for four-stroke dirt bikes because this system allows a greater port area without af-fecting combustion chamber shape, and the valve springs can individually deal with less reciprocating mass — making the mill more reliable at peak revs.
Ignition is maintenance-free capacitor discharge with a small 12-volt battery to deal with the street legal items.
The fuel-feed system, like the XT 500, consists of the Yamaha patented Duo Intake setup with a twin barrel carburettor (1 mm larger than theXT550's).
The bike has an aluminium kick-start, and starting is reasonably easy for a single of more than half litre displacement — mainly because of the cable-operated, automatic decompression facility which comes into operation when the engine is kicked over.
Like the old big Yam singles, this one has a dry sump lubrication, but the TT 600 doesn't carry its oil in its spine: a new oil tank has been positioned above the swingarm pivot, and this gets the centre of gravity as low as possible.
The bike's running gear is more of an indication of its no-compromise character than the engine. The frame is made from high-tensile steel and the swingarm is extruded aluminium.
The rear-end consists of the new rising rate Yamaha Monocross linkage suspension, with the single shock positioned low and leaning slightly forward from the end of the swingarm. Compression damping and preload are adjustable, and the setup has a remote reservoir.
The front-end is really out of the top draw: 43 mm Showa fork tubes with aluminium sliders and 300 mm of travel! The front brake, although not a disc, is an exceptionally effective twin-leading shoe stopper.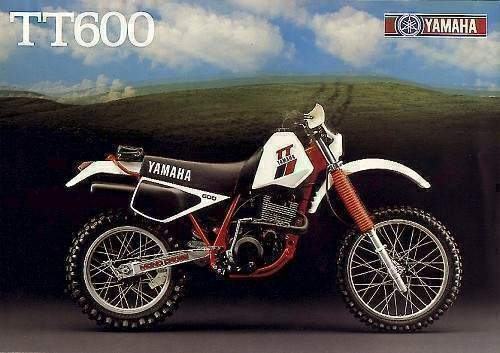 Overall finish is good. The TT 600 is offered almost in IT enduro spec. It has a plastic fuel tank, tool bag with an impressive set of tools, quick-release axles with snailcam adjusters, side-pull throttle, alloy rims with strong spokes and an O-ring chain. Tyres are 3.00 21 and 150/80 18 IRCs which work well.
It is one of those dirt bikes that feels right, from the time you get on, to when you start takin skills), it's a bike that can be ridden easily by both the novice dirt rider and a veteran expert.
The TT is first and foremost a big bore four-stroke, and this is, perhaps it's most endearing quality. But the fact that for the first time we are offered a four-stroke with such a big engine along with such superb chassis and suspension components, puts this bike into a class all of its own.
For a big bike, it turns fairly easily and although it's not the best for really tight terrains, the wide, wide power band makes riding in most situations a giggle. This sucker has a Kalahari Desert-full of torque: 4,7 kg/m at 5 500 revs/min! It likes lugging over large boulders and that forgiving engine doesn't falter up the steepest of inclines.
Lots has been written about four-stroke power, but in reality a big two-stroke will go up a hill better than a four-stroke. However, I think that the TT 600 could be in with the large strokers when it comes to hills.
However, it's over open territory that the new TT really comes into its own. The quality suspension soaks up high speed bumps and the monolithic powerband can be used to slide the bike safely and predictably through fast turns. It's also got the brakes to match its top-end performance.
This bike's a winner in my opinion one of the best all-round dirtbikes on the market at the moment, and definitely one of those that are the most fun to ride on your favourite trail!
source BIKE & TRACK 1983
At 595cc's it has 6% more displacement than the XT550, yet weighs 8% less. In fact, the entire bike, with its totally redesigned chassis, is 10 kilogrammes lighter than the XT550.
To deliver all the power and torque, undiluted to the ground, the TT600 is equipped with the latest Monocross rear suspension, taken directly from our YZ motocross racers.
The monoshock unit is fully adjustable for rebound damping and pre-load. It's also smaller, lighter, more compact and sits lower in the frame. This, combined with a lower, more
centralised oil tank, contributes to an exceptionally low centre of gravity and an appreciable improvement in handling.
Of course, this remarkable assembliage of unequalled 4-stroke power, state-of-the-art chassis and YZ suspension wouldn't be complete without a front end to match. In this case, air-adjustable forks with huge 43mm tubes and no less than 300mm of travel.
Add to all that some of the competition-proven features of our IT enduro racers— quick-release axles, snail-cam chain adjusters, all ADR lighting and instrumentation requirements, tubular engine guards and a very generous tool bag—and what you've got is the first 4-stroke dirt machine that's more than equal to the rigors of enduro, cross-country, desert and 4-stroke motocross racing. Or the pleasures of a weekend of backWoods biking.
Or both.
RISING-RATE SUSPENSION
The TT600's motocross-proven Monocross rear suspension is a true "rising-rate" suspension. Which means that as the rear wheel begins to move upward, the suspension begins to stiffen. The farther the wheel travels, the stiffer both spring rate and shock damping become. The redesigned pivot and strut system allow the reservoired gas/oil shock absorber to sit lower, lowering the centre of gravity.
TT600ENGINE WITH YDIS
The TT600's powerplant is one of a kind. It not only has four valves and a dual exhaust system, it has a dual intake system, too.
To take full advantage of the four-valve set-up, our Yamaha Duo Intake System actually utilises two separate carburettors, a primary slide-valve unit and a secondary butterfly-valve unit. That makes for a combined intake area 20% greater than that of a standard single carb.
source Yamaha TT600 brochure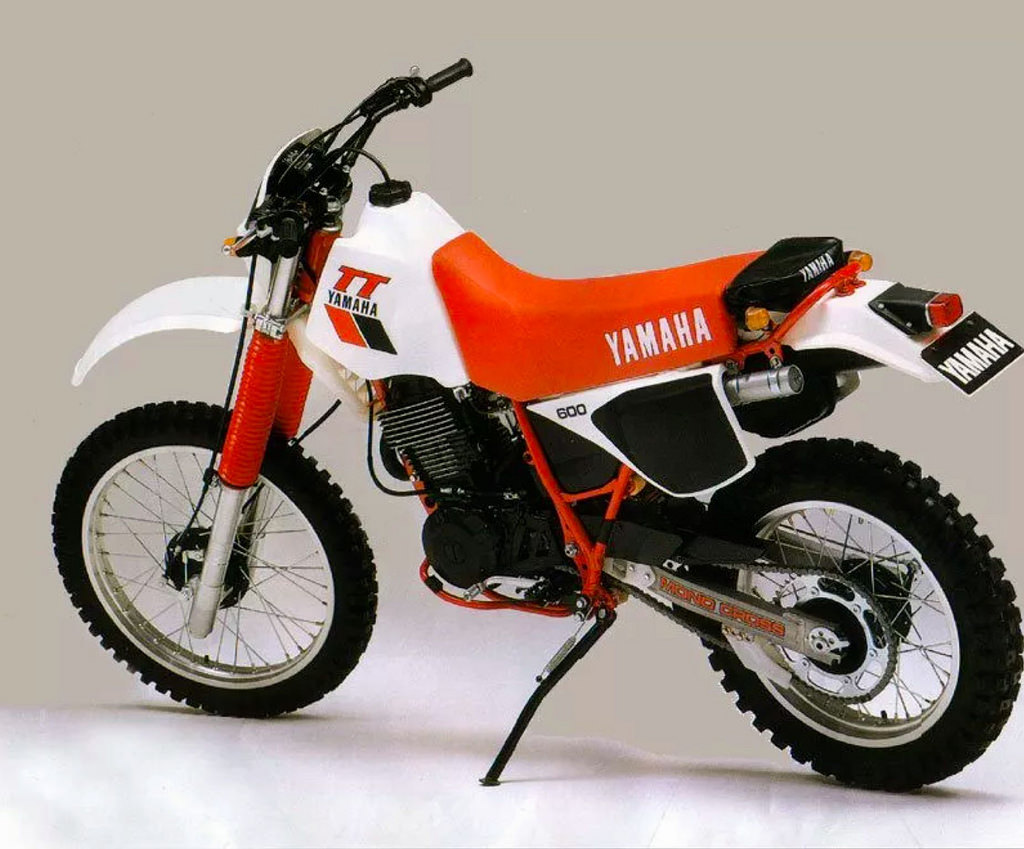 Review
Though virtually unchanged for the last two years, the Yamaha TT600 has something going for it: Basically, it responds to simple modifications better than any other big four-stroke.
Slap a pipe and a carb on a Honda and you don't get much out of it. Do the same thing to a TT600 and you get an increase in performance that surprises and delights you.
This makes you wonder about two things: Firstly, you tend to be grateful about the low-cost improvements, and secondly, you wonder why-oh-why did they ever strangle the stock setup so much in the first place? RIDING IT STOCK
Heavy.
That's the first impression you get. The power is decent, with enough down low and mid-range to deliver a certain amount of satisfaction, but there's no real gut-wrenching snap to write home to Mom about.
You just want more out of the massive 600cc four-stroke engine. You surely expect more. Still, one cannot snivel about the sheer acceleration of the TT600, as it will normally pull an XR500 in a basic drag race.
The bike is heavy... too heavy, according to the gastronomically correct DB scales, which indicate 280 pounds, with no gas in the 2.9-gallon tank. This places it right in the ballpark with the other big four-strokes in its class.
The Can-Am Sonic weighs 275.5 pounds; the Honda XR500 is the same; and the KTM 504 is heftier at 286.5 pounds. All of them, in our opinion, are 25 to 30 pounds too heavy. The four-speed Husky four-stroke, on the other hand, is slightly under 255 pounds, with no gas in its tank.
When you ride the 280-pound Yamaha, you'll be horsing around with nearly 300 pounds of bike and fuel/oil. You feel it on the rough stuff and when you land from jumps, but when doing what the TT600 does best, you completely forget about the weight.
What the TT600 does do best is slide like a fool on flat, twisty fire roads. The steering is decent and the rear end can be cranked out with the power on and left there as the rider does his best imitation of a flat-tracker.
Over medium-rough whoops and bumps, the suspension is not bad. It soaks up the medium-sized and small bumps just fine. It'll even take serious bumps all right if you don't pound them with too much speed. But when the TT600 is forced to slam through the serious grinders, the shortcomings of the forks and shock show their glitches.
The forks will clank metal to metal, even with the maximum safe oil level. Heavier springs (optional Yamaha parts) are the answer. You lose some of the suppleness with heavier springs, but if you insist on pushing the TT600 hard, they're a must.
At the rear, a heavier spring is also needed. Luckily, a huge selection of YZ springs
(and even shocks) will fit right on the TT600. You can dial that rear end in with patience and the right spring.
Our suggestion would be to leave the stock suspension on the bike for most trail-riding conditions or woods work. For desert enduros or desert riding/racing, you should go for the heavier suspenders.

We found the TT600 a reasonable bike to start—for a big four-stroke. More often than not, it would bang over within three kicks, hot or cold. Every once in a while it would get stubborn and require a dozen boots, but this was not the norm.
At lower trailriding speeds, the TT600 is plenty smooth to make riding easy. There's no jerking around from weird power pulses.
Plenty of mid-range lets the rider shift early and the TT600 does not protest when forced to rev out. We spent some time playing around climbing hills with the big white TT600, and as long as there was reasonable traction, it comfortably conquered anything we tried.
On soft sand hills, the rear tire tended to dig in much easier than we would have liked. A heftier slab of rubber (one of the big footprint Metzelers) would really help in the loose stuff.
Shifting was notchy at first but loosened up with time and a few oil changes.
The low saddle height was appreciated by shorter riders. Brakes were super, with the front stopper being almost as strong as a disc.
Nice touches include a tool bag, odometer and hand protectors. Bash bars help keep rocks away from the cases.
Although not an amazing four-stroke bristling with technology, and more than a bit heavy, the Yamaha has no real serious flaws. The engine is stone-ax reliable, seems to have a bulletproof clutch that will take all manner of abuse, and is a relatively easy bike to start and ride.
No magic. No finesse. Just a rock-solid, decent bike with a lot of potential... one that you can beat on for a long time without worrying about.
Source Dirt Rider 1984