Yamaha TDM 900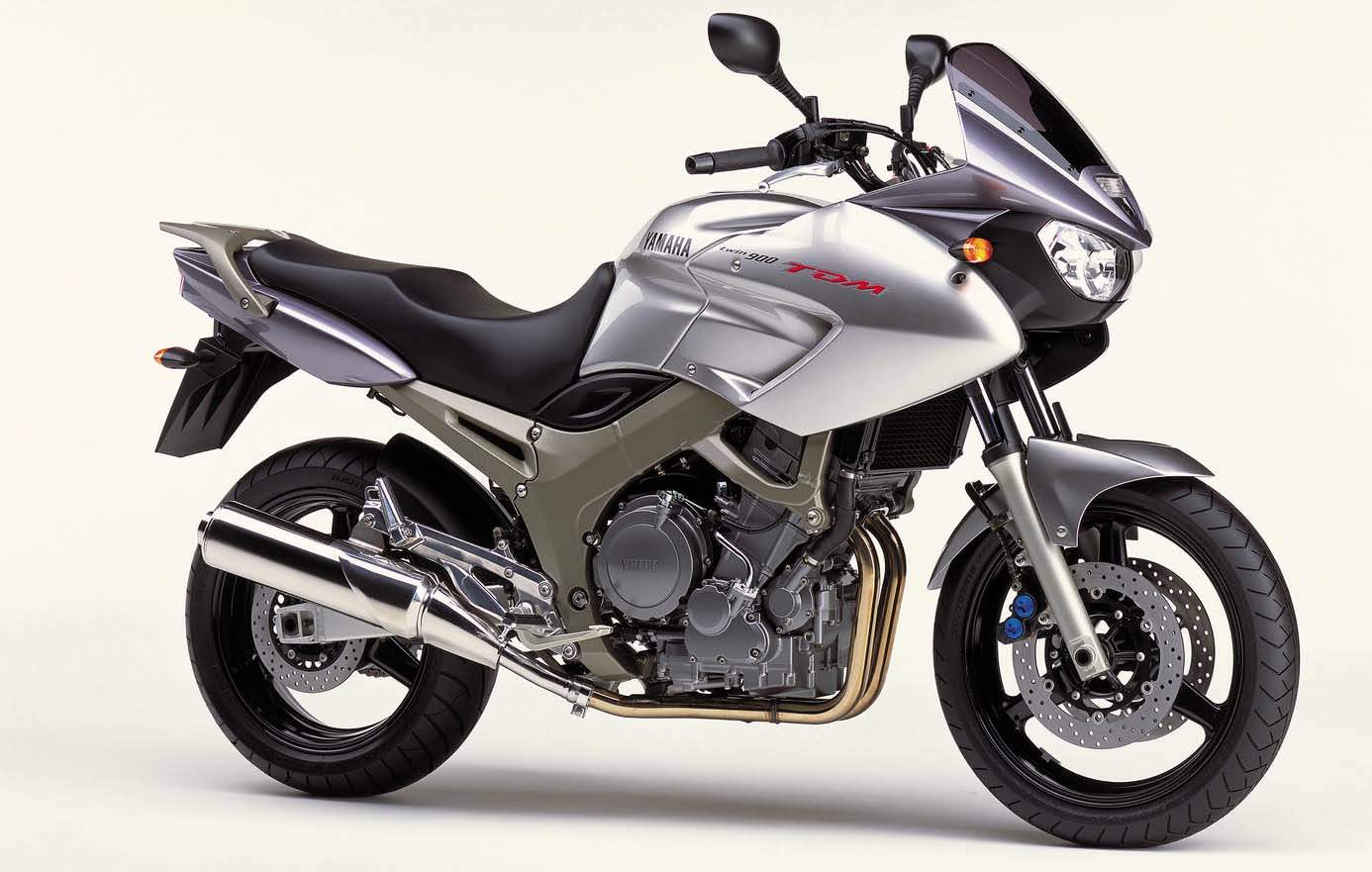 Make Model

Yamaha TDM 900

Year

2002 - 03

Engine

Four stroke, parallel twin cylinder, DOHC, 5 valves per cylinder

Capacity

897 cc / 54.7 cu-in

Bore x Stroke

92 x 67.5 mm
Cooling System
Liquid cooled

Compression Ratio

10.4:1
Lubrication
Dry sump
Oil Capacity
4.7 liters / 0.31 quarts

Induction

Electronic Fuel Injection

Ignition

TCI
Starting
Electric

Max Power

86.2 hp / 63.4kW

@ 7500 rpm

Max Torque

88.8 Nm / 9.1 kgf-m

@ 6000 rpm
Clutch
Wet, multiple-disc coil spring

Transmission

6 speed
Final Drive
Chain
Frame
Aluminium, diamond shaped

Front Suspension

Telescopic fork
Front Wheel Travel
150 mm / 5.9 in

Rear Suspension

Swingarm

Link-type
Rear Wheel Travel
133 mm / 5.2 in
Front Brakes
2x 298mm discs

Rear Brakes

Single 248mm disc

Front Tyre

120/70 ZR18

Rear Tyre

160/60 ZR17
Trail
114 mm / 4.5 in
Dimensions
Length 2180 mm / 85.8 in
Width 800 mm / 31.5 in
Height 1290 mm / 50.8 in
Wheelbase
1485 mm / 58.5 in
Seat Height
825 mm / 32.5 in
Ground Clearance
160 mm / 6.3 in

Dry Weight

190 kg / 418.9 lbs

Fuel Capacity

20 Litres / 5.2 US gal

Consumption Average

17.8 sec/lit

Standing ¼ Mile

12.2 sec

Top Speed

216.5 km

/

h / 134.5 mph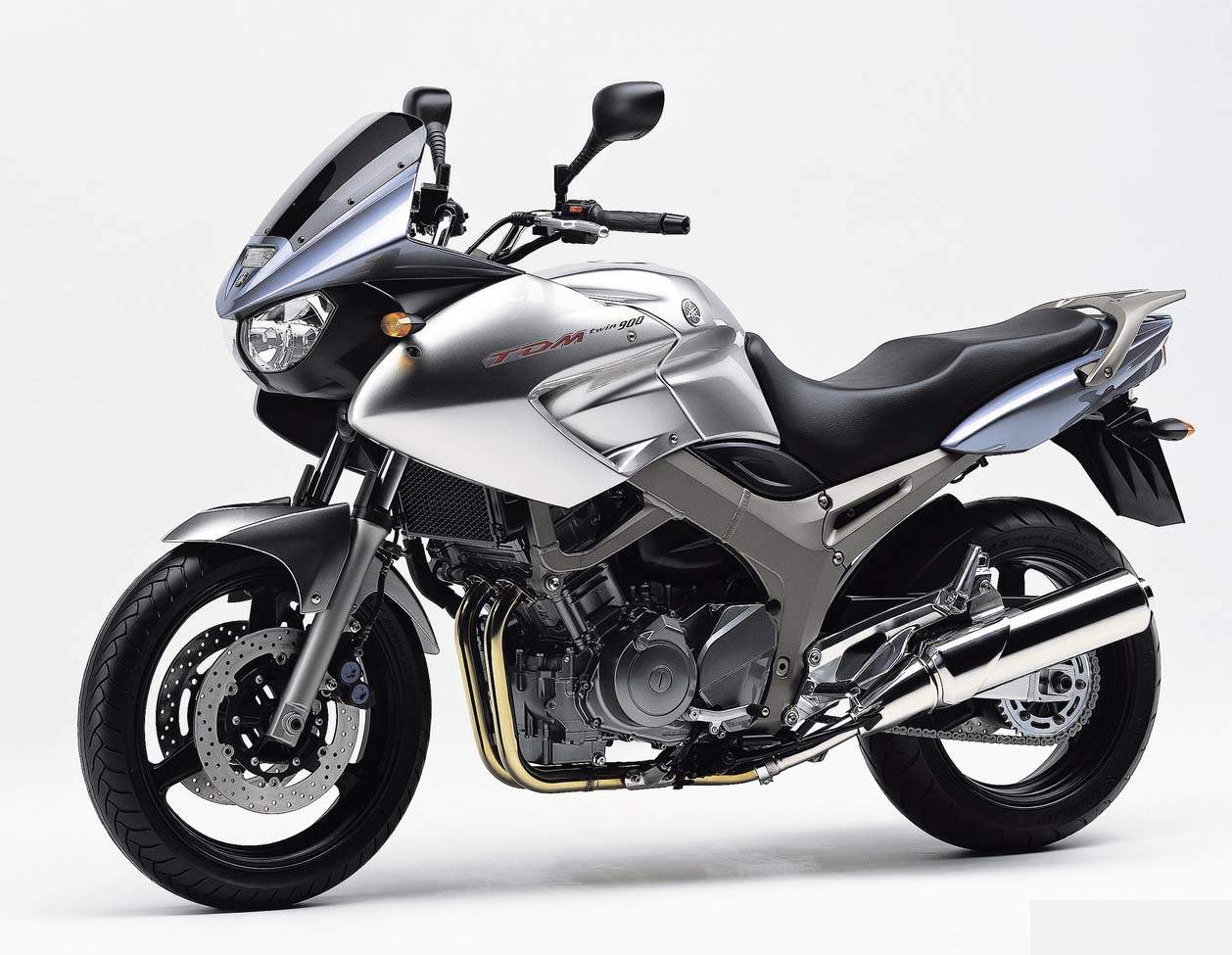 Cosmetically similar to the TDM850, the TDM900 is nevertheless a wheels-up revamp of the earlier bike. Based on the same design concept as the original, the 900 gave Yamaha a chance to update the TDM's specification. So while the frame looks similar to the old bike, it is made of aluminium rather than steel, and the engine uses modern internals, including ceramic-coated bores, but is broadly similar to the old motor. Other changes include a new fuel-injection system. From the rider's seat, the TDM has an updated dash, but the rest of the bike feels similar to the older machine. The engine offers torquey progress, but is flat compared to some competing designs. The chassis works well though, and the front brakes are superb.
First launched in 1991, the TDM850 virtually created a new sub-category within the street bike market. Powered by a high-torque parallel twin engine housed in a rigid Deltabox chassis, the TDM850 has given European motorcyclists an exciting and refreshing alternative to the ubiquitous in-line four.

With its tractable power characteristics, upright riding position, comfortable dual seat and avant-garde styling, the versatile TDM850 has become a favourite choice with those discerning riders looking for a distinctive all-rounder. From fashionable urban commuter through to mountain road corner-carver or long-distance tourer, this unique motorcycle is many things to many people, and its outstanding success has been built on its unrivalled ability to perform well in many different situations.

Now, a decade after the first TDM850 appeared, Yamaha are about to take this big twin one step further with the launch of a new-generation TDM900 for the 21st century. Lighter and more powerful than its legendary predecessor, the new TDM900 delivers even more riding pleasure by offering quicker acceleration, more agile handling, stronger braking and enhanced cornering performance, but remains true to the original TDM concept.

The new TDM900's liquid-cooled parallel-twin DOHC 5-valve engine features a large number of significant changes that not only increase power and torque output, but also help reduce emissions, improve fuel economy, and further enhance the bike's already impressive all-round versatility.

Yamaha's designers have also developed a number of new engine components for the TDM900 that, as well as raising overall performance, also help to reduce considerably the overall weight of the 2002 machine.

The new engine's bore dimensions are increased to 92mm to give a capacity of 897cc, and the extra 49cc plays a major role in helping to boost maximum torque by over 11% to 88.8Nm (9.1kgf-m) @ 6,000rpm, while maximum power is up by over 5% to 63.4kW (86.2HP) @ 7,500rpm.

As well as producing significantly more torque at 6,000rpm, the new TDM900 engine also delivers much higher levels of low to mid-range pulling power for even stronger all-round versatility.

Complementing the increase in engine size and power output are a number of new lightweight engine internals. New-design forged pistons offer increased durability, and run in new ceramic composite plated cylinders that are lighter and help improve engine cooling. The TDM900 is also equipped with new carburised connecting rods that are stronger and around 12% lighter, and the exhaust valve material is modified for improved heat resistance.

Together with the modified 270-degree crankshaft and new lightweight re-profiled camshafts, these changes deliver enhanced low to mid-range performance as well as making an important contribution to reducing the TDM900's weight.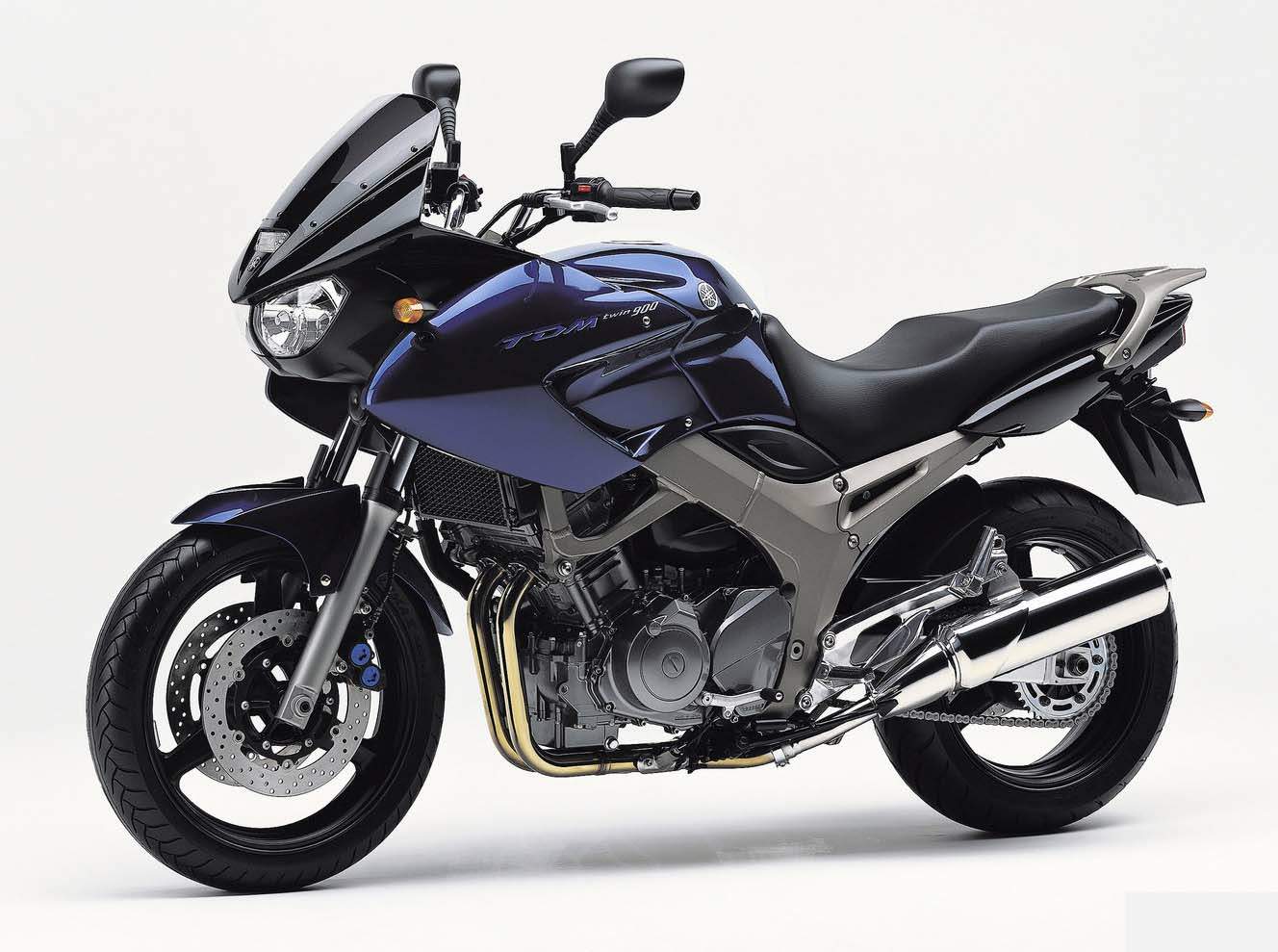 Other detail changes to be found on the new engine include the use of an R-series type automatic chain tensioner for reduced mechanical noise, and the fitment of a heavier magneto rotor to give stronger low to mid-range torque feel.

To help save weight the TDM now runs with a much more compact radiator than the 2001 model, and this lightweight cooling system is equipped with a new style 160mm diameter fan.

Another weight-saving feature is the new pressed steel oil tank. Mounted above the crankcases, this new tank is 23% lighter than the 2001 design, and is now equipped with an oil level sensor for added convenience.

In order to obtain optimal all-round performance from the more powerful engine, Yamaha's engineers have equipped the TDM900 with a new 6-speed transmission and uprated clutch that offer improved shifting characteristics compared with the TDM850.

The TDM900's 6-speed design uses a slightly lower 1st gear than the TDM850's 5-speed transmission, and runs with closer ratios between 2nd and 6th for improved all-round performance. With a ratio of 0.923, top gear on the TDM900 is higher than top gear on the TDM850, and this new 6th gear allows the new-generation TDM to cruise at lower rpm than its 5-speed predecessor at any given speed.

To accommodate the new 6-speed transmission the crankcase design has been slightly modified, while for improved clutch action a new cam-driven clutch release mechanism is used, and clutch spring preload is increased by 5.6%. Together with the TDM900's increased torque and horsepower output, this new 6-speed transmission enhances overall performance in a wide range of sports and touring riding situations, with or without a passenger.

Another important change for 2002 is the use of an all-new Electronic Fuel Injection system which replaces the twin downdraught carburettors featured on the TDM850. At the heart of the system is a lightweight resin-encased ECU that constantly analyses data from a range of sensors relaying information on intake and atmospheric pressure, water and intake temperature, throttle position, exhaust gas emissions, crankshaft position, cylinder identification, engine rpm and speed.

Using all this information, the ECU calculates the fuel injection period and injection timing, enabling it to ensure the delivery of the right amount of fuel for the right duration and at the right time. The Electronic Fuel Injection ensures efficient engine performance at higher altitudes, while the increased combustion efficiency reduces the engine's overall fuel consumption to give an extended range from the 20 litre fuel tank, and for reliable starting in a variety of conditions the system is equipped with an automatic choke.

Complementing the Electronic Fuel Injection is an innovative air cleaner case featuring an adjustable air intake duct and a viscous type filter, and the TDM900 is the first motorcycle ever to benefit from this sophisticated new technology. The ECU opens and closes the adjustable intake duct, and controls the volume of air entering the engine to suit the prevailing operating conditions.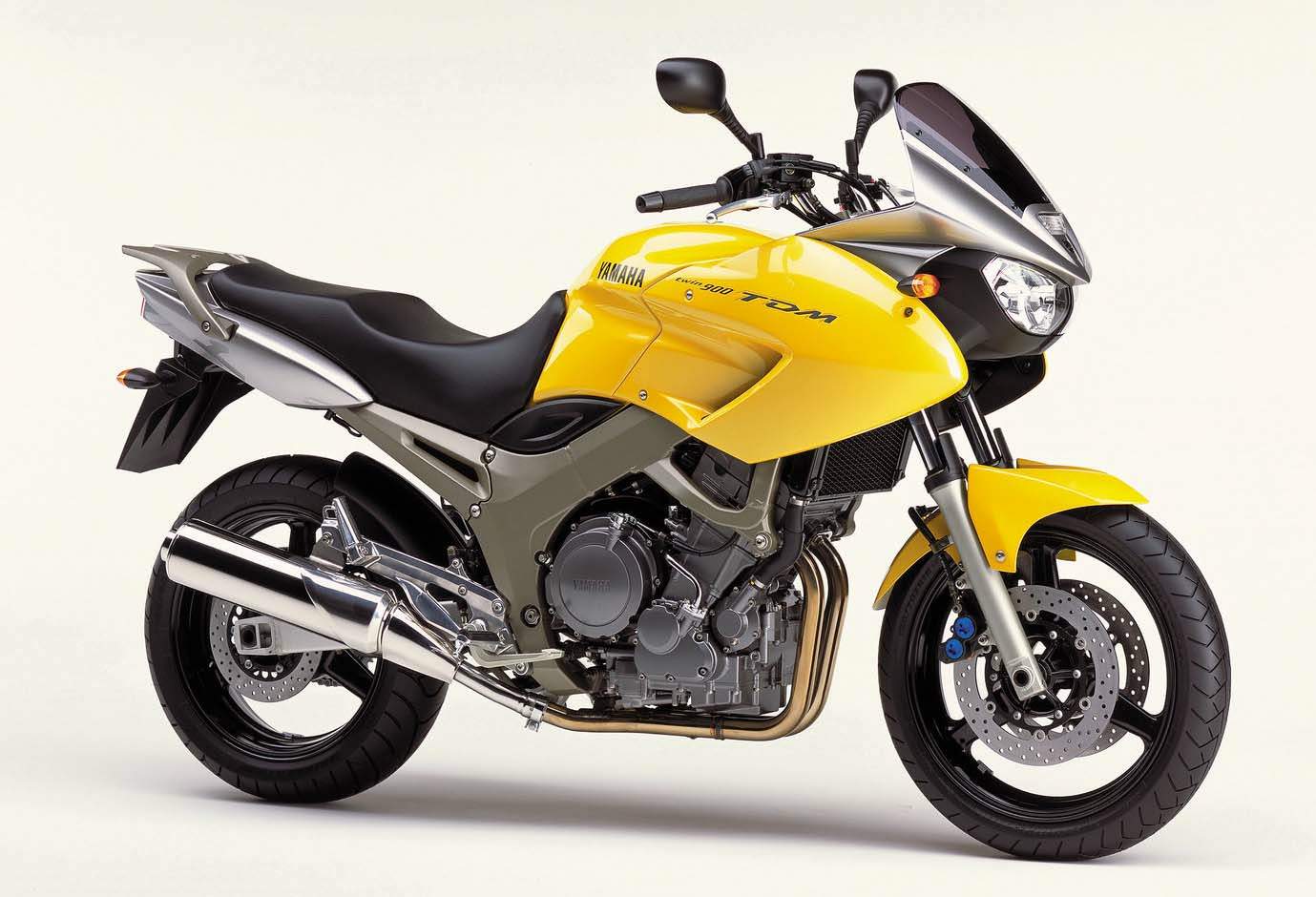 Featuring a new frame, swingarm, suspension and bodywork, the TDM900's new high-specification chassis shares very little in common with the 2001 model, and as well as being significantly lighter it also offers enhanced handling performance.

One of the most significant changes on the TDM900 is the all-new aluminium frame which replaces the previous model's steel design. Featuring widely-spaced twin spars and a detachable sub frame, this new frame is 29% lighter than its predecessor, and at the same time offers much greater torsional, vertical and horizontal rigidity.

New-design brackets are located below the frame's main spars, and these are equipped with R-series type rigid engine mounts that attach to the cylinder head for increased chassis stiffness. Also new is an aluminium box-section swingarm that offers lower unsprung weight and higher rigidity for improved suspension action.

To match the higher-specification chassis the TDM900 is equipped with uprated 43mm front forks. For 2002 they feature adjustable rebound damping, and also a preload adjustment facility. Offering a generous 150mm of wheel movement, they can be quickly and easily adjusted to suit different riding situations.

The totally new rear end features a sophisticated link-type suspension and a piggy-back shock absorber that is equipped with adjusters for rebound and compression damping as well as for spring preload. The linkage system gives rising rate suspension characteristics for better performance, and the fully-adjustable shock enables the TDM900 rider to choose the best set-up.
Every effort has been made to reduce weight where possible, and the TDM runs with new-design 3-spoke wheels that are lighter and also wider. The MT3.5 front wheel is fitted with a wider 120/70-ZR18 tyre, while the MT5.0 rear wheel carries a fatter 160/60-ZR17, and this combination of lower unsprung weight and wider front and rear tyres makes for improved road holding and smoother suspension action.

Just like virtually every other chassis component, the braking has also been uprated, and the TDM900 is fitted with new R1- type one-piece 4-piston dual calipers at the front end that slow a pair of 298mm diameter floating discs manufactured from 5mm thick steel, 1mm up on the 2001 model. Together with the new pin-slide type rear caliper, this new braking system generates strong and progressive stopping performance and offers plenty of feel.
For added convenience the front brake lever features a 5-position adjuster, while both the rear brake lever and gear change lever are now manufactured from forged aluminium to save weight ¨C and for reduced friction the gearchange shift rod layout is changed.

Yamaha's designers have created all-new bodywork for the TDM900 that gives the machine a much more dynamic and stylish feel, and at the same time is instantly recognisable as being a TDM.

The new more angular and aggressive-looking cowling flows seamlessly into a new-look 20-litre fuel tank, and the cutting edge styling is complemented by new dual multi-reflector headlights and redesigned tail light. Completing the package is a new front fender, restyled tail and comfortable new dual seat.
Source mcnews.com.au