Make Model

Yamaha YZF-600 R6

Year

2001

Engine

Four stroke, transverse four cylinder, DOHC, 4 valves per cylinder.

Capacity

599 cc/ 36.5 cu-in

Bore x Stroke

67 x 42.5 mm

Compression Ratio

12.4;1
Cooling System
Liquid cooled
Lubrication
Wet sump
Engine Oil
Synthetic, 10W/40

Induction

Fuel Injection 38mm throttle bodies

Ignition

DC-CDI

Spark Plug
NGK, CR10EK
Starting
Electric

Max Power

120 hp / 87.6 kW @ 13000 rpm

Max Torque

68.5 Nm / 50.5 lb-ft @ 12000 rpm

Transmission

6 Speed
Final Drive
#530 O-ring chain
Frame
Aluminium, twin spar

Front Suspension

43mm

telescopic

fork

,

preload,

compression

and

rebound

damping adjustable.
Front Wheel Travel
119.4 mm / 4.7 in

Rear Suspension

Monoshock

piggyback

reservoir

and

adjustable

preload,

compression

and

rebound

damping adjustable,
Rear Wheel Travel
119.4 mm / 4.7 in

Front Brakes

2x 298mm discs 4 piston calipers

Rear Brakes

Single 220mm disc 1 piston caliper

Front Tyre

120/70 ZR17

Rear Tyre

180/55 ZR17
Rake
25į
Trail
96 mm / 3.7 in
Dimensions

Length 2024 mm / 79.6 in

Width 691 mm / 27.2 in
Height 1098 mm / 43.2 in

Wheelbase
1380 mm / 54.3 in
Ground Clearance
130 mm / 5.1 in
Seat Height
820 mm / 32.3 in

Dry Weight

167.5 kg / 369.3 lbs

Wet Weight

197 kg / 369.3 lbs

Fuel Capacity

17.5 Litres / 4.6 gal

Consumption Average

18.8 km/lit

Standing ľ Mile

10.8 sec

Top Speed

262.4 km/h / 163 mph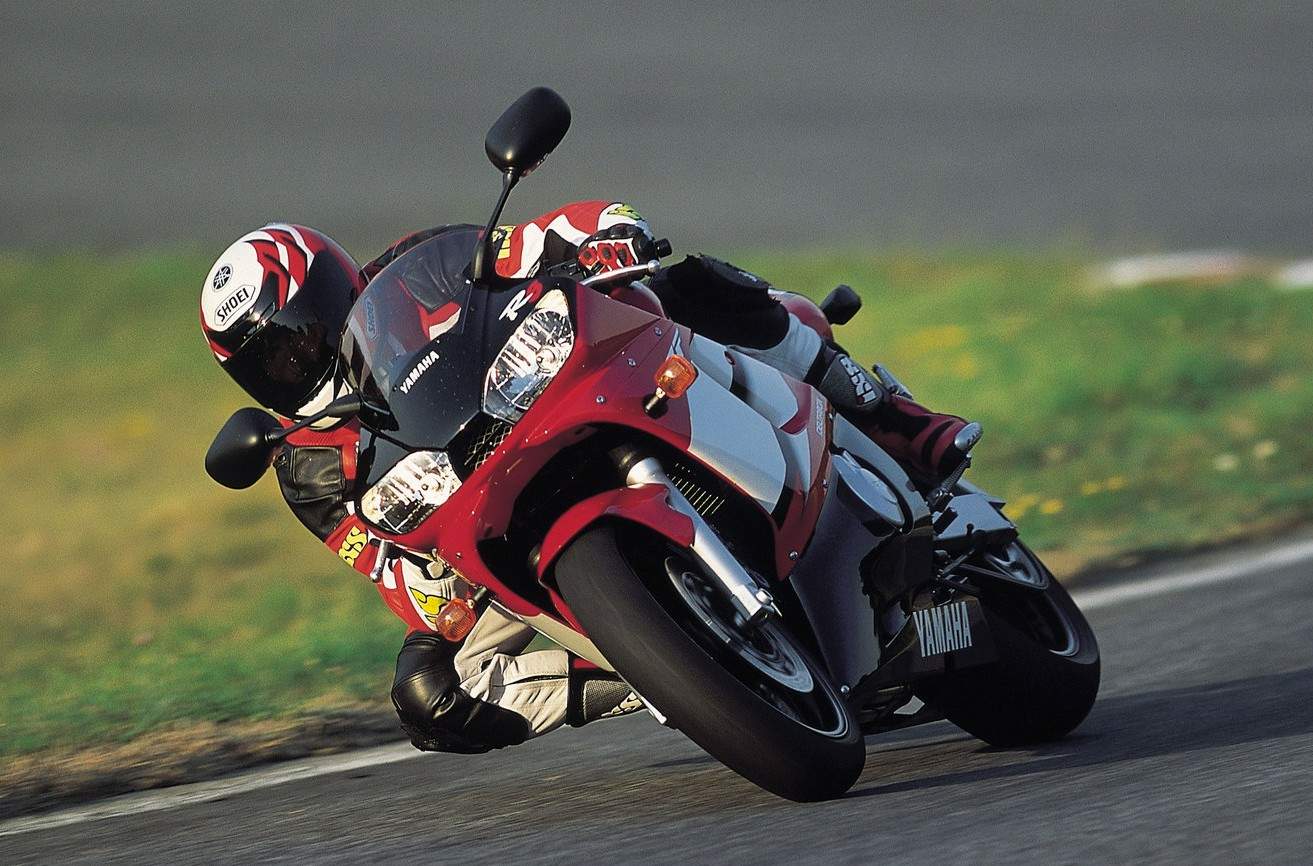 In the never-ending game of leap frog in the 600 class, Suzuki and Honda have made the latest moves. Suzuki with its totally new 2001 GSX-R600 and Honda with its substantially revised and fuel injected 2001 CBR600F4i. Yamaha, which found itself at the top of this class following the introduction of its stunning R6 just two years ago, is not ready to introduce an all new model. Nevertheless, in an effort to stay ahead, Yamaha has made significant changes to the R6 for 2001.
The new R6 has lost five pounds from an already featherweight chassis. A lighter battery, a new, aluminum steering stem and nut (last year's were steel) and a shrunk ignition get the credit.
Yamaha wanted improved power and power delivery as well. In this area, Yamaha came up with new, lighter and stronger forged pistons and carburized connecting rods. Also, new carburetor and ignition settings compliment the internal engine changes. Yamaha claims the new R6 has more power throughout the rpm range. An interesting detail in the engine changes include a taller piston and shorter rod, which maintain the same compression ratio as last year's bike. This had something to do with the "ideal" rod length ratio. Also, the piston surface has been treated with alumite for greater heat dissipation and reduced friction.
Refinements to the transmission were aimed at improving shifting. A new, tapered shift shaft offers more feel and the addition of a steel bushing in the cases offers smoother shifts.
Several areas were addressed in the appearance of the new bike as well. Most notable are the LED taillights and painted under-fender. No need to hack off that long license plate bracket either. It is easily removed, with just three bolts securing it to the under-fender. Yamaha also added a longer swingarm-mounted inner fender aimed at keeping debris from marring the finish on the under-fender and getting to the shock. The mirrors on the R6 have been replaced as well -- they are the same as those used on the R1. Set out wider, they offer better rearward visibility.
With the chassis otherwise unchanged, the R6 predictably handled very much like last year's bike. That is a compliment, however, as last year's bike set the standard for racetrack handling in the class.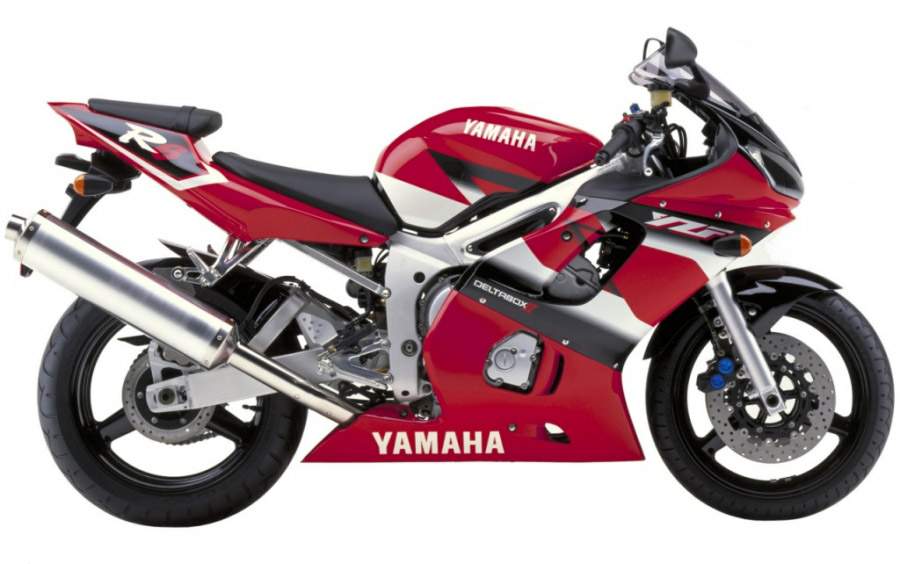 Review
It seems hard to believe that the R6 has already been on the market for five years. Its arrival back in 1998 was slightly overshadowed by the simultaneous launch of the ultra exotic (and appropriately expensive) R7 race replica. But despite the in house competition, the little 600 proved to be the bike that everybody really wanted to know about after the celebrity fuss had died down over its bigger brother. Even then there were certain things that attracted attention Ė a claimed 200bhp/litre not being the least of them.
The R6 has always been a big hitter for its size while managing to remain a featherweight at the same time. Muscle, it seems, does not always equal bulk. This, the latest incarnation, continues that trend with a claimed 123bhp allied to a dry weight of just 162kg. Thatís a neat trick, because at a glance the R6 is actually quite a large motorbike. The fairing with its row of headlights reminds me of a grinning frog, and makes an interesting comparison to the alternative approaches to aerodynamics taken by other manufacturers who are making their bikes noses pointier and higher. The tank is a good size and the seat is enormous.
Looks are a definite strong point with the 2003 R6. Quite simply, it looks stunning, especially in the limited edition yellow and black we had on test. It is one of these bikes where there doesnít seem to be a single angle that jars Ė it just looks right. The only thing I was less than totally blown away by is the huge and, I feel, rather unattractive silencer. Sure itís necessary for all the current legislation but there must be a way of making it look less out of place. Then again, most owners will probably just file it away in a box somewhere safe while they fit aftermarket cans anyway. The four headlights, the black wheels and frame all look great. The LED tail lights are beautifully integrated. Everything just works. As you may be able to gather, I was impressed. But more importantly, so was pretty well everyone else. Even that most damning of critics Ė my 12 year old daughter Ė gave her unqualified approval. So no complaints there.
But of course, even the best looking bike in the world would be no good if the riding experience were horrible. You probably wonít be surprised to hear that it isnít. Not even a little bit.
Sitting on the R6 gives the game away. It may look big but it isnít. Itís not cramped as such, but it sure is small and delicate feeling. As is generally the case these days, everything falls pretty well to hand with no surprises, the mirrors show that there may be something behind you (although they blur sufficiently that youíll not be able to tell what it is until the blue lights come on), the de rigueur digital display tells you most of what you want to know and the tacho redlines just under 16,000rpm. Thereís a gearshift light, and for the first time I think it may almost be something more than a gimmick. But more on that later. Pulling away is a forceful reminder that this is still only a 600. If you want to make anything more than pedestrian progress you need to use a few revs and dance on the very slick gearbox a bit. Itís not a problem, simply something that comes naturally after a few minutes.
Hereís something youíll not hear often. I tended to short-shift at around 13,000rpm out of town if I was pressing on a bit. Thatís right Ė on this little chap changing up at over 500 bangs a second counts as short shifting. Holding on to the red line didnít seem to achieve anything other than make the shift light come on and the engine sound rather nasty. Again, a fruitier end can would probably resolve that while adjusting the shift light to 13,000 would mean that you changed at leak power and dropped back near to peak torque. A happy situation to be in. Once spinning, the engine is a peach, with a crisp and smooth reaction to the throttle, very little vibration and an eagerness to rev that has to be seen to be believed. Itís also quite economical, although again that will be of little interest to the target audience unless theyíre trying to make it to the next garage in the middle of nowhere on a Sunday rideout.
Handling is wonderful, with an incredibly sharp turn in. Stability was pretty good although the light weight and fairly radical geometry conspired to make things get a little unruly when the road got bumpier. Certainly there were places on my normal test route where I would have liked things to be a little plusher, but at the same time there were other places where the billiard-table smooth tarmac allowed the suspension to work brilliantly. As a track day bike I can think of very little better. Although we didnít have the chance to prove that for sure, the impeccable smooth road handling, brakes and engine would, I believe, be a tough combination to beat.
Talking of brakes, Yamaha must produce the most consistently excellent brake setups of any manufacturer. Iíll admit that almost all their bikes have, or appear to have, brakes lifted directly from the R1, but as they were by far the best bikes to appear on a production machine at the time then that can hardly be considered a bad thing. The braking arrangements on the R6 are right at the top of the tree Ė immense power with superb feel and, unusually, a rear brake that actually does something other than satisfy a legal requirement as well.
Rider comfort isnít usually very high on the priority list with a bike like this, but the R6 scores pretty well on that front as well. A benefit of the larger fairing is that there is at least some degree of protection afforded by it, and the large and well designed seat makes a surprisingly pleasant place to rest once any exciting corner action has been despatched. The engine is pretty smooth and doesnít transmit too many vibrations through the bars or pegs. Theyíre all, it seems, absorbed by the mirrors. In fact the only criticism Iíd have of the ergonomics is the surprising omission of a clock from the LCD panel. I know that we ride to get away from realities like time, but there are occasions when you need to know that, for example, youíre late for the ferry so actually need to get a move on. Itís not as if Yamaha would have to bolt something extra on, after all. Thereís space on the panel for a clock, and it seems a little silly not to have one.
So there you are. The only thing I can find to complain about is the absence of a clock. I can easily see why so many people put this as their number one sportsbike. Because yes, it really is that good.
Source Motorbikes Today