Yamaha R1-Z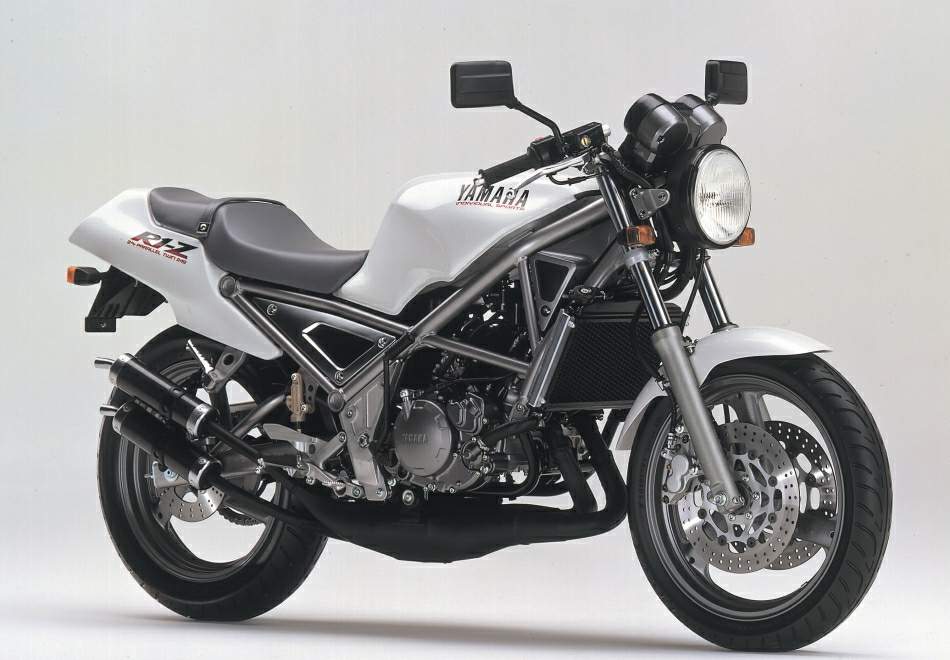 | | |
| --- | --- |
| Model | Yamaha R1-Z |
| Year | 1990 - 91 |
| Engine | Two stroke, parallel twin cylinder |
| Capacity | 247 cc / 15.1 cu-in |
| Bore x Stroke | 56.4 × 50.5mm |
| Cooling System | Liquid cooled |
| Compression Ratio | 6.4:1 |
| Induction | Carburetor |
| Ignition | CDI |
| Starting | Electric |
| Max Power | 45 hp / 33.5 kW @ 9500r pm |
| Max Torque | 3.7 kg-m @ 8500 rpm |
| Clutch | Wet multi-plate |
| Transmission | 6 Speed |
| Final Drive | Chain |
| Front Suspension | Telescopic |
| Rear Suspension | Swinging arm |
| Front Brakes | 2x discs |
| Rear Brakes | Single disc |
| Front Tyre | 110/70-17 |
| Rear Tyre | 140/70-17 |
| Seat Height | 755 mm / 29.7 in |
| Dry Weight | 133 kg / 294 lbs |
| Fuel Capacity | 17 Litres / 4.5 US gal |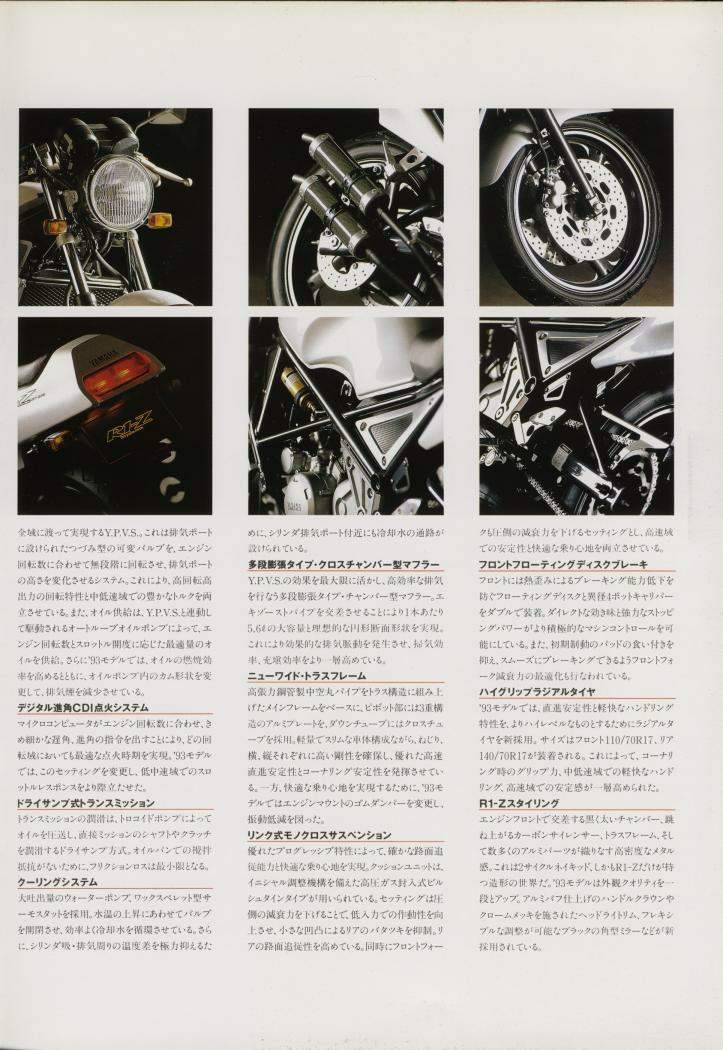 BORN TOO LATE (or too early) to be sucked into the wicked cult of LC? Bored by adolescents in their late twenties banging on about "YPVS" and "Chelsea Bridge"? Thankful that the infernal stink-wheel has croaked its last? Well, guess what, LC is alive and bitchin' and living in Japan as the R1-Z.
To recap: in 1980 Yamaha introduced a two-stroke parallel-twin which shook Europe's stodgier bikers to the core. The RD25O/350 LC was unashamedly based on racing TZs and was Rapid a racer for the street. Anarchy followed.
Those whose adrenal glands knew whacky pound/bhp value when they saw it snapped them up — and stuff big cubes. As LCs evolved into RD350 YPVS's they were toured, despatched, even commuted because the darn things excelled at virtually everything yet, uniquely, were ridiculously naughty too. Then in '86 the TZR250 went a stage faster; subsequent KR-1s and RGVs went to the giddy limit: crazy quick, supreme handling racers which blew the fading YPVS into the reeds.
What the new generation of strokers lost, however, was street sense. Technical orgasms the KRs and RGVs may be, but wrist and bum ache, gutless midranges, and a shortfall of low speed dignity are the price of running GP technology on the road. As is loads of money. And the notion of a truly capable street bandit seems to have been lost along the way. RIP LC.
Or maybe not. Steve Bastable of grey importers Speedaway Motor Cycles, Halesowen (021 559 1270) will bring over an "A1" condition, non-homologated R1-Z for about £3000 (depending on mileage). Bung him the wad and you'll own an LC for the Nineties. That's not LC as in spongy forks or italic wheels; beyond a familiar RD350N headlight and switchgear there is hardly a shared part number. No, it's all about kindred spirit.
Centre stage is that fabulous but obsolete TZR/TDR250 parallel twin, the one that flies at 7000rpm then again at 9000. Decorated by a spaghetti of oil-pump and YPVS cables it is tied into a delicate steel tube frame, triangulated and asthetically tickling. Eyes are drawn to the over-and-under spannies, their pipes criss-crossing behind the front wheel, then to the brakes - twin floating discs, TDM type 4-piston calipers - and FZR600 style wheels. There's little else except a spindly waifer thinness; an anorexic, modernised (but most definitely not sanitised) RD350N.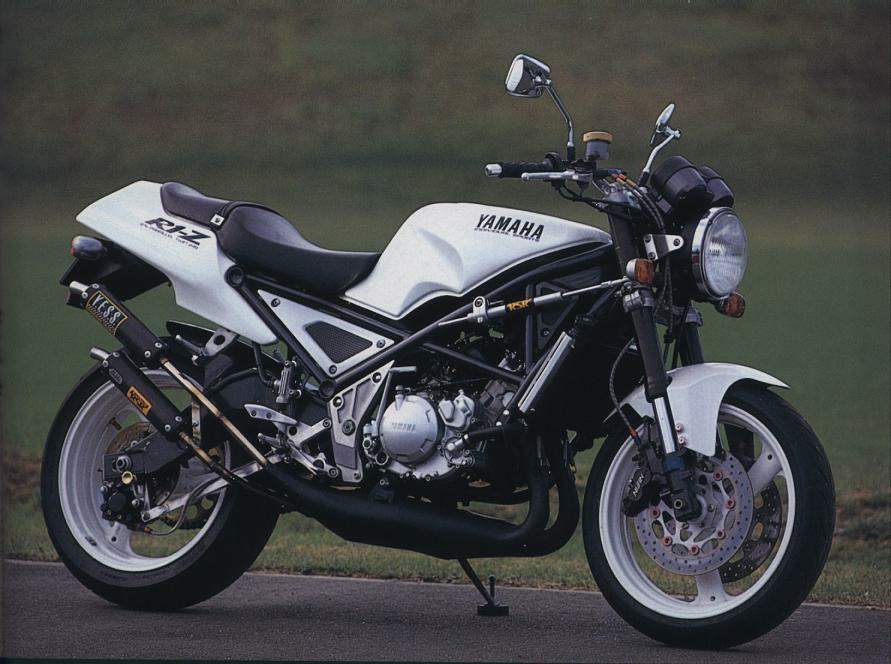 Slotting the rider into a familiar street crouch, the R1-Z mimmicks the YPVS eerily. Raised, wide clip-ons; that trusty old switchgear; pegs forward of rearsets — they're all the same. It's the dimensions that differ with knees just six inches apart, bum but a bent leg from the ground. And even at a standstill the R1-Z feels that, left untethered, it could just float away.
As is the norm with many bikes coming out of Japan, the forks are set up soft — even with their stepless spring preloaders wound right down into the stanchion tops. The rear monoshock is firmer but evidently damped to Tokyo tarmac rather than Suzuka's Spoon curve. It's a neat combination: supple enough for a comfortable afternoon's ride but taut enough for maniacal scratching. Weighing in at just 133kg the R1-Z would clearly have complained if the critical soft-hard balance were wrong — either from a hedge or a low orbit.
Add both a high headstock and a front wheel that is light on the road, and the R1-Z exudes a wholly different handling style to racer-based strokers. Specifically, slow going is better because the steering stays light at all speeds. Perfectly-set bars give bus-dodging control without wrist ache, easing the urge to go ten-Kocinski-tenths at all times. That TZR lump, meanwhile, may be dead in the water in terms of absolute bhp but it still delivers the most useable midrange. Flat as a pancake below 3000, perhaps, but ample beyond those revs.
Knuckling down to a little lice abuse reveals pure YPVS banditry - only crisper. Manhandling bars or sliding off the seat in modern idiom merely invites inaccurate oversteer and wobbles or worse. So you knife it.
With sentimental zits break out faster than prisoners from Cell Block H, changing from hard right to left on a stretch of high class dual carriageway was less of a physical manoeuvre than a thought. The bars needed to be held loose in the hands, nudged and not yanked as the forks skittered over bumps and catseyes. The bulk of the steering was applied through knees and feet but the input required was minimal, even by RGV standards. And the slower it went, the quicker, more agile the handling became.
Although this R1-Z is restricted to 45bhp and 180km/h for the Japanese market, the sensation of speed is immense. For some reason (no fairing? riding position? flighty high speed ride?) corners simply rushed up in a glorious scream of TZR-cum-LC-cum-TDR naughtiness. A panicky flap at the brake lever would be hotly pursued by panicky fork dive and, relief all round, total stopping confidence. The front setup has a massive power-to-weight ratio and could probably stand a Gold Wing on its nose.
Even with the TDR now discontinued Mitsui has no plans to homologate the more logical R1-Z. It's apparently a stinker emissionswise and cleaning it up for UK import would sap power drastically, pricing it out of the market in the process. Never mind, if you're suffering unbearable post-LC depression you could always ring Steve.
Source Bike Magazine 1992