Make Model

Yamaha YZF1000 R1

Year

2007

Engine

Four stroke, transverse four cylinder, DOHC, 4 valves per cylinder.

Capacity

998 cc / 60.9 cu-in

Bore x Stroke

77 X 53.6 mm

Compression Ratio

12.7:1

Cooling System
Liquid cooled
Lubrication
Wet sump
Engine Oil
Synthetic, 10W/40

Induction

Fuel Injection with YCC-T and YCC-I

Ignition

TCI (Transistor Controlled Ignition)

Spark Plug
NGK, CR9EK
Starting
Electric

Max Power

132.4 kW / 180 hp @ 12500 rpm
Max Power Ram Aire
139.0 kW / 189 hp @ 12500 rpm

Max Torque

112.7 Nm / 11.5 kgf-m @ 10000 rpm

Max Torque Ram Airr

118.3 Nm / 12.1 kgf-m @ 10000 rpm
Clutch
Cable-

operated

multiplate

wet

slipper

clutch.

Transmission

6 Speed
Final Drive
#530 O-ring chain
Gear Ratio
1st 38/15

(2.533) / 2nd

33/16

(2.063) / 3rd

37/21

(1.762) / 4th

35/23

(1.522) / 5th

30/22

(1.364) / 6th

33/26

(1.269)

Frame
Deltabox V aluminium aluminium, twin spar

Front Suspension

43mm inverted telescopic fork w/adjustable preload, compression damping, rebound damping;

Rear Wheel Travel
120 mm / 4..7 in

Rear Suspension

Single shock w/piggyback reservoir; adjustable for hi-/lo-speed compression damping, rebound damping, spring preload

Rear Wheel Travel
130 mm / 5.1 in

Front Brakes

2 x 310mm discs 6 piston calipers

Rear Brakes

Single 220mm disc 1 piston caliper

Front Tyre

120/70 ZR17

Rear Tyre

190/50 ZR17
Dimensions

Length 2060 mm / 81.1 in

Width 720 mm / 28.3 in

Height 1110 mm / 43.7 in

Wheelbase
1415 mm / 55.7 in
Rake
24°
Trail
102 mm / 4.0 in
Seat Height
835 mm / 32.9 in
Ground Clearance
135 mm / 5.3 in

Dry Weight

177 kg / 389.4 lbs
Wet Weight
190 kg / 418.8 lbs

Fuel Capacity

18 Litres / 4.0 US gal

Standing ¼ Mile

10.5

sec

/ 232.9 km/h

Standing

1000 m

18.9 sec / 275.2 km/h

Top Speed

287.7

km/h
For 2007, the R1 brings its traditional strong arsenal - awesome performance and stunning good looks - and receives a technology infusion and sharper styling to remain at the top of the literbike pack. We've sat on it, and so we're confident in saying that R1 fans are going to have wet dreams about this latest and greatest.

The first item to note is that Yamaha has dropped its signature five-valve-per-cylinder design in favor of a typical four-valve layout. Yamaha tells us the five-valve arrangement limited the combustion chamber shape in this current world of more compact setups, and it must be true if the tuning-fork company has shelved its unique 5-valve technology first seen in the 1984 FZ750. Instead of three 23.5mm intake valves, the new R1 uses two 31mm poppets (largest in class), and are now made of lightweight titanium. Its pair of 25mm steel exhaust valves is similar in size to last year. The more compact combustion chamber has bumped the compression ratio from 12.4 to 12.7:1.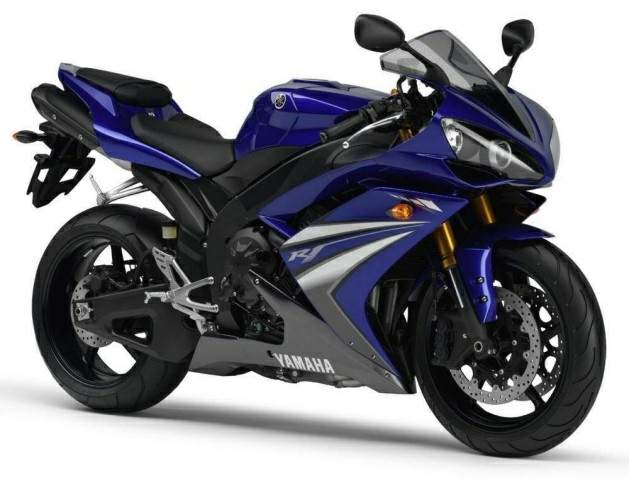 Below the cylinder head lies a bottom end not significantly changed. It uses the same bore and stroke (77.0 x 53.6mm), already the most oversquare in the class, so the redline remains at 13,750 rpm, still the highest among four-cylinder literbikes. New con rods are beefier at the big end for greater durability.
It's at the intake side where the R1 gets tricky. "The One" now receives the YCC-T fly-by-wire throttle control first seen last year on the little brother R6. However, the R1's system now reads changes in parameters at a faster rate of 1000 times a second.

But that's not even the big news. This new R1 brings a performance feature heretofore unseen on a production motorcycle. It's Yamaha Chip Controlled Intake (YCC-I), Yamaha-speak for variable-length intake trumpets. At lower revs, the intake snorkels are set at a height of 140mm for strong torque production. Once the motor is at higher rpm, the trumpets drop down to a height of 65mm for maximum power when screaming for vengeance (a reference for Judas Priest fans...).

The result, says Yamaha, is an increase of low, mid and top-end power over last year's high-strung motor. Its claimed 178 horsepower (without ram-air effect) is a boost of five ponies at its 12,500-rpm peak. Expect to see nearly 155 horsies at the rear wheel when we run it on the dyno. More importantly, its powerband should be much more robust than the peaky 2004-06 bikes.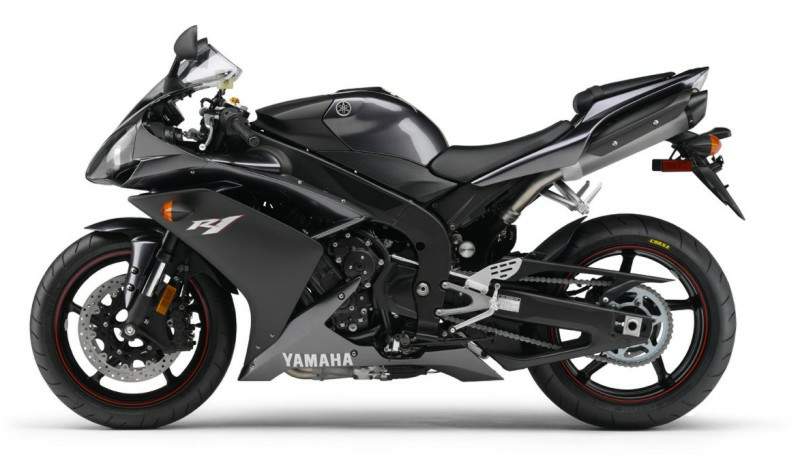 The new exhaust system, still with dual underseat canisters, is built largely from titanium and features dual catalyzers and an EXUP valve to meet Euro 3 and 2008 EPA emissions standards. The slipper clutch from last year's high-dollar LE model is now standard. Surprisingly, there are no plans to produce an Öhlins-equipped LE for 2007, making last year's limited-production bike even more collectible. The addition of the slipper clutch and catalyzers is expected to add a couple of pounds to the new bike, likely making it the heaviest literbike of the superbike group.

The new R1's frame looks similar to the previous model but has different flex characteristics. The cast parts are now more rigid, but the extruded bits have a certain degree of flex built into them for greater feel and feedback when leaned over in corners. Reinforcing ribs have been added to the steering head area while a cross-member between the frame rails has been eliminated. Chassis geometry has remained mostly constant, utilizing the same 24-degree rake and 55.7-inch wheelbase as before. Trail is up slightly from 97mm to 102mm.

A new swingarm has its torsional rigidity increased by 30% while lateral rigidity is decreased marginally, plus its pivot position has been raised by 3mm. Yamaha says this has resulted in better turn-in response and more grip under acceleration, something the World Superbike race teams have struggled with in past years. There's now more room for larger-diameter race tires that, depending on brands, could sometimes not have enough clearance with the previous model.
Guiding the R1's sleek nose is a new 43mm fork that has larger-diameter pistons (20mm to 24mm) and new aluminum rods. Yamaha says the new design reduces cavitation and offers improved damping. The inner tube wall thickness has been reduced for a small weight saving, while the axle bracket has been beefed up. A new rear shock with separate high- and low-speed compression damping has a progressive rate that is said to be plush over small bumps but stiff enough over big whoops.
Yamaha has upped the ante in the braking department by going to a pair of six-piston calipers up front. These smaller pistons allow a greater portion of the outer brake rotor to be used, so the disc's diameter has been reduced by 10mm to 310mm, which may result in slightly quicker turning response.

Wheels are unchanged this year, though the buns they wear have. Longtime supplier Dunlop is replaced by Pirelli's Diablo Corsa rubber, though only on the R1.

Styling-wise, Yamaha seems to have been hesitant to draw a clean-sheet design and instead offers a mix of old R1 combined with some of the wonderful style of the popular R6 in the side fairing and fuel tank. Yamaha says the R1 now has improved aerodynamics and better intake flow, and the layered cowling creates a vacuum to draw hot air away from the engine. Instrumentation is also new, with a prominent tach displaying giant numbers for quick assimilation of information.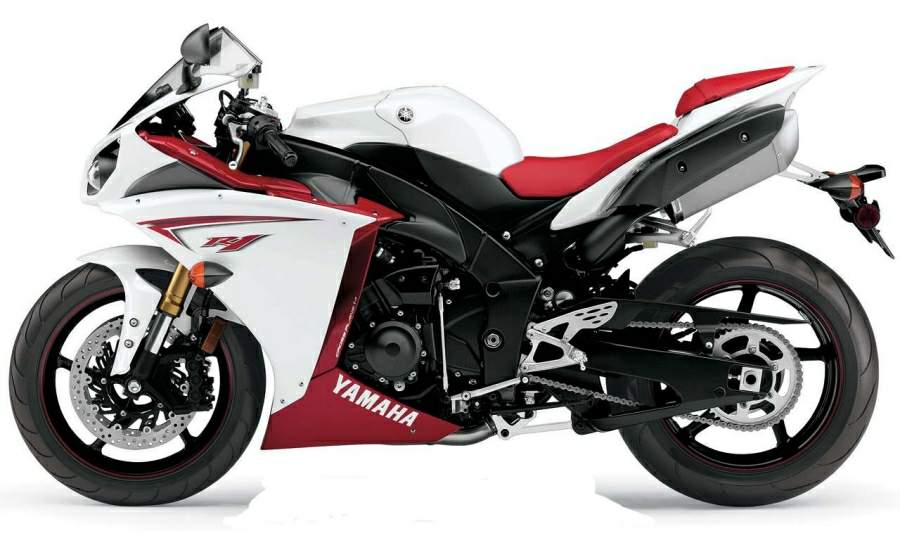 Key Features:
* Light, powerful and packed with trickle-down MotoGP technology, the YZF-R1 is the most advanced Open-class production motorcycle ever built.
* The YZF-R1 uses the YCC-T fly-by-wire throttle system for flawless response under all conditions.
* Inline four-cylinder engine is the most powerful, tractable R1 powerplant ever, thanks partially to the world's first electronic variable-length intake funnel system.
* Slipper-type back torque-limiting clutch greatly facilitates braking/downshifting from high speed.
* Aluminum Deltabox frame and swingarm take Open-class handling to the next performance level.
* Six-piston radial-mount front brake calipers and 310mm discs generate the kind of braking power a bike like the R1 requires.
07 R1 vs 09 R1
Independent, same-dyno tests conducted by England's Performance Bikes magazine have shown that the 2009 Yamaha R1 makes less power and torque than the 2007 model both outright and in the midrange. The new bike also weighs 4kg (9lbs) more. Progress?

PB found that the 2009 R1 made 156hp and 76lb/ft of torque at the wheel (Yamaha claims 182bhp and 85lb/ft at the crank). While measured horsepower can differ between dynometers and with variations in elevation and temperature, the same dyno, just days apart, recorded 162hp and 78lb/ft for the 2007 R1. That might not sound like a huge difference, but consider that the only place the new R1 makes more power than the old is below 4,700rpm, where it makes about 5hp more. But in the midrange, at 5,500 and 8,000rpm, the old bike is up 9hp.

Yamaha don't quote an official dry weight for the 2009 R1, preferring instead to quote it wet -- 206kg. While, on the surface, that could appear to be in the spirit of openness, it is, in fact, concealing. Dry weights are just that, no oil, no gas, no radiator fluid, nothing; therefore they're more transparent than wet weights, which can sometimes be quoted as a full tank or a half tank of fuel, with the overall capacity of those tanks not taken into account. While the wet weight is, as a customer, the way you'll find the bike, dry weights make comparisons easier. The 2009 R1 weighs 177kg or 390lbs (dry); the 2007 R1 weighs 173kg or 381lbs (dry).
The new R1 isn't supposed to be all about power though, it's supposed to be the inline-four that, like a V4 or V-Twin, puts traction and ease-of-use first. We never had a problem getting the power down on the old one, in fact finding it, along with the 2005 GSX-R1000, very easy to exploit. Well, as easy-to-exploit as a liter bike gets.

PB goes on to report that the 2009 bike uses a more track-oriented riding position as standard than the 2007, meaning it'll be less comfortable on the road.

Is a 6hp difference, less midrange and slightly more weight worth getting worked up about? In the world of liter bike dominance it could be, in-class sales success has been decided on less. In fact, more prescient questions would be: Has Yamaha done a good enough job selling the crossplane crankshaft to the public to make up for these deficiencies? In this economy, should you spend $12,390 on the new R1 or save thousands by buying on the slightly faster, better looking previous generation?

Source Hell For Leather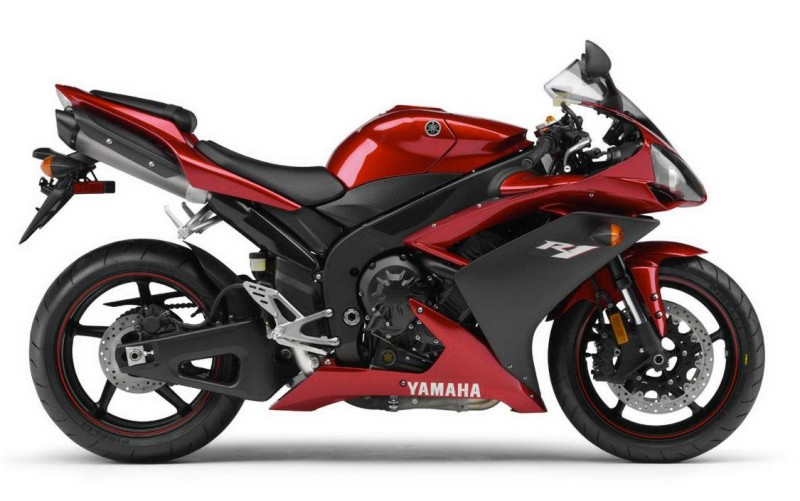 Review
Apparently -- at least according to the Internet, source of all the answers to all the questions in the world -- people, like fine wines, mellow with age. A variety of studies -- some as recent as June 2006 -- indicate that older folk are much better at dealing with negative emotions and generally have a better handle on their emotional roller coaster then their younger, whippersnapper counterparts.
Think about it for a minute. What's the image that many of us have when we think of our elders? Perhaps we conjure some old geezer casually sipping coffee or iced tea on a porch swing with nothing better to do than watch the world pass by their house. For me, the perfect example of this might have been my own grandparents. For well over twenty years that we shared our lives together I rarely, if ever, saw them get their feathers ruffled about much of anything. They always seemed happy and easy going. Heck, I even witnessed the change in my own dad. A man that was once a stern, headstrong, willful person had become someone who didn't sweat the little things anymore, and was often more inclined to respond with a tempered remark than to bark out his irrefutable edict.
Alright, maybe you don't think of yourself as old or getting old, but Yamaha's research about their venerable, standard-setting liter bike says that R1 owners or prospective buyers are, in short, a more mature lot. Feel better about yourself now?
According to Yamaha the liter-bike crowd is comprised almost entirely of boys (97 percent), are on average 33 years old, have 13 years riding experience, ride approximately 7,300 miles per year, and first-time buyers make up a very small percentage -- less than 10 percent -- of sportbikes displacing 1,000cc. We could also extrapolate from Yamaha's number crunching that the liter-bike owner is probably wiser, and not just older. It seems that 1,000cc junkies are "...more focused on commuting, less on touring and slightly more focused on track riding..." as compared to the industry average. Specifically of the R1, Yamaha claims that owners get in 13 percent more track time than the "industry average" and are far more interested in the handling traits of their motorcycle(s) than they are in adding more power.
Are any of these descriptors hitting close to home? After hearing these stats on the typical liter bike rider/owner, I reasoned that Yamaha most certainly had sent a team of Men in Blue (MIB) to chart my every move. Speaking for myself, I fit the liter bike rider mold pretty darn well.
So, if the typical big-bore sportbike guy is in his mid-thirties, likes to take it to the track a little more than his neighbor after commuting all week so he can sort out the handling on his heavily-ridden machine, what do you suppose that says about what Yamaha did with the 2007 R1?
To put us in the know, Yamaha invited a cadre of journos to the current home of the US MotoGP, Mazda Raceway Laguna Seca in Monterey, CA. It was here that we would see if we could discern if all this new techno wizardry had dramatically improved the R1 or simply brought it on par with the competition.
Earlier this fall Yamaha revealed what's behind the all-new R1. This year the bike came with some acronyms, but not enough to rival say, a BMW touring bike with all the options. We covered the meat of what this new-fangled technology does in the September unveiling of the bike, but it bears covering again in detail.
If you haven't heard, Yamaha made some pretty big news when they broke a long-standing tradition and did away with their time-honored five-valve layout. The two remaining titanium intake valves increased in size to 31mm from three 23.5mm bits, while the two steel exhaust valves keep their '06 dimensions of 25mm. Valve angles have also changed to match the new head. The single intake's angle is now 11.5 degrees while the exhaust is now 12.5 degrees. The 2006 model's two intake side valve angles were 15.75 degrees with the center valve angle -- remember it was a five-valve head -- at 8.75 degrees and the exhaust angle was 11 degrees. Speaking of valves, lift was also raised on both the intake and exhaust cams, from 7.6 to 9.2mm and 7.5 to 8.3mm respectively.
The end result is a cylinder head that has a greater intake volume thanks in part to a high-lift cam profile, and a compression ratio that was bumped from 12.4:1 to 12.7:1. This has allegedly improved combustion efficiency, and power across the low, mid and top ends, and thanks to a smoother combustion chamber and re-shaped pistons -- specifically designed with the new head in mind -- the R1's cleaner-burning power plant can meet stringent 2008 emissions standards. We know how much you worry about cleaner-burning motorcycles.
Oddly enough, bore and stroke is unchanged from 77mm by 53.6mm. But in order to deal with the increased power from the new head, the connecting rods were strengthened by adding more material in all the right places.
New head aside, the R1's other large overhaul was in fueling and all that it entails. More big numbers pop up when we look at the throttle bodies. Though they still have the same 45mm bore, they no longer use a measly four injector holes, but a whopping 12 holes are employed to improve atomization. But adding more holes is about as low-tech as improving the fueling gets. Borrowing from its little brother, the R6, the 2007 R1 now utilizes YCC-T or Yamaha Chip Controlled - Throttle. Some people just like to call it throttle by wire. Simply put, it's a system comprised of an accelerator position sensor (APS), throttle position sensor (TPS) and opening and closing throttle "wires." With the 32-bit Denso ECU calculating throttle grip position and throttle valve opening every one thousandth of a second, a tiny motor performs the actual work of opening and closing the throttle. For those of you paralyzed with fear after watching the Matrix trilogy, the rider can still close the throttle "mechanically" by wire if electricity is interrupted.
Source motorcycle.com