Yamaha MT-03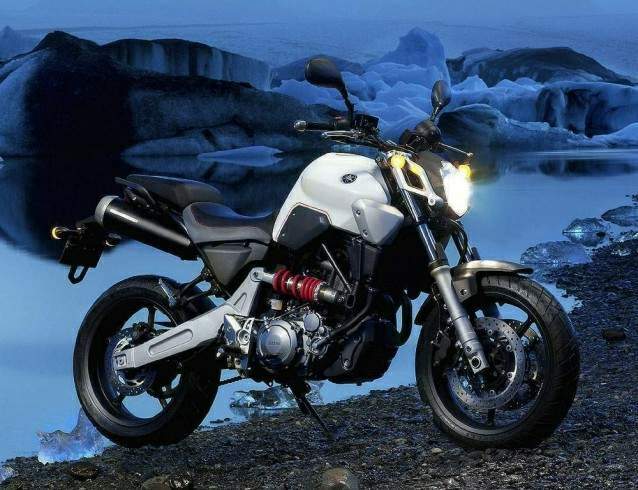 Make Model

Yamaha MT-03

Year

2006 - 07

Engine

Four stroke, single cylinder, 4 valve

Capacity

659 cc / 40.2 cu-in

Bore x Stroke

100 x 84 mm
Cooling System
Liquid cooled

Compression Ratio

10.0: 1

Induction

Fuel injection, 44 mm throttle body

Ignition

TCI

Starting
Electric

Max Power

33.8 kW / 48 hp @ 6000 rpm

Max Torque

58.4 Nm 5.7 kgf-m @ 5250 rpm

Transmission

5 Speed
Final Drive
Chain
Frame
Steel tube truss diamond

Front Suspension

Telescopic forks
Front Wheel Travel
130 mm / 5.1 in

Rear Suspension

Swinging arm
Rear Wheel Travel
122 mm / 4.75 in

Front Brakes

2x 295mm discs

Rear Brakes

Single 245mm disc

Front Tyre

120/70 -17

Rear Tyre

160/60 -17
Dimensions
Height 1115 mm / 43.9 in
Length 2070 mm / 81.5 in
Width 860 mm / 33.9 in
Wheelbase
1420 mm / 55.9 in
Seat height
805 mm / 31.7 in
Ground Clearance
200 mm / 7.9 in

Dry Weight

174.5 kg / 384.7 lbs

Fuel Capacity

15 Litres / 3.9 US gal

Standing ¼ Mile

14.2 sec

Top Speed

163.3 km/h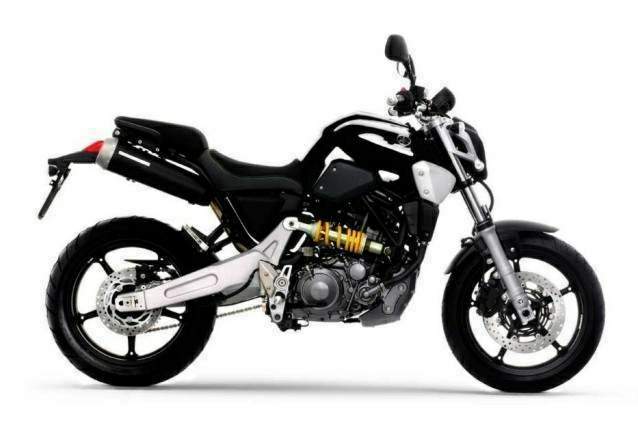 Yamaha are pleased to announce that the MT range is to be expanded with the launch of the MT-03, a very special 660cc single cylinder machine designed to appeal to everybody who is looking for a unique and exciting riding sensation.

We describe this new motorcycle as a Roadster-Moto. Roadster, because it projects the same kind of mechanical beauty and radical, sophisticated design as our MT-01 – and Moto, because it offers the same characteristics as today's easy-handling, agile and exciting Supermoto bikes.
MT-03 model concept
Like the MT-01, the MT-03 is the mechanical embodiment and expression of Kodo, a word which means not only heartbeat or pulse, but also a pulsating drum beat that appeals directly to human sensuality.

No motorcyclist, whatever brand they ride or type of machine they own, can fail to be inspired by the sound and pulse of a big single in action. Like the pulsating note of the MT-01 V-twin, the new MT-03 emits a truly evocative beat that is music to the ears of every rider.
Besides sounding very special, this machine has been created to deliver remarkable performance in a wide range of riding situations. With its highly responsive 660cc single engine delivering strong torque right across the rev range, the MT-03 is ready to deliver instant excitement at any rpm.
In the city this radically styled big single is one of the quickest and most rewarding ways to get from A to B. And out on twisty country lanes this new super-agile high-torque roadster-moto has the potential to pack in more action per mile than just about any other machine.
Super agile handling and high torque output

The key goals that have influenced the design and specification of the new MT-03 are 'super-agile handling', and 'high torque output'. And at the same time Yamaha's engineers have also created a whole new 'forward mass' silhouette which is characterised by the concentration of engine and chassis components ahead of the bike's midway point. This muscular looking forward mass profile is further emphasised by a slim but forceful tail and a compact underseat exhaust.
Forward riding position

This forward mass theme is accentuated by the Supermoto-style forward riding position in which the rider sits closer to the handlebars than on conventional big singles, to achieve an idealised weight distribution and enhanced handling agility.
Beautiful styling and high quality components

In contrast to the utilitarian style of some off-road based machines, the MT-03 is equipped with a range of beautifully styled, high quality components which combine form and function in a very special way. The high specification and sophisticated styling of the bike's component parts are comparable to those of class-leading roadsters, and this emphasis on Yamaha's art of engineering underlines the bike's sporty character and unique appeal.

Yamaha's art of engineering is also evident in the underseat exhaust system featuring megaphone-shaped muffler ends which perfectly express the concept of pulse, sound and torque, while accentuating the MT-03's unique style and character.
ENGINE
High-torque XT660-based engine

Powering the new MT-03 is a high torque 660cc engine that is based closely on the highly-acclaimed XT660 powerplant. With its high levels of low to mid range torque, this liquid-cooled engine has already established a strong reputation with XT660 owners, and Yamaha's engineers decided that it was ideally suited as the base engine for the new MT-03.
Large capacity airbox

In order to enhance the low to mid-speed torque feeling, Yamaha's engineers have made a number of technical modifications. Big single cylinder engines need a large capacity air cleaner box, and the MT-03 is equipped with a massive 5.9 litre system whose simple design complements the spartan character of this new model. This easily accessible air box draws air from the machine's right side, and runs with a cassette type filter for ease of maintenance.
Furthermore, to complement the revised intake design – and following intensive test riding in varied conditions – Yamaha's engineers have also optimised the fuel injection calibration in order to obtain strong torque in the low to mid speed range.
Compact mono chamber up-muffler with catalyser

One of the main design goals of the MT-03 development team was to create a unique looking motorcycle with a condensed look, and the mono chamber up-muffler plays a key role in achieving this objective.
Viewed from the rear, the system appears as dual mufflers, but they are in fact connected, and each muffler is protected by a resin shield for passenger comfort. This stylish exhaust system underlines the bike's solid MT heritage, and gives the MT-03 a distinctive and attractive looking rear end.
This compact system is equipped with a single metal honeycomb catalyser.
ENGINE TECHNICAL HIGHLIGHTS

XT660-based engine
Liquid-cooled 4-stroke, single cylinder, 4-valves, SOHC
Revised secondary reduction ratio
Modified fuel injection characteristics
33.4kW / 6,000 rpm – 56.2Nm / 5,250 rpm
Large capacity 5.9 litre air cleaner box
Compact mono chamber up-muffler
Dry sump lubrication with separate aluminium die-cast oil tank
Single catalyser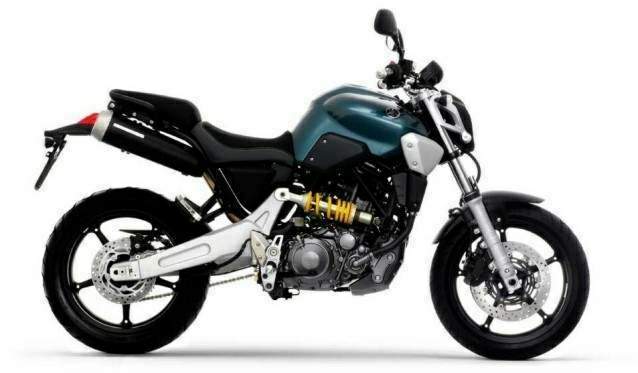 Essai Route: Yamaha MT-03 –
Le mono joueur
Ecrit le 13/03/2006 : 11:46. Lu 52234 fois (34/jour).
Il y a deux ans, Yamaha sortait son gros roadster aux airs de killer: la MT-01. Le problème c'est que cette moto n'est dispo que pour le marché européen, que les européens semblent préférer des café-racer moins... volumineux (dans le genre de la MT-03) et que les américains quant à eux préfèrent les gros V-Twin naked comme la MT-01. Les choix stratégiques de Yam semblent ici confus... nous sommes en pleine confusion, le marché aussi.
En attendant la prochaine MT, probablement un twin de 1000cc basé sur la TDM, nous avons essayé la dernière de cette gamme en devenir. La MT-03 est un gros mono dans un petit habillage.
192 votes

Derniers articles Tous les articles
Aprilia Benelli Bimota BMW
Buell Ducati Editorials Harley Davidson
Honda husqvarna Hyosung Impressions
Kawasaki KTM Moto Guzzi Moto Morini
MV Agusta Suzuki Triumph Victory
Voxan Yamaha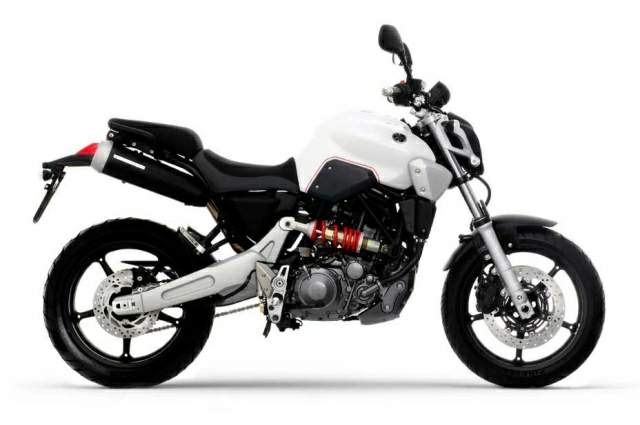 La MT-03 est une étude de style épurée inspirée de la culture européenne, particulièrement la française et l'italienne, des café racers. Un soupçon de supermot', une pincée de scrambler et une dernière dose de café racer. Elle est faite pour le fun avec un prix et un style taillés sur mesure pour les citadins croulant sous les crédits et les loyers exhorbitants.
J'ai bien sûr trouvé d'autres usages que la ville pour cette MT-03. Quand on habite une grande ville, on a tendance à s'échapper vers la nature une fois le week-end venu.

Vendredi après midi, le trafic pour quitter la ville est au point mort, l'air est quasi mortel avec un pourcentage effrayant de monoxyde de carbone.

Le couple de la MT-03 est suffisant pour s'éloigner des problèmes (entendre les automobiles) sur une seule roue dès que le feu passe au vert et le chassis est suffisament léger pour être stoppé efficacement par les freins "à pas cher" de la moto au feu rouge suivant. Dans ces conditions de roulage (note de did: peut-on appeler ça des conditions?), la MT-03 est parfaite: étroite et légère avec son gros monocylindre gavé de couple.

Faire fi de la longue procession des travailleurs citadins coincés dans les embouteillage pour rentrer chez eux est un jeu d'enfant pour la MT-03. Il y a d'ailleurs presque trop de frein moteur dans cette situation, mais le couple est tellement généreux et pratique pour éviter le crétin qui ne vous a pas vu...
Les rétros sont placés à la hauteur de ceux des vans, mais ils peuvent facilement se rabattre.


J'ai finalement réussi à m'extirper des encombrements et filer vers mes routes de montagne favorites.

La MT03 adore les virages, et surtout les épingles. Je me souviens de l'Aprilia Pegaso 650 sur ces mêmes routes: la MT-03 y est aussi joueuse. Cette japonaise a un coeur d'italienne. Le moteur qui équipe trois Yamaha, deux Aprilia et une Derbi est fabriqué dans l'usine italienne de Yamaha, et son design est clairement "transalpin".
La MT-03 a droit à la version 45cv du désormais célèbre mono 660cc 4 temps. La Yam XT et le Pegaso ont la version 48cv.

Yamaha explique la différence de trois canassons par un meilleur contrôle anti-pollution. Ca risque donc d'être pareil sur les prochaines moto équipées de ce moteur...
Ceci dit, je ne me souviens pas que le Pegaso Strada ait l'air beaucoup plus puissant. Ces trois chevaux ne doivent pas vouloir dire grand-chose.

Assis sur la selle basse de 805mm on ne fait plus qu'un avec la moto.

Le haut du corps est très en avant et les guidons sont larges. C'est accentué par la grande place accordée au passager. Les repose-pieds sont volumineux et costauds et accueillent sans problème les bottes d'enduro. Eh oui, pour refléter l'image urbaine, jeune et supermotard de cette moto, vous pouvez porter votre casque et vos bottes de cross sans honte.

La MT-03 a des attraits esthétiques versatiles: des points de détail rétro avec un look fashion victime urbain.
Le mono-amortisseur arrière latéral accroche l'oeil du côté droit. Tout comme sur la "vieille" Suzuki TL1000S. Mais avec 80 cv de moins, la MT-03 n'a aucun problème de maniabilité, et l'amortisseur latéral se fait totalement oublier en courbes.

J'ai fait deux longs trajets sur autoroute avec, et c'est usant. Pas tellement à cause des vribrations, mais plutôt à cause de l'ennui. Sur autoroute, il ne peut y avoir qu'une seule position pour la poignée: ATOC...


La MT-03 peine à tenir 140 km/h et le moteur qui n'en peut plus réclame de l'air... Je m'étais aventuré sur l'autoroute par nécessité pour gagner du temps, pas par plaisir.

La plupart des pièces de la MT-03 ne sont pas onéreuses à produire, comme la fourche conventionnelle, les freins , les commodos. D'autres pièces comme la selle luxueuse, le phare joliment conçu, l'échappement et le bras oscillant alu sont de très bonne facture. Le tout va très bien ensemble, et même si certaines pièces sont "cheap", ça ne les empêche pas de faire correctement leur boulot.


Les freins par exemple sont empruntés à la FZ6, et ils ont plus de feeling et de mordant que nécessaire pour une moto aussi légère que la MT-03.

Conclusion
La MT-03 a de nombreux atouts: pas chère à acheter, pas chère à entretenir, design réussi. Elle se marre en ville et sur toutes les routes où la courbe est serrée. Les seuls points négatifs que je pourrais citer sont inhérents aux mono-cylindres...
La MT-03 est une MT très réussie.