Make Model

Yamaha FZR 600

Year

1990

Engine

Four stroke, transverse four cylinder, DOHC, 4 valves per cylinder.

Capacity

599 cc / 36.6 cub in

Bore x Stroke

59 x 54.8 mm

Compression Ratio

12.0:1
Cooling System
Liquid cooled
Lubrication
Wet sump

Induction

4 x 38mm Mikuni BDST32

Ignition

Transistor controlled digital
Sparkplug
Type/manufacturer - CR9E or CR8E/NGK - U27ESR-N or U24ESR-N/NIPPONDENSO
Sparkplug Gap
0.7 ~ 0.8 mm (0.028 ~ 0.031 in)
Generator
AC magneto generator
Battery
GM12AZ/12v 12AH
Electrics
Headlight type - Quartz bulbBulb wattage/quantity
Headlight - 12V 35W/35W x 2
Tail/brake light - 12V 8W/27W x 2
Front flasher/running light - 12V 27W/8W x 2
Rear flasher light - 12V 27W x 2
Meter light - 12V 1.7 x 4
Neutral indicator light - 12V 3.4V x 1
High beam indicator light - 12V 3.4V x 1
Oil level indicator light - 12V 3.4V x 1
Turn indicator light - 12V 3.4V x 1
Starting
Electric

Max power

66.3 kW / 91 hp @ 10500 rpm

Max Torque

65.7 Nm / 6.7 kgf-m / 48.4 lb-ft @ 8500 rpm
Clutch
Wet, multi-disc

Transmission

6 speed
Transmission Type
Constant mesh 6-speed
Final Drive
O-ring chain, 530 size, 106 links
Primary reduction system
Spur gear
Primary reduction ratio
82/48 (1.708)
Secondary reduction ratio
45/15 (3.000)
Gear Ratio
1st - 37/13 (2.846) 2nd - 37/19 (1.947) 3rd - 31/20 (1.550) 4th - 28/21 (1.333) 5th -31/26 (1.192) 6th - 30/27 (1.111):1
Frame
Double cradle

Front Suspension

41mm Telescopic fork preload adjustable, Coil spring, oil damper
Front Wheel Travel
130 mm / 5.1 in

Rear Suspension

Rising-rate Monoshock preload and rebound adjustable, Gas, coil spring, oil damper
Rear Wheel Travel
115 mm / 4.5 in

Front Brakes

2 x 298mm discs, 2 piston calipers

Rear Brakes

Single 214mm disc, 1 piston caliper

Front Tyre

110/70-17

Rear Tyre

130/70-17
Rake
25°
Trail
94 mm / 3.7 in
Dimensions
Length 2095 mm / 82.5 in
Width 700 mm / 27.6 in
Height 1155 mm / 45.5 in
Wheelbase
1425 mm / 56.1 in
Ground Clearance
135 mm / 5.3 in

Dry Weight

195 kg / 430 lbs

Wet Weight

208 kg / 458 lbs

Fuel Capacity

18 Litres / 4.8 gal
Reserve
3.4 Litres / 0.9 gal

Consumption Average

5.3 L/100 km / 18.7 km/l / 43 mpg

Braking 60 km/h / 37 mph - 0

13.3 m / 43.8 ft

Braking 100 km/h / 62 mph - 0

36.88m / 121 ft

Standing ¼ Mile

11.4 sec / 189.0 km/h / 117 mph

Top Speed

237.1 km/h / 147 mph
Reviews
The FZR Archives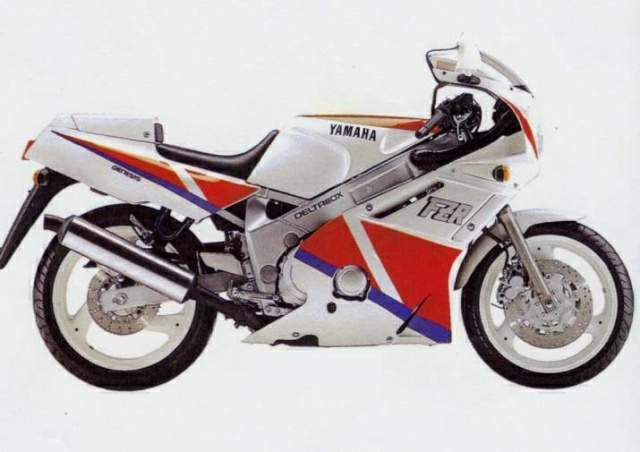 I was confused. The FZ750 I I'd just stepped off - as near to an all-rounder as I Yamaha's 'R' chapter produces - had a front-end like a racer, or like a seized Marzocchi if you're looking for a cushy time. Yet here was the same firm's supposedly bollocks-akimbo 600 wallowing around on its sliders like a tot on a baby-bouncer; and the rear-end didn't feel a whole lot more convincing. So far we hadn't even moved and all this talk of meteoric handling was beginning to look fantastic.
Then I hit the starter button, half-expecting the same sort of EXUP-sanitised whirr as the F/K1000: no dice. It tingled, and spat out just enough throaty tickover burble to suggest that things might get interesting pretty soon. If only the disgraced clutch (recently demolished by the combined abuse of PB and our Tim, and rebuilt in short, efficient order by Peterborough's Richard Marson Motorcycles), would cooperate.
First went in with a clunk. Ease on the revs, let out the clutch: it grabbed, almost stalled the four-pot mill, then finally condescended to put twistgrip and rear boot on the same party line.
And I haven't stopped smiling since.
Ok, I'll own up: I think middleweights are the business 'cos they're simply wonderful to chuck about. Unfortunately I also think that 80-odd bhp and 140-plus mph are two of my very favourite numbers, because some prat went and invented the motorway. The 'unfortunately' is because, until very recently, you either went for a middleweight or you went for a 90/140 multigrade, but you couldn't have both. Now you can and it's bloody marvellous.
But back to that first ride: the road I live at one end of - a winding fantasy between Oundle, Polebrook and Norman Cross - was actually built, despite what the local farmers say, to tie knots in bikes with suspect handling and steering. Every bump asks serious questions, and each has at least one large tree to provide a swift and sudden answer if the bike can't come up with anything better. First impressions of the 600's 'spenders - its languid front end and desultory rear shock -suggested that the verdict on the 600 might be measured in leaves and bark, and I'm not talking that kind of dog. Then I paused to consider that cutthroat 94mm trail figure, an almost opted to mow the lawn instead. Fortunately I don't have a lawnmower.
'Cos if I did I wouldn't have discovered just how damn good a combination a pokey, revvy engine, super-stiff chassis and boy-racer ergonomics can be. The FZR just ate that damn road, shrugged down through the box at the end of it, turned right round and did it all again by way of dessert. And the pudding on board didn't get scared more than a couple of times, either.
In some ways this is how it ought to be: of the leading four 'sports' 60()s now on the market, the Yamaha is the one most closely focussed on the track, the one burdened with the fewest road-bound compromises. Cop that pillion seat, for instance: it's a joke, until you have to sit on it for a couple of hours. A year or so ago I wrote that the old air-cooled FZ600 was the nearest thing Japan had made to a four-cylinder Ducati; the FZR takes over - and how! - where the FZ left off.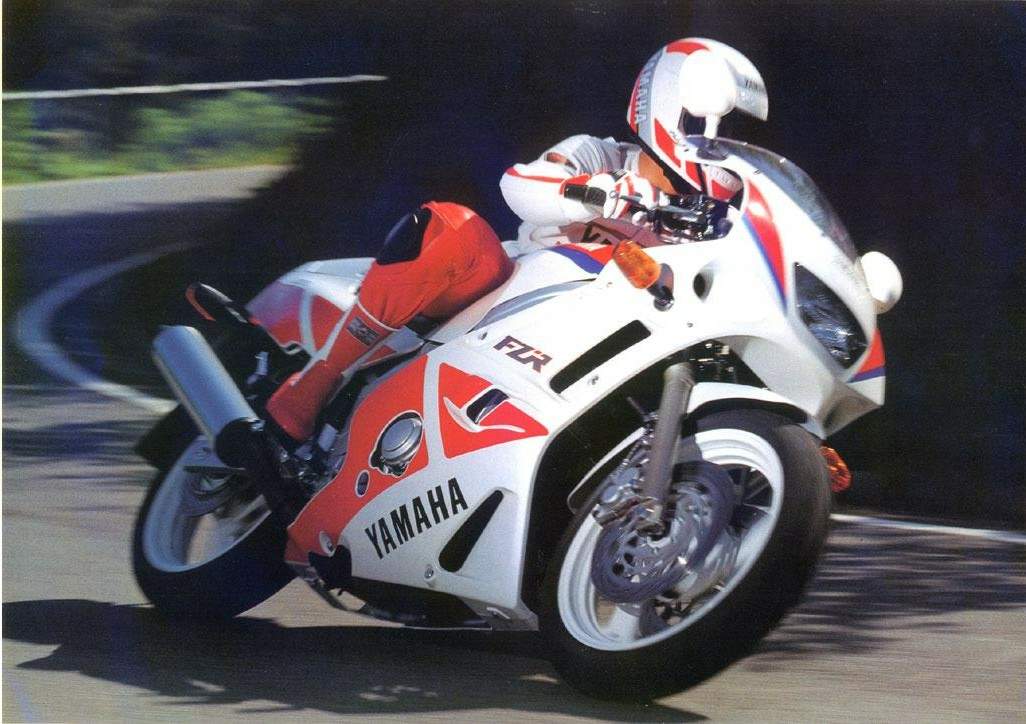 As well as race orientation, Yamaha are also pretty big on cost-accounting these days. So some of the FZR's lack of frills are down to the pursuit of leanness and purpose; but others - like the downmarket suspenders - are down to penny-pinching. The Big 'Y' no doubt figures there's no need for them to win racing accolades by bolting on decent kit when every racer in the universe is more than happy to do it themselves.
The accountant's knife also hit the engine, which is why the FZR doesn't wear the much-vaunted and patently effective EXUP exhaust gizmo, although on the face of it if ever a class of bike needed extra mid-range punch it's the 600 division. Thankfully the basic engine hardware handles the omission pretty well: the mill has stomp enough right through the rev-range, although serious ear'olers will keep things buzzing above 7500.
Another thing the engine has is just enough rawness to keep things interesting. There's a certain amount of whining and muted exhaust crackle, but most of all the inlet howls away underneath you in an altogether un-1989-like fashion. Coupled with that pared down sense of purpose and get-tucked-in riding position, this makes the Yam feel more like a GSX-R600 might if Suzuki ever got round to making such a thing. A scaled-down FZR1000 it definitely isn't.
This shows up not only in the general level of comfort and refinement, but in the 'spenders. On high-speed-over 100 mph - bumps and kinks, the 600 can be a bit of a head-shaking handful. The major culprit in this is undoubtedly the rear end, which feels harsh and over-sprung. However, the word from the tracks - Mike Edwards won the Mallory British championship round on a stock rear shock, and nowhere asks more suspension questions than Gerrards - is that the shock is fine but the stock rear Japlop tyre lacks compliance. I have to say that none of the Japlop-equipped Yams we've recently tested -FZR1000, FZ750 and FZR600 - have, in one way or another, worn particularly reassuring rubber.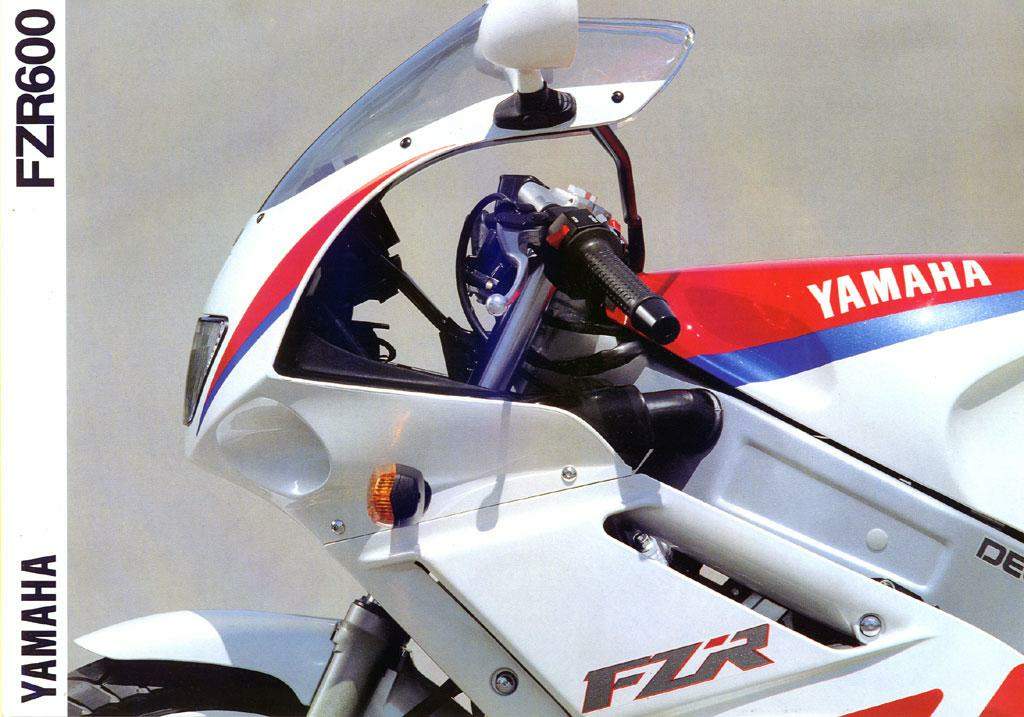 The forks, despite their softness, are already prone to patter when pushed hard into a corner. This syndrome is usually associated with too-hard damping or springing, but in the FZR's case the problem is probably caused by their compressing too much and having next-to-no travel left to cope with whatever the road throws at them: they need more stiffness, rather than less. The feeble fork springs already have a spacer the best part of half a foot long. It still isn't enough, and a change from standard 10-ish weight to 15-weight oil wouldn't go amiss, either.
So the excellence of the Yam's handling and steering is a tribute to the chassis rather than the suspension. And whilst it would have been nice if Yamaha had got it right from the off, the (potential) combination of leanness, superb steering, handling and surprisingly strong through-the-range power feels, on first sampling, a full yard ahead of the opposition.
Which isn't to say it's necessarily a better bike. The FZR simply can't cut it for refinement, comfort (especially for the pillion), or practicality. It simply isn't an all-rounder in the way the other three 600s are. Which is alright by me: if you want a bike for all reasons, get a CBR, or GPX, or GSX; if you want something more frantically focussed, the FZR's the one for you. Just don't blame us when your pillion gives you a hard time.
Source Bike 1989