Make Model

Yamaha FZR 1000 EXUP

Year

1991

Engine

Four stroke, 35° forward inclined transverse four cylinder, DOHC, 5 valves per cylinder

Capacity

1002 cc / 61.2 cu/in

Bore x Stroke

75.5 x 56 mm
Cooling System
Liquid cooled

Compression Ratio

12.0:1
Compression Pressure
14kg/cm2 (1400kPa, 199 psi)
Compression Range
13.6kg/cm2 (1360kPa, 194psi) minimum
14.8kg/cm2 (1480kPa, 210psi) maximum
Lubrications
Wet sump
Exhaust
EXUP exhaust control system
Engine Oil
SAE 20W40 engine oil in temperatures above 5C/40F
SAE 10W30 engine oil in temperatures below 15C/60F
Oil Capacity
3.5 Litres total
3.0 Litres change with filter replacement
2.7 Litres periodic oil change

Induction

4x 38mm Mikuni BDST

Ignition

TCI digital ignition
Spark Plug
DR8ES-L (NGK)
Spark Plug Gap
0.6 ~ 0.7mm (0.024 ~ 0.028 ins
Generator
AC generator
Battery
YB14L 12V 14AH

Bulb wattage

Headlight type

Headlight wattage



Marker light
Tail/Brake light
Flasher light
License light
Meter light
Indicator: NEUTRAL
Indicator: HIGH BEAM
Indicator: TURN
Indicator: OIL LEVEL
Quartz bulb (D, B, S, F, CH, AUS, NZ)
Bulb (A, DK, GR, I, NL, SF, E, N)
12V, 35W / 35W x 2 (I, AUS, NZ)
12V, 55W x 1, 60W/55W x 1 (B, D, F, S)
12V, 45W/40W x 2 (A, DK, E, GR, N, NL, SF)
12V, 60W/55W x 1 (CH)
12V, 5W x 1
12V, 5W/21W x 2
12V, 21W x 4
12V, 5W x 2
12V, 3.4W x 4
12V, 3.4W x 1
12V, 3.4W x 1
12V, 3.4W x 1
12V, 3.4W x 1

Starting
Electric

Max Power

145 hp / 105.7 kW @ 10000 rpm

Max Power Rear Tyre

131.7 hp @ 10500 rpm

Max Torque

10.9 kgf-m /

107 Nm @ 8500 rpm
Clutch
Wet, multi-disc

Transmission

5 Speed
Final Drive
Chain 532ZLV
Number of links
110
Free play
15-20mm (0.6-0.8 ins)
Primary Reduction System
Spur gear
Secondary Reduction Ratio
68/41 (1.659)

Frame

D

diamond

Deltabox

Front Suspension

43mm Telehydraulic for adjustable preload

,

Fork oil grade
10W
Front Wheel Travel
120 mm / 4.7 in

Rear Suspension

Gas/oil single shock, rising rate adjustable preload and damping

.

Rear Wheel Travel
130 mm / 5.1 in

Front Brakes

2x 320mm discs 4 piston calipers

Rear Brakes

Single 267mm disc 1 piston caliper
Brake Fluid Type
DOT4 or DOT3

Front Tyre

130/60 VR17

Rear Tyre

170/60 VR17
Rake
26.7°
Trail
110mm / 4.33 in
Dimensions
Length 2200 mm / 86.8 in
Width 730 mm / 28.7 in
Height 1160 mm / 45.7 in
Wheelbase
1460 mm / 57.5 in
Ground Clearance
135 mm / 5.3 in
Seat Height
765 mm / 30.1 in
Dry Weight
209l kg / 460 lbs
Wet Weight
236 kg / 520 lbs

Fuel Capacity

19 Litres / 4.2 gal

Consumption Average

16.3 km/lit

Braking 60 - 0 / 100 - 0

13.1 m / 37.0m

Standing ¼ Mile

10.1 sec / 216.8 km/h

Top Speed

273.4 km/h / 169.8 mph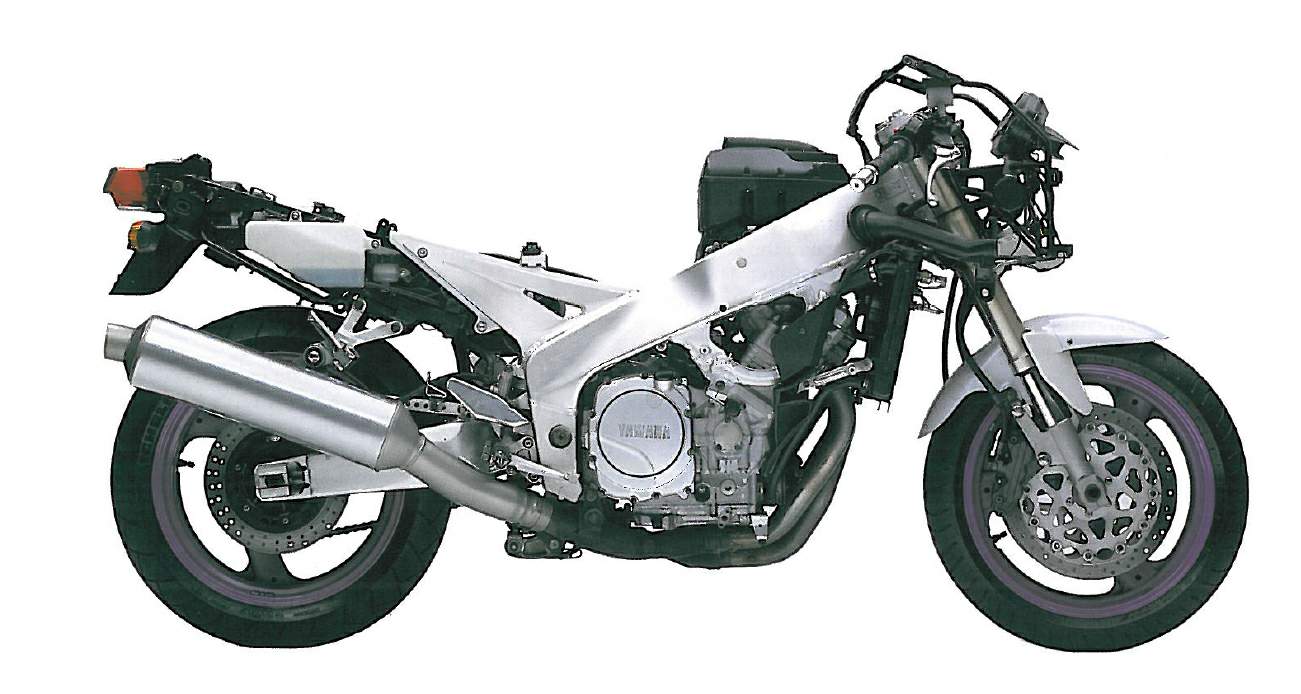 Yamaha's FZR1000 is a maximum sports bike in every sense and has be- o come something of an industry standard. The machine has Y' won countless Bike of the Year awards and has even been voted Best Bike of the Eighties. Its success can largely be attributed to the fact that it does everything pretty well and n nothing particularly badly. It has astonishing power yet the chassis can handle it and deliver the performance through " the tyres to the road. More significantly, it's comfortable and rider-friendly. Although undeniably a pure sports machine, its abilities are not confined to the racetrack and world-wide sales confirm its position as one of the very best road bikes available.
Developed from the YZF factory endurance racer, the FZR1000 uses much of the engine technology Yamaha first displayed on their pioneering FZ750 road bike. Each of the four cylinders uses five valves - three inlet and two exhaust - and the cylinder bank is inclined forward allowing the use of downdraft carburettors and a short, dead straight inlet path for better cylinder filling.
The result is a free-revving engine that will pull from idling speed to the redline making smooth linear power all the way. Performance is electrifying with instant response anywhere in the wide, flat torque curve and enough brute acceleration to spin the tyre at 90mph.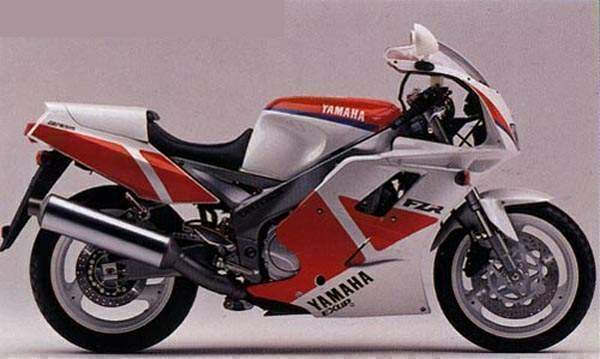 Performance already assured and restricted to 125hp in a number of markets (carb rubbers blank-off part of the inlet tract and many owners simply take a sharp blade to them), Yamaha unveiled a more powerful version in 1989, the FZR1000 Exup. This made 139hp in unrestricted guise and was equipped with hotter cams, lightweight valvegear and high compression, all in pursuit of more top end poke and speed. To compensate for the slight loss in low and mid-range power, Yamaha fitted an electronic, servo operated rotary valve in the exhaust (Exup). This varied the effective length of the exhaust pipe at different rpm and helped boost low and mid-range power levels.
At the same time, they eased the forward inclination of the cylinders from 45-degrees to 35-degrees, still keeping weight usefully low, forward and bearing on the front wheel but now also enabling them to shorten the wheelbase for faster steering response.
The FZR handles beautifully thanks to the rigidity of the very stiff, large section aluminium frame. Named Deltabox, the frame was developed from Yamaha's V-four 500cc GP racer and the near vertical position of the FZR's carbs lends itself to peripheral frame layout. Equipped with sturdy forks, well-damped rear suspension and enormous 320mm floating brake discs, the FZR1000 is an object lesson in
mating a hugely powerful engine to a strong yet fairly light and fast-responding chassis.
The result is a bike that can be both mannered and monstrous. The flexible power means easy cruising or touring with huge steps in speed is just a flick of the wrist away. Either way, the rider gets a lot of feedback about what's happening on the road. Impressed with the bike's roadholding and stability, confidence increases, he knows
he has power available everywhere so gets on the gas harder for a more aggressive ride, pushing the tyres, the suspension and the Ground Clearance nearer their limit. None of this will faze the FZR.
The bike that brought Yamaha to the forefront of super bike design was launched in 1987 and it was called FZR1000. The 1987 version of the Yamaha FZR1000 had a top speed of over 250km/h and the 1989 version, crowned "The bike of the Decade", could accelerate from 0-60 in less than 3 seconds and it also had a top speed of over 270km/h. With these features any bike would be very appreciated, so production continued.
Yamaha improved the performance of the bike, notably in 1989 when the engine was enlarged to 1002cc and added an electronically operated exhaust valve whose acronym led to the bike being universally known as the EXUP.
In spite of higher displacement its size was 8mm shorter and more compact, due to a revised inclination angle of the cylinders to 35 degrees. Valve angles and sizes had been changed, as well as the camshaft timing. Bigger carburetors helped boost performance and the crankshaft has been strengthened, alog with countless other modifications.
The system added useful mid range performance and the engine's power was also increased to 145bhp.
The unique feature which gave the 1989 onward models their "EXUP" name was a servo motor driven exhaust valve. This allowed large bore exhaust reader pipes (for excellent gas flow at high engine speeds) coupled with the valve restricting flow at lower revs, to speed the gas through.
The chassis was also improved and the bike handled better, making the EXUP the pick of the Japanese Super bikes. The 1989 frame (now called Delta box 2) used the engine as a stressed member. Gone were the down tubes, replaced by a sturdy fixation of the cylinder head with the frames upper box section. This layout was the foundation for the radical YZF-R1 chassis layout almost 10 years later. But improving didn't stop there. In 1991 the package was further improved with the FZR1000RU, featuring sharper and upside-down forks. The last model improvements were in 1991 and 1994, until the FZR1000 was replaced by the YZF 1000 Thunder Ace in 1996.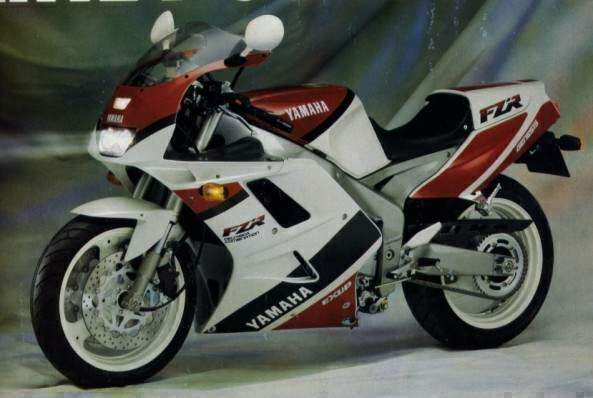 For 1989, Yamaha redesigned their biggest sport bike from the tires up, and it felt different. The new bike felt smaller, lighter and lower, though radical improvements became apparent out on the road. The bike got it seat redesigned becoming wider and the ergonomics were repositioned, making it more comfortable. The FZR1000 was considered by many to be the best 1000 available when it was introduced in 1987. There have been no major revisions to the FZR's design with the exception of substituting a single headlight in 91 and 92 years and adding four-pot brake calipers after 89. The ram-air was modified in 91 and 92 models. In its last years of production, the FZR was redesigned to its initial 2 headlights design and it stood like that until it exited production, in 1996.
The bike's power plant was a water-cooled, 989cc engine whose angled-forward cylinder layout and DOHC, 20-valve cylinder format that had been introduced on the FZ750 two years earlier. This engine developed 130 bhp at 10000 RPM but Yamaha increased the engine's displacement in 1989 to a 1002cc, developing a 145 bhp at10000 RPM and it was named Yamaha FZR1000 EXUP. The EXUP system boosted performance and torque and it was first to be used on a 4 stroke engine. The Exhaust Ultimate Power valve is an exhaust control system still used on the YZF R1 in a refined form, which controls the exhaust gas flow depending on the engine's revolutions.