Yamaha FZ-8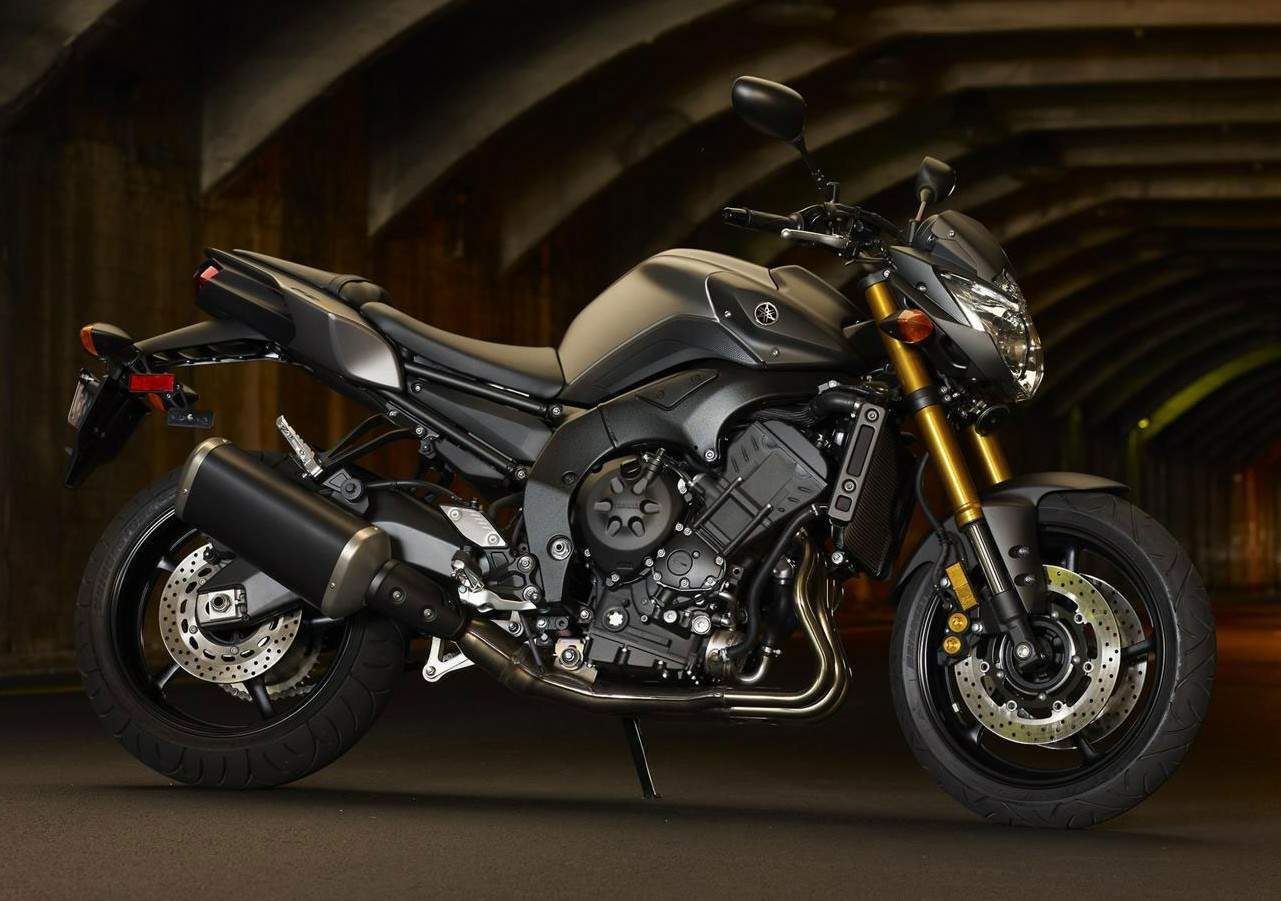 Make Model

Yamaha FZ-8

Year

2012

Engine

Four stroke, forward-inclined transverse four cylinder, DOHC, 4 valve per cylinder

Capacity

779 cc / 48.6 cu-in

Bore x Stroke

68.0×53.6mm
Liquid cooled

Compression Ratio

12.0 : 1

Induction

Electronic Fuel Injection

Ignition

Transistorized coil ignition
Starting
Electric
Lubrication system
Wet sump

Max Power

78.1kW / 106.2 hp @ 10000 rpm

Max Torque

82.0 Nm / 8.4 kg-fm @ 8000 rpm
Clutch
Wet,multiple-disc coil spring

Transmission

6 Speed
Final Drive
Chain
Gear Ratio
1st gear 2.692(35/13) / 2nd gear 2.063(33/16) / 3rd gear 1.762(37/21) / 4th gear 1.522(35/23) / 5th gear 1.350(27/20) / 6th gear 1.208(29/24)
Frame
Diamond frame

Front Suspension

Telescopic fork
Front Wheel Travel
130 mm / 5.1 in

Rear Suspension

Swingarm link suspension.
Rear Wheel Travel
130 mm / 5.1 in

Rear Brakes

2x 310mm disc
Front Brakes
Single 267mm disc

Front Tyre

120/70 ZR17

Rear Tyre

180/55 ZR17
Caster Angle
25º
Trail
109 mm / 4.2 in
Dimensions
Height 1064 mm / 41.9 in
Length 2141 mm / 84.3 in
Width 770 mm / 30.3 in
Wheelbase
1461 mm / 57.5 in
Seat Height
815 mm / 32.1 in
Ground Clearance
140 mm / 5.5 in

Wet Weight

211 kg / 465 lbs - ABS 216 kg / 476 lbs

Fuel Capacity

17 liters / 3.7 gal
Standing 0 - 100km
3.9 sec
Standing 0 - 140km
6.5 sec
Standing 0 - 200km
14.7 sec
Acceleration 60-100 km/h
4.5 sec
Acceleration 60-140 km/h
9.8 sec
Acceleration 100-140 km/h
5.3 sec
Acceleration 140-180 km/h
5.6 sec
Top Speed
215 km/h / 133.5 mph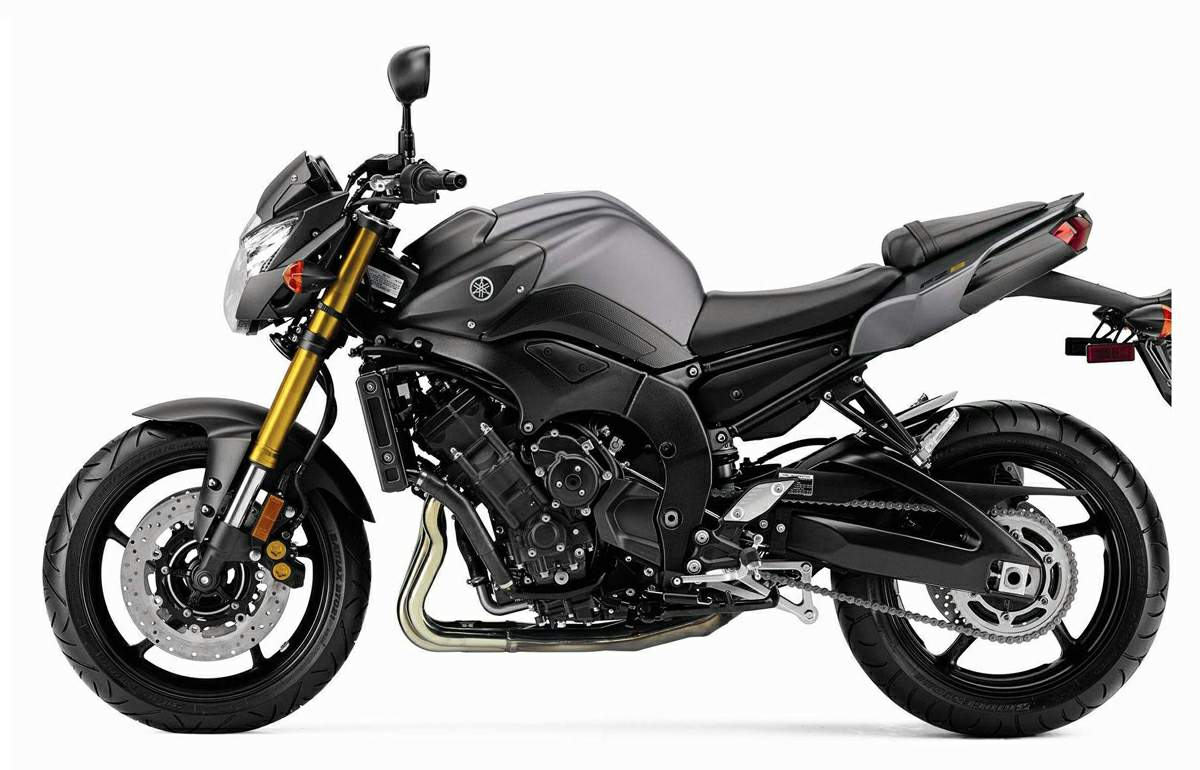 Combining sports performance and agressive styling with all day riding comfort, the 2012 Yamaha FZ8 is a special breed of motorcycle. The word practical pops to mind, but don't confuse practical with dull. Most riders can only afford one machine and the 2012 FZ8 is worth a serious look. It delivers solid performance from its 779cc inline-four engine and excellent handling thanks to the 22012 FZ1 inspired twin spar aluminum frame. And when it comes to comfort, it's in the bag.

The motorcycle world is becoming more highly specialized by the day.

Special niche models are popping up everywhere. Unfortunately, most of us can only afford one bike. The FZ8 is a brilliant "all-rounder" that brings fun, excitement and adrenalin to each and every ride. It is ready to slice its way through the "twisties", cruise the backroads in comfort and style or make that daily commute a bunch more enjoyable. Attitude, power, handling and style, the FZ8 is the ultimate everyday sport bike.

The 2012 Yamaha FZ8 is a do-it-all sport bike with amazing all around performance for both the urban commando and the weekend canyon carver. And at 800cc it splits the difference between a 600 and 1000cc litre bike so you get lightweight handling along with great torque... all in a stylish upright package.
Yamaha FZ8 Highlights and Key Features:

Fuel Consumption ± 16.5kpl/47mpg(Imp)

779cc , 4-valve, inline 4

real world comfort & ergonomics

Key Features:

•The 779cc engine combines top end components, including ceramic-composite-coated cylinders and forged aluminum pistons, with a carefully optimized crankshaft to deliver the perfect power curve and torquey performance character for this category.

•The FZ8 fills the gap for sport riders who feel a 600cc is too small and a 1000cc is too big.

•Muscular, naked bike styling gives an aggressive, mass-forward stance. This bike screams attitude.

•Comfortable, upright riding position with a compact design that contributes to the bike's first-rate handling. This bike simply excels, both in the morning commute and on that spirited weekend ride on a twisty back country road.

•Cast aluminum frame and Controlled-Fill aluminum swingarm is lightweight and provides the ideal rigidity balance for outstanding cornering performance.

Yamaha FZ8 Features and Benefits

ENGINE

779cc, DOHC, 16 valve (4-valves/cyl), liquid-cooled, 40 degree inclined, in-line four-cylinder engine. The engine has been tuned to provide plenty of low to mid range torque with strong yet linear throttle response. Redline is set at 11,500 rpm and features a "soft" rev limiter to protect the engine.

Pistons, cylinder, cylinder head, cams, valves and crankshaft are unique to the FZ8. Most other engine components are shared with the FZ1.

Compact "Pent roof" combustion chamber design features 4-valves per cylinder and a 12:1 compression ratio for excellent torque feeling. Four valves per cylinder enhances the low to midrange torque.

Pistons, cylinder, cylinder head, cams, valves and crankshaft are unique to the FZ8. Most other engine components are shared with the FZ1.

Intake valves are 26mm in diameter while the exhaust valves are 22mm. The valve angle is set at 26 degrees to keep the combustion chamber compact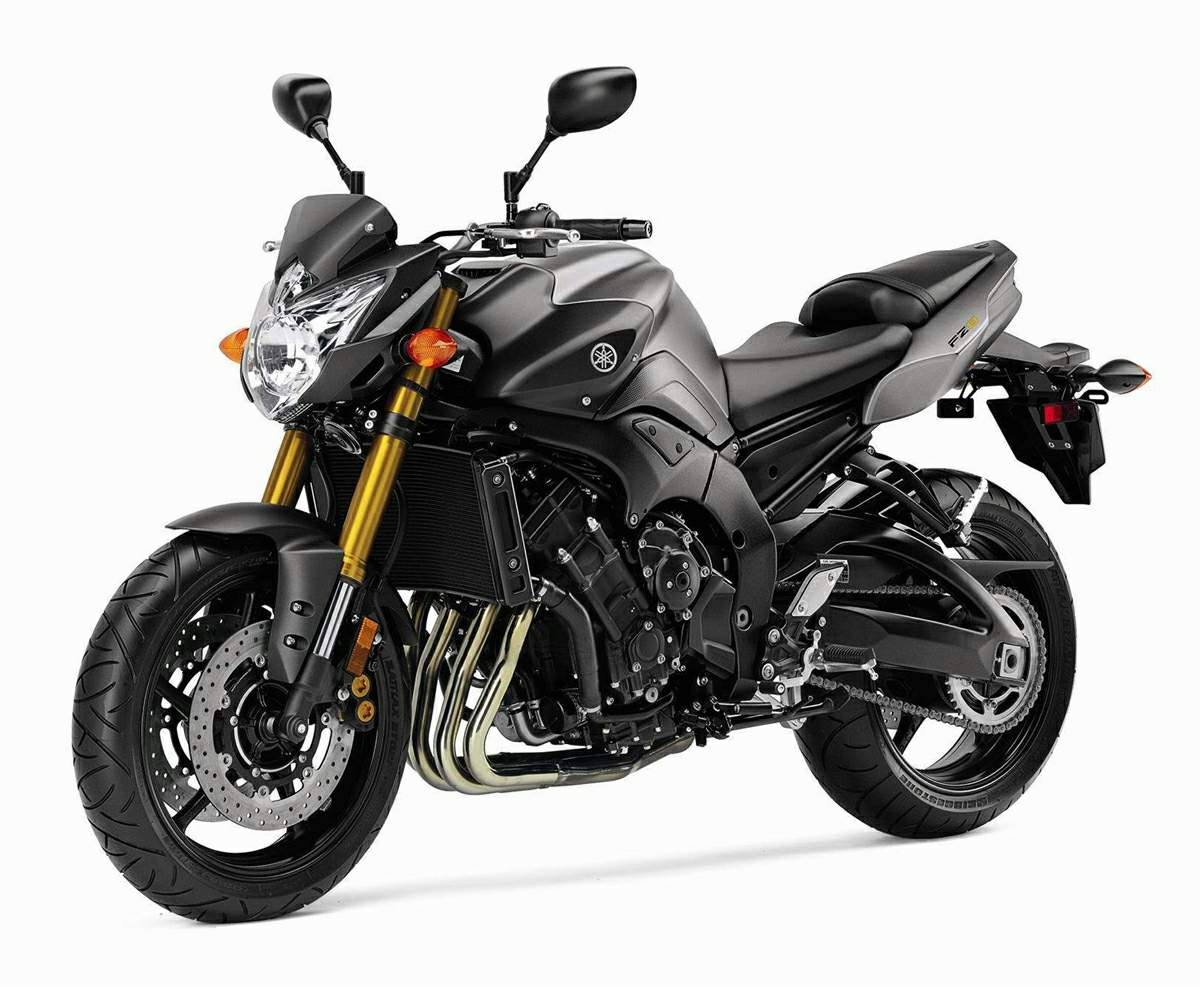 Crankshaft inertial mass has been optimized to achieve strong torque over a broad rpm range as well as fast throttle response.

"Fracture split" connecting rods are carburized for extra strength and use a nut less design. The lower end "cap" of the rod is made from the same piece of material as the upper portion; this design is known as "fracture splitting". This design aids establishing true big end roundness and greater precision in con rod dimensions for excellent durability despite the high horsepower loads.

Ceramic composite cylinder "bores" are a "liner less" design with the ceramic coating sprayed directly on the aluminum block. This coating enhances the thin film of oil between the cylinder and piston which reduces friction and increases power. Other important benefits include; excellent heat dissipation for consistent power delivery and reduced weight since there are no heavy liners.

Short skirt, lightweight forged pistons. Lightweight design aids in fast engine response and reduced engine weight. During the forging process, the aluminum is heated to the point where it can be shaped under pressure in a die but not to the point that it melts. By not melting the aluminum, the material stays stronger and hence can be lighter with excellent durability.

Lightweight, hollow intake and exhaust camshafts provide incredible horsepower and fast engine response. Cam profiles and the cam timing are designed to enhance low to midrange power and torque.

Inline 4 cylinder crankshaft is based on the FZ1 design.

Automatic hydraulic cam chain tensioner reduces both maintenance and mechanical engine noise.

Mikuni "sub throttle valve" fuel injection system is based on the FZ1 design, featuring 35mm throttle bodies fitted with T.P.S. (Throttle Position Sensor). This style of fuel injection uses sub throttle valves in addition to the main valves to further control the intake airflow. The sub valves optimize the intake volumetric efficiency at all rpms and are powered by a stepping motor that is controlled by the ECU. The key benefit is excellent "ride ability" and throttle response.

The injectors are sequential high dynamic range type featuring 4 holes and a dual directional spray pattern for excellent power and a linear throttle response across the entire rev range.

The fuel injection's lightweight Electronic Control Unit (ECU) utilizes a powerful 32-bit processor for fast control of the injection process. The compact design also reduces weight.

7.8 litre airbox features different intake funnel lengths for the inner (150mm) and outer (125mm) cylinders. The benefit is a wide torque curve. A high flow, paper type air filter is utilized.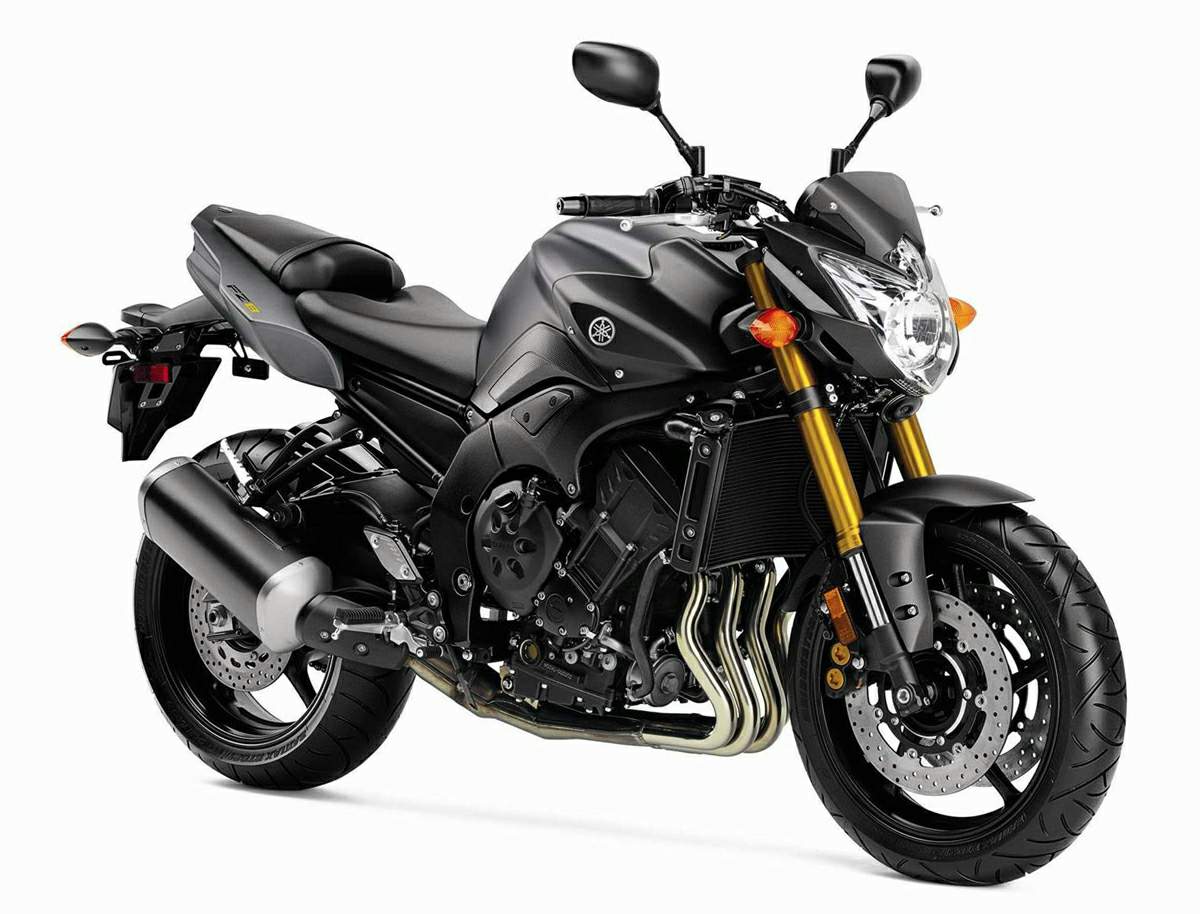 R1 inspired "stacked" 3-axis gearbox / clutch design stacks input/output shafts to centralize mass and keeps overall engine size shorter front to back. As a result, the stacked design gives the engineers the freedom to place the engine in the frame for optimum front to rear weight balance and thereby maximizing handling performance.

Smooth shifting wide ratio 6-speed transmission features optimized gear ratios for maximum performance in the "real world". 5th and 6th ratios are "tall" for reduced engine rpms at highway speeds for excellent rider comfort.

Compact, heavy duty, multi-plate clutch ensures consistent, positive engagement. The clutch has been designed to provide a light lever pull for excellent rider comfort … especially during stop and go city use.

4 into 2 into 1 exhaust system features 35mm diameter, stainless steel header pipes and a short design silencer / muffler. The header pipe length has been optimized for maximum power and torque. This system is fitted with a 3-way honeycomb catalyzer with an oxygen sensor to reduce harmful CO and HC exhaust emissions. The oxygen sensor monitors the amount of oxygen in the spent gases and adjusts the fuel -air mixture via the ECU and FI system for maximum performance with minimum emissions.

High-efficiency "curved" design radiator features compact dual ring-type fans for maximum cooling efficiency. This rad and fan design allows more airflow than conventional flat design rads to maintain optimum engine temperatures for consistent power output.

Large liquid-cooled oil cooler maintains stable lubricant temperatures for extended engine life.

Convenient cartridge style spin-on oil filter.

Convenient oil level sight glass means easy oil level inspection.

Maintenance-free transistor-controlled digital ignition ensures great performance at all rpms.

Air Induction System (AIS … not ram air) reduces harmful HC and CO emissions for a cleaner environment.

CHASSIS / SUSPENSION

Gravity cast, lightweight aluminum twin spar frame provides an optimized rigidity balance for incredible sports performance combined with great stability. The engine is a stressed member of the chassis, allowing a lighter main frame design without sacrificing stability and light, agile handling qualities. The frame is the same spec and shape as the FZ1.

The riding position is one of the most important features of the FZ8. Based on the FZ1 layout, it offers a balance between a sporty riding position and excellent rider comfort thanks to its upright design.

Key chassis geometry figures include: 1460mm (57.5") wheelbase 51% front and 49 % rear weight balance, 25 degrees of rake and 109 mm of trail. The 47 degree lean angle highlights the FZ8 sporty side.

Detachable steel rear sub frame allows easy access to rear suspension components and reduces costs in the event of a "loop-out".

C.F. (Controlled Filling) die cast aluminum truss-type rear swingarm offers great rear wheel control and traction for razor-sharp cornering and superb stability at speed. The 3-axis stacked engine design allows enough room for the engineers to use this long design (690mm) swingarm, which minimizes the effect of the chain tension on the bike's handling.

43mm Kayaba inverted cartridge style fork offers 130mm (5.1") of wheel travel. Fork offset is 25 degrees. The benefits of the inverted design include, reduced "unsprung" weight and reduced fork flex since the larger diameter tubes are gripped in the triple clamps. Unsprung weight is weight or mass of the suspension and the components such as the wheels and other components that move with the suspension. A reduction in unsprung weight allows improved control of the suspension function.

Lightweight aluminum upper and lower triple clamps.

Link-type Monocross rear suspension features a preload adjustable shock that allows the rider to tailor spring preload to match load and/or road conditions. Adjustments include 9 - way spring preload. Rear wheel travel is 130mm or 5.1"

Dual 310mm front discs are squeezed by ultra rigid R6 inspired monoblock, 4-piston calipers which provide outstanding stopping power and feel. The master cylinder utilizes a 16mm piston for outstanding stopping power with less lever effort.

267mm rear disc is squeezed by a lightweight single piston slide-type Nissin caliper with sintered metal brake pads.

Lightweight cast-aluminum 5-spoke wheels reduce unsprung weight for great handling characteristics. The front wheel is an MT3.50-17 and is fitted with a 120/70-ZR17 radial tire. The rear wheel is a MT5.50-17 fitted with a 180/55-ZR17 radial tire.

Aggressive single headlight provides plenty of illumination with its 60/55 watt halogen bulb. There is even a super small, colour matched "bikini" windshield mounted above the headlight to add even more style.

Conventional handlebar design features an upright positioning for maximum everyday riding comfort.

17-liter fuel tank offers a slim design with great knee grip. The reserve portion of the tank is 3.4 liters .

Separate rider and passenger seats offers exceptional solo or two-up comfort. Seat width is narrower than the FZ1, making it easier to touch the ground. Seat height is 815mm (32.1")

One-piece race inspired instrument features analog tachometer, digital speedometer, odometer, dual tripmeters, fuel gauge, fuel reserve tripmeter (counts kilometres since the fuel went on reserve), clock, coolant temperature and a self diagnosis mode.

ADDITIONAL DETAILS / FEATURES

Adjustable, 5-position front brake lever

Small storage compartment under the passenger seat

Excessive lean angle engine cut-out switch … if unit is on its side the engine will shut down

Extended idle cut-off … if engine idles for more than 20 minutes it will automatically shut down

Lockable steering

Durable "O"-ring-sealed drive chain

Lightweight, sealed low-maintenance battery

The FZ8 offers a significant level of power and performance. It is not intended for novice or inexperienced riders.
MD Comparo: Yamaha FZ8 vs. Triumph Street Triple R

In the Beginning, in the late 19th century A.D., God created motorcycles, starting with Daimler's wood-framed Reitwagen, and She saw that they were good. Naked, they felt no shame.

Then, in the mid 20th century, The Devil whispered 'styling' and 'wind protection,' and the scales fell from their eyes. They felt shame and wanted to be clothed. So God created fairings and windscreens. And She saw that they were good.

Her first mass-produced example? Probably Velocette's 1948 "LE," with fairings, windscreen and bags—quiet, smooth and an early water-cooled/shaft-drive design. Others followed, some so big, heavy and burdened with fairings that they had all the disadvantages of 'cars' that fell over when you stopped. Motorcyclists: start your arguments about the first such machine, then try to defend the 'two-wheeled car.' Lotsa luck.

But among those clothed machines arose spirits yearning to be free, to shed the fairings that encumbered them: costly, heavy, vulnerable plastic, hiding Magnificent Machinery. Their windscreens placed a shield between riders and God's Elements.

So Naked Bikes returned, based on sportbikes' core engines/geometries. And it was good, especially for hooligans riding short distances below 80 mph who scorned wind protection and relished wheelies, despite risking "Appearance of Speed" citations. And motojournos called them, appropriately, 'streetfighters.' Not, as we shall see, 'road warriors,' and searched them out to test.

And we found two such machines, and accepted the task of comparing them. One came from Perfidious Albion, the other from Mysterious Nippon.

2011 Yamaha FZ8

John Joss. Age: 77. Years Riding: 62. Most Recent Flogging: 1955

My wife, Katherine: "It looks like an Arabian stallion—lean, lithe, muscular—with the mask of a comic-book hero." Picking it up from Yamaha in Cypress, facing a 425-mile ride, it looks to me like a bike with no windscreen . . . uh, naked.

But what a ride. The riding position for my 5-foot-9 frame jis ideal. Virtually new, perfectly prepared, every control functions flawlessly. Within two blocks my inner hooligan is unleashed on this 467-pound (wet) lightweight and my age drops decades. It (and I) would like to wheelie in the bottom three gears and slash through the traffic like a demented otter. Those knife-into-hot-butter gears are close-spaced and low. With its 11,500 rpm redline and seamless, EFI-managed throttle, the 779-cc (68 X 53.6mm) inline-four wants to rip right now on city streets, an engine small and light enough for revs, big and beefy enough to deliver mid range. Hooligantics seem . . . natural.

Then, alas, it's time to cruise, a task for which this machine is unsuited: up I-5, at an indicated 85 on the wildly optimistic speedometer. I escape the drone at Frazier Park, over gnarly twisties where the nonadjustable front fork (the shock is adjustable for preload) delivers a bone-jarring ride. Then: 166/33, through Taft, onto glorious 58 (perfect surface) to Santa Margarita, dodging Bambi.

At rest, it feels a little top heavy. On the move, handling is light, almost nervous, until it becomes clear that the FZ8 will do exactly what you ask, instantly. Utter joy in the twisties, showing its R1/R6 DNA. Firm, easily modulated Sumitomo brakes. But above 85-90, on the straights, wind pressure (increasing as the square of the speed) is almost unendurable. Despite those silky-smooth four cylinders, residual vibration and wind effects render the mirrors marginal at speed.

After two hours, the saddle's hard contours fry my aging bum, but four hours remain. On 101, droning, the wind is exhausting, worsened by a 25 mph Salinas Valley headwind. The 4.5-gallon tank delivers 40 mpg but working the gears, rev happy to an indicated 115-plus, pushing into the wind, this declines to 35-37 mpg.

Form should follow function, and Yamaha's engineers have nailed it: a near-perfect naked bike, at $8490 a steal (get the optional fly screen if you plan to ride more than 100 miles at a time; the saddle? Check the aftermarket). Yamaha has engineered satisfactorily the compromise between simple/low-cost on one hand and exhilarating performance on the other.

For street fighters, terrific.

FZ8 instrumentation

Gabe Ets-Hokin: Age: 42. Years Riding: 23. Most Recent Flogging: Wednesday

If there's a theme to moto-journalism, (other than figuring out how to score free stuff) it's the ongoing quest for the perfect motorcycle. A bike that can do it all: tour, commute, do trackdays and still look good enough to motivate the occasional washing. I have yet to own or test such a creature, but I keep trying.

Here's what I was expecting from the FZ8: slow, heavy and not that interesting. In this eon of 200-horsepower superbikes and sleek sport-tourers, 470-ish pounds and 80-ish hp isn't very exciting. At least, on paper.

My first ride on the FZ8 kind of confirmed this. John warned me of suspension unpleasantness, with our indifferently maintained local highways cheerfully beating up my lower back and the windblast over 80 just as Sir Joss described. A ride up and back our local twisty backroad was also challenging—you don't toss the FZ8 around much more than you do the heavier, more-powerful FZ1. Still, it was comfortable (for sub-100-mile rides), well built and had an entertaining motor.

That motor saves the bike from the 'blah' pile. It's reasonably smooth (though that perception is somewhat filtered by the rubber-mounted bars and footpegs) and the throttle response, though abrupt right off idle, is much improved over the FZ1s I rode a few years ago. It also has nice midrange and top end, fast enough to just rip through traffic at 80-plus mph in sixth. Snap it into fifth or (if you're really impatient) fourth, whack the throttle open and be prepared for some fun.

For some reason (mostly because I can't resist anything that's free) I signed up to do a trackday on the FZ8, courtesy of Yamaha and ZoomZoom trackdays (zoomzoomracing.com). I had to filch one of my cat's Zanaxes* to help me sleep the night before, as I was worried about how well the sport-touring oriented Bridgestone BT-023 tires would do on the slippery, gyrating surface of Laguna Seca.

It was a good thing I signed up, because this would be an uninteresting review without it. The FZ8 was more entertaining on the track than it was on the street (which explains why ZoomZoom's instructors love the FZ8s Yamaha has provided them so much). On smooth pavement, the suspension works well, with good spring rates and adequate rebound for my 160 pounds. Once I removed the peg feelers there was enough cornering clearance, and the motor gave me enough juice to stay in front of most (okay, more than one) of the B-group guys.

The brakes were good too, as long as you pretended you were riding in 2003, when these monoblocs were tha' shizzle. Those 023s were grippy enough and didn't seem to degrade from my (very mild) abuse. And I got more and more track to myself as R6 after R6 was black-flagged by the dreaded Laguna Seca sound-booth fairies. The FZ8 is quiet enough that it doesn't annoy our non-riding brothers and sisters, but has some good intake noises to make a day on it an interesting (but not painful) aural experience.

Perfect bike? Hardly. That seat does grow hard (call Corbin!), the suspension needs re-tuning and adjustability (but I'll bet you could find stuff on eBay that would fit and Öhlins makes a shock) and you do feel the weight. Also, like the Street Trip, it has disappointing mileage and fuel range—I saw about 35 mpg and the stupid low-fuel light came on around 115 miles, which is depressingly normal these days, I guess. What's the point of restricting yourself to 80 hp if you get the same mileage as an '85 Toyota Corolla? But that's a question best pointed to the OEMs.

Give me a couple grand to play with and I'll strip 30 pounds, upgrade the brakes and suspenders, and give the FZ8 some attitude. That's the fun of a naked bike, I guess—sportbikes these days are so close to perfection they need little modification, but their unclothed cousins always need some dress-up. It's like having a very fast set of paper dolls. And the '8 has enough potential attitude that it could be a very adequate only bike.

So, do I prefer it to my Triumph? No, but that's just because the Trumpet is so much freakin' fun. The FZ8 is solid, capable and drenched in value, but calling it a hooligan is like calling Neal Patrick Harris a doctor. He can play the part, but I don't want him cutting out my spleen.

*I am not making this up.

Triumph Street Triple R

John: Street Mistress

Do motorcycles have age and gender, education and experience, character and attitude? If they come from the pens of intelligent engineers and stylists, marketers and bean counters, they do. Customers' psychographics count for plenty as major manufacturers crank up new models or refine existing ones. You 'are' what you ride.

So let's call the FZ8 a school buddy, sensible with a wild streak. Fun to be around, reliable when you need him. He'll never let you down.

The Street Triple? She's young and pretty, your best friend or your worst enemy. She's been around, tough and street smart. She knows the score, she knows what you like and how you want it. She does not suffer fools. She can behave in a ladylike way when she must, but she has a roving eye and she knows that everyone wants a piece of her. She's a temptress. She taunts and teases, and she gets her way. She's a city chick with a whole lot of moxie and attitude.

Stretching a metaphor? No. The Street Triple is a hellion, sexy as hell, as close to an all-out race bike for the urban environment as you'll find—light, agile and lethally quick. A glance at the tach, with a 13,500-rpm red line, is the first hint (the dial goes to 16,000—what could they be thinking?). Then you unsheathe the weapon and . . . begone, dull care, throw caution to the winds. Who cares if tickets cost $500 and up, like a very expensive date. This Is Living.

Triumph's triples are engineering marvels—smooth, powerful, torquey, pleasant power delivery, glorious growl—and the Street Triple makes the most of them. The bike is a stripped 675 Daytona, a race bike in street drag. The Brilliant Brits, this time around, knew exactly what they were doing. But it's still . . . naked.

Gabe: Please Don't Make me do that Again…

John says the FZ8 is like your sensible old buddy, but everybody had that other high school friend your parents told you to avoid (unless you were that friend). He or she always knew where to get beer and pot and had more fake I.D.s than Robert Hanssen. But you liked hanging out with him because he made you do things you wouldn't have done on your own. Fun things. Bad things.

That's the appeal of Triumph's brilliant Street Triple. It's built on the 675 Daytona chassis, with some subtle tweaks to make it more rideable as a streetbike—1/2 inch longer in the wheelbase, a bit more trail. It also has a different subframe, which allows an inch-lower seat (31.7 inches) and the fitment of old-timer stuff like luggage racks. The motor is also from the Daytona, a 675cc Triple detuned about 15 percent with different cams and whatnot. Wet weight is about 415 pounds.

Where the Daytona feels like a well-engineered and predictable sportbike, the Street Triple is an untrained puppy. The throttle is (maybe too) touchy, especially at low rpm. Steering is wickedly responsive—to be expected from such a light bike with radical chassis numbers and wide, upright handlebars. Throttle wheelies happen easily (thanks to a shorter first gear for the Striple), and the motor makes its peak torque 2000 rpm earlier than the Daytona. This means you should not test ride a Street Triple, under any circumstances, unless you are ready to buy one. You will not be able to resist.

Get out to your favorite twisty road and look out. The handling and incredibly flexible powerband combine to give you superhuman riding powers. Seriously. On my regular Sunday ride, I had to keep waving people in front of me so I would be forced to slow down. The bike turns quickly, effortlessly, yet holds a line very well. At higher rpm the fueling is very smooth and responsive and the suspension is set up just right for bumpy, twisty roads. And that exhaust/intake note…mmm, mmm. When it's time to slow down, the brakes bite hard, yet are easy to control. One or two fingers are just fine. It's no wonder Triumph dealers are having a hard time keeping these in stock—watch for a Japanese competitor in the next few years. For instance, a Yamaha R6 streetfighter built on this model would be pretty fun (and cheap for Yamaha to develop).

The bad news is that it's not as practical as you'd think. It still has steering lock similar to the clip-on-equipped Daytona, which means a wide turning radius. The twitchy throttle can make low-speed maneuvering nerve-wracking. The seat is spartan, wind protection isn't, and the fuel economy (and range) can be pretty bad—mid 30s or worse—unless you ride the speed limit, and there is no way this bad influence is going to let you do that. Get a KLR and paint it safety yellow if that's your thing. In 15 years you'll save enough money to buy another KLR.

My personal bike is a Street Triple R, and the extra $700 (on top of the standard bike's $8899 MSRP) for the upgraded suspension and brakes is more than worth it. The standard bike's shock is chintzy enough you'll want to spend $800 upgrading it in a few weeks, and you'll still have to have the fork redone and do something about the numb-feeling (but not that bad, considering) two-piston front brakes. With good rubber and set-up suspension, the R is great on the track and you can tear up a twisty road as well. It's a unique product with a lot of character.

Perfect bike? No closer than the FZ8. But good enough that I can ride it without feeling ashamed by my nudity.
Source motorcycledaily.com