Make Model

Yamaha FJR 1300

Year

2001

Engine

Four stroke, transverse four cylinder, DOHC, 4 valves per cylinder.

Capacity

1298 cc / 79.2 cu-in

Bore x Stroke

79 x 66.2 mm

Compression Ratio

10.8:1
Cooling System
Liquid cooled,

Induction

Mikuni 42mm throttle body F.I.
Lubrication
Wet sump

Ignition

CDI
Spark Plug
NGK, CR8E
Starting
Electric

Max Power

145 hp / 105.7 kW @ 8500 rpm

Max Torque

125 Nm / 13.7kgf-m / 99.1 ft-lb @ 6000 rpm
Clutch
Wet, multiple discs, cable operated

Transmission

5 Speed
Final Drive
Shaft
Frame
Aluminium, twin spar

Front Suspension

48mm Soqi telescopic fork w/adjustable preload, compression and rebound damping

Front Wheel Travel
137 mm / 5.3 in

Rear Suspension

Single shock, link-type, w/adjustable preload and rebound damping
Rear Wheel Travel
122 mm / 5.1 in

Front Brakes

2x 320mm discs 4 piston calipers

Rear Brakes

Single 283mm disc 2 piston caliper

Front Tyre

120/70 ZR17

Rear Tyre

180/55 ZR17
Rake
26°
Trail
109 mm / 4.3 in
Dimensions

Length 2,230mm / 87.8 in

Width 750mm / 29.5 in
Height 1450mm / 57.1 in

Ground Clearance
130 mm / 5.1 in
Wheelbase
1545 mm / 60.8 in
Seat Height
805 mm / 31.7 in to 825 mm / 32.5 in

Dry Weight

264 kg / 582 lbs
Wet Weight
291 kg / 641.5 lbs

Fuel Capacity

25 Liters / 5.5 gal

Consumption Average

18.5 km/lit

Standing ¼ Mile

11.0 sec

Top Speed

249 km/h
Yamaha's touring range was rather thin throughout the 1990s. Only the XJ900 Diversion offered any touring ability, but it couldn't match modern tourers like Honda's Pan European. So for 2001, Yamaha introduced the FJR1300, one of the most powerful and advanced tourers on the market. Much of the spec sheet reads like a sportsbike: a twin-spar aluminium frame, 107kW (145bhp) fuel-injected engine, one-piece four-piston Rl brake calipers and adjustable suspension. But all this technology was contained inside a large touring fairing, with comfortable, upright riding position, shaft drive and integrated hard luggage design. The FJR thus combines sporting performance with touring convenience.
Yamaha claim their new FJR 1300 has the chassis performance of a sportsbike along with the ergonomic amenities of a long-distance touring machine. We recently covered some 2,000 kilometres on Yamaha's new touring flagship and put those claims to the test. The 1,298cc four-cylinder engine has M-A-J-O-R grunt. Yamaha say that this is an all-new design. 4-valves per cylinder are utilised rather than Yamaha's trademark 5-valve per cylinder design. The engine is a stressed member with an R1 style one-piece block and crankcase assembly.
Electronic fuel injection takes care of the fuel delivery duties and is fed from a large 25-litre fuel tank. This provides a touring range of around 400 kilometres. Surprisingly, for such a large motorcycle, the FJR picks up its front wheel on acceleration, without any extra provocation from the rider. You can even keep it up there for a few gears if you are game. The drivetrain is silky smooth, right through to the 9,000rpm red-line. A broad range of torque is on tap throughout the rev range. Enough torque to make any remotely sporting V-Twin green with envy. In fact, I reckon this thing would embarrass most sportsbikes at the stop-light drags. The engine is a gem, enough said on that score.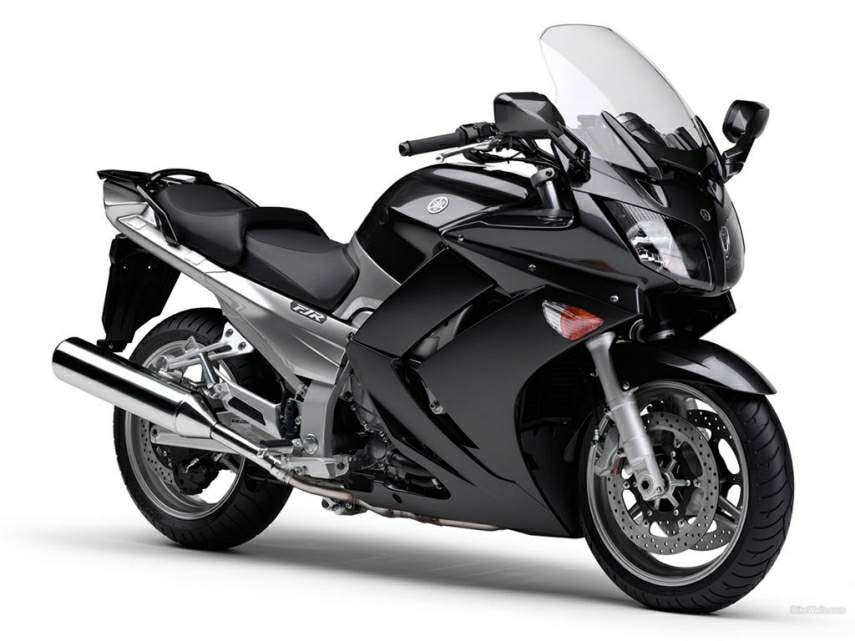 These ample reserves of power are transferred to the ground via a smooth 5-speed gearbox. Final drive is by way of a shaft system. All shaft-drive motorcycles I have ridden 'climb' under hard acceleration. By this I mean the rear of the machine actually rises, and pushes the rider higher, as the torque is transferred to the shaft. The FJR is the first shaft drive bike I have ridden that didn't exhibit this distinct trait, so Yamaha have obviously done their homework in this area. I asked Yamaha for an explanation of how this was achieved, "In simple terms the engineers, after extensive development and testing, achieved a reduction in the torque reaction of the shaft drive due to the unique low positioning of the swingarm pivot."
Chassis performance of a sportsbike? Now that is stretching things a little too far. However, the FJR does handle better than what you would expect from a touring biased motorcycle. Huge 48mm adjustable front forks cope admirably with anything thrown at them. Fork travel and spring rates seem spot on, even under the most trying of conditions I failed to make the forks bottom or misbehave. The rear suspension does well, but is not quite up to the same level. That said though, the rear suspension does perform as good as any other big tourer I have ridden.
A handy feature is the fact that the rear shock has a hard/soft preload adjustment lever to quickly switch between solo and pillion settings. Ground Clearance is good for this class of bike, you have to be really getting excited before things start to touch down. Braking performance is very good also, with the 298mm front brakes offering great strength combined with good feel. This allows the brakes to be held at the absolute point of lock, with safety in emergency situations. Of even more note is the very large, 282mm, powerful rear brake. On lighter machines rear brake strength is not all that important, but on bigger and softer touring biased machines, a strong rear brake is a definite asset.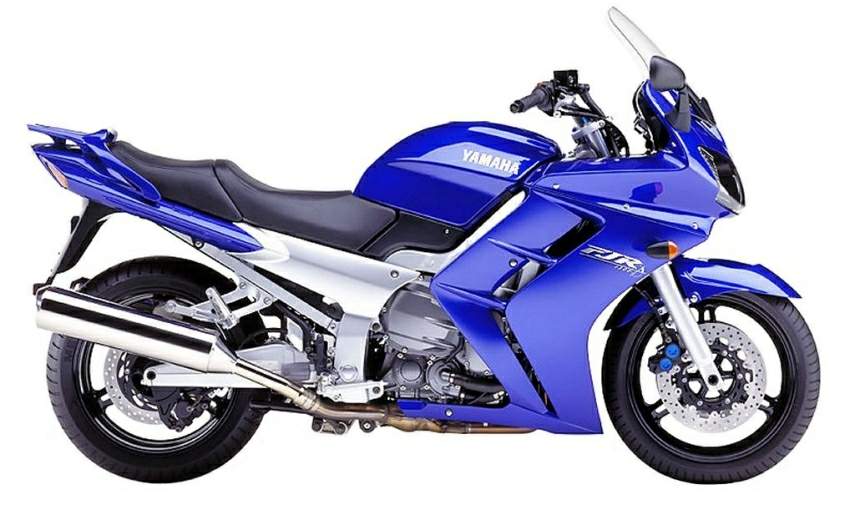 Ergonomics are very important to the long distance tourer, Yamaha's FJR offers some of the best. Seat padding and shape is excellent, allowing the rider to use that full 400+ kilometre range between stops. Good wind protection is provided by way of an electrically adjustable screen. The angle of which can be flat or basically vertical, all this can be adjusted whilst on the move at the press of a button.
Another big plus is the fact that the FJR 1300 comes standard with 30-litre panniers. These panniers are colour coded to the bike and are conveniently locked with the ignition key. They are also easily removable should the mood take you to do so. Under the seat there is a space for the supplied toolkit but no room for anything else.
Lighting is provided by a 60/55 watt multi-reflector headlight which throws the widest beam I have ever seen. More than welcome during night rides in the Australian country, where spotting a kangaroo coming at you from the side of the road early enough can mean the difference between staying upright, or sliding down the road. The FJR is the only motorcycle I have ridden where the beam width actually rivals that of a modern car, this sets a new standard in motorcycle lighting.
Instrumentation is comprehensive and attractive. Surprisingly though speed is displayed by way of a conventional dial rather than the LCD displays common these days. An LCD is provided though and shows a digital odometer, dual tripmeters, fuel gauge, temp display and a clock. Lights are provided for neutral, high beam, turn signals, low oil and engine warnings.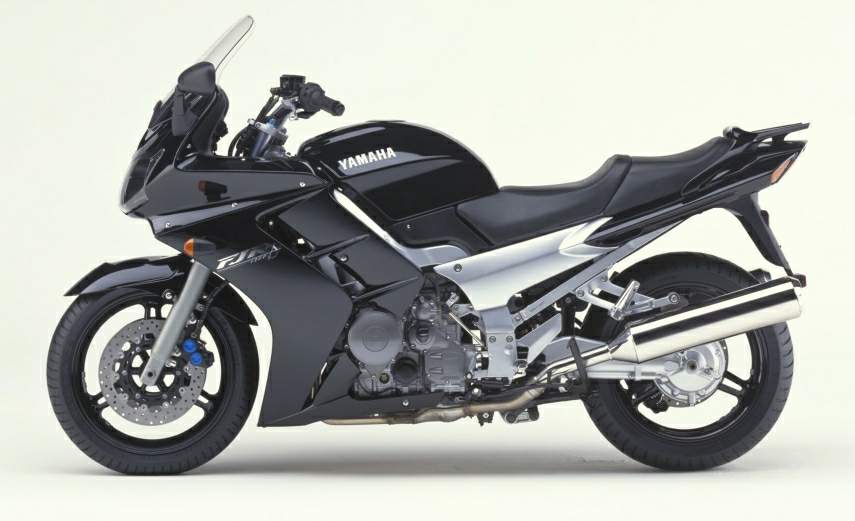 .Review
I ride year-round and have spent the past 50,000 miles of my biking career astride tourers and sports tourers which work very well as primary transportation. Of course, as with most riders I also have more than a passing interest in continually honing my riding skills, for which reason I had been considering making the move from sports-tourer to out-and-out sports machine, so as to be able to explore the "envelope" on a machine designed for the purpose.

Temporarily bikeless, I was on tenterhooks counting the days to delivery the following Thursday of my new sports bike when the opportunity to test-ride Yamaha's FJR 1300 conveniently came up. This would solve my interim transportation problem, but once my brand spanking new Aprilia RSV Mille R was delivered, how would I ever discipline myself into continuing to ride the Yamaha!? This bike had its work cut out if it was going to keep my interest!

So it was with mixed emotions that I arrived by train at Weybridge in blazing sunshine and made my way by taxi to the Brooklands headquarters of the Yamaha emporium. A few minutes after having reported to reception, a mechanic in smart Yamaha overalls rode round the front of the builing, pulled the big machine onto its centre-stand, handed me the single key and turned tail. Wot? No briefing, no manual, just the key! Perhaps Yamaha assume motorcycle journalists know how to ride motorcycles, or maybe staff are discouraged from chatting with us!

Curiously, perhaps, I had no preconceptions about the bike. Indeed I couldn't remember whether the FJR was a full-dress tourer, sports tourer or the retro-styled un-faired 1300 that Yamaha also build. I stood for several minutes soaking up impressions. The bike was metallic candy-apple red, not a lot of chrome, touring handlebars with neat switchgear. Big sports-touring fairing, with - hey! "Electric windows" - an electrically adjustable screen. The clocks are a combination of analogue speedo and rev counter and a digital readout for the computerised fuel gauge and suchlike. I immediately liked the styling of the tank. I've never liked the triangular profile, viewed sideways on, of the tanks on modern sports bikes.

The designers at Yamaha have given the FJR a much more pleasing treatment of the tank, which is a cross between retro teardrop styling over the top and straight diagonal sections along the bottom. Indeed, the whole bike does look "designed". It did look a bit "chesty" up front, because the bike is designed to wear factory panniers, but my example didn't have them fitted. Having said that, all the curves and angles work well together from almost any vantage point and there are some amusing geometric touches, where arcs in the design centre on a point somewhere else. For example, the point formed by the leading-edge of the fairing's belly-pan seems to be the centre of an arc described by the alloy frame; nice touch.

Another cunning feat of design is this is a big bike, but it neither looks that big nor feels that big. Having established that all the controls, seemed to operate in the "normal" sense, and having tested that the key would also open the tank, I set about attaching my ruck-sack to the baby-luggage-rack. There was nothing wrong with the rack as such, except that I couldn't find anywhere to attach the bungees - more specifically nowhere to attach the bungees that did not threaten to harm the paint-work of the luggage-rack itself. Eventually I laid out sufficient Wonder-webbing to protect the paint and attached my bag with no more fuss. I later came to the view that this is a road test - so test, and if the paint comes off, it comes off. By the end of the week, the luggage rack was unmarked by all the bungee abuse I could throw at it.

I'm tall - very tall, six foot five, and most of that is leg, so my first impression of most bikes is one of being cramped - seldom the reverse. The upright seating position on the big Yam was perfect for me. Very comfortable indeed. No great stretch to reach the bars, plenty of bend in the knee with both feet flat on the floor, and not too much bend with both feet on the pegs. Equally, riding with the balls of the feet on the pegs, there was still plenty of room to tuck my knees in alongside the tank.

Sitting astride the FJR at a stand-still, it felt light, as did the handlebars, perhaps because of their generous span - a little wider than my shoulder width. As I had not yet planned a test-regime for the machine, I decided to take my cue from the bike itself and ride the bike however IT suggested. So I turned the key, observed the self-diagnostic sweep of the dials all the way to maximum and back down to zero, as the LCD numerals of the glass cockpit materialised on the screen. Pushed the starter button and the mighty 1300cc burbled satisfyingly to life. Pulled in the clutch and engaged first gear with a horrifying grinding clunk! Oops. I later discovered that this bike likes to have the clutch held in for a while when engaging first from cold. Riding off, gear changes were smooth and positive and I didn't experience any further grinding of gears.

Around town, the bike remained light and manoeuvrable with sufficient power to pootle around at just above idle RPM. The engine is "business-like smooth" as opposed to "silky smooth" and it produces a pleasant growl at low RPM with an even more throaty note when decelerating. All very pleasant. So much so, that I started to get the idea that this bike really likes to "pootle". It's so easy to do, and it does it so well.

Departing Brooklands I managed to lose myself in the leafy A and B roads of Surrey in my quest for the M25. Here, at sub-50 MPH speeds riding well-surfaced roads and numerous roundabouts came another pleasant surprise. The steering was sharper, and more accurate than any sports-tourer I've ridden previously. With a tiny amount of pressure to the handlebar, the bike would dive for the required lean angle, release the pressure, and it just stayed in the lean as I accelerated through the turn. The bike was starting to earn my vote.

Having finally located the M25, cossetted behind the big electric windscreen, it was just so comfortable to sit with traffic at 70MPH, that I didn't feel the impetus to ride any faster. The layout of the mirrors was nice, and the view through them crystal clear which attested to a total lack of any high frequency vibration at motorway speeds. As it happens I didn't encounter any annoying vibrations at any speed. Brakes were powerful, and the bike gave an overall sense of being "planted" on the road at all times. So on the sixty-odd miles of the motorway trip back to the office I discovered a wholly new and less frantic type of riding, giving pause for thoughts like "If this bike isn't about going fast, what's all that power for? Towing a caravan, perhaps?" Wrong. This motorcycle goes, if that's what you want it to do.

The FJR attracts a surprising amount of attention for a machine whose colour-schemes and decals of its sporting stablemates. On a number of occasions I returned to the parked bike to find that it had attracted a group of admiring on-lookers. Even the other-half pronounced that "It looks like an angry insect or something!"; referring perhaps to the slightly menacing bug-eyed expression created by the twin headlights. High praise indeed - most bikes go entirely unnoticed!

On Wednesday with the summer drawing to an end, the chaps voted we go for an early-evening ride-out to Sarratt. This has become something of a ritual involving pleasant B roads a barbeque and the opportunity to hang-out with a thousand like-minded lunatics. I was a bit apprehensive as to my ability to retain my credibility with the group given that I had not yet ridden the FJR hard. Any apprehension was misplaced. The FJR proved as flickable as the other guys' sports machines - no pootling here. Gauging the point at which a foot-peg might touch down with the toe of my boot, I was pleased to discover that in addition to its sharp, planted steering characteristics the FJR boasted a fair amount of ground-clearance and I was not running out of lean as soon as I might have done on my K1200RS, for example. Indeed, I never did run out of Ground Clearance during the test, although I think I probably would have done given the chance to put the bike through its paces on a more prolonged test, or on the racetrack. A further note of interest is that the riding position lends itself well to any body angle from bolt upright to about 40 degrees leaned forward, at which point, my arms are roughly parallel with the road and I'm positioned to best attack the corner on this machine.

Thursday, and my new Mille R arrives, casting a shadow over the Yamaha, but not for long! After the first hundred miles or so on the 'prilla, my body was so wracked with pain from the pretzel-like contortions, wrist strain and testicular damage resulting from being slammed into the tank every time I braked that it was a relief to get back on the Yamaha for a late-night trip into the office. The relief was heightened when it started to rain on my return home - the protection afforded by the FJR's fairing meant I arrived back home bone dry - bliss.

So, what is all that power about then? I thought it only proper to find out. My scientific approach to this question was to ride along at idle, open the throttle all the way, and see what happens. Be warned this is a hair-raising enterprise in first, second and third! What happens is roughly this. The engine does not bog down, but pulls strongly from about 1500 RPM. At about 2500 RPM it becomes necessary to start tightening your knee-grip on the tank, at 4000 - "Oooerr!", and at 5500 it's time to put in a call to Air Traffic Control, as the front-wheel of the Jumbo motorcycle gracefully rises into the air! The bike red-lines at around 9,000 RPM and I have to admit to not having ridden it much in that sector of the marketplace. I don't know how fast it'll go either, because I only managed about twice the UK motorway limit during the test. I can however report that the 1300 hadn't so much as broken a sweat at that speed! Indeed, I think that's probably what the Yamaha FJR 1300 IS all about - I suspect it will eat continents for breakfast and never break a sweat.

Top likes:

Bags of power. Sounds nice. Looks nice. The seating and riding position is great, the bike is amazingly tractable, handles easily, accurately and confidently. Works equally well around town, as on the windies, and indubitably the long haul. The pillion is comfortable, grab rails work well, and in addition to the footpeg a neat aluminium plate is provided to protect the exhaust pipes from your pillion passenger's feet and vice-versa.

Niggles:

Would have liked to have had panniers, I think the bike would have looked even better with them and attaching bungees to the colour-coordinated baby luggage-rack made me nervous. Couldn't take the key out of the tank cap while refuelling. Its a minor point, but it would mean taking precautions to avoid scratching the tank with the key. Curiously, whereas the pillion passenger's feet are protected from fouling the exhaust, a size-13 wearing rider can manage to singe his boots against the hot bits (I did).

I was sorry to have to return the Yamaha to Brooklands, and If I were entering into the sports-touring market this bike would have to be on my shortlist.
Source Motorbikes Today