Yamaha DT-3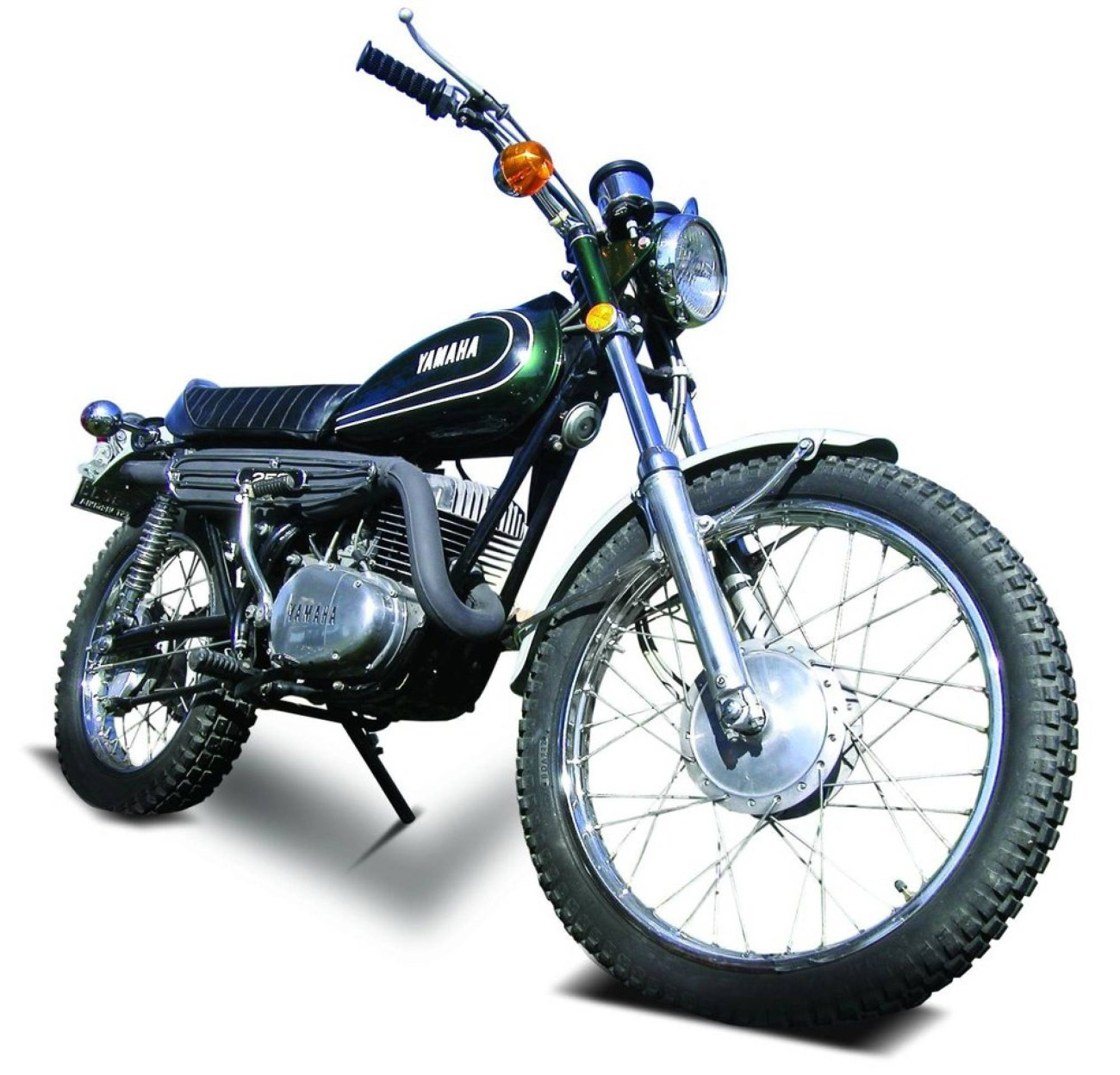 Make Model

Yamaha DT-3 250

Year

19

7

3

Engine

Two stroke, single cylinder

Capacity

246 cc / 15.0 cu-in

Bore x Stroke

70 x 64 mm
Cooling System
Air cooled

Compression Ratio

6.8:1
Lubrication
Autolube

Induction

26mm Mikuni carburetor

Ignition

Flywheel magneto
Starting
Kick

Max Power

24 hp / 17.8 kW @ 7000 rpm

Max Torque

24.8 Nm / 18.3 lb-ft @ 6000 rpm

Transmission

5 Speed
Final Drive
Chain
Frame
Duplex cradle

Front Suspension

Telescopic forks

Rear Suspension

Dual shocks

Front Brakes

Drum

Rear Brakes

Drum

Front Tyre

3.25-19

Rear Tyre

4.00-18
Dimensions
Length 2100.5 mm / 82.7 in
Width 889.0 mm / 35.0 in
Height 1160.7 mm / 45.7 in
Wheelbase
1389.3 mm / 54.7 in
Seat Height
813 mm / 32 in
Ground Clearance
254 mm / 10.0 in

Dry Weight

115kg / 253 lbs

Fuel Capacity

9 Litres / 2.5 US gal
Today, the term "dual sport" conjures images of everything from hulking 1,200cc BMW adventure bikes built to circumnavigate the globe, down to small-bore four-stroke single dirt bikes with blinkers.

In 1968, that now ubiquitous phrase had yet to be coined, but the 250cc Yamaha DT-1 was born to make the segment available to throngs of U.S. motorcycle enthusiasts. Though not really the first of its kind, the DT-1 made it possible to cheaply and reliably ride to a race or favorite riding spot, get dirty for a couple of hours and then ride back home again.

By 1973, Yamaha had sold about 70,000 DT250s since the original DT1 arrived on the scene five years prior, and the 250cc bike was accompanied by a full line of "Enduro" branded machines powered by the buyer's choice of 80, 100, 125, 175 and 360cc two-stroke powerplants.

Recreational dirt bike riding was becoming wildly popular in the early 1970s, so Yamaha made some changes in 1973 to satisfy those riders who might spend more time off road than on. For starters, the company ditched the 3.25 x 19 front tire in favor of a more dirt friendly 3.00 x 21. The taller, narrower tire raised the axle an inch for improved ground clearance and carved a better line in the dirt--though it didn't help the bike's street manners any.

The 1973 DT also received new dual-rate shock springs that used a 2.5-inch bottom spring and a 6.5-inch top spring. The shorter bottom spring was intended to soak up small bumps, while the larger top coil sprung into action as the shock compressed.

The DT's engine was your basic 250cc air-cooled two-stroke single that was dirt reliable plus dirt cheap to operate and maintain. Fed by a 26mm Mikuni carburetor and with 6.8:1 compression, the 246cc (15-cubic-inch) reed valve engine put out 24hp at 7,000 RPM. Interestingly, Yamaha managed to incorporate seven ports on its "Torque Induction" two-stroke engines. Along with the standard intake, exhaust and transfer ports, Yamaha used an additional two transfer ports along with holes in the piston skirt. These holes in the piston allowed additional intake charge to enter the crankcase at the point that the intake would normally be covered by the skirt. This small detail resulted in a slight increase in power, and better throttle response than Yamaha's pre-1972 engines.

The DT250 would almost reach 70 MPH in fifth gear (its highest gear), and at full song the quarter-mile would buzz by in 17.94 seconds at 68.96 MPH, according to a test in Cycle. The bike also was capable of 40 MPG for a range of over nearly 100 miles on a tank of fuel. An autolube system that mixed the gas and oil automatically made it easy to fuel these bikes up anywhere.

Loaded down with turn signals, tach and speedometer and a battery, the DT 250 tipped the scales at a beefy 289 pounds with fuel. But it carried its weight fairly low to the ground, with just 9.75 inches of ground clearance and a 32-inch seat height. This ensured that even the shortest riders could sit flat-footed at a traffic light or paddle their way through tough off-road obstacles.

New, the 250 sold for $859, which amounts to about $4,400 in today's dollars. It was a relatively practical investment, too, as these bikes would run forever with little or no attention and most maintenance could be performed by the owner with basic hand tools.

Yamaha's dual-purpose two-stroke Enduros are widely available today as they were so prolifically produced. However, finding one in nice condition can be tricky and excellent examples are no longer $300 bikes as they were 20 years ago.

This article originally appeared in the July, 2012 issue of Hemmings Motor News.