Triumph Speed Triple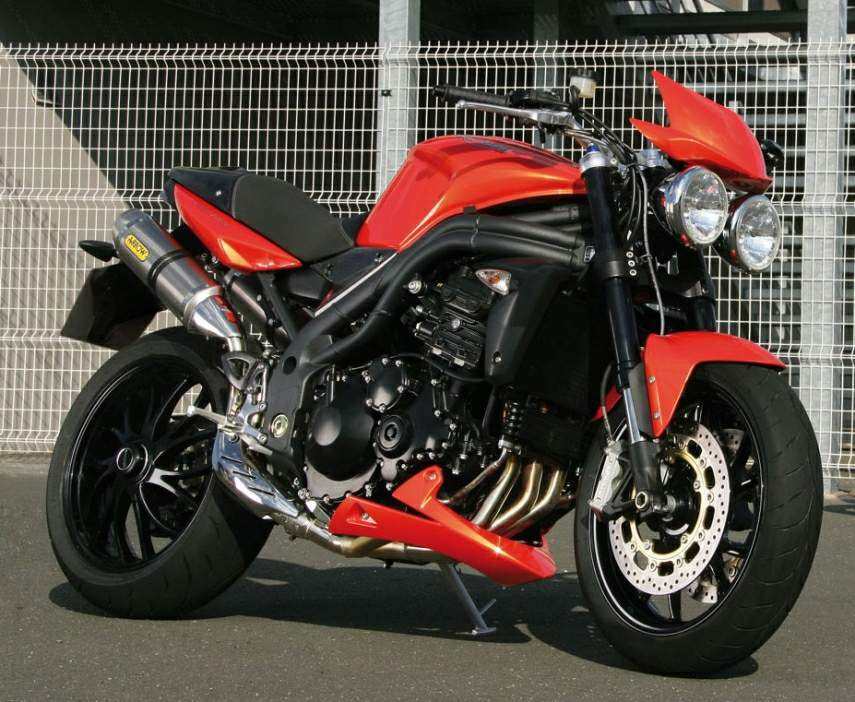 Make Model

Triumph Speed Triple 1050

Year

2009-10

Engine

Liquid-cooled, four stroke, transverse three cylinder. DOHC, 4 valves per cylinder

Capacity

1050

Bore x Stroke

79 x

71.4

mm

Compression Ratio

12.0:1

Induction

Multipoint sequential electronic fuel injection

Ignition / Starting

Digital–inductive type via electronic engine management system / electric

Max Power

131 hp @ 9250rpm

Max Torque

77 ft-lb @t 7550rpm

Transmission / Drive

6

S

peed / chain
Frame
Tubular, fabricated aluminum alloy perimeter

Front Suspension

45mm upside down forks with dual rate springs and adjustable preload, compression and rebound damping

Rear Suspension

Monoshock with adjustable preload, compression and rebound damping

Front Brakes

2x 320mm discs 4 piston calipers

Rear Brakes

Single 220mm disc 2 piston caliper

Front Tyre

120/70 ZR17

Rear Tyre

190/50 ZR17

Dry-Weight

189 kg

Fuel Capacity

18 Litres
Triumph is known for producing successful Urban Sports equipped with three-cylinder engines and a lot of attitude and the 2008 Speed Triple tops it all with the help of some nice finishing touches like a new LED rear light, a redesigned radiator, black anodized front forks, and new tapered anodized aluminum handlebars. Not quite stylish just very efficient, the Brembo radial front brakes are also new on the bike, as well as the rear sub-frame.
had a wonderful time on the new Speed Triple and I would have never given it away. This ride really meant something because it opened my eyes towards stripped down machines that my comfort-oriented brain doesn't tend to appreciate very much.

The first few miles I couldn't erase the smile from my face and at the end of my three days of test riding the Speed Triple, it became practically a reflex. It was the single obvious result of the blast offered by this bike and it could be noticed from a block away.

No other roadster or sport-touring motorcycle accommodated me the way this Triumph did. The seat is very comfortable and even though at first I thought it is just a sweet oneself, the 600 miles I've rode on it proved contrary. Things wouldn't have been the same without the natural riding position offered by the handlebars which are, of course, carefully positioned in order to be at easy reach and so offer a relaxed riding feel.

Speed Triple's 1050cc liquid-cooled, DOHC, in-line three-cylinder produces a claimed 131bhp at 9,250rpm, and 77ft.lbf at 7,550rpm. I noticed that it pulls awesome from down low, delivers strong, linear power all through the rev range and still retains the strong feel while riding at around 135mph. The bike can easily go higher and reach a TopSpeed of approximately 160mph, but being a roadster, I preferred keeping things easy on the top end in sixth gear.

I enjoyed taking corners on this Triumph as it has a low center of gravity and a perfectly balanced chassis which keeps it nice and steady while your eyes follow the exit from the curve. It can be easily maneuvered through city traffic and tight corners at slow speeds won't become your everyday nightmare.

The clutch engages smoothly and you won't have any problems with quick departures. But while trying to maintain the adrenaline rush you may happen to miss a gear or two. That only happens when you think you've sorted things out and try to see what it can do best. If you'll exploit it as it was designed and tuned to, the Speed Triple will carry you for many years onto those long journeys on country side roads, highways, and, why not, crowded cities.

For 2008 the brakes are new and after reading this test ride you won't be surprised to hear that Brembo radial front calipers are mounted on the bike. These units do their job spotless and there is no ABS version available because people at Triumph seem to know best what they are doing. Firmly pulling the front brakes won't introduce you to a wheelie, but if you are familiar with Urban Sport, you can easily go your own way and through a wheelie.
With the 2008 Speed Triple, Triumph takes further the powerful legacy of both this very successful model and the three-cylinder engine that starts controversy for some, and makes other's hearts beat faster and harder.

By having the horses of a modern day 600cc supersport motorcycle and streetfighter looks, the Triumph Speed Triple proves balancing muscle and style with accuracy.
FEATURES:
Engine
The Speed Triple's 1050cc, three cylinder engine, with its unmistakable character and sound, pumps out a great surge of bottom-end torque, massive mid-range punch and an impressive level of overall power. Peak power is 131bhp at 9250rpm while peak torque of 77ft.lbf arrives at 7550rpm. Triumph's Keihin ECU offers sophisticated mapping for quicker starting, cleaner running and fuel economic engine.

Wheels
5-spoke alloy wheels add to the Speed Triple's streetfighter attitude.
Suspension
The fully adjustable 43mm upside down forks and rear monoshock add superb levels of quality and control, while the new black anodized finished to the front forks amplify the Speed Triple's rebellious look.
Brakes
High-spec, twin Brembo radial front caliper four pad, four piston units, with a radial master cylinder, supply outstanding braking performance.

Rear End
The Speed Triple's rear-end has sharp, minimalist styling and features a new rear sub-frame, polished stainless steel heat shields and repositioned ball burnished aluminum rear foot rests to give the passenger rider more leg room. It also sports a new, clear-lens LED rear light.

Handlebars
Magura tapered, anodized aluminum handlebars are a sharp addition to the Street Triple's minimalist styling.
Road Test
In a world where marketing gurus are paid millions to try and come up with new iconic products, there's a true, real-world lesson in branding illustrated by Triumph's Speed Triple. Within eight short years, starting with the T509, Triumph has created a cult of sorts around its bug-eyed naked and it seems to be a good seller, at least in Europe. When you add in the fact that back in '97, the year of the mould breaking T509's launch, the very resurrection of the Triumph brand still raised quite a few eyebrows, so the current "cool tool" status of the Speed Triple is one hell of an achievement.
So then, for the fifth remake in the Speed's history, Triumph continues to dig that "bad boy" line that has endeared the Speed Triple to hard-core racer types and urban Streetfighters alike. In 1997, twin, bug-like headlights were all the rage with streetfighter builders, so why not take on the current street trend towards short and stubby tails and high-level silencers? Previous Speed models had a hint of classic Brit in their tail sections but this one turns it all upside down with its "I-mean-business", short-barrel revolver tail.
I have to admit, it's striking. Like it or not, just like with the controversial twin headlights in 1997, it's hard now to be indifferent about the Speed's tail. It just seems to end way too early! The new high-level twin silencers accentuate said stubbiness and thank goodness, designers decided not to follow the under the tail trend, so the seat is kind of flat.
Other redesigned areas are the classy, sculpted gas tank and the minimalist side panels which have much sharper and more up-to-date lines. Compared to the solutions for odds and ends in previous Speed models, this one looks super sorted. Nice alloy shrouds allow the radiator to blend in and there's a new, way-cool instrument panel, not to mention the impressive USD fork with its radial calipers and tasty five-spoke wheels.
The original T509 might have been born out of simply stripping down a Daytona but this one shows a serious design effort that is dedicated solely to this model. As strikingly new as the Speed looks, the twin oval tube frame remains very much the same; no vital dimensions have changed save for one, very important dimension.
That dimension is piston stroke, which grows from 65mm to 71.4mm thus bumping displacement up to 1050 cc and horsepower to 129.8 from the claimed 120 of the previous model. Max torque gets a nice hike too, up to 78 *claimed* foot pounds.
This should be good news to torque addicts, whether they're canyon-carving squids or urban hooligans. With valve and head dimensions remaining the same, a bigger bore means higher flow velocity and that usually translates into higher torque further down the rev range. I got a chance to try out the new Speed Ten-five-O at a recent Triumph track day and used the first warm-up laps to put the Speed's torque prowess to the test. The previous model had already made a name for itself with mean torque but the 1050 goes one better. Letting revs drop by using the higher gears, it's just uncanny how the Speed drives from as low as 1500 revs. The rev counter needle is hardly getting off the peg and this is just half of the story.
Try to push a sporty twin below 2000 RPM and you'll get drive but some serious thudding and shaking will accompany it. This 1050 triple though, drives on in velvety fashion. I can understand how an extra cylinder smoothes things out but how come it works better at negligible revs than any four-cylinder motor I can think of? Is it the 120-degree spacing between crankpins? Kudos to Triumph for getting the low rev range so sorted.
Pressing on, it just gets better. The prior model hit the fat of the power band at around 4000 RPM but the new one supplies 90% of your max torque by 3500 RPMs (according to some published dyno graphs in the Italian press). As I pick up speed with the Speed around the track, this "any-revs-work" flexibility from the engine lets me concentrate on lines and handling. The Speed is no lightweight, but as always happens with high and wide bars, it's quite easy to throw the 1050 around on this tight, mostly second-gear turns track.
It's only in the rather tight esses that you feel the Speed's heft, on par with a Z1000 but slightly porkier than a Tuono or Monster S4R. On the other hand, mid-turn stability is really good, letting me dial in a few extra degrees of lean angle with each lap. Initially the Speed feels rather stiff and tight on its suspenders. The seat seems to be thinner, the shock and fork are more heavily sprung, but as I lower my lap times and start braking later, it turns out that the settings of the impressive new fork are very street oriented to say the least.
With not that much weight loading the front, it might be a good compromise for street riding but while braking from 130mph to 50mph at the end of the straight, it just dives too much. Luckily, Triumph considers the Speed as a serious sporting tool and the bike is equipped with a full house of suspension adjustments: pre-load, compression and rebound at both ends. After my first track session, knowing that I am going to have this bike for the whole day, I dial in some more pre-load.
By now it's mid-day, and scorching hot out there; time for a break. I take a stroll through the paddock of this Triumph track day, and it's not hard to notice the amount of Speed Triple owners present, ready to take on the track. In Italy, land of Ducati and MV, it's quite surprising to see the level of following that this bike has and although many blokes are wearing retro-looking leather jackets that fit their modified Speeds to a T, none looks like a poseur.
Source Motorcycle.com