Suzuki VZ 800 Marauder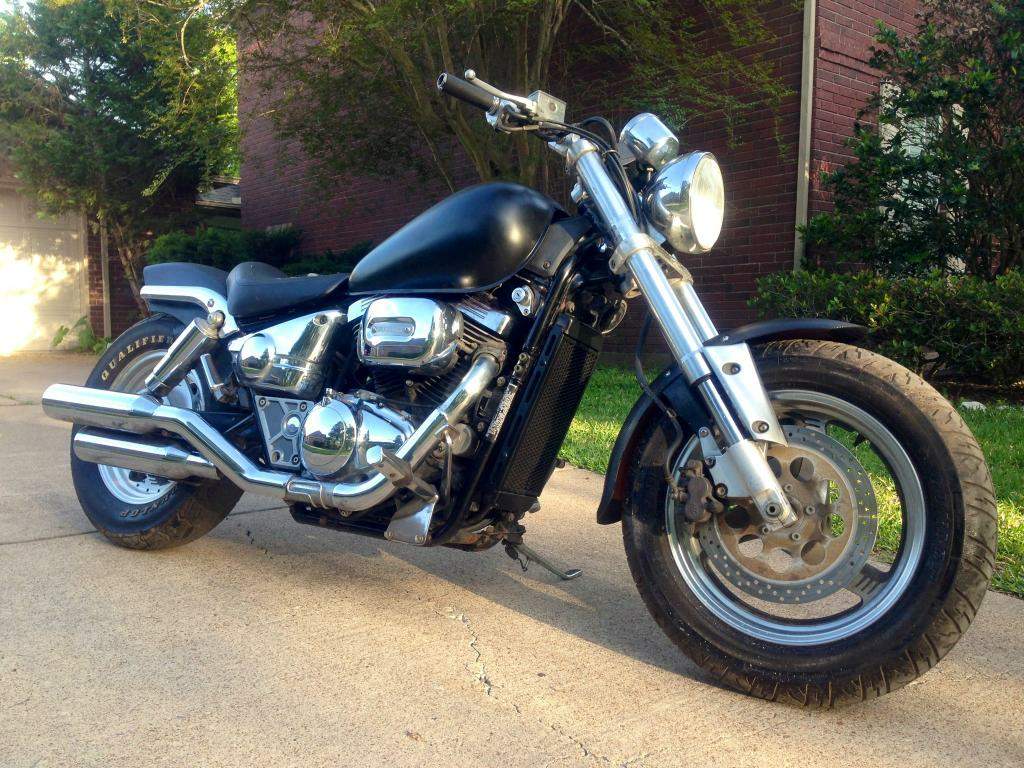 | | |
| --- | --- |
| Make Model. | Suzuki VZ 800 Marauder |
| Year | 1997 - 99 |
| Engine | Four stroke, 45°V-twin, SOHC, 4 valves per cylinder |
| Capacity | 805 cc / 49.1 cu in |
| Bore x Stroke | 83 x 74.4 mm |
| Compression Ratio | 10.0:1 |
| Cooling System | Liquid cooled |
| Induction | Mikuni BDS36 carburetor |
| Ignition | Digital transistorized |
| Starting | Electric |
| Max Power | 36.4 kW / 50 hp @ 6500 rpm |
| Max Torque | 65 Nm / 6.63 kgf-m / 47.9 ft.lb @ 5000 rpm |
| Transmission | 5 Speed |
| Final Drive | Chain |
| Front Suspension | Inverted telescopic, coil spring, oil-damped |
| Rear Suspension | Swingarm, oil-damped, 5-way adjustable spring preload |
| Front Brakes | Single Ø310 mm discs, 2 piston caliper |
| Rear Brakes | Single drum |
| Front Tyre | 130/90-16 |
| Rear Tyre | 150/90-15 |
| Dry Weight | 207 kg / 456 lbs |
| Fuel Capacity | 19 L / 5.0 US gal / 4.2 Imp gal |
| Consumption Average | 6.2 L/100 km / 16.2 km/l / 38 US mpg / 45.6 Imp mpg |
| Standing ¼ Mile | 14.1 sec / 148 km/h / 92 mph |
| Top Speed | 164 km/h / 102 mph |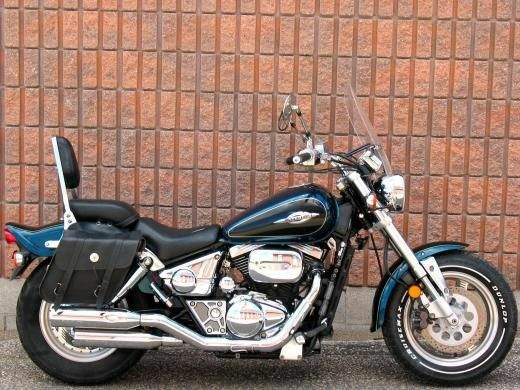 You're shopping for a new bike. You want something cool, but aren't interested in the efficient sterility of a standard. Something you can ride slowly and just not care. In fact, the slower you can go and still have fun the better. Something with character, a rumbling V-twin, and gobs of torque. The ride is to be your destination. "That'll be 14,000 dollars, sir," advises the showroom salesman.
Whoa! You didn't quite want it that bad. How about a middleweight? More along the line of eight thousand dollars, you think to yourself.
A middleweight cruiser is somewhat of an oxymoron. How to achieve that hefty cruiser feel, yet downsize the weight, displacement, and more importantly, price? To explore this enigma we gathered five of the finest little big bikes available: existing iron like Harley-Davidson's 883 Sportster, Kawasaki's Vulcan 800 Classic and Yamaha's Virago 750, along with Honda's all-new American Classic Edition 750 and Suzuki's new Marauder 800. Each one has its own answer to the middleweight dilemma.
Speaking of dilemmas, what the heck do you do to properly compare cruisers for a shootout? You can't just call up a racetrack and say, "Put us down for Tuesday, we're bringing up a bunch of cruisers to test!" They'd laugh us right off the phone. And when we called up our resident fast-guys Shawn Higbee and Chuck Graves to see if they wanted to help evaluate the assembled equipment, through barely stifled yawns they told us that they, um, oh yeah, they had to wash their dogs today. Clearly it takes a slightly more laid-back attitude toward life to truly appreciate the cruiser. So we decided to do the typical cruiser thing -- we followed the crowds. We motored up and down one of the world's most popular boulevards, the Pacific Coast Highway in Malibu, along with a mandatory jaunt up through the canyons to the Rock Store. We rode around town, down long stretches of freeway, and even took them on a several hundred mile trip. All the while looking for that perfect nothing, the transcendence from the physical, the ultimate vibe, and all that other metaphysical stuff.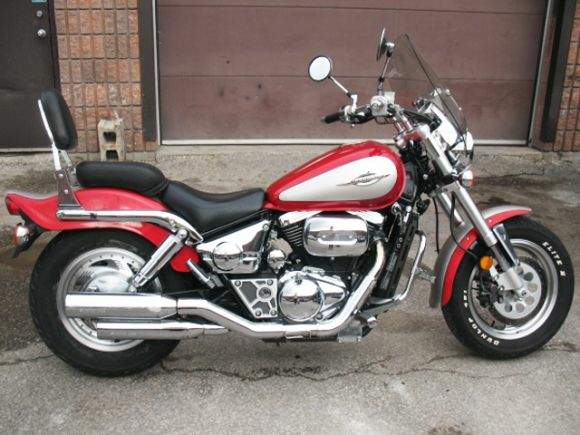 So kick back, relax, and throw back a cold one. This time we'll do all the riding.
1997 Suzuki Marauder 800
With much hoopla and fanfare Suzuki introduced four new models for their '97 model year -- GSX-R600, 1200 Bandit, TL1000 and the Marauder 800. Suzuki's Marauder screams winner with its inverted forks, gobs of chrome, an 800cc motor, and, best of all, a $6000 price tag. It seems you could have it all.
With motorcycles, as with life, things are not all that they seem. While it's true that the Marauder boasts some very cool features, its total package is in need of further refinement.
The Marauder is based loosely on Suzuki's Intruder 800, albeit with some important differences such as a switch to chain drive over the Intruder's shaft, for smoother power delivery. While switching to a chain Suzuki also made room
for a fifth gear (the old Intruder having a four-speed box). They equipped the Marauder with an inverted front end, presumably for a beefy appearance, but these forks are really not much better than any of our other bikes in this test. Most of the other differences between this model and the Intruder are cosmetic, and we approve. Its long, lean look is a welcome replacement for the slightly-dated chopper look of the Intruder. Mag wheels and miles of chrome mean lots of shine on the boulevard, as the Marauder exudes a style all its own. The Suzuki is Japanese and proud of it. Like Honda's ACE, it pays homage to the American original without plagiarizing. In fact it was second only to the Honda in the number of compliments it received.
If only it was any fun to ride.
Starting with a wedge-shaped seat that begins to irritate in under five minutes and ending with the worst carburation of any bike we've recently tested, riding the Marauder is a bit of a trial. Its ergonomics are all wrong for a rider of even average size, with the drag-style bars too pulled back and the pegs not quite far enough forward. If you're tall, forget it. The flat, riserless handlebars gave poor feedback and lousy control when traveling down twisty roads. Ground clearance is a bit on the meager side too, although not as limiting as the Vulcan. Have we mentioned the seat sucks?
A quick twist of the throttle and you can tell this beast has nuts. Then you hit that stumble. You figure you can gas your way through it, but by the time it clears up you're already at the end of its powerband. What could be the best engine in this test is castrated by poor carburetion. Any first year engineering student could tell you that exhaust pipes of vastly different lengths are a tuner's nightmare, and such is the case with Suzuki's Marauder. Its left pipe wraps all the way over to the right to give an appearance of staggered dual pipes. Probably not helping any of this is the fact that its exhaust crossover tube is about one inch in diameter, bound to wreak all kinds of havoc with exhaust throughout.
What we're telling you is that with a little tinkering (new seat, bars, control extenders, pipes and a jet kit) this could be a nice motorcycle. However, this being the Marauder's first year in production, aftermarket support is not yet in existence, so it may be a while until you can upgrade this machine. If you've fallen in love with the Maurader's looks, try waiting around outside your Suzuki dealer for someone to trade one in -- we don't think you'll have to wait long.
Source Motorcycle.com