Suzuki TL 1000R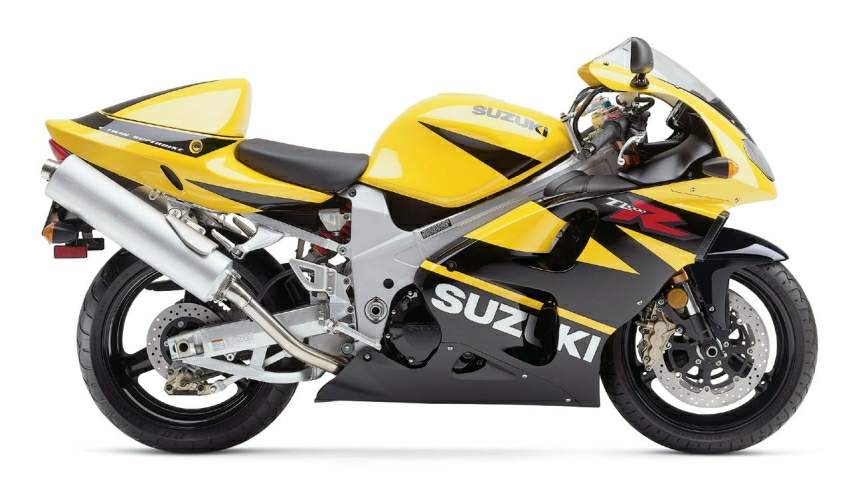 Make Model.

Suzuki TL1000R

Year

2002

Engine

Four stroke, 90°-V-twin, DOHC, 4 valves per cylinder

Capacity

996 cc / 60.8 cu-in

Bore x Stroke

98 x 66 mm
Cooling System
Liquid cooled

Compression Ratio

11.7:1
Lubrication
Wet sump

Induction

Mikuni Denso Fuel Injection

Ignition

Digital transistorized

Spark Plug
NGK, CR9EK
Starting
Electric

Max Power

98.4 kW / 135 hp @ 9500 rpm

Max Torque

106 Nm / 10.8 kgf-m / 78.1 lb/ft @ 7500 rpm
Clutch
Wet, multiple discs, cable operated

Transmission

6 Speed

Final Drive
Chain
Frame
Aluminium, trellis frame

Front Suspension

Inverted telescopic fork, coil spring, fully adjustable spring preload, rebound and compression damping

Front Wheel Travel
115 mm / 4.5 in

Rear Suspension

Rotary damping system, fully adjustable spring preload, compression and rebound damping

Rear Wheel Travel
125 mm / 4.9 in

Front Brakes

2 x 320 mm Discs, 6 piston calipers

Rear Brakes

Single 220 mm disc, 2 piston caliper

Front Tyre

120/70 ZR17

Rear Tyre

190/50 ZR17

Dimensions
Length 2100 mm / 82.6 in
Width 740 mm / 29.1 in
Height 1120 mm / 44.0 in
Wheelbase
1395 mm / 54.9 in
Seat Height
825 mm / 32.5 in
Ground Clearance
120 mm / 4.7 in

Dry Weight

197 kg / 434 lbs

Wet Weight
228 kg / 502.6 lbs

Fuel Capacity

17 Litres / 4.4 US gal / 3.7 Imp gal

Standing ¼ Mile

11.0 sec / 212 km/h / 132 mph

Top Speed

270.3 km/h / 168 mph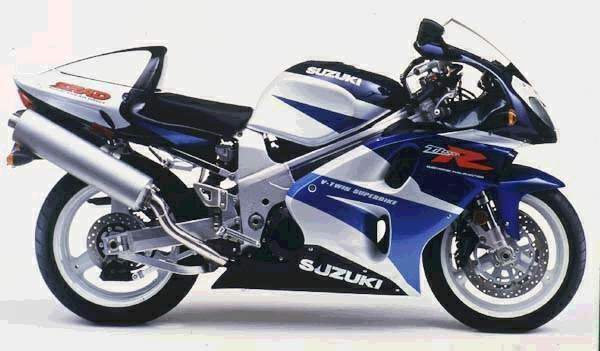 The TL1000R was Suzuki's second attempt at creating a V-twin powered superbike. The TL-R used an updated version of the TL1000S engine, but fitted in a supersports-style track-oriented chassis rather than the half-faired roadbike chassis of the TL-S.

The TL-R has very striking styling - a wide single headlamp fairing incorporates a pair of aggressive ram-air intakes before swooping back in an aerodynamic curve round the aluminium twin-spar frame. The seat unit has a large aerodynamic duck-tail fin, designed to reattach the airflow from the back of the rider, improving highspeed performance.
Under its smooth clothes, the TL-R is a high-specification sports machine. Its engine is the same eight-valve 90o V-twin as fitted to the TL1000S, but with some re-tuning to produce more top-end muscle. It delivers smoother, more linear power than the torquey TL1000S engine, thanks to fuel-injection and timing changes.

But it was the chassis that received most attention from Suzuki's engineers. The TL1000S suffered criticism for its lively handling, and the TL-R is a much more stable ride on the road. A steering damper is fitted as standard, to reduce any tendency for the steering to flap about under hard acceleration, although the revised steering geometry and heavier weight of the TL-R had already added extra stability over the TL1000S design.

The TL-R keeps the same unusual rear suspension system as the TL-S though. The rear spring is mounted separately from the damper unit, and the damper is a unique 'rotary' design. Rather than a conventional linear damper, which pushes a piston through a cylinder of damping oil, the TL damper uses a system of veins in an oil-filled chamber. The vanes are turned by a shaft linked to the rear swingarm, and the passage of the oil through holes in the vein gives the damping effect.

The brakes were also uprated over the TL1000S, six-piston Tokico calipers replacing the four-piston calipers of the 'S' model.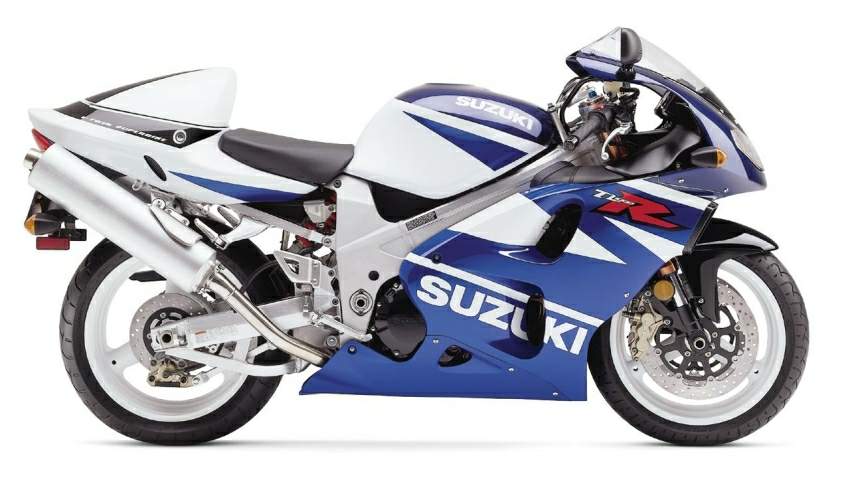 Review:
Suzuki introduced the all-new TL1000R model this past summer as a mid-year addition to its lineup for '98. At first glance I was fairly disappointed. All new frame--similar to the GSXR750, full bodywork in blue and white ala GSXR, etc., etc. Basically everything I liked about the TL1000S was gone except the engine. And rumor had it that was changed as well. Nothing against the GSXR750, it's a fine motorcycle, just not at all my taste in machinery. I have a thing for horsepower and torque in big numbers and I don't like to wait until 10,000 rpm for it to arrive. This pretty much limits the bikes I like to own or ride to the liter-class and up.
Now, after staring at this blue and white TLR everyday on the show floor, I started to notice that a GSXR it was not. The paint job was pretty good camouflage though. The front cowling seems to envelop the whole front suspension and wheel assembly. The fairing nose actually protrudes beyond the front axle a bit. Ram Air scoops reside along the sides of the cowling and have something of the look of fighter jet air intakes.

Then something interesting happened. On the other end of the shop a new bike was being uncrated. I noticed it was yellow?! I like yellow. And sporty--I like sporty too. It was a TL1000R--very neato indeed. This was way cool, this I liked. The funny thing is you could park a yellow TL next to a Blue and White one and to me, at least, they are two different motorcycles. That yellow bike is just super cool, and that other one is, well, sort of a GSXR. Now after having to look at that wicked-cool yellow TLR for about a week, I could take it no more. I bought it. The first brand new vehicle I had ever owned was this bitchin' yellow TL1000R Suzuki.

Other than having a V-Twin engine the TLR and the TLS share very little. The rotary damper is still there on the R, but is now easily accessible, unlike the S models. The swingarm is heavily braced and the frame is a more conventional twin beam that looks considerably stronger than even a GSXR's. Brakes are improved with six piston calipers up front rather than the four on the S. About the only things unchanged in the engine are the cases and the crankshaft. The R model received forged pistons, stronger connecting rods, bigger cams and two injectors with 52 mm throttle bodies rather than the one on the S. All of this means lots of torque in the low and mid rpm range and lots of horsepower up high, 11,000 RPM high. The new R model's engine is quite rev-happy and actually feels like it's being lugged below five thousand rpm. This does give the S model an advantage around town or as a daily commuter, it's big torque at low rpm comes in handy. Once you twist the R's engine above six thousand though, you'll notice these are very different machines. The trip from six to eight thousand rpm gets your attention in a hurry, which is good, because from eight thousand up the thing is just plain king-hell fast. If you're not on the ball here you may blink and find yourself staring straight up at the sky. The engine is a marvelous piece of engineering indeed.

Now, I have some owners thoughts and opinions. I've put nearly 3,000 miles on my yellow beastie so far. The only modification I've done is installing a pair of Yoshimura's Titanium Race Mufflers. They look nearly stock but for their massive exit tips. (If you call Yosh direct, you can request that they leave off their emblem, helping to keep that stock look). The race cans are not cheap, but sound bitchin. Fuel injection handles the change in exhaust flow easily enough. The added sound will set off car alarms as you ride by though. I find this quite amusing, however some people may not. On road trips of several hundred miles or so, the TLR is surprisingly comfy. Handlebars are low but fairly close so there's not much reach, which helps keep fatigue at bay. I found I could lean forward and rest my elbows on my knees occasionally to give my wrists a break. Sounds cramped I know, but it is surprisingly cozy.

The seat basically sucks, my arse gets numb after a fairly short time of non-sport riding. Suzuki does offer a gel seat that would help a bunch I believe, but I haven't plunked down the 150 bones or so to find out just yet. Just riding around town in stop and go traffic becomes no fun in a hurry. The nearly twelve to one compression engine heats up quickly and all that heat roasts my thighs and ass off at less than 20 mph. You can pretty give up the whole passenger idea unless the person you'll be hauling will be about five feet tall and 97 lbs. I gave my girlfriend a ride once, and after having her knees up around her ears for a while and melting her boots on the exhaust pipes, she pretty much stated there would be no repeat occurrence of the event. The bike looks better with the seat cowl on anyway.

Sporting weekend rides are where it's at, which is the main reason I bought the machine. It's a total gas on the curves man, that's where I dig it the most. Just pick a gear, point and torque your way through. Again, the engine is a major piece of work. Handling is excellent, it'll lean over way farther than most will push it, and grip of the road is very good. Some people bitch and moan about it being heavy. Whatever! I used to own a ZX-11; to me its way light. The bike does have a couple low to mid rpm throttle glitches that bug me but are fairly minor. My bike is the exception here, I've tuned and serviced many of these TL1000R's now and they all ran very nice. I'll sort mine out in time.

There are other sporty twins out there, some more comfy on long trips, some handle better (mostly in the hands of a pro only), none of them have near the guts of the Suzook. It's a nice compromise between race bike and sport-tourer. Next years TLR will not come in the all-yellow paint option, kind of a bummer. The blue & white will return and a new style with some yellow in it. Whatever color it is the TL1000R is bitchin.

by Lee Meyer