Suzuki GSX-R 600 Telefonica Replica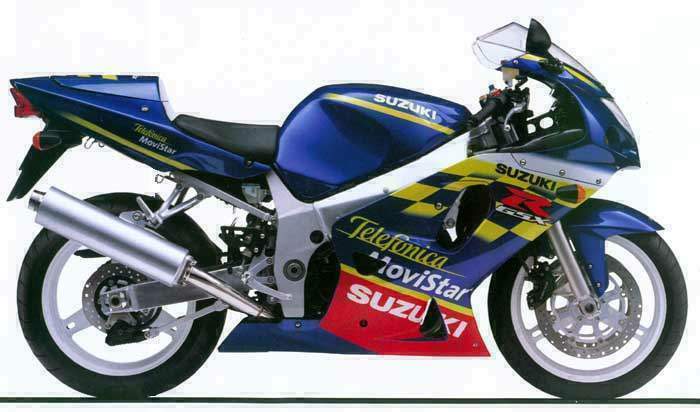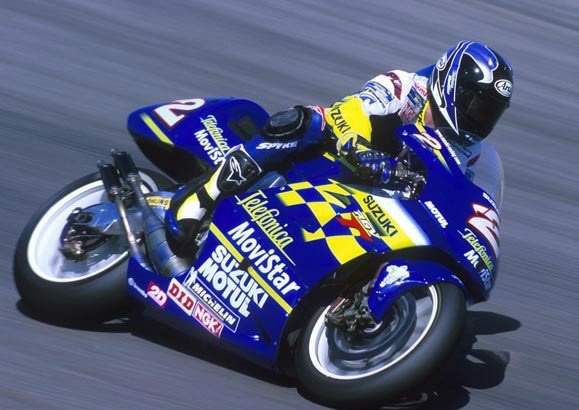 The GSX-R600 is back for 2002 with several bold new looks and the proven performance that you've come to expect from this lightweight machine. New features for 2002 include; new bolt-on bungee hooks, a new polished stainless steel exhaust pipe, and both headlights are now operational in low beam mode. Building on the proven performance of the GSX-R750, the fuel injected GSX-R600 has been designed to be the lightest, fastest and best handling 600 on the market, bar none.
Also new for '02, Suzuki is proud to announce the Team Telefonica Movistar Suzuki Limited Edition GSX-R600M. The Telefonica Movistar Limited Edition GSX-R600 replicates the exact look of the Suzuki RGV-500 that Kenny Roberts used to win the 500cc World Championship, combined with the proven performance of the incredible GSX-R600 for the street.
Although the basic engine design is based on the successful GSX-R750, the GSX-R600 has many unique parts including the cylinder head and block, valves, camshafts, cam chain, crankshaft, connecting rods, wrist pins, pistons, clutch assembly and most of the transmission gears. To improve engine output and throttle response, the GSX-R600 features an electronic fuel injection system with the Suzuki Dual Throttle Valve System (SDTV). This system features two butterfly valves per throttle body and uses an electronic servo motor to control the secondary valves. As the rider opens the primary valves via the throttle cable the throttle body mounted servo motor progressively opens the secondary valves to maintain maximum intake velocity at all engine speeds.
In an effort to keep the GSX-R600 lightweight and agile, a twin spar aluminum allow frame is utilized along with a bolt on subframe and lightweight aluminum swingarm. Front forks are lightweight, fully adjustable, feature a conventional design and are positioned to reduce frontal area of the GSX-R for maxi-mum performance. The rear suspension features an aluminum-bodied shock absorber, with a full array of adjustments as well as a ride height adjustment bracket at the top mount. Wheels are lightweight 17-inch aluminum-type equipped with radial tires front and rear. Brakes are lightweight 4-piston caliper units with aluminum pistons and dual 320 mm rotors, while a single 220 mm rear disc brake works with a dual opposed piston caliper. Wrap it all up in a clean and aerodynamic package with twin headlights, step-motor-powered instruments and you've got the 2002 GSX-R600.