Make Model.

Suzuki GSX 1250 FA

Year

2010

Engine

Four stroke, transverse four cylinder, DOHC, 4 valves per cylinder

Capacity

1254.8 cc / 76.5 cu-in

Bore x Stroke

79

x

64

mm

Cooling System
Liquid cooled

Compression Ratio

10.5:1
Lubrication
Wet sump
Engine Oil
Synthetic, 10-40

Induction

Fuel

Injection

Ignition

Digital transistorized
Starting
Electric

Max Power

70.5 kW / 96.5 hp @ 7500 rpm

Max Torque

108 Nm / 11.0 kg-fm / 79.7 ft.lb @ 3500 rpm
Clutch
Wet, multiple discs, cable operated

Transmission

6 Speed
Final Drive
Chain
Frame
Steel, double cradle frame

Front Suspension

Telescopic, oil damped, preload adjustable
Front Wheel Travel
130 mm / 5.1 in

Rear Suspension

Link-

type

suspension,

7-

way

adjustable

preload,

4-

way

adjustable

rebound
Rear Wheel Travel
136 mm / 5.3 in
Rear Brakes
2 x 310mm Discs, 6 piston calipers
Rear Brakes
Single 240mm disc

Front Tyre

120/70-ZR17

Rear Tyre

180/55 ZR17
Rake
25°
Trail
104 mm / 4.09 in
Dimensions
Length 2130 mm / 83.9 in
Width 790 mm / 31.1 in
Height 1225 mm / 48.2 in
Wheelbase

1485

mm /

58.5 in

Seat Height

805

mm - 825 mm /

31.7 in -32.5 in
Ground Clearance
135 mm / 5.3 in

Dry Weight

232 kg / 511.4 lbs
Wet Weight

257 kg / 567

lbs

Fuel Capacity

18.5 Litres / 4.9 US gal / Imp gal
Features
1255cm3engine tailored to deliver extra-smooth acceleration and broad power, generating peak torque at a low rpm range.
Suzuki Dual Throttle Valve (SDTV) fuel injection brings superb response feel, smooth power delivery, improved mileage and reduced emissions.
Long-wearing, tough SCEM (Suzuki Composite Electrochemical Material) cylinder-bore plating.
Chrome-nitride piston-ring coating contributes to reduction of friction and tighter cylinder sealing.
Secondary balancer shaft enhances the engine's smooth operation.
Automatic Idle Speed Control (ISC) helps improve cold starting, reduce cold-start emissions and stabilize engine idle under varying conditions.
Liquid-cooled oil cooler helps keep the engine running cool.
Effective engine management and emissions control systems together allow the GSX1250FA to meet the latest emission regulations and standards.
Functional full fairing, housing vertically stacked headlights and shaped for a neatly integrated impression with the tank and the tailsection.
Classic tube-frame chassis, with rake and trail chosen for an excellent balance between sporty handling and highway cruising comfort.
43mm-stanchion-tube front fork and single rear shock, both spring-preload-adjustable.
Fully floating 310mm-disc dual front brakes with 4-piston calipers. 240mm-disc rear brake with single-piston caliper.
Digital Antilock Brake System (ABS)* monitors wheel speed and matches stopping power to available traction.
Comfort-contoured seat. Seat height can be adjusted up or down 20mm by flipping over mounting spacers between the seat and the frame seat rails.
A convenient centerstand is standard equipment.
Functionally arranged instrument cluster with a comprehensive set of gauges, including a convenient gear-position indicator and a shift light.
Available Suzuki Genuine Accessories for the GSX1250FA include top and side cases, windshield and many more.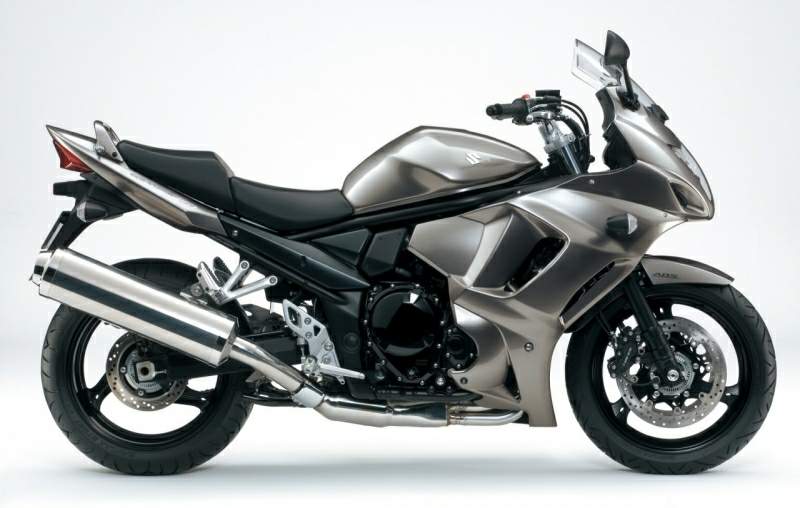 Suzuki have slapped on a fairing to the age old Bandit to create one of the dullest looking bikes on the planet – the GSX1250FA. Yes, sure, with a fuel-injected 1,250cc inline-four that produces 104 horsepower and 108Nm of torque, relaxed ergonomics and full weather protection, the 1250FA may well be a competent sports-tourer (with the emphasis being on 'tourer'…), but did it have to look so terribly dull? Anyway, Motociclismo recently tested the bike and here are some excerpts from what they have to say about the big GSX...

With the addition of a full fairing, the Bandit has become a 'modern' touring bike that seems to offer excellent value for money. Yes, there are bikes that are much faster, better equipped and more sophisticated, but at just 9,999 euros, the GSX1250FA is economical and practical – a machine that's well suited to the ongoing economic crisis!

The 1250FA's full fairing has been designed to protect the rider from bad weather and Suzuki also offers an optional taller screen, which should offer even more wind protection at higher speeds. The ergonomics are perfect for touring – soft, comfortable seat, rubber insulated footpegs and wide bars that don't put a lot of weight on your wrists. Also, the 1,250cc engine feels adequately powerful and offers good fuel economy, using just seven Litres of fuel over 100km.

At 257 kilos, the GSX1250FA is clearly not a sportsbike and while the engine feels energetic, the softly suspended bike is slow to respond to rider inputs. It has a high centre of gravity, pitches fore and aft under braking and acceleration and is sometimes reluctant while turning in. Take it a bit easy, however, and the 1250FA feels all right.

To sum up, the Suzuki GSX1250FA is a comfortable, stable long-distance tourer that is blessed with a flexible and powerful engine. And with ABS, it should be quite safe as well.
Source Faster and Faster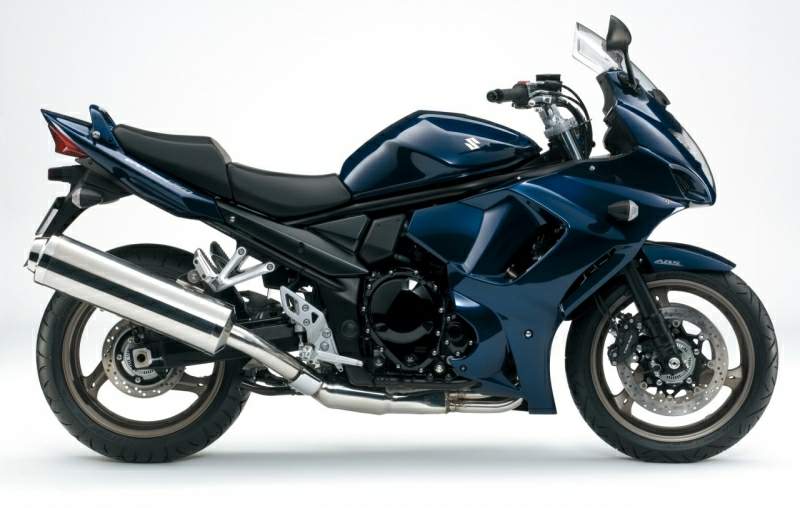 Review
A new motorcycle with sporting intentions but absent ground-breaking technology or a race-winning pedigree is easily overlooked. Enter the 2011 GSX1250FA, a semi-new model from Suzuki lacking advertising superlatives but delivering the essential qualities that comprise a competent motorcycle, i.e., performance and fun at an affordable price.

The Suzuki GSX1250FA is the bike a discerning motorcyclist will pick out of a line-up of overly specialized sportbikes or portly sport-tourers emphasizing the latter part of the compound title. Besides its standard equipment anti-lock brakes, the GSX1250FA is elemental in its construction and built to be ridden anywhere, anytime by a motorcyclist who values versatility over hyperbole.

Stripped of its Bandit moniker, in use since the Bandit 400's U.S. introduction in 1991, the GSX1250FA also differs from its predecessor by way of full-fairing cosmetics. Less obvious upgrades include heavier fork springs and firmer rebound damping, and an additional radiator fan to compensate for the loss of airflow from the full-coverage bodywork.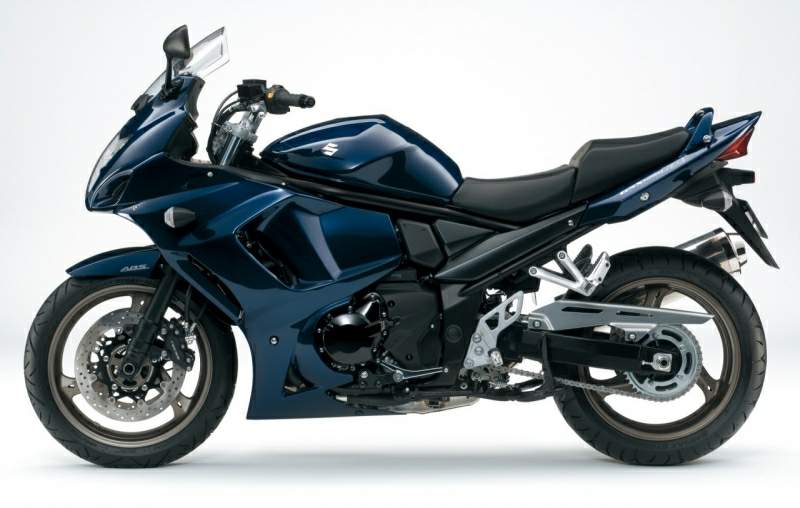 Suzuki's new GSX1250FA offers great value and broad versatility in the big-bore sporty bike category.

Albeit the changes are minor, the bike's new plastic-clad profile should generate interest from motorcyclists familiar with the previously naked or quarter-faired versions as well as those without knowledge of the GSX's past nomenclature. And when those who previously dismissed the Bandit get a chance to test the GSX1250, they're gonna be surprised by the bike's well-mannered, universal performance.

The GSX1250FA's engine is certainly one of the bike's best qualities. With maximum torque at a V-Twin rpm (72.3 lb.-ft. at just 3,500) the GSX romps out of corners with a robustness that belies its modest 92.6 hp at 8,800 rpm dyno figure. The abundance of low-end power augments real-world usability and ensures you're never left wanting when running a gear high or in need of emergency passing power. It should be noted, however, that as pleasurable and user-friendly as the fuel-injected 1255cc inline-Four is, considering its displacement, we were hoping for at least triple-digit horsepower numbers.

A surprising attribute of the GSX1250FA is its handling prowess, especially considering its low-tech tubular steel frame and 567-lb curb weight. It's no Jenny Craig poster child, but in the canyons the GSX manages its weight well and will easily keep on the rear wheel of faster, lighter bikes piloted by lesser riders. Competitive models such as the new Kawasaki Ninja 1000 and Yamaha FZ1 are lighter and better handling, but without these bikes playing devil's advocate, a GSX1250FA operator will be riding in ignorant bliss of the bike's weight problem.

As capable as the GSX is in the canyons, it's equally at home digesting freeway miles in commuter mode or during long-distance road trips. Ergonomics are comfortable with plenty of seat-to-footpeg legroom and a moderate reach to the superbike handlebars. The suspension is well-balanced on the plusher side for extended seat-time comfort. It's only in the canyons, during aggressive braking and cornering, when the bike's weight occasionally overwhelms the suspension, but otherwise the bike's 43mm fork and single rear shock keep the GSX composed.

Throttle response from Suzuki's Dual Throttle Valve fuel-injection system is faultless, delivering smooth controllable application of power at any rpm, and a stout clutch offers a wide engagement zone for smooth launches. The GSX's triple-disc brakes provide a very firm lever and decent feedback to slow the GSX with confidence. Adjustable brake and clutch levers fit a variety of hand sizes.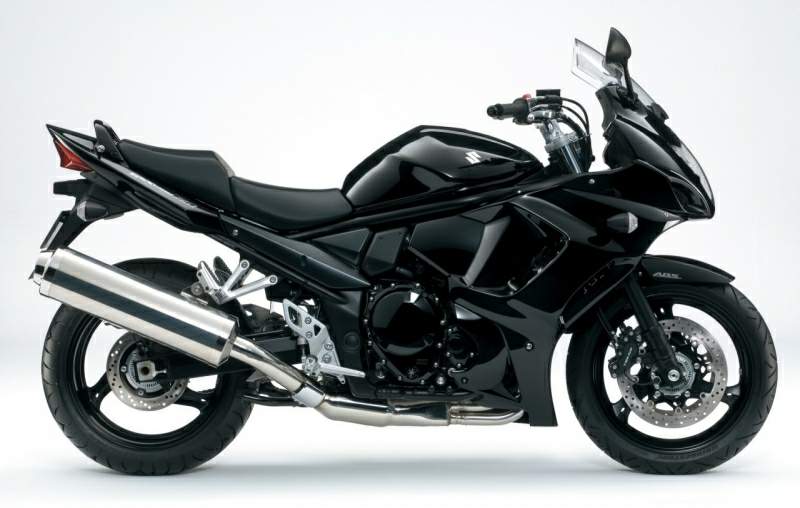 The GSX's ABS system is the bike's most advanced technological component, but unless an emergency situation arises it's a system that runs unnoticed in the background. I did pound the brakes a couple times to confirm the existence of the system was more than just stickers on the front fender. The system sends a familiar pulsating sensation through the levers when activated, but will stop the bike with authority. Equipped with ABS as standard, the GSX1250FA stands apart in its category.

For those with a penchant for traveling, the new full-fairing provides more protection from the elements than the old quarter-faired Bandit. However, we deemed the bike's styling more reminiscent of an aftermarket lower cowl back-ordered from the late 1990s than a cutting-edge 2011 model. From the front, the GSX-R-derived stacked headlight is much more in vogue. Gusts coming over the windscreen hit my 5-foot-11 frame about mid-chest in a clean, non-turbulent flow of air. Suzuki also offers a more touring-oriented windscreen as well as a 37-liter top box and hard, lockable and detachable saddlebags, which can morph the GSX into a sporty big sport-touring rig.

The seat of the GSX1250FA provides a two-position height adjustment, altering from 31.7 to 32.5 inches, but changing over the seat tray to a different level is the most complicated processes of seat height adjustment we've ever encountered. You'll want to pick the most appropriate level and leave the seat in that position.

Besides the child-proof seat, the GSX does possess two rarities a lot of future owners will respect. The first one is a centerstand. Yes, it adds a little weight and can limit cornering clearance when the bike is loaded with a passenger and gear, but this apparatus is essential for lubing and adjusting a chain whenever you're away from home.

The other nicety is a pair of helmet locks located under the seat. I don't know why manufacturers are leaving this simple addition off a lot modern motorcycles, but I'm tired of having to carry my helmet into a restaurant when it would be perfectly safe attached to the bike. Thank you, Suzuki, for using common sense and including this function on the GSX1250FA.

The instrument cluster is clean and easy to read, and it includes a handy digital gear-indicator window, another feature absent on similar models.

Carrying an MSRP of $11,599, the GSX1250FA is a bargain, especially considering ABS is included in this price. If you're in the market for a new motorcycle that slots between a dedicated sport-tourer and a sporty standard, the GSX1250FA should be on your list of considerations. Its best selling point is its engine that delivers locomotive-like power when and where you need it, and its handling easily exceeded our expectations.

So if you can swing a test ride from your local dealer, give the GSX a chance. You'll probably be as pleasantly surprised as we were.

Source Motorcycle.com