Suzuki GSX 1100G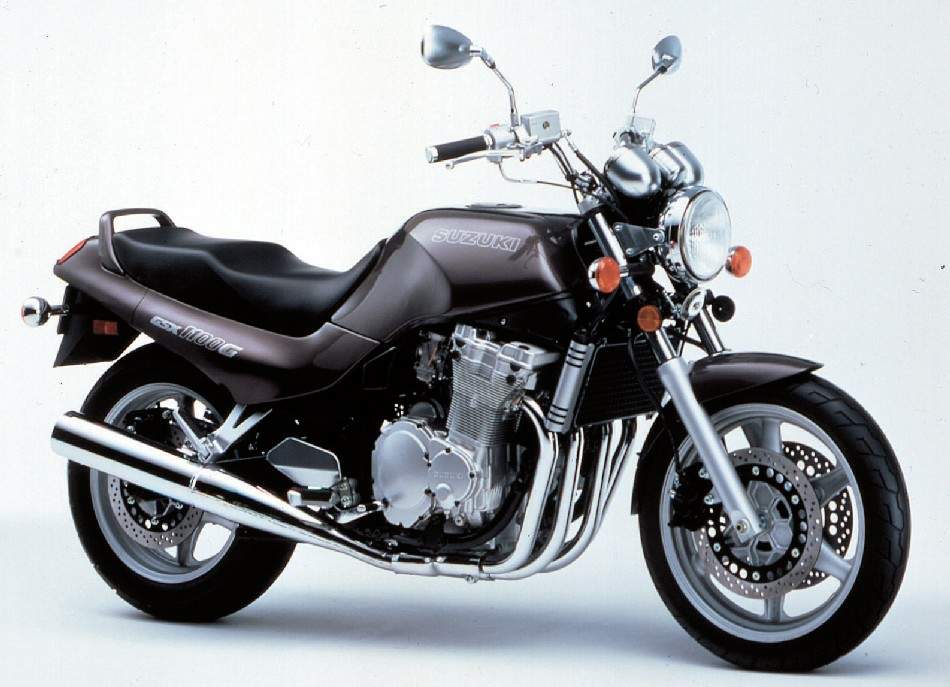 Make Model.

Suzuki GSX 1100G

Year

1991

Engine

Four stroke, transverse four cylinder, DOHC, 4 valve per cylinder.

Capacity

1127 cc / 68.7 cu-in

Bore x Stroke

78 x 59 mm
Cooling System
Air/oil cooled

Compression Ratio

10.0:1
Lubrication
Wet sump

Induction

4 x Mikuni BST36 carburetors

Ignition

Analogue CDI (Capacitive Discharge Ign.)
Spark Plug
NGK, JR9B
Starting
Electric

Max Power

74 kW / 100 hp @ 7500 rpm

Max Torque

99 Nm / 10.1 kgf-m / 73 ft-lb @ 4750 rpm
Clutch
Wet, multiple discs, cable operated

Transmission

5 Speed
Final Drive
Shaft

Front Suspension

43 mm Telescopic forks

Rear Suspension

Full floater monoshock, 5-way preload 20-way compression and 4-way rebound damping.

Front Brakes

2 x 310 mm Discs, 4 piston calipers

Rear Brakes

Single 296 mm disc, 2 piston caliper

Front Tyre

110/80 - V18

Rear Tyre

160/70 - V17

Rake

32°

Trail

156 mm / 6.1 in
Dimensions
Length 2220 mm / 87.4 in
Width 805 mm / 31.7 in
Height 1155 mm / 45.5 in

Dry Weight

259 kg / 570.9 lbs
Wet weight
280 kg / 617.2 lbs

Fuel Capacity

22 Litres / 5.5 US gal / 4.8 Imp gal

Standing ¼ Mile

11.5 sec / 190 km/h / 118 mph
GSX1100G, a heavyweight roadster introduced with retro styling was introduced in April 1991. As for the earlier Suzuki models, "G" after the model name tells that GSX1100G was shaft driven. GSX1100GM was fitted with the GSX-R1100 Slingshot engine, with 5-speed gearbox, 18-inch front and 17-inch rear 6-spoke alloy wheels, with drilled disc (twinat front and single rear), hydraulic clutch, chromed round headlight, 4 into 2 exhausts and twin instruments. Colors: grey, black, blue, maroon.

GSX1100G was a naked bike and Suzuki labeled the machine as "sport oriented" but supplied several accessory options, such as windshields, fairings, and saddle bags Power was 98.1 bhp at 7500 rpm with torque of 99 Nm (73.2 lb-fts) at 4750rpm. Wet weight was 280 kg (617 lbs).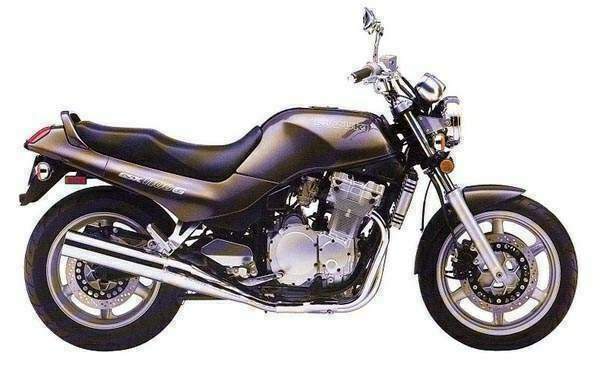 Review
FIRST A FEW WARM-UP exercises: go into your local brass, stained-glass and ass pub, sit on a nice, padded bar stool and grasp, with both hands 18 inches apart, the thick brass rail around the bar. What are you? Yes, that's right, you're in a comfy GSX1100G riding position. Award yourself a Goblin Teasmaid.
Now, stay sat there, put your helmet on and grab a bungee. Stretch it from the bottom lip of your visor over your head, down your back and hook it onto your jeans so that your head is almost being ripped off. Then get three mates to try to pull you backwards off your stool. Hold on tight, screw up your eyes, open your mouth as wide as it will go, and say ARGHHHHHHH!!! Voila: agonising GSX1100G riding position when accelerating hard at 100mph. Award yourself a thick and thin slice Russell Hobbs toaster.
Now try explaining your behaviour to the landlord. It'll be about as easy as trying to explain the GSX1100G. I've been riding it for two weeks and I must admit I'm knackered. Knackered because it has a bitchin', 150mph GSX-R100-style engine but also the wind-cheating ability of Cyril Smith towing a Swift caravan. Knackered because the G is over 701bs heavier than a ZZ-R1100 and steers slower than the Amoco Cadiz. In fact, 100 mph, shoulder-dislocating, neck bent double, ARGHHHHHHH!-worth of knackered.
But what excellent entertainment.
Following hard on the Cuban heels of Kawasaki's Zephyrs (quote from Suzuki brochure: "Wanting a standard motorcycle that looks just right shouldn't mean having to put up with old technology like dual shocks, air-cooling and chain drive" — what a giveaway), the G reminds that there can be more to biking good times than cosetted fairings and clip-ons. And, drab VX800 looks aside, Suzuki have chosen to do it with the subtlety of a randy Glaswegian.
The engine is absolutely where the GSX G is at. Metal and lots of it, in your face, in their face, in everybody's face. Mush. It engenders a hewn-from-solid machismo that only a bare smattering of bikes such as the CBX, Z1300 and V-Max have ever had. And the way it delivers, in that chassis, with that riding position, utterly defies its 100bhp spec sheet anonymity.
A couple of major changes set it apart from the long-known and loved fire-breathing monster that has turned many a GSX-R1100 owner prematurely grey. Shaft-drive on the outside, a subtle but extensive torque-fattening re-work on the inside: 36-mil smoothbore carbs (instead of the latest R's 40s), reworked cam-timing driven by hy-vo chain, an added gear-driven balancer shaft and lowered overall ratios. The effect is to shove all the party happenings to earlier in the day, calm them down, smooth them out and mellow it from its rev-hungry, blitzkrieg brother.
This bike is smooth. Everything: the wide, comfortable seat, riding position and surplus of shimmering chrome is polished-smooth even before you prod the starter. And when you do the sensation is compounded. There's no conflict. The beast awakens gently, serenely, cleanly. You're still aware that something massively violent lurks within. But for the moment it's tame, gentle, domesticated. Both the light yet sensitive hydraulic clutch and the neat snick into first gear are immaculate. The carburation, tugging easily, smoothly, impressively from under 2000rpm in any gear, is spot on. The shaft unnoticeable. The GSX-G is the perfect hangover machine.
But it's still an awwwww-some GSX-R at heart. What else could it be when, one minute you can be poncing around town, bolt upright, bum snuggled deeply into the plush saddle, engine whistling sweetly, effortlessly, and you enjoying the smug vista that enables you to see, comfortably, that that's a police car three vehicles in front in the traffic queue, and the next minute threaten to wreak hurricane, pestilence and plague all around; lay waste everything; anihilate, accelerate and decimate with a simple roll of the throttle?
Just 100-horse the 'G' may be, but the racing, progressive way this thing accelerates from a dawdling 3000rpm cleanly up to 7500, allied with that pearl of a gearbox is utterly boggling. Give it cramp-ons and it would climb up walls.
But using that engine hard, repeatedly, rather than simply lazily lolling around in top gear all day long, is where Suzuki's 'Classic Form, Modern Function' concept begins to go awry. Easy torque and silky-smoothness is one thing. But other engine by-products such as an indicated 150mph at the redline in fifth and immense roll-on acceleration between 80 and 100 are infinitely more perilous temptations when they live in this kind of chassis. With a 750 Zephyr, small and sweet by comparison, and unlikely to ever best 110, there is no problem, no temptation, no little devil on your shoulder egging you on much beyond its handling capabilities. With the G there is. And he's a big, mean, evil bugger.
Suzuki has confronted the expected problems of this sit-up-and-beg GSX-R head on. With straight-line stability as the most likely loser they've given the G a full 62 inches of wheelbase, an 18-inch front wheel (heightened further by wearing high profile but grippy Metzeler rubber) and stonkingly-raked and braced 43mm forks. I haven't seen such a kicked-out front end since the Kent Custom Show. This thing has 32 degrees of rake and a full 156mm of trail! Compare that to the GSX- Rll (25.5°/91mm), VFR750 (26/100mm) or even a KR-1S (24/90mm). That makes even a V-Max (29/119mm) seem like the sprightly, flickable little thing it most certainly isn't.
That this sort of overkill achieves its goal goes without saying. Stick it at 80 on the M6 and the G's so massively stable, so gentle, so comfortable, so pleasing that all you need worry about is that crisp, clear view in the mirrors and how many flies you'll have to scrape off the excellent headlight come tea time. But the trade-off in terms of trying to tiller the darn thing around that favourite roundabout, is, like everything else on the G, massive.
Precise, exact, flickable it's not even close to. Last minute wiggles past cars don't bear thinking about. Lining up that perfect line through a corner is a long-drawn-out and occasionally un-nerving prospect. The leverage through the wide bars, well-sorted rear suspension, sufficient ground clearance and grippy front tyre help. The slightly over-soft, non-adjustable front teles, pegs positioned slightly too-far forward, brakes which provide plenty of feel but need a long, hard haul and the sheer inertia of a massively powerful, slightly top-heavy 575lb motorcycle don't.
Pushed, the G is always hard work, often exhilarating because of it, and, sometimes, and most especially in the wet, can be absolutely terrifying. The conceivable idea of a biking rookie jumping onto the G fresh from a 125 is horrific. In the wrong hands, at the wrong moment, this is one of the most 'difficult' bikes around.
I've got more callouses and blisters on my hands now than after a month of mad Sundays racing. After attacking the same corner over and over again for the benefit of the camera, I was more exhausted than I thought possible. And after repeated 35-miles blasts to work and back, day after day, my neck aches, my jacket's plastered with flies and I've got the grip of a Scotsman on his wallet.
Conceptually, I realise that's not what the G is supposed to be for. It's for people who want big engines but only use half of what they're capable of. But this is GSX power and I defy anyone to resist using it, and using it all. The G, with its chrome and cosyness, is trying to be sedate. But its engine tempts you to be anything BUT sedate. On a Harley you can potter, cruise and throb. On the G you can't resist the temptation to blast, squirt and annihilate. And when you do you can get into all sorts of trouble. It's difficult (mentally) to ride slowly. But it's also damn difficult (physically) to ride fast. That's the dilemma and the drug.
The GSX-G has got the aura of a stomp strect bike but, comfort for both rider and pillion apart, misses the mark on too many points. Switchgcar and instruments (overly-pessimistic fuel gauge aside) are crisp, beautiful and functional. But the steering lock is too limited, the seat, for anyone under six foot, is too high and it's a veritable pain to get onto its main stand. Is that the sort of' classic form' you want?
The riding position, though blissful at 60mph isn't quite right either. It's more upright that a Zephyr. The bars are higher so you get more windblast. The pegs are further forward so you can't take as much weight on your feet. And overall it's a much, much bigger, much more daunting prospect in every respect. It's awesome and it remains awesome to everyone, those you pass, those you squash.
Personally, the looks grew on me although I still prefer the alternate VX colours of black, blue or maroon. It's nicely thought out, detailed and well-finished. But when you think about this bike, please think about it seriously. Forget the chrome and remember what it's lacking. Remember what an FZR thou chassis can do, what an FJ12 fairing can do and what GSX-R brakes and suspension can do. The GSX1100G arrogantly casts aside all that excellence and marries GSX-R performance with upright bars, no fairing, dreary styling and steering characteristics which have come out of the Ark.
Naturally, if you put it up against those standards, the G confuses. Nor is it simply an 1100 Zephyr. But if you accept it simply as a plain, back to basics heavyweight, appreciate full well its limitations, price and quite delicious powertrain and you may be exhilarated, possibly occasionally terrified, but you won't be disappointed.
Source Bike Magazine 1992