Suzuki GS 750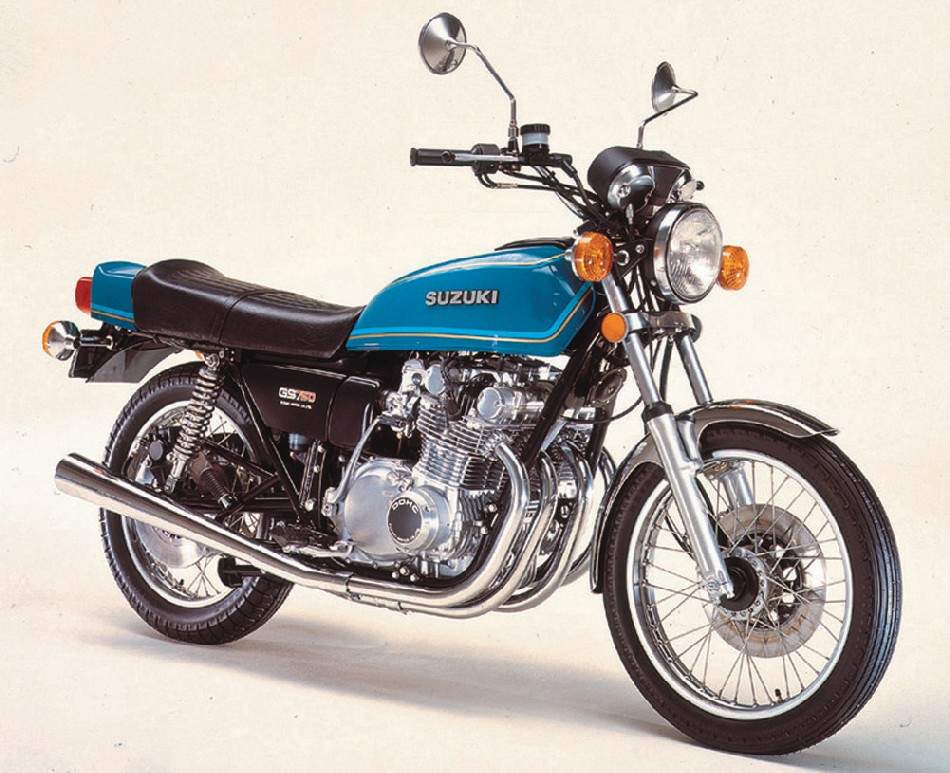 Make Model.

Suzuki GS 750

Year

1976-78

Engine

Four stroke, transverse four cylinders, DOHC, 2 valve per cylinder.

Capacity

748 cc / 45.6 cu in

Bore x Stroke

65 x 56.4 mm
Cooling System
Air cooled

Compression Ratio

8.7:1
Lubrication
Wet sump

Induction

4 x Mikuni VM26SS carburators

Ignition

Battery, coil

Battery

12V 14AH/10 hr.

Generator
3 ph AC
Spark plug type
NGK B8ES
Starting
Electric & kick

Max Power

47 kW / 63 hp @ 8500 rpm

Max Torque

60 Nm / 6.1 kgf-m / 44.2 lb/ft @ 8250 rpm
Clutch

Wet multi-plate

Transmission

5 Speed
Final Drive
Chain, 630SO 96 link, O-ring .81/2 in. free-play

Primary reduction

2.152 (99/46)

Final reduction

2.733 (41/15)

Gear Ratio

1st 2.571 (36/14) / 2nd 1.777 (32/18) / 3rd 1.380(29/21) / 4th 1.125 (27/24) / 5th 0.961 (25/26)

Front Suspension

35mm Kayaba with anti dive adjustable air pressure.

Rear Suspension

Dual shocks adjustable preload and spring rebound damping.

Front Brakes

Single 292 mm disc, 1 piston caliper

Rear Brakes

Single 292 mm disc ,1 piston caliper

Front Tyre

3.25 H19

Rear Tyre

4.00 H18
Steering Angle
40°
Caster
63°
Trail
107 mm / 4.21 in
Turning radius
2.5 m / 8.5 ft
Dimensions
Length 2225 mm / 87.6 in
Width 870 mm / 34.3 in
Height 1170 mm / 46.1in

Wheelbase

1490 mm / 58.7 in

Ground clearance

150 mm / 5.9 in

Dry Weight

223 kg / 492 lbs.

Fuel Capacity

18 Litres / 4.8 US gal / 4.0 Imp gal
Reserve
2 Litres / 0.5 US gal / 0.44 Imp gal

Consumption Average

6.4 L/100 km / 15.6 km/l / 36.7 US mpg / 44.1 Imp mpg

Standing ¼ Mile

12.8 sec

Top Speed

180 km/h / 112 mph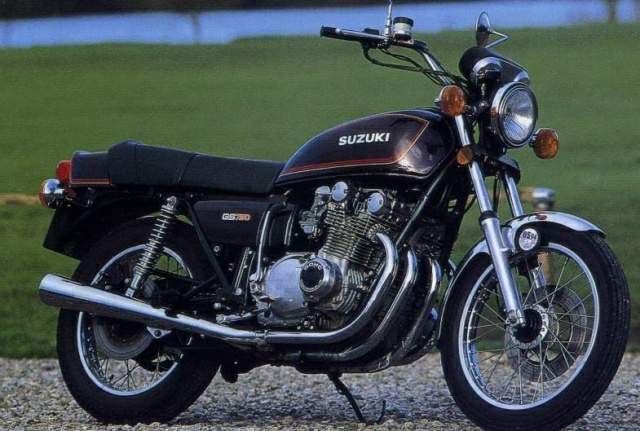 Presented in October 1976, GS750 was the the first four-stroke engined Suzuki motorcycle after 22 years of only 2-stroke engines from Suzuki. The Colleda 90cc COX was the first, but the model was discontinued soon after its release in 1954 and after that Suzuki concentrated in deleveloping great two-stroke machines.

Although Suzuki had earlier been known as the home of two-strokes and for years let other manufacturors go ahead with their complicated and not-always-that-reliable four-strokes. Honda presented its CB750 already in the late sixties being a emmidiate success. Suzuki's answer, in form of the great new two-strokes in the T and later in the GT family were great bikes in the early seventies but were soon hopefully out-of-date. When even the RE5 with rotary engine turned out to be unsuccesful, it was time for Suzuki to think again. New harder emission regulations were arriving in the USA (California) killing the eventual plans of making even more powerful two-stroke machines. No, Suzuki had to swallow its pride and go with the flow. The name of the game was four-stroke.

Three four'strokes were introduced in the late '76: GS750, GS550 and GS400. All three of them had similar appearance and specification other than the GS400 had a cross-mount inline twin, six-speed gearbox and drum rear brake. The 550cc and 750cc versions had five speeds and disc brakes front and rear. All GS models had two valves per cylinder, double overhead camshafts, tubular double craddle frame, telescopic front and pivoted-fork rear suspension, fuel gauge, gear indicator and electric starter.

Suzuki Motor Company started the engineering of the four-stroke engine already in 1972 (some sources say 1973) and enormous sums of money was spent in designing a reliable and powerful engines. Today we know that the efforts paid off, the GS line had great engines that were durable and also beautiful.

At first the GS750 had a single disc brake at the front and steel wire wheels, but already in January 1977 the the model had double disc at the front. From the beginning the model had 5-speed gearbox, electric starter and 12V electric system with conventional battery and coil ignition (the CDI ignition wasn't introduced until to the GS750 until with the 16 valve models a couple of years later). The front suspension was conventional coil and oil-damped telescopic front fork, the rear suspension also conventional oil-damped swingarm with self-adjusting rear suspension. The swing arm had roller bearings instead of the bushings like in most other motorcycles, for durability.

The GSX750 engine with 65,0 mm bore and 56,4 mm stroke delivered 63—72 hp, depending on the export country. Even the restricted versions (for West-Germany etc.) were powerful enough to give the GS750 a top speed of 200 km/h, making the GS750 faster than any other Japanese motorcycle in 1976.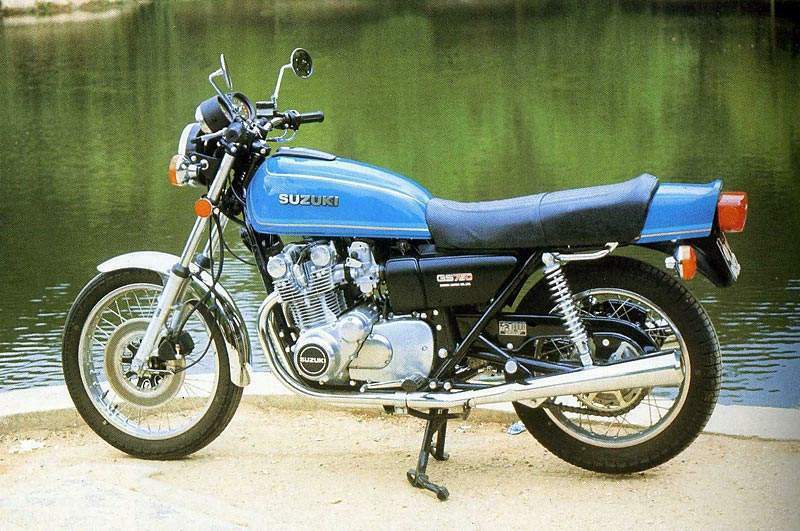 One moment the sun was shining, the next the sky had turned black and my promise to return the GS750 in the condition I'd borrowed it was looking very rash. With less than a mile (1.6 km) to go the heavens opened, instantly soaking both the Suzuki and me—and bringing the memories flooding back. Suddenly it was 1977, and I was riding a friend's nearly new blue GS, for the first time, through a similar downpour.
At the time, the GS wasn't just by far the best bike I'd ever ridden, it was arguably the most competent superbike on the roads. And boy, was it fast! (Especially to someone whose own bike was an old Triumph twin.) I can still vividly remember crouching forward into the rain, with my-feet on the pillion pegs, and glancing down to see the speedo needle reading an incredible 125 mph (200 km/h)—about 25 mph (40 km/h) faster than I'd ever been before in my life.
To say that I was impressed with the GS750 that day was an understatement, and I was by no means the only rider to be overwhelmed by the four-cylinder Suzuki's brilliant blend of power, handling, and all-around ability. The concept of a light-heavyweight four was by no means new in those days, of course. Honda's CB750 had been around for eight years, and in 1977 Kawasaki's reputation for big fours, forged by the Z1 and its descendants, had just been enhanced by the arrival of the Z650.
In contrast, the GS was the first big four-stroke from Suzuki. In typical Japanese style, what Suzuki's engineers had done was study the opposition's products, draw up a very similar design containing some clever refinements of their own—and produce a machine that was in many ways the best big four of the lot.
The twin-cam, eight-valve motor they came up with was very similar to that of Kawasaki's Z1/Z900, even sharing the Kawa's valve sizes and 66 mm bore, with a reduced 56.4 mm stroke giving a capacity of 748cc. Its only real innovation was an automatic cam-chain tensioner that, like the rest of the motor, would prove com-mendably reliable. Breathing in through a bank of 26 mm Mikuni carbs and out through a suitably restrained twin-pipe exhaust system, the GS unit produced a class-leading 68 BHP at 8500 RPM. In a similar vein, there was nothing unusual about the Suzuki's chassis, with its familiar format of twin-downtube steel frame, simple forks, and preload-adjustable twin shocks. Like the engine, though, the GS chassis had been thoughtfully designed, with a well-braced steering head area, plus needle-roller bearings for the swingarm. And although the GS didn't turn many heads with its styling, it was pleasant in an understated way.
I'd ridden a GS only once since that memorable first blast, but the Suzuki's typical layout, with a fairly upright riding position and tall, wide dual-seat, made me feel instantly at home. (European market bikes had flatter handlebars than this US-spec machine.) So did the air-cooled engine's anonymous blend of mechanical rustle and muted exhaust note, after I'd pulled out the steering-head-mounted choke knob and hit the starter button.
An excess of character was never something the GS was accused of possessing, but few owners complained about that. The Suzuki couldn't quite match the pace of Kawasaki's Z1000, but it was quicker than Honda's CB750 and Yamaha's XS750. This bike's motor felt nowhere near as potent as it must have when the GS was new, but the air-cooled four's broad spread of power and slick five-speed gearbox still impressed. The Suzuki pulled cleanly from as low as 30 mph (50 km/h) in top gear, its generous midrange torque making for effortless overtaking.
And when the old bike was revved a bit harder, it responded with fondly remembered enthusiasm, kicking slightly at about 6000 RPM and surging toward the nine-grand red-line. Genuine top speed was a touch over 120 mph (195 km/h), but more importantly, the Suzuki cruised effortlessly at 90 mph (145 km/h). Although there was a typical and slight four-cylinder tingle at most engine speeds, the motor remained basically smooth however hard it was worked. In Seventies style, this was a sporty machine that was versatile enough to excel at commuting and touring, too.
Handling was regarded as one of the GS750's main attributes back in 1977, but I hadn't expected this bike to feel as good as it did all these years later. Although it was a fairly big and heavy machine, with a long, 1500 mm (59 in) wheelbase, typically old-fashioned chassis geometry, and a 19-inch front wheel, the GS seemed, to shed much of its weight on the move. Steering was inevitably ponderous by modern standards, but given enough effort the Suzuki could be tipped into corners with satisfying speed, and it felt reassuringly neutral once into a bend.
The GS's suspension, regarded as excellent in its day, felt slightly vague and crude at times. But it gave a comfortable ride, and for reasonably gentle use the Suzuki was fine, wallowing slightly only when asked to perform high-speed cornering feats for which even some modern retro-bikes would have been ill suited.
My only real chassis-related complaint concerned the brake system, which consisted of a single 292 mm (11.5 in) disc at each end. The front lacked power, needing a viselike grip on the lever for serious stopping. And the rear system, like many others of the time, was too sharp, locking up the wheel unless great care was taken with the right boot. A second front disc was added, along with cast wheels, in 1979.
Apart from that and some fresh color schemes, the model was unchanged—simply because no major modifications were required. The GS lasted three years (before being replaced by the faster but ill-handling 16-valve GSX750), and represented the start of great things for Suzuki. Those four-stroke engineers certainly got it right the first time with the GS750.
From SuperBike, 1977
"Proper snake in the grass, that's the new Suzuki. It's sneaked up from behind, from a lair of softy strokers, to zap the opposition with such venom that they'll never be the same again. Using the technology pioneered by others, Suzuki have improved and refined, and quietly outclassed them all.
Not that you'd ever expect Suzuki's first four-stroke to be such an exciting bike. The GS750 looks, sounds and has the character of an especially well sorted vacuum cleaner. It's well mannered and unostentatious to the point of being a bit dull: the complete committee-designed consumer appliance.
Then you let the revs stray towards the upper reaches and suddenly the Suzuki transforms into a real superbike. What's more, the performance of frame, suspension and brakes are a match for this unexpected and extravagant metamorphosis. The GS has equally unexpected if less generous reserves of high-speed capability. It's an all-round speedster with few peers."
Source Superbike of the seventies