Norton Atlas 750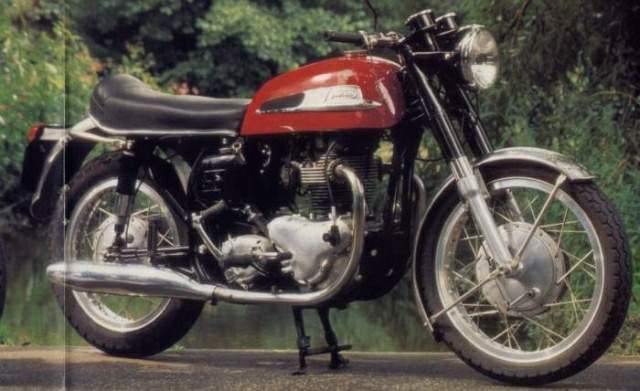 Make Model

Norton Atlas 750

Year

1962-68

Engine

Four

stroke,

parallel

twin

cylinder,

push

rod,

2

valves

per

cylinder.

Capacity

745 cc / 45.5 cu in

Bore x Stroke

73 x 89 mm

Compression Ratio

8.9:1

Co

oling System
Air cooled

Induction

2 x Ø30mm Amal concentric carburetors

Ignition

Lucas big-capacitor electric system

Starting

Kick

Max Power

43.3 kW / 58 hp @ 6800 rpm

Transmission

4 Speed

Final Drive

Chain

Front Suspension

Telescopic forks

Rear Suspension

Dual shocks, 5-way adjustable

Front Brakes

Ø203 mm Drum

Rear Brakes

Ø178 mm Drum

Front Tyre

3.25-19

Rear Tyre

4.25-18

Fuel Capacity

13.5 L / 3.6 US gal
Road Test
Throw a leg over either one of these big Nortons and you'll know right quick you've got yourself a very authorative riding iron. That is, when and if she fires up, there's just about no production bike made that will beat you to wherever you choose to go, be it the end of the block or the end of the continent. And all the time you're whistling in that direction, you can think about (if just holding on doesn't give you enough to think about) the sixty or so years of high and glorious motorcycle achievement borne by that much-traded but not overly tarnished marque Norton.
And if thinking about tradition isn't meaty enough, you've got a substantial bit of it hanging out there under your gas tank in full public view. Where else today can you find a motorcycle with all those exposed nuts and bolts and pipes and rods and wires and cables and clamps and tubes and enclosures and tanks and electrical devices—all sort of crammed in between the front down tubes and rear wheel? A classic that's still in production, with a classic indifference to modern tidiness, a classic respect for bhp, and a classic mastery of that timeless virtue—roadholding.
You won't buy a Norton Atlas for surprises; the blessings and less of this fabled charger are well-catalogued in the literature and in the countless utterances mouthed in the back rooms of motorcycle shops. If it's novelty you're after, try today's companion piece, the P-11 Scrambler, built with a brand-new Metisse-type frame and lots of other bits that have been around awhile, lashed together into a complicated but quite workable package. Nineteen sixty-seven is the year of sale. You should be a little taller and a little stronger—and maybe have a little bit more confidence and a little bit more patience—than your everyday buzz-bomb rider, but then you will find a very satisfying ride in either of these hefty 750s.
The Atlas and P-11 have much in common, like the engine, gearbox, electrics and instrumentation, but there are minor differences even in these. On our two test bikes, for example, the Atlas was fitted with standard Amal mono-bloc 30mm carburetors, while the P-11 featured the new Amal concentric-floatbowl variety. And the P-11 had that clever new Lucas big-capacitor electric system, which , we were told, will soon find its way onto production Atlases too.
The engine is the same one that began its life years ago as a five-hundred, was stroked to 600, bored to 650, and stroked again to 750. For years everybody has been saying of the Norton twin, "That's really only a 500 carrying oversize pots and carburetors." Well, you might make something out of that, for once there was a rash of lower-end failures. But in fact the Norton lower-end is now very substantial, and now there's a double-volume oil pump to fix the real source of trouble. The cases are solid enough, the bearings big enough, the materials strong enough, to take all fifty thumping horses those 750cc deliver.
Engine layout is conventionally British: with a 360-degree crank, cylinders parallel, pistons moving up and down together, but firing alternately. Gears drive the single camshaft, which in turn drives its followers and pushrods to the rocker arms and valves. At the left (drive) end of the crank is mounted the 12 volt alternator and a sprocket which carries the chain primary drive to the clutch housing on the gearbox. On the right end is the timing gear, oil pump, and tachometer drive.
Unlike most modern bikes, the Norton big twins don't have the engine and gearbox combined in a single unit. Instead the compact (though heavy) four-speed gearbox sits aft of the power-plant, bolted in place to a substructure of mounting plates. The gears in this well-developed package are robust and gearchanging is quick and smooth. The clutch, too,' is more than strong enough to handle the power driven through it. Probably not because this is the last of the old-time separate gearboxes, but because it is a very good one, this unit is invariably adapted by specials builders for street and competition. It has even found its way into automobile layouts.
In discussing the electrics, we shall concentrate on the P-11, since its arrangement is destined for the Atlas as well. Our test Atlas had the older Lucas magneto-and coil ignition system, which you can quite simply convert to the new system with some rewiring and adding the capacitor. The scrambler has the same alternator and a battery, though now the latter can be removed in the interests of weight reduction. A big capacitor, wired in parallel to the battery, acts instantaneously like a battery itself by storing charge. When the breaker points open, it dumps the charge as current through the primary windings of the HT coil. Result: a very hot, uniform spark, virtually independent of engine rpm, and considerably less sensitive to precise coordination with the alternator output pulses.
In practice this means you get much easier starting, your machine will run even if the battery goes dead, and because the capacitor smooths out voltage ripple from the alternator, the electrical components in the system will last longer. Altogether very useful. Of our two test bikes, the P-11 was by far the easier to get started.
Instrumentation on both bikes is the usual set-up on British big twins: a Smith's speedometer-odometer and a separate mechanical tachometer, an ammeter, and a high-beam indicator. Headlight and tailight are 12-volt Lucas units that put out plenty of light. On the P-11, lighting is quickly detachable, and the large Atlas-type tail-light will be replaced by one smaller and more stylish.
Despite many features in common, the big Norton 750s are really quite different beasts. The Atlas is an all-out road bike, made for high-speed touring or just dashing about wildly on those winding, back-country roads. The miracle of the Atlas is its celebrated "featherbed" frame, a frame that has served as a model and point of departure for frame designers for over 30 years. What makes this frame work so beautifully is still something of a mystery, but in combination with Norton's roadholder forks, it provides about the best handling available from a motorcycle today.
That big, harsh, torquey 750 engine, when laced into the featherbed, becomes as civilized as it ever will. As far as the rider is concerned, its jarring vibrations disappear, but not its tigerish acceleration. The featherbed frame, a double-loop that on inspection holds no surprises, was once considered a model for lightness. Today it's about average weight, but it does what it's meant for. Riding the Atlas is an experience that cannot be understood short of the deed itself. You can whistle along at tremendous speeds over the most primitive road surfaces and around the most treacherous corners without the slightest twinge of anxiety. At very slow speeds, there is a trace of over-steer, a feeling that those front forks want to pick their own line. But on the open road you can drive as hard as your courage will allow and feel confident that this bike will not only draw out the best of your talents, but cover most of your mistakes.
Norton's roadholder forks were the first to really embody the "combination" for good tracking. Damping, spring rates, rake, trail, and travel—all blend uniquely ad effectively. These forks are often adapted to other motorcycles, where they usually work well, but they are best with the Norton frame. The front brake is a large-diameter, full-width stopper well-suited to Atlas performance. Like the rear unit, it is actuated by a single cam, but again the combination of size, designing and materials is right for the job.
When, some years back, Norton decided to use their 750cc powerplant in a scrmbler, they had to look for a new frame. Besides being too heavy, the "featherbed" just wasn't meant for the dirt. So Norton elected to bolt their engine in the Matchless scrambler frame, originally built for the Matchless 500cc single. This worked out reasonably well, providing a bike for the dirt-bangers with plenty of power at the rear wheel. But the combination was almost overpowered, and it was heavy and bit unweildy. Also, the Berliner Motor Corp., U.S. distributors for Norton and Matchless, found that many American riders were taking off the knobbies and fitting street tires in an attempt to realize an on-the-road/off-the road bike.
Ruminating on this phenomenon brought the idea of the P-11, a lighter-still scrambler with street potential. Or, a street-bike that will go like blazes in the dirt. It's major difference is the frame, a structure that resembles in a way the "Metisse" frames created in recent years by Britain's Rickman brothers. Wedded to Matchless forks and other running gear, it produces a ride quite unlike any scrambler we had ridden before, but it was a ride that quickly became workable. Curiously, our "scram= bler" was fitted out with Dunlop K-70 street tires, and undoubtedly most of the units sold will ride out their lives on pavement.
The P-11 is a very impressive machine to look at, with its high-swept exhaust pipes, wide-reinforced handlebars and all that. It differs from the older Norton scrambler (still available) mainly in its new frame, its concentric Amals, its high pipes and its funny turned-down Matchless brake drums. Cursory inspection indicates that both models use the same forged steering head and bolt-on bashplate. Future P-11 s, we were told, will have aluminum hub covers, a chain guard, and different color options on tanks and panels, and possibly a dual seat.
So how does it go? Well, it's geared a bit higher than the Atlas and in fine tune on pavement it goes like lightning (so to speak). A very tall bike, it will lean into turns at staggering angles, pull up short and manouver about like a bike half it's size. If no one had told us it was a scrambler, we would swear it was an all-out street bike with a drag-strip in its future. And unlike our test Atlas, it was fitted with a dual fuel-tap arrangement that lets through enough gas for those hungry 30mm carburetors. Stock gearing is nearly perfect for the road, and the engine will just pull its 6500 maximum in top gear. That, friends, is 113 mph.
The dirt offered altogether different problems to this torquey "scrambler." Using the K-70s, we found that (much like the older scrambler) the P-11 must be steered with the throttle. You twist on the wick until you've spun into the line you're looking for. The rear end under power tended to twitch back and forth like a turned on tadpole—not that you'd lose it: stability even over jumps was very good. The front end wouldn't hold well in the dirt, but this could probably be cured with knobbies. Fork rake looks ideal for fast cross-country scrambling. And the seat and bars, awkWard at speed on pavement, are just right in the dirt, allowing for quick peg-standing and weight shifting. Ground clearance is good and the bike's weight—well, it's still too heavy for all but a very robust or very experienced rider. Braking is not quite adequate on pavement and too powerful (snatchy) on dirt, but we assume anyone headed for out-and-out dirt competition would do a substantial amount of prior fiddling anyway.
As a package, the P-11 strikes us as a very perplexing bundle of contradictions. Like the Atlas it features a superb frame-and-suspension combination with a very solid engine. But like the Atlas there are minor and annoying faults that betray careless quality control at, the factory level. Castings are rough, joints ooze, tubes leak, fastenings come loose with alarming frequency. We like to think a high-performance bike should be tight as the proverbial drum. The answer for buyers, unless their models come through better done that ours, is to go over their bikes from nose to tail, fixing and finishing everything to the high professional standards these big Nortons deserve.
You might wonder why a company with a fine-handling bike like the Atlas would bother to create another fine-handling bike like the P-11. That must be the world of merchandising, and the P-11 does offer off-the-road adaptability which the featherbed frame can't negotiate. They may be a bit heavy and their packaging more than a little old-fashioned, but these fabulous Nortons will still give you rides as exhilarating as any you're likely to experience
Source Cycle