Münch Mammut 2000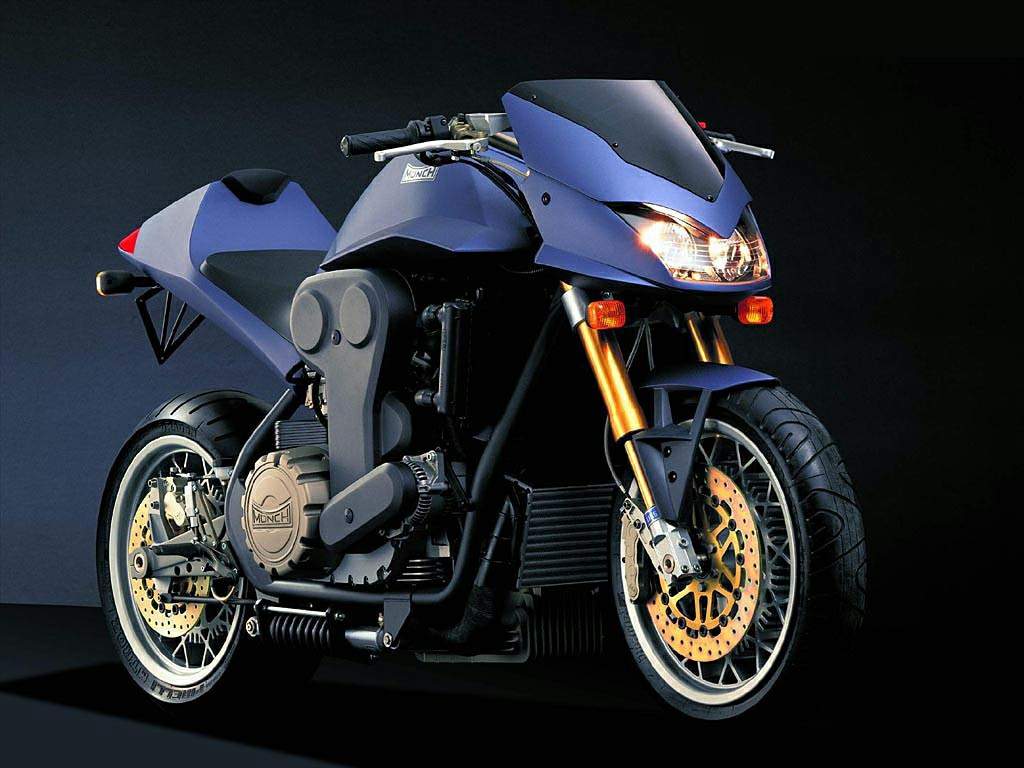 Make Model

Münch Mammut 2000

Year

2000

Engine

Cosworth Liquid cooled, four-stroke, turbocharged. transverse four cylinder, 4 Valve per cylinder.

Capacity

1998

Bore x Stroke

86 x 86 mm

Compression Ratio

9.0 : 1

Induction

Electronic fuel injection

Ignition

Electronical Münch Motor Steuerung with Lambda Sonde
Starting
Electric

Max power

260 hp 191 kW @ 5650 rpm

Max Torque

295 Nm 30.1 k

m

-

g

@ 3500 rpm

Transmission

6 Speed
Final Drive
Chain
Frame
Double cradle steel,

Front Suspension

Öhlins telescopic, Ø 43 mm, Adjustment, front spring base, rebound, compression, 120mm wheel travel

Rear Suspension

2 x WP horizontal, Adjustment, rear spring base, rebound, compression, 65mm wheel travel.

Front Brakes

2x 320mm discs 8 pistons calipers

Rear Brakes

Single 280mm disc 4 pistons caliper

Front Tyre

120/70 ZR17

Rear Tyre

200/50 ZR17
Seat Height
780 mm
Wheelbase

1540

mm

Dry Weight

354 kg

Top Speed

156 mph 250 km/h electronically limited

Fuel Capacity

26.5 Liters
Reviews
Muench-mammut-2000.com / Muench Story-
Fitted with a DOHC, 1998cc, fuel-injected inline-four, Öhlins suspension and carbonfibre fairing. With its Cosworth cylinder heads and Schwitzer turbocharger, the bike boasted of 260 horsepower, was capable of doing 250km/h, and was priced at US$80,000.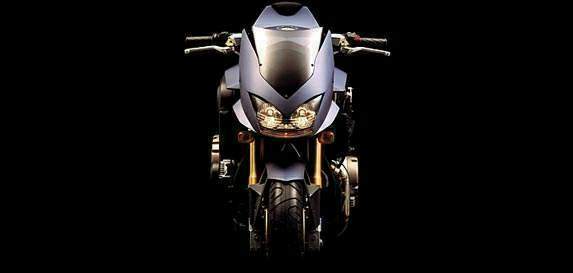 There is an old Fenland saying that goes: "The uglier you are, the more attractive you become." If this ever proves to be true, by the time the Munch Mammut is 20 years-old it'll be more stunning than a bagful of models at bedtime. For now, it has to remain a stupefyingly ugly motorbike of the worst sort.

Recently unveiled, the Y2K Mammut, for there have been many before and probably many to come, is a 260bhp behemoth, powered by a blown, two-litre engine and it weighs a massive 354kg (think two R1s or a recently-lunched Franklin).

Other technical wonders include a Cosworth-developed four-valve head, computer-aided engine management, a Schwitzer turbo running 0.9 bar of boost, carbon fibre everything, a Sense Highside Switch (whatever that may be) and an alarm. Oh, and you can access the web from it too.

The man responsible for the monster Munch is none other than 73-year-old Friedrich Munch, who appears to have devoted his life to building big piles of metal. He said:

"/ am pleased to be able to present the culmination of my life's work." The long, winter nights must just fly by...

Herr Munch began building huge machines back in 1966. His first Munch was based around a car engine and re-wrote the history books by becoming the largest, heaviest and fastest production bike ever. Then, in 1973, he built exactly the same bike, but fuel-injected it.

From 1973 to 1977 he built the Horex 1400, then the Titan 1800 in 1984.1987 saw the Titan 1600 and, in 1989, he threatened to retire after building the Titan 2000. Didn't stick to it though...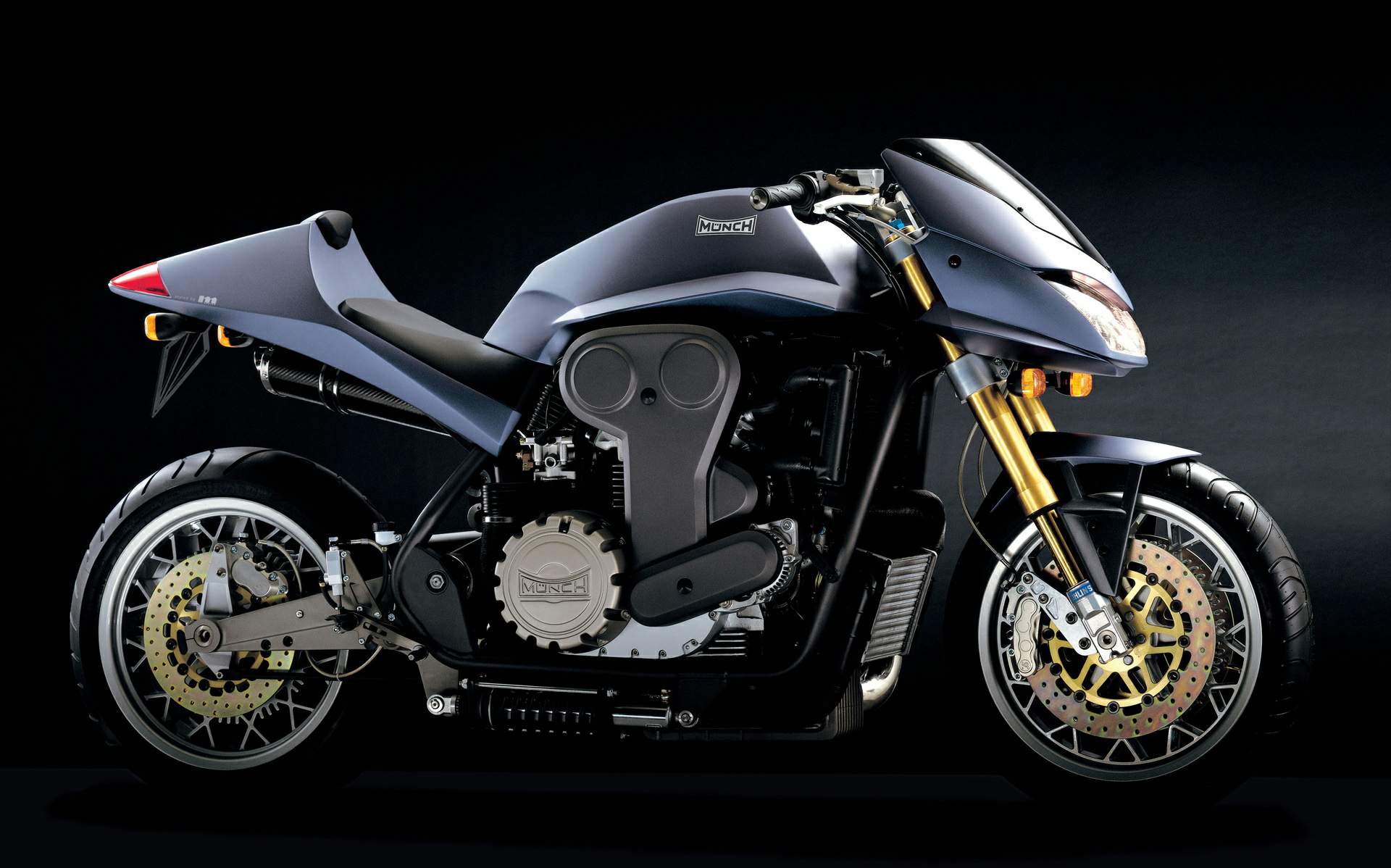 Da Münch Mammut skulle gjenoppstå var planen å produsere 250 eksemplar av den eksklusive monstersykkelen, bare 15 eksemplar ble produsert.

Münch Mammut 2000 er oppkalt etter Friedel Münchs TT/TTS1200 fra 1966. Den originale Mammuten var en imponerende motorsykkel for sin tid, og hadde en firesylindret luftkjølt NSU rekkemotor på tvers av rammen. Det var en avansert konstruksjon med ustrakt bruk av lettmetall. Motoren ble nennsomt konvertert til bruk i motorsykkel og selv om dimensjonene kunne skremme vannet


av de av de fleste, var Mammuten håndterbar.De første modellene hadde trommelbremser, men senere fikk den skivebremser rundt baut og designen ble også smekrere og de siste årene hadde sylindervolumet økt til 1300 ccm og med bensininnsprøytning var ytelsen 104 h, mens forgasserversjonen ga 100 hk.
Da Thomas Petsch startet på den moderne Mammuten knyttet han til seg unge lovende designere og valgte moderne teknikk. Motoren er en toliter fra Opel, og utstyrt med turbo gir den 260 hk og 295 Nm! Selve utviklingsarbeidet foregikk i Polen, og her ble også de fleste komponentene produsert før de ble sendt til Nürnberg hvor de ble montert hos Sachs. Planene for egen fabrikk var klar og selv om det var snakk om en svært begrenset opplag på bare 250 Mammut 2000 så Thomas Petsch for seg at det var marked for en 1000-kubikk Münch, produsert i for eksempel 1000 eksemplar årlig. Derav de ambisiøse planene om en egen fabrikk. I Würzburg hadde de allerede fått tilsagn om flere aktuelle produksjonslokaler.
Men selv om interessen for Mammut 2000 var stor, de hadde mer enn 20 millioner besøk på internettsiden og Thomas Petsch hadde investert 13 millioner Euro i prosjektet ble det avsluttet da 15 Münch Mammut 2000 var bygd. Kostnadene ble for høye, og skulle prisen, som var satt til 86.000 Euro, gjenspeile produksjonskostnadene ville ingen kjøpe Münch Mammut. Til tross for mange forhåndsbestillinger ble hele prosjektet derfor avsluttet.
Det ruller med andre ord bare 15 Münch Mammut 2000 på veiene, de vil garantert øke i pris
Source klikk.no