What better way for a bike maker renowed for the way it builds its endurance machines than to honor the riders (and drivers) which take part in what once was the world's most challenging rally? Enter the 990 Adventure Dakar, a slightly re-engineered bike made up from the Adventure and Adventure R versions.

"The Dakar will always remain the Dakar - even if it takes place in South America," says KTM. Truth be told, the bike manufacturer has won its share of titles. Most of them thanks to the riders and the engine used on the Dakar KTM entries.

The unit fitted onto the 990 Adventure Dakar is a 999cc V-75 Twin engine, which develops 115 bhp the same engine as the one used on the Adventure R. The powerplant is linked to a 6 speed transmission controlled with the help of a hydraulically operated, wet multi-disc clutch.

The brakes of the bike are being controlled with the help of a Bosch ABS, while Adventure-based suspensions with 210 mm of travel insure a smooth ride read as smooth as possible, given the fact that the bike has been built as a Dakar rally tribute.
Source HFL
Motorcycle.com review
They say: "To the end of the world."
We say: "And the ends of the earth!"
KTM 990 Adventure Dakar Edition Jpg
A foldaway knob below the seat makes dialing-in spring preload on the linkageless WP-PDS s

KTM has taken a narrow view of broadband adventure travel—just what you'd expect from a factory with 11 Dakar Rally wins. This 75-degree LC8 V-twin is more civilized than the one that earned win number two a decade ago under the late Fabrizio Meoni, or the original 2003 950 Adventure. It's not particularly kind or gentle, but that's a good thing since a lot of this third rock from the sun isn't, either.

After bumping that first 942cc motor to 999cc in '06, KTM coined this one in '09 to commemorate the 30th anniversary of Thierry Sabine's inaugural North African epic: a fusion of the standard Adventure and the more off-road oriented Adventure R. Its velour-upholstered seat is a bit closer to ground level, and orange powder-coated crash bars really do protect the bodywork from harm. It's narrow in all the right places, and most of its 527 lbs.—42 fewer than a BMW R1200GS—are strategically situated to make the Dakar feel at least 50 lbs. lighter than it is.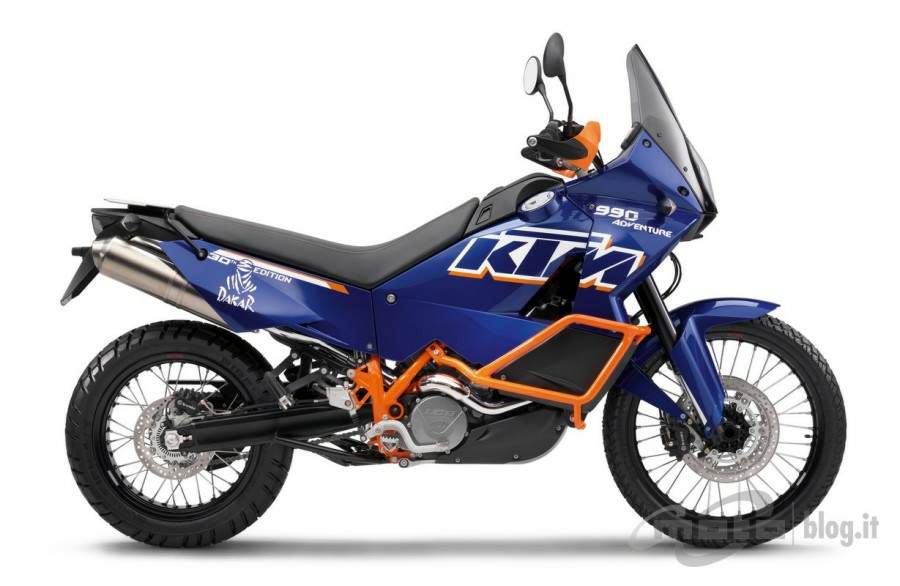 A thumb on the starter button cues enough bark from those underseat mufflers to keep things interesting. Easing onto the freeway, the skinny seat and matching windscreen define roomy-but-austere accommodations. Split between its two tanks, 5.3 gallons of unleaded could take you 240 miles non-stop.

Despite its incongruous appearance, the 990's light steering, unflappable chassis and acres of cornering clearance let it make short work of twisty detours. Standard Pirelli universals squirm under heavy cornering loads, but still stick better than most. Brakes have plenty of feel and sufficient power for the street without delivering too much in the dirt. Bosch/Brembo ABS steps in when you need it, and can be switched off when you don't.

The LC8 loves to spin. It lays down about 95 rear-wheel Lipizzaners at 8750 rpm via an excellent six-speed tranny and a tough, communicative clutch. Other big Adventures are as good or better elsewhere, but add a suitable set of knobbies and this one makes them all disappear once the pavement does. Rapid progress requires a disciplined throttle hand. The superb WP fork and shock swallow things that would swallow less capably suspended machines whole. Given the right signals through bars and pegs, the long, tall chassis is at least as accurate off-road as on. Beyond that, everything works and nothing gets in your way. So? If the question is what's the best ride for conducting serious business in obscure corners of Planet Earth's 57.5 million square miles of terra firma, the answer starts with KTM. MC
Source Motorcycle.com