Kawasaki ZX-7R Ninja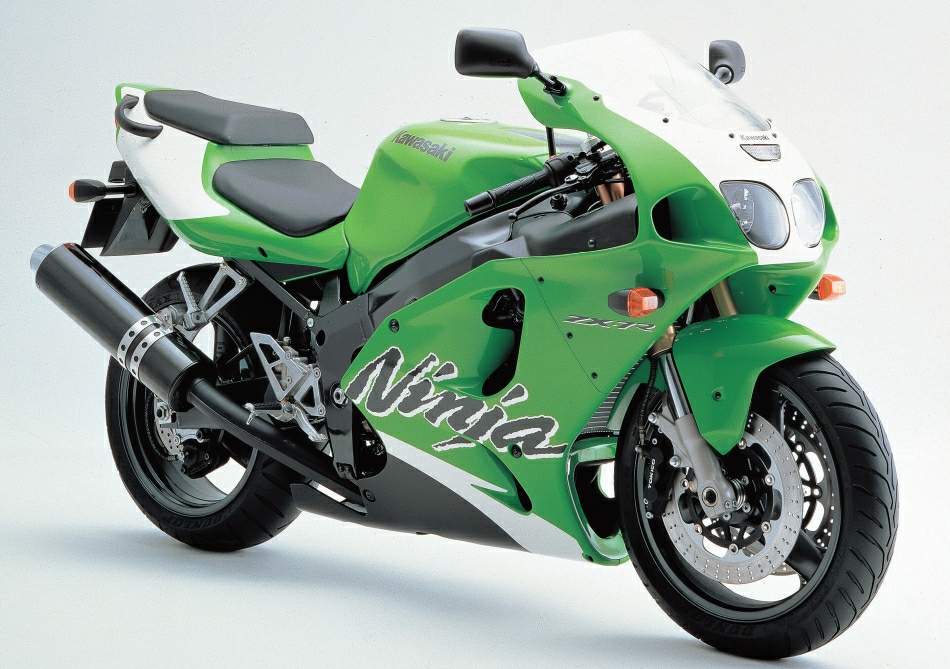 | | |
| --- | --- |
| Make Model | Kawasaki ZX-7R Ninja |
| Year | 1998 - 99 |
| Engine | Four stroke, transverse four cylinder, DOHC, 4 valves per cylinder. |
| Capacity | 748 cc / 45.6 cu-in |
| Bore x Stroke | 73 x 44.7 mm |
| Cooling System | Liquid cooled |
| Compression Ratio | 11.5:1 |
| Induction | 4x 38mm Keihin CVKD carburetors |
| Ignition | Digital |
| Starting | Electric |
| Max Power | 111.9 hp / 83.4 kW @ 11700 rpm |
| Max Torque | 7.7 kgf-m / 55.6 lb-ft @ 9500 rpm |
| Transmission | 6 Speed |
| Final Drive | Sealed chain |
| Frame | Aluminum twin-spar |
| Front Suspension | 43mm inverted cartridge fork, adjustable preload, fully adjustable compression and rebound damping |
| Rear Suspension | Piggy-back reservoir rear shock offers adjustable compression and rebound damping, preload and ride height to match a wide range of operating conditions. |
| Front Brakes | 2x 320mm discs 6 pistons calipers |
| Rear Brakes | Single 230mm disc 2 piston caliper |
| Front Tyre | 120/70 ZR17 |
| Rear Tyre | 190/50 ZR17 |
| Rake | 25.0° |
| Trail | 99 mm / 3.7 in |
| Seat Height | 780 mm / 30.9 in |
| Dry Weight | 203.4 kg / 456.3 lbs |
| Wet Weight | 227 kg / 500 lbs |
| Fuel Capacity | 18 Litres / 4.7 US gal |
| Consumption Average | 16.2 km/lit |
| Braking 60 - 0 / 100 - 0 | 12.9 m / 37.8 m |
| Standing ¼ Mile | 10.7 sec / 207.4 km/h |
| Top Speed | 268.2 km/h / 166.6 mph |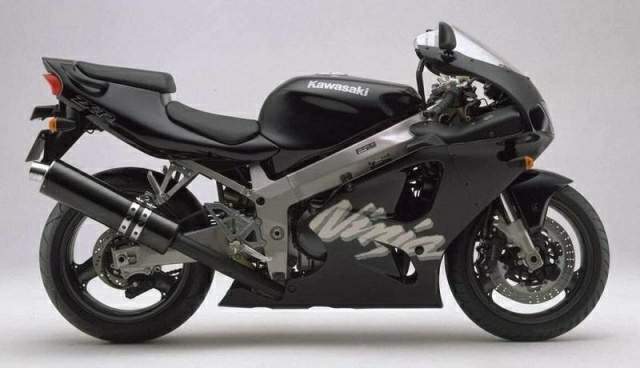 The styling of the ZX-7R is pure sportsbike. With its twin headlight race fairing, yawning ram-air intakes and hunched, aggressive poise, it looks every inch the racer. And with a high-revving, 748cc four-cylinder engine tucked inside a massively strong aluminium twin-spar frame, the spec sheet seems to back up these impressions. A fat 190-section rear tyre, fully adjustable upside-down front forks and six-piston Tokico brake calipers are nothing more than you'd expect.
But the ZX-7R is less thrilling to ride. Unchanged since its launch in 1996, the ZX-7R has fallen behind in the horsepower and weight stakes, so its 91kW (122bhp) peak power output has to propel 203kg (4481b)of sportsbike.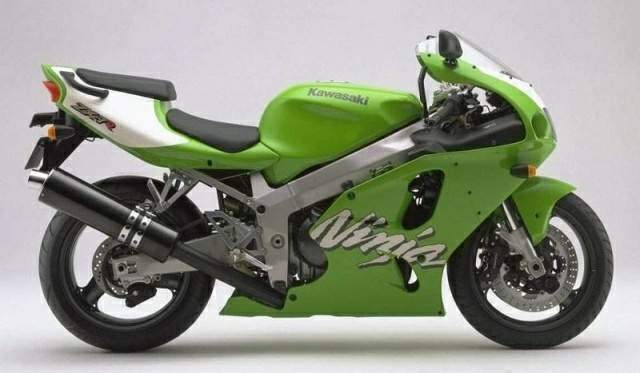 This relatively poor power-to-weight ratio makes the ZX-7R feel slower than its competitors, such as Suzuki's GSX-R750. Even a modern 600 like Kawasaki's own ZX-6R is lighter, faster and more lively, although the ZX-7R's larger engine produces more low-down torque.
But the ZX-7R's chassis makes up for some of its dynamic drawbacks. The front end is very stable, helped by a forward weight bias, high-quality suspension and strong brakes. The fully adjustable rear suspension works well too, and the stiff aluminium frame, together with the compact mass of the bike, makes it fell planted in fast corners. The six-piston brake calipers are disappointing though, and don't have the power of many competing designs.
Despite its slightly lacklustre road performance, the ZX-7R has performed better than expected in Superbike racing. Japanese rider Akira Yanagawa was a common sight in the late 1990s, dicing at the front of World Superbike races on the distinctive green Kawasaki.
Kawasaki's WSB race bikes were based around a race version of the ZX-7R, the ZX-7RR, equipped with flat-slide carburettors and a close-ratio gearbox. This limited edition bike was, like Honda's RC45, a homologation model - it was sold to the public purely to make the bike eligible for WSB entries.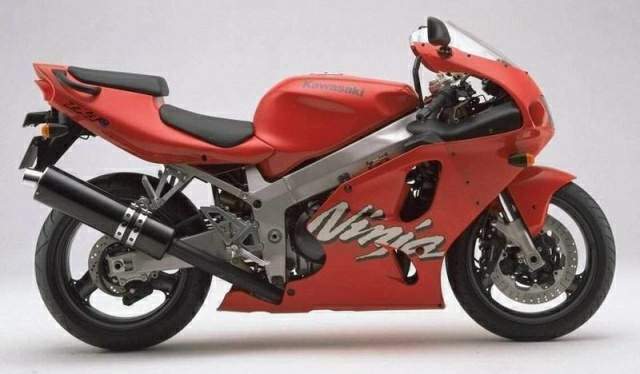 Review
Kawasaki's ZX-7R is a perfect example of motorcycle engineering refinement. In 1993 Kawasaki designed the new generation ZX-7R that has, to this day, remained virtually unchanged. For 1997 Kawasaki continued to refine rather than redesign. It's hard to argue against this approach as it is obviously working on the racetrack. Doug Chandler's performance on the Muzzy Superbike is proof enough that this machine is extremely competent.
The lack of obvious design changes or a new appearance may make it hard for dealership salesmen to make their pitch, but knowledgeable consumers will recognize the ZX-7R as an impeccable package needing no sales hype.

The ZX-7R benefits from having any annoying initial design flaws solved over its four years of steady refinement. This makes for a pleasant ride with little to complain about. Some of the issues Kawasaki addressed over the years were unusable mirrors and providing an ergonomically correct cockpit.

One of the first things you'll notice when riding the '97 ZX is that its mirrors are practical, allowing you a broader view than just your shoulders. Its cockpit feels smaller and more compact than on early models, with subtle comfort changes like adjustable levers to suit a wide range of hand sizes that previously were unavailable.

"Pushing the ZX hard in the canyons rewards the rider. Predictable steering is unmistakable due to its 25 degrees of rake and 3.9 inches of trail."

Kawasaki's preference towards racers is evident with the 1997 ZX-7R. Chandler and Muzzy seemed to have influenced the changes, shaping it into a precision piece.

Its chassis is very well behaved, never doing anything other than what's instructed.

Pushing the ZX hard in the canyons rewards the rider. Predictable steering is unmistakable due to its 25 degrees of rake and 3.9 inches of trail.

The combination of larger than average trail numbers and peculiarly narrow triple clamps require a heavy push on its handlebars to turn the bike quickly, while the triangulated profile of the Dunlop tires complements the bike's geometry perfectly, allowing it to reach maximum lean angle quickly and effortlessly.

Although initial input is heavy, once leaned over the handling is neutral and the profile effect of the tires is very noticeable. Compared to early models, the new ZX-7 has better throttle response and midrange acceleration. The main reason for these improvements is the reduction of the intake ports by 4mm.

"Smaller ports allow for better intake velocity and fuel atomization."

The increased velocity pulls a better signal at the carburetor's needle jet, allowing for excellent carbonation.

Other improvements over the original formula include Muzzy's touches in the form of strengthened crankshaft, two springs per valve and a special baffle in the joint pipe to maximize exhaust pulse effect for more torque. Low and mid torque was improved with a balance pipe connected between the number one and number four header pipes. The head itself was refined with straighter ports, aiming the 38mm carbs at 50 degrees into the combustion chamber.
Kawasaki has now fitted the ZX's transmission with involuted splines on the input and output shafts, allowing for less backlash. Suspension components are also fully adjustable in the front and rear and control the chassis' attitude well. Adjustments include compression, rebound and ride height.

An experienced rider may now raise the rear to reduce front rake for quicker steering, and its firm ride still will soak up the big bumps. Those interested in commuting may choose to loosen the suspension settings for more comfort around town. I would recommend adjusting the factory settings by reducing front rebound two clicks, and dialing-in one less click of rebound and 3mm less preload on the rear.

Brakes were improved for '97 by changing from four-piston calipers to six-piston, with the result being increased feel and power.

New brake pad material also contributes to Grade-A stopping performance.

The initial bite isn't there, but a strong hand increases stopping power with its rising rate. Improved from the original 1993-spec machine is the appearance and sound of its exhaust system. The sleek looking pipe has a deep, powerful tone -- louder than most stock pipes.

Minimal restriction allows the engine to breathe yet it still remains quieter than an aftermarket muffler.

"Among the most noticeable changes in the new ZX-7R is the addition of another ram air duct in the front fairing. Kawasaki's ram induction system is one of best designed. A noticeable increase in acceleration is felt during top speed runs."

From a distance the 1997 ZX-7R doesn't look different, but its refinements will be noticed in real world riding. It feels small -- like a heavy 600cc bike, but with noticeably more low-end grunt and a little more top end.

The power delivery is one of the most linear I've ever sampled, and its spot-on carburetion, instant throttle response and impeccable chassis manners make the ZX-7R a very logical buy.

Source Motorcycle.com