Kawasaki ZX-10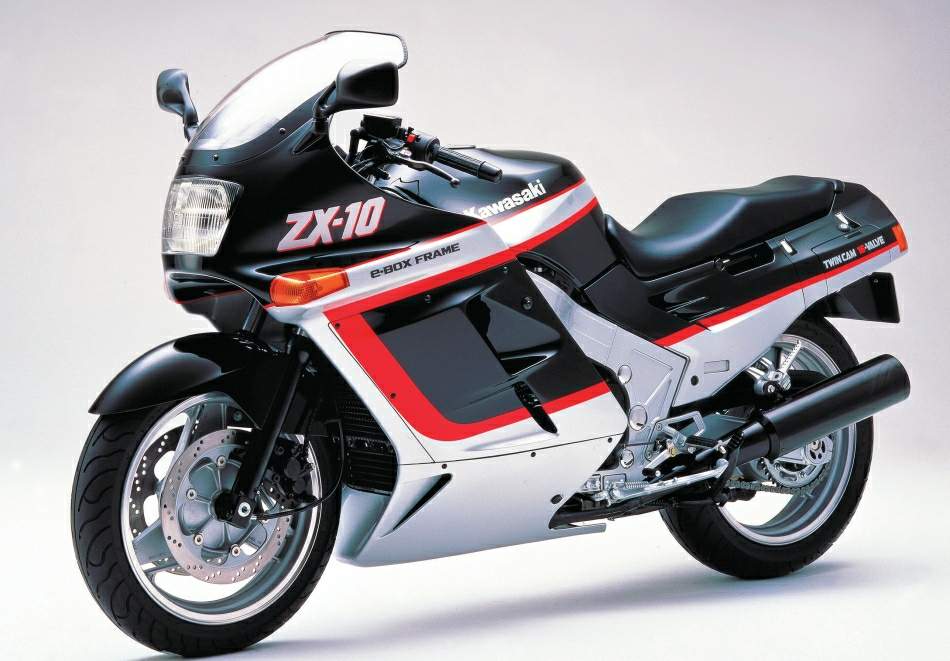 | | |
| --- | --- |
| Make Model | Kawasaki ZX-10 |
| Year | 1988 |
| Engine | Four stroke, transverse four cylinder, DOHC, 4 valves per cylinder. |
| Capacity | 997 cc / 60.8 cu-in |
| Bore x Stroke | 74 x 58 mm |
| Cooling System | Liquid cooled |
| Compression Ratio | 11.0:1 |
| Induction | 4x 36mm Keihin CV carburtors |
| Ignition | Electronic |
| Starting | Electric |
| Max Power | 137 hp / 99.9 kW @ 10000 rpm |
| Max Torque | 3.6 kgf-m / 103 Nm @ 9000 rpm |
| Transmission | 6 Speed |
| Final Drive | Chain |
| Front Suspension | 41mm Telescopic forks |
| Rear Suspension | Uni-trek monoshock,. air assisted 4-way rebound damping adjustment |
| Front Brakes | 2x 300mm discs 2 piston calipers |
| Rear Brakes | Single 250mm disc 2 piston caliper |
| Front Tyre | 120/70-17 |
| Rear Tyre | 160/60-18 |
| Dry Weight | 222 kg / 490 lbs |
| Fuel Capacity | 22 Litres / 5.8 US gal |
| Consumption Average | 16.2 km/lit |
| Braking 60 - 0 / 100 - 0 | 13.2 m / 37.3m |
| Standing ¼ Mile | 10.3 sec / 211.877 km/h |
| Top Speed | 268.3 km/h / 166.7 mph |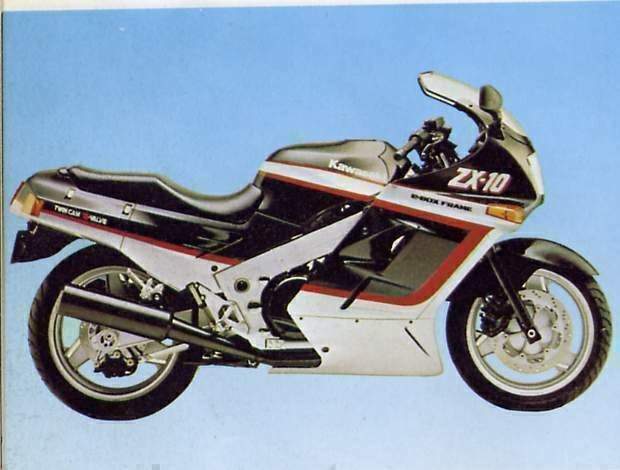 The ZX-10 was the undisputed heavyweight champ. The fastest production eno motorcycle in the world bar none. Kawasaki have always known that to have the accredited fastest bike is to have a quaranteed best-seller and from 1988-90, the ZX-10 enjoyed a remarkable reign at the head of litre-plus bike sales.
That, in 1990, the factory chose to release a faster version of the ZX-10, called the ZZ-R1100, surprised nobody. The ZX-10 itself replaced the RX1000 of 1986 and that was the fastest production roadster of its time. In 1986, Kawasaki had publicly declared that they would never build a more powerful motorbike. By 1990 they had reneged on their power promises twice and few were complaining. Kawasaki Heavy Industries have been dedicated to perfecting the inline four cylinder motorcycle engine for 18 years now and it was inevitable that they would find new ways of extracting more power for less weight.
That it has been replaced by a top line motorcycle from the same manufacturer is perhaps ignominious for the ZX-10. Yet it remains available, popular and deserving of inclusion because it is a big, uncompromising bruiser of a motorcycle capable of performance figures that still stand up in the big numbers world of real superbikes.
A stock ZX-10 will hit 160mph, no problem. Derestricted and rejetted with gearing to match, it'll touch 170mph, which is not exactly an old-fashioned speed. The maximum power output is restricted in various markets by carb tops that prevent full throttle slide lift and full bore motorcycling. The engine was designed as a full 135bhp unit, developed from the older RX1000, but with a lot of work concentrating on increasing intake and combustion efficiency while lightening engine components throughout.
The power it produces is smooth and huge. There is no real step to the power until 8000rpm and since 7500rpm in top gear gives a road speed of 115mph, it's easy to take the power for granted since there's always so much of it available. The output really jumps from 8000 to 11,000rpm, yet the motor is safe, dependable and always smooth, even when caned. Fuel efficient and devastatingly quick, the ZX-10 motor has but one unfortunate glitch - an annoying flat spot between 3500 and 4000rpm where it is unable to take more than quarter throttle. It's irritating because 4000rpm is 50-60mph in top, just the sort of speed you'd normally hold.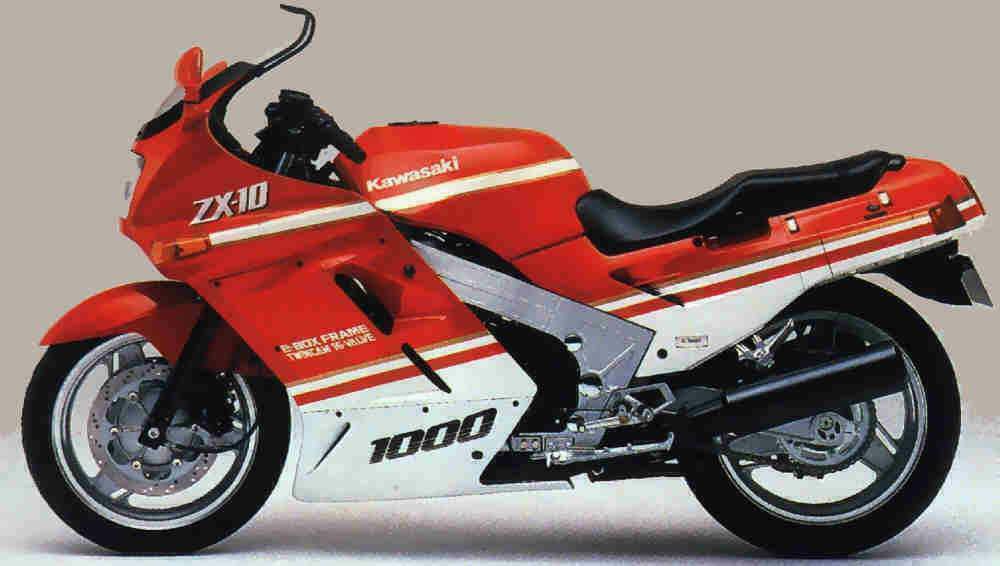 Maybe it's best to head for the open road. The ZX-10
makes for a versatile performer and is surprisingly comfortable, increasingly so at speed, and if the rider always bears in mind its size and inevitable weight, it is very sporting. The E-box frame features a cast steering head and swing-arm pivot welded to extruded box-section beams. The 'E' stands for egg-box, a humble object renowned for its structural rigidity. The egg in this case refers to the shape of the main beams that embrace the engine. The construction is ideal for handling the immense lateral loads the powerful motor feeds into the frame, trying to twist it. It is incredibly wide, yet making it narrower but still strong would increase the wheelbase still further, resulting in a less manoeuvrable bike. As it is, the ZX-10 handles just fine, it's a touch soft-bellied and you need to be fairly brutal, always gassing it hard to get the best out of its handling.
The ride has a vague, detached feel with little feedback from the tyres. Perhaps this is for the best, since the 5301b wet weight of the ZX-10 is disguised somewhat by the generally plush suspension. In its favour, it comes equipped with enormously powerful yet rider-sensitive brakes.
In 1990 it is easy to overlook the ZX-10 as yet another also-ran. In fact it is still a very competitive motorcycle. That big fairing is efficient at deflecting the wind and weather at 120mph, the comfortable riding position makes it a good long-distance mount and its bulk means you can carry quite a lot of luggage. No longer the heavyweight champion, it is merely a living legend. So it goes. Development goes on at the speed of life and all too suddenly, 166mph is last year's performance ceiling and last years motorcycle. But there is nothing old-fashioned about the ZX-10's 135bhp or its popular image as a monster of wheelspin and pure, unadulterated brute force.