Kawasaki Zephyr 750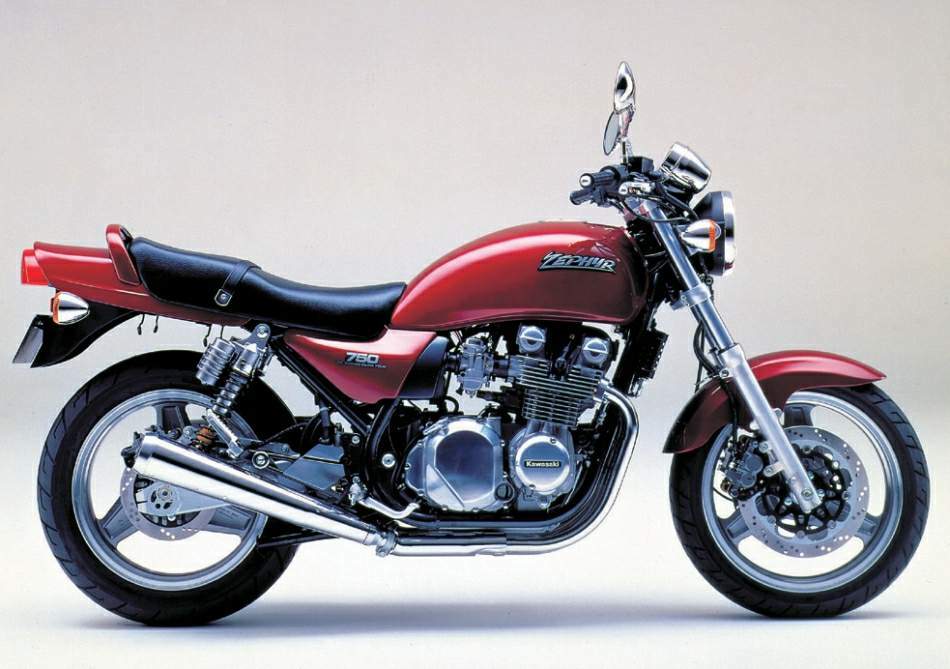 Make Model

Kawasaki Zephyr 750

Year

1992 - 93

Engine

Four stroke, transverse four cylinder , DOHC, 2 valves per cylinder

Capacity

738 cc / 45.6 cu-in

Bore x Stroke

66 x 54 mm
Cooling System
Air cooled,

Compression Ratio

9.5:1
Lubrication
Wet sump
Engine Oil
Semi-Synthetic

Induction

4x 32mm Keihin carburetors

Ignition

Analogue CDI (Capacitive Discharge
Starting
Electric

Max Power

71 hp / 52.6 kW @ 9500 rpm

Max Power Rear Tyre

64.2 hp @ 9400 rpm

Max Torque

56.8 Nm / 42.0 lb-ft @ 7300 rpm
Clutch
Wet, multiple discs, cable operated

Transmission

5 Speed
Final Drive
Chain

Front Suspension

41mm Telescopic forks no adjustmen
Front Wheel Travel
140 mm / 5.5 in

Rear Suspension

Dual gas shocks adjustable for preload, rebound, and compression.
Rear Wheel Travel
115 mm / 4.5 in

Front Brakes

2x 300mm discs 2 piston calipers

Rear Brakes

Single 230mm disc 1 piston caliper

Front Tyre

120/70 VR17

Rear Tyre

150/70 VR17
Wheelbase

1455

mm / 57.2 in

Seat Height
770 mm / 30.3 in

Dry Weight

201 kg / 443 lbs
Wet Weight
220 kg / 485 lbs

Fuel Capacity

17 Litres / 4.4 US gal

Consumption average

16.5 km/lit

Braking 60 - 0 / 100 - 0

13.4 m / 38.0 m

Standing ¼ Mile

12.2 sec / 170.0 km/h

Top Speed

202.1 km/h / 125.6 mph
Review
It's no suprise perhaps, but the 750 Zephyr functions pretty much as a quick glance at a picture of it might suggest it does. Its curious blend of 1970s dogma and 1990s technology results in a competent motorcycle, which has many squealing with delight.

Not me, though. I sort of like it, but hard as I try I seem unable to generate much enthusiasm. It's all a bit bland and safe and I frequently find myself reaching for my KLR600 instead. Perhaps I'm not as old as I thought I was.

I agree that Kawasaki's philosophy of 'getting back to basics' with the Zephyr is a jolly good idea, but it's not a new one. just packaged differently. MCN's letters pages bulge perenially with correspondence from people who won't realise that 'basic' motorcycles always have existed, it's just that they don't all look like Z650s and cost 2'9d any more.

Not that this fact will stop people buying Zephyrs. Considering the increasing amount of people who actually choose to live in neo- Tudor/Georgian houses (these abominations are beyond the comprehension of any right-thinking Englishman. Shoot the bastards who build them, that's what I say. Let's here it for Prince Charles hoorah! hoorah! Long live the King! Poop poop!), then there's probably also a potentially untapped market for the visual delights of the 1970s. The past is often a very nice place to have been and it's reassuring to think that you're still there. As a collector of antiques I certainly don't object to the past, but the business of re-creating its 'style' is in my opinion naff and unnecessary.

In the best tradition of smug journalists vs reality however, the 550 Zephyr was, at the end of March. Kawasaki's joint third highest-selling motorcycle (along with the ZZ-R1100), and the 750 Zephyr to all intents and purposes has sold out. At the moment (early June) Kawasaki have no 75()s left at their distribution warehouse in Southampton. We've hardly mentioned the existence of the Zephyr up to now which just goes to show no-one takes any notice of what we write.

If you're still wondering what to do with your £4,000 then send it to me and I can buy a Jaguar. No, um... what am I saying? Er, as I've now done a thousand miles on the 750 Zephyr I now feel in a position to tell you what to expect.

So, have another look at the pictures. "/ bet those pipes rust like buggery," I hear you say. Well yes, you're right, they do. It's a pity they're not made from stainless steel.

"Some bits like the wheels — look quite trick really." Yes, they are. Those wheels wouldn't look out of place on a proper sports bike, and they're a suitable size for some serious tyres (Pirelli Demons, for example -120/70 VB17 MT79 front, 150/70 VB17 MT78 rear). The Dunlops fitted as standard are perfectly reasonable for normal road use. and can be pushed knee-down hard in the dry with no problems. They are, however, of the hard-wearing variety and lack much feel. Something a bit stickier would inspire more confidence.

"Well is it comfy then? " Yes, I'd have to say it is. In fact, compared with today's sports bikes the Zephyr's squashy seat is bloody comfortable. Wind speed starts to get a bit much at anything over 85mph depending how "ard you are — but if you want to stick a fairing on a bike like this then the 'basic' theory goes right out the window and you end up with something that looks like what comes out the dog's bottom after it's eaten its dinner.

The riding position could be a bit cramped for anyone of 6ft plus but as the seat height is only 30.7 inches anyone that tall would probably look elsewhere anyway. I'm five foot seven and I can get both feet flat on the floor on the 750.

"What'llshe do then mate?" About 12()mph if you want it to. Having just got off the peaky ZXR4IK) skateboard. I found the Zephyr's low-down acceleration awesome in a squidgy, rubbery sort of way. But next to a VFR750 the Zephyr would feel a bit flaccid. This is all relative since you can leave behind 90% of everything else on the road with virtually any 750cc motorcycle.

The Zephyr's 738cc motor is almost identical to the one fitted to the fine, up and still standing GT750 for longer than I care-to remember. And as historians already know, it goes back a lot further than that. This bodes well for long term reliability.

"It's not got one of them tnonoshock things then." No, it's 'twin piggy-backs' (bet you've not 'erd that said dowt' poob for a while) all the way with the Zephyr. They're adjustable for preload via the well proven 'bugger-oop-yer-knuckles' screwdriver method, and a useful combination of compression (rear wheel moving up) and rebound (moving down) damping adjustments is available by twiddling the little dials at the top and bottom of the struts. This gives a surprisingly well-controlled ride anywhere between riding solo round town and 20 stone of hooligan(s) on bumpy roads. The swingarm is, as you can see, a thing of beauty and has good quality, over-engineered and long-lasting chain adjusters.

The forks are a bit soft for my liking and, it would seem, everybody else's. Unfortunately they are non-adjustable. I hope that some time in the future we will be able to sort this out. The slightly 'rubbery' feeling the Zephyr has exiting a bumpy corner, or bouncing along a bouncy road, is probably due to the traditional tube frame design, but this is hard to determine when no adjustments can be made to the front. It's fair to point out that a traditional cradle tube frame set-up can never be anything like as good as a modern beam frame design.

"What about all them brakes then? Looks like they'd stop a train." Again your suspicions are correct. Anybody who needs more brakes than this on a Zephyr should either seek medical advice or consider building a reader's special.

If you put to one side the controversial styling, you get a very usable motorcycle with the brakes, wheels, swinging arm, chain adjusters and engine smoothness of more expensive sports bikes, but with performance and handling that could hardly be described as state-of-the-art. I can't help thinking of Yamaha's old FZ750-based Phazer as offering basically the same thing, but with a far more interesting motor. Unfortunately the styling of that bike would have even people who wear shellsuits reaching for the Stanley knife. We English are a bloody provincial lot you know.

Judging by what's being advertised in the American motorcycle magazines, the generic identity of the 'factory custom bike' seems to be shifting away from the Harley clone and more towards 1970s Japanese vintage. This is a clear indication of the success of the Japanese motorcycle industry, as they now appear to be in a position to re-invent themselves and get away with it.