Kawasaki GPz 750 / Z 750GP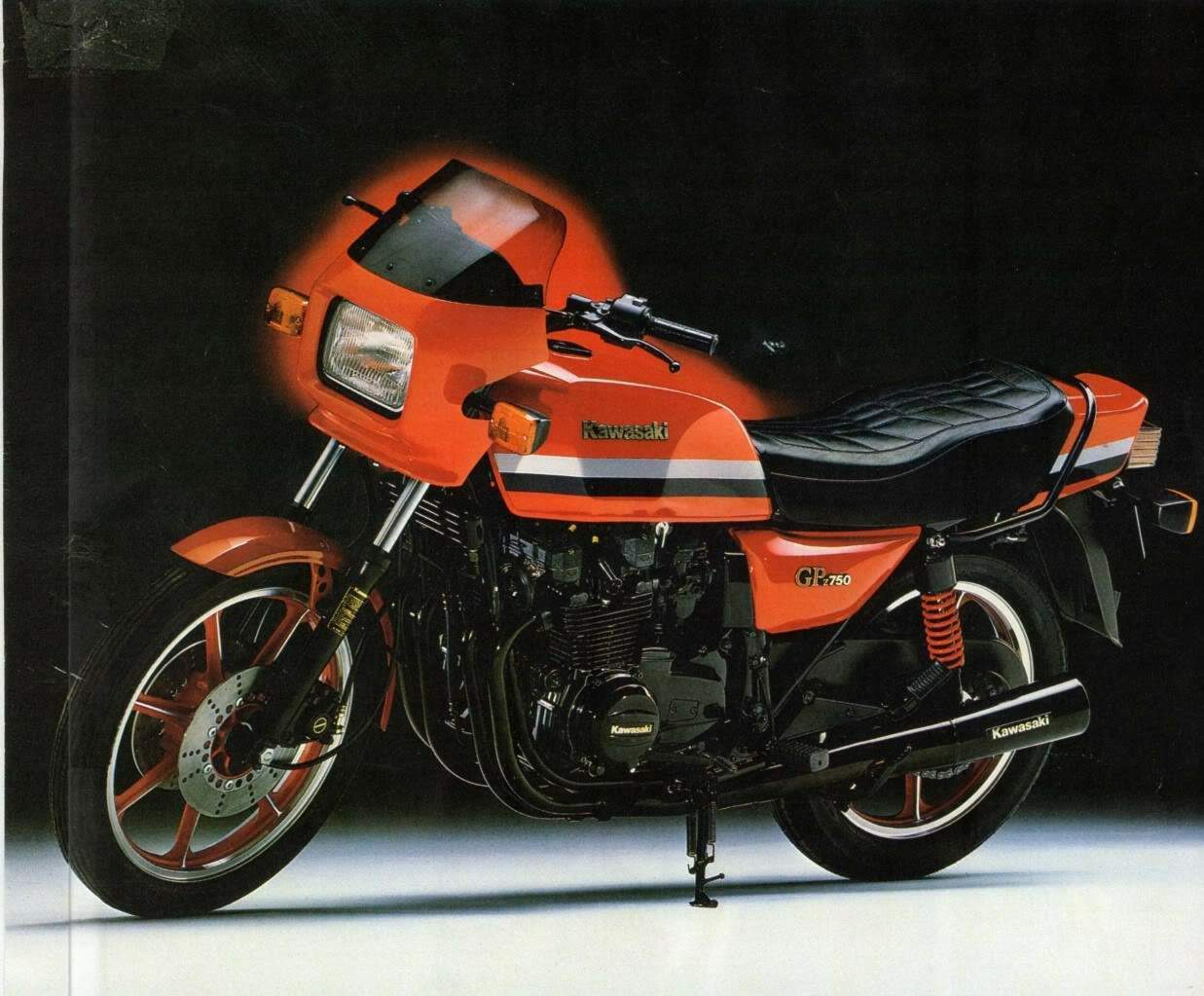 Make Model

Kawasaki GPz 750 / Z 750GP

Year

1982

Engine

Four stroke, transverse four cylinder, DOHC, 2 valve per cylinder.

Capacity

738 cc / 45.0 cu-in

Bore x Stroke

66 х 54 mm
Cooling System
Air cooled

Compression Ratio

9.5:1

Induction

4x 36mm Mikuni

carburetors

Ignition

Digital

Starting
Electric

Max Power

78.hp / 57 kW @ 9500 rpm

Max Torque

6.0 kgf-m / 43.3 lb-ft @ 7000 rpm

Transmission

5 Speed
Final Drive
Chain

Front Suspension

36mm Air assisted forks

Front Wheel Travel
150 mm / 5.9 in

Rear Suspension

Dual shocks spring preload and rebound damping adjustable

Rear Wheel Travel
112 mm / 4.4 in

Front Brakes

2x 260mm discs

Rear Brakes

Single 260mm disc

Front Tyre

100/90 -19

Rear Tyre

130/90 -16
Rake
28°
Trail
100 mm/ 3.9 in
Wheelbase
1500 mm / 59 in
Seat Height
780 mm / 31 in

Dry Weight

217 kg / 478.5 lbs
Wet Weight
230 kg / 506 lbs

Fuel Capacity

24.5 Litres / 5.8 US gal

Consumption Average

45.7 mpg

Standing ¼ Mile

12.2 sec / 107 mph

Top Speed

217 km/h / 135 mph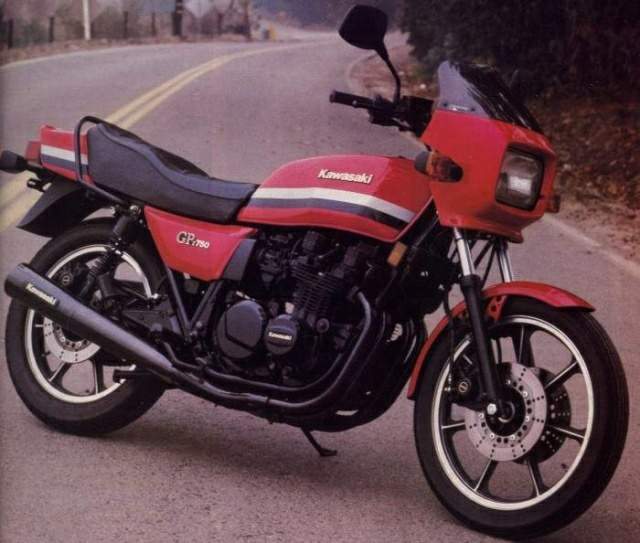 When a company car rep challenges all you can do is Go For ft. Believe it or not, this is a roadtest of the Kawasaki GPz7S0. ByRP McMurphy of course.
MY FIRST LEGOVER SITUATION WITH the 1982 750cc Kawasakis was not, in fact, with the GP750 but with the GT, the dull and boring shaft drive tourer ... the very one that did 130mph through the lights when tested by MCN, two up with luggage I shouldn't wonder. I have to say I was impressed, although the circumstances of riding it would probably have made a 1968 CB72 feel good. I was locked up in a picturesque country house at what was laughingly called a conference; really it was an endurance test of how long you could stay awake while sitting in a cramped, smoky room listening to a shock horror expose on newsagency wholesale practice. One of the delegates had seriously outposed the Cortina GL set by crunching up the gravel drive on the said Kawasaki GT750. Since this was the only remotely interesting thing likely to happen for the next 48 hours an urgent pincer movement blag was put into operation and, sure enough, there I was warming it up early the next morning.
I had a brilliant hour thrashing the balls off it along twisting tree-lined Cambridgeshire lanes, savouring the adrenalin rush of hurtling down tunnels of green and gold, chuckling to myself that Kawasaki had seen fit to install what I termed a Go For It warning light. Every time I wound open the throttle against the stop, approached the red line or even really hit it through a bend, a bright red light from the console would wink at me. This was clearly a challenge, thought I, how hard would I have to go to keep it on all the time! I'll teach those slant eyes to electronically admonish me for having a good time.
I put on a particularly hard charge for the last couple of miles and felt extremely elated when the light stopped blinking off. The elation rapidly turned to concern, not to say panic when it stayed on while pootling through a still sleeping village. Obviously not a Go For It light ... a somewhat undignified grovel on the ground bought some relief as the oil level sight glass in the righthand crankcase showed 'full'. I didn't work out the significance of the light until picking up the GP750 when the man from Kawasaki explained, in tones reserved for small children and motorcycle journalists, that the light drew your attention to the ultra advanced solid state liquid crystal checkpanel which I had completely failed to notice in more than an hour's ride. I had, in fact, been running out of petrol.
The ride on the GT gave me two things to think about: If the GT was such a flyer then the GPz should be mindblowing, and why do bike manufacturers spend millions on stuff that is so essential to having a good ride that you don't notice it or can't work out what it is.
As it happened I wasn't too concerned about either of those intellectual points because the sun was shining, it was almost uncomfortably hot and I had been presented with a bright red motorcycle the day before leaving for the Isle of Man TT week. All the Go For It lights in my brain were definitely flashing. Even the reality of slogging through a day's work with brain scraping through Bungalow Bridge but body sitting behind a desk in London didn't detract from the buzz that the Island brings on. It was even possible to accept the inevitable thunderclouds gathering to obscure the sun and making it so sweaty in leathers that strapping on a tankbag and Swagmans needed a superhuman effort. But by the time great fat globs of rain began to explode on the pavement, and yet another stifling struggle with a sticky oversuit became essential, anticipation had given way to a red mist of frustration and anger.
Spectacular flashes of forked lightning over North London ripped open the black clouds and sheets of rain spewed out slowing the already crawling Friday rush hour to a complete steaming halt, impenetrable even by a psychopath on a hot shot Kawasaki late for his ferry . . . The true meaning of paranoia became clear as every car I stuffed and scraped my way past was superseded by another even more determined to block my passage between lanes, down the outside or even up the pavement.
If the liquid crystal brain of the Kawasaki had even the slightest intuition it would have known that it was going to get the flogging of its life when the road cleared, wet or dry.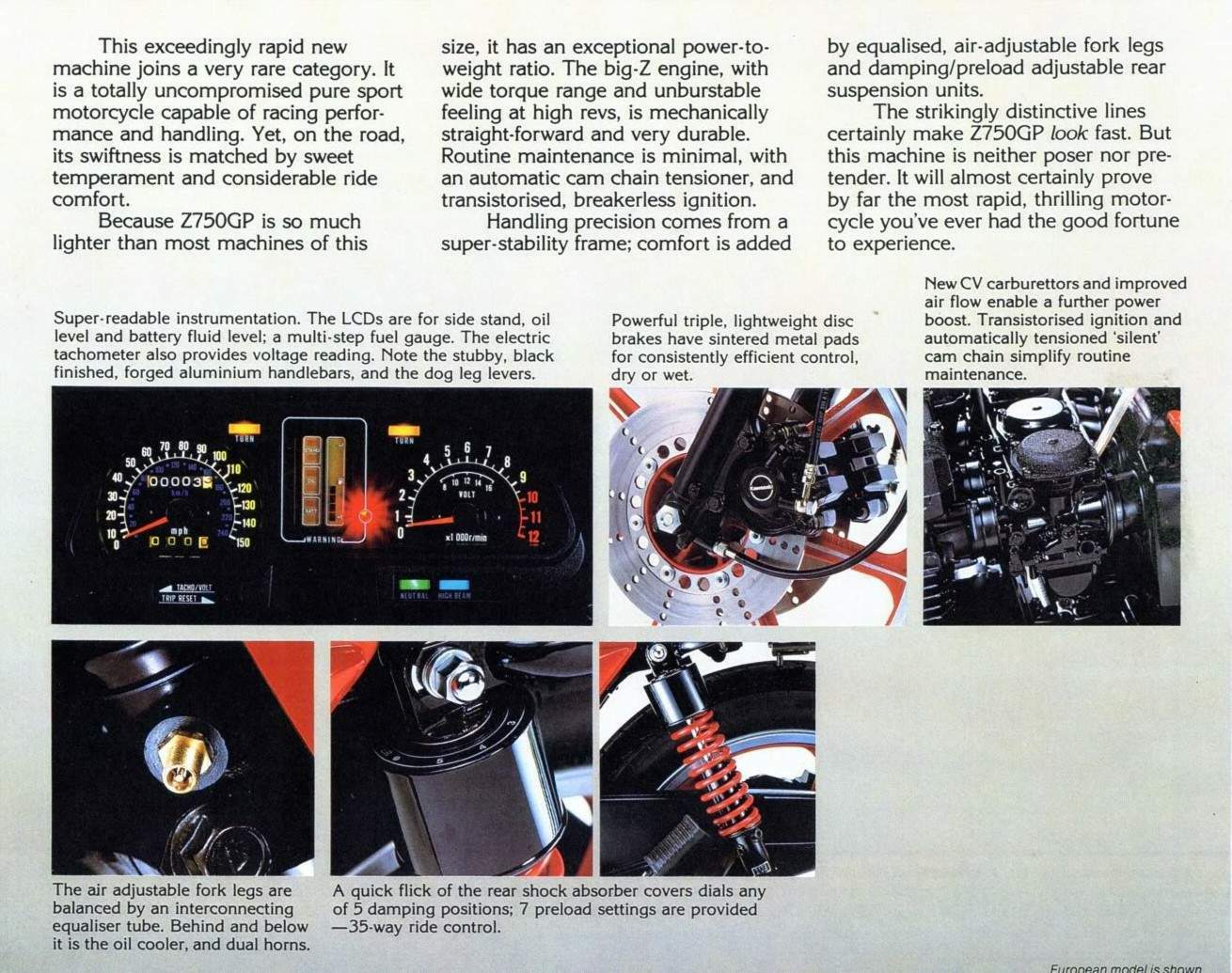 Luckily, the road clearing and drying coincided somewhere past Luton on the Ml and welly time was here at last. Up until then I hadn't really thought much about the bike — it was just another modern Japanese bike. But, and I think this is a point worth making to all you British and Italian bike freaks and I count myself among the latter, it was without a moment's hesitation that I set out on what is a fairly long and wearing trip with several high speed IoM laps thrown in. I hadn't assembled a special toolkit, I knew without looking that the tank would be well enough mounted to take a heavy tankbag, that the cables would last the trip ten times over, the bulbs wouldn't blow and I wouldn't lose half the cylinders in a heavy downpour, which there was and I didn't. All I had to do was put the key in and go. You can talk character and charisma 'til the roadworks on the M6 are finished (never!) but if you actually have to be there rather than just travelling then the soulless issue of a million Japanese die casting machines has to to be the way to go.
Back to the reality of the Ml and having just intimidated the last sales rep out of the fast lane it was down into fourth and red line city, yeah. Well, sales managers are made of sterner stuff and this guy had obviously sold more 309/a5 Mklls than anybody else to earn his Audi 80 GLE and needed to be back at The Fox & Armpit to bore everybody to tears about this week's target over a couple of pints of fizzy keg. He definitely wasn't having any as I whined past, adjusting his Ray-Bans and also flooring it. He was still there when 105mph came up and I thought a change into top and piss-off manoeuvre was called for. Purely for legal reasons officer, you wouldn't want me to be guilty of racing on the highway, would you, sir?
Anyway 110 came up in fairly short order but also a distinctly queasy feeling turning into definite puckering of the anal department as a couple of ridges set off a white-line-to-white-line weave. It came under control quite quickly and was probably accentuated by my death grip on the bars. This untoward behaviour left me with a serious street credibility problem since Fizzy Keg was still up my backside and there I was wearing racing leathers with a scarlet and black bike full of moody letters on the sidepanel unable to burn him off. It was really a bottle problem since I doubt the weave would have got worse but a crowded Ml is not the place for advanced motorcycle stability research. As it was 110 could be held with a mild oscillation induced by bumps or lorry slipstreams; Fizzy Keg couldn't quite get past and eventually faded, probably because his Abba cassette had finished. Nevertheless, this was quite clearly Not Good Enough and boded badly for no prisoners lapping of the Island.
The rest of the trip to Heysham was relatively uneventful except to confirm that ton-plus cruising dropped the fuel consumption to the low thirties and the seat, while kind to the bum, was sloped in American Superbike fashion sliding you forward all the time. Oh yes, and the rubber mountings at the front of the engine really do smooth out the high pitched four cylinder vibes.
Despite my earlier comments about the practicality of Jap bikes it was reassuring to find a preponderance of Italian, German and British bikes waiting for the Sealink ferry, the latter topped off by a couple of Heskeths which clattered up suitably aristocratically swathed in horseblankets to prevent luggage from marring the admittedly stunning paintwork. The entire queue was very high zoot reflecting possibly the increasing cost of TT week but also the greater care taken on the Sealink ferry. They provide individual bike racks and tie-downs completely eliminating the possibility of damage. I joined the queue just as the last light faded from the sky and the big sodium floodlights of Heysham Harbour fired up.
Stepping back to survey the bike, it has to be said that the GPz is very handsome, even matched up against rows of gleaming Ducatis and Guzzis. The man with the spray gun has gone to town with fork sliders, frame, engine, carbs, airbox and exhausts all black. The engine side cases are particularly attractive in a high gloss black enamel giving an air of depth and quality; the crackle finish on carbs and camboxes is less so. The scarlet of the body is also rich and glossy, quite an achievement since the tiny headlamp fairing, sidepanels and tailfairing are all moulded in lightweight ABS. The stripes are transfers and prone to wrinkling when attacked by bungee hooks but, in general, the bike is better finished than most. Even the exhausts were still black where they could be reached for cleaning.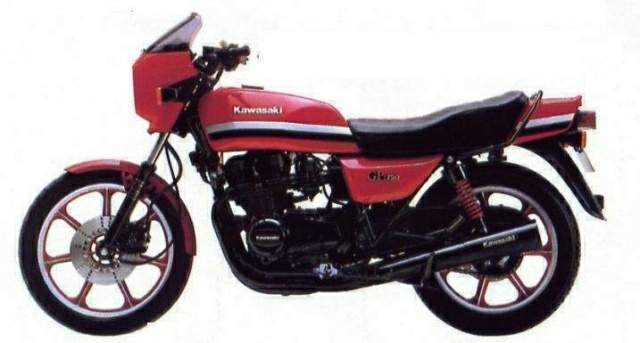 Rolling off the ferry onto Douglas prom at 5am had me stunned and open mouthed: no rain, no mist, no smell of vomit mixed with diesel . . . had we been hijacked to the Mediterranean? Sun warmth and freshness greeted me. I nearly went for a lap there and then but sense and a couple of hours sleep prevailed.
Unfortunately, the handling didn't heal with a breath of sea air and my first lap found me taking meanders rather than lines through bends, particularly up on The Mountain where I severely scared myself, the legions of wallies I overtook, and a couple of fast riders who had to queue to overtake this mobile red and black chicane. Lengthy debate on licensed premises seemed to be the answer but it didn't take too many pints of Castletown to get H Lees, Team Bike racer extraordinaire, to make a characteristically terse statement: 'All Jap bikes will handle perfectly.' Several trips to the refuelling pumps were required before further illumination was forthcoming: 'Put everything on maximum, or better still double it.' By 'everything' he meant shock preload, damping, air pressure in the forks and any other available variable, including the throttle opening I expect. More pints brought forth more words on an approximately one to one basis: 'If that fails, throw the tyres away.' Presumable replacing them with a little something from the houses of Dunlop (GB), Metzeler or Pirelli. And finally: 'After that, there's something mechanically wrong with the bike, hie'
At this stage I was quite incapable of adjusting the preload on my trousers let alone the suspension, so further motorcycling was put off until the morning, or rather, later that morning since it was already light.
The sun was shining brightly by the time it was possible to bend over without temporary blindness and inspect the Kawasaki's suspension. The rear shocks, Kayabas complete with natty red springs, have conventional preload adjustment which was on minimum and easily adjustable rebound damping which was on second from lowest. All you do is rotate the top cover to alter it which I duly did. The forks have a linked Schrader valve on the right hand side for putting air in and out; they also have a steel dual rate coil spring. The recommended pressure is lOpsi with a maximum of 13psi, so I decided a round figure of 15 would do nicely. There's no facility for altering the fork damping except changing the oil which several owners recommended but I couldn't do this without adding to the already greasy forecourt of the Castle Mona Hotel, impromptu workshop for Team Bike.
The change was dramatic, improving the accuracy of the steering at only slight cost in the ride department. It didn't, however, completely exorcise the wobble demon — just reduced and moved it to around an indicated 120mph. At lower speeds the bike really began to behave itself and ground clearance started to become the only limit, other than fear, in bends. On the right side, there's loads of room with the folding footrest neatly chamfering itself without drama, unless of course I forgot to lift my boot and sliced bits off the sole. On the left, it isn't so good: the world's most ridiculous sidestand touching down relatively early.
The bike is clearly not short of stomp, to the extent that on the Island it became difficult to find opponents worthy of their steel but the power delivery is almost the exact opposite of what I had expected. I'd thought it would be much the same as Honda's 900, Kawasaki regaining what they lost in capacity through more radical cylinder head design, albeit two valve. As it turns out, the GPz really pulls at medium revs, tearing your arms out but doesn't noticeably sing at high revs as the Honda does. This makes it much easier to ride and I doubt there's much of any capacity which could stay with it pulling out of slow bends. It's mildly disappointing near top whack with the last few mph coming slowly but, nevertheless, surely.
The TT was over all too soon for me but the GPz had no opportunity to breathe a sigh of relief after its labours since it was almost straight down the motorway to Dover and off to the eight hour Coupe d'Endurance round at West Germany's Nurburgring. This was to be a non stop schlap because once again it was more important to be there rather than spending time getting there. I had more or less rubbished the rear tyre by this time and the only rubber to hand was a nice, fat Pirelli Phantom. You're not actually supposed to fit tubed tyres to rims designed for tubeless, according to the handbook, but I had only a couple of hours to decide.
So on it went and off we went, this time
Source Bike Magazine 1982