Kawasaki Z 1000R Eddie Lawson Replica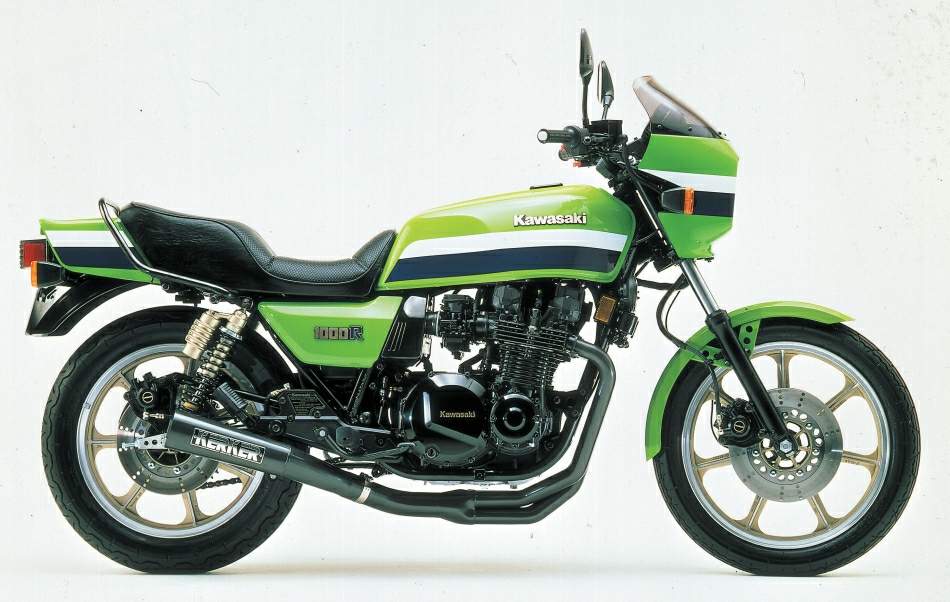 Make Model

Kawasaki Z 1000R Eddie Lawson Replica

Year

1982

Engine

Four stroke, transverse four cylinder, DOHC, 2 valve per cylinder.

Capacity

998 cc / 60.9 cu-in

Bore x Stroke

69.4 x 66 mm
Cooling System
Air cooled

Compression Ratio

9.2:1

Induction

4x 34mm Mikuni carburetors
Spark Plug
Spark Plugs: NGK B8ES or ND W24ES-U

Ignition

CDI

Starting
Electric

Max Power

102 hp / 76 kW @ 8500 rpm

Max Torque

9.3 kgf-m / 67 lb-ft @ 7000 rpm

Transmission

5 Speed

Final Drive
Chain

Front Suspension

38mm Air assisted forks

Front Wheel Travel
145 mm / 5.7 in

Rear Suspension

Dual gas charged piggy-back spring preload shocks

Rear Wheel Travel
100 mm / 3.9 in

Front Brakes

2x discs 1 piston caliper

Rear Brakes

Single disc 1 piston caliper

Front Tyre

100/90 V19

Rear Tyre

120/90-V18

Dry Weight

222 kg / 489.4 lbs

Fuel Capacity

21.4 Litres / 5.5 US gal

Consumption average

36.6 mpg

Standing Ľ Mile

11.7 sec / 114 mp

/

h

Top Speed

216 km/h / 134 mph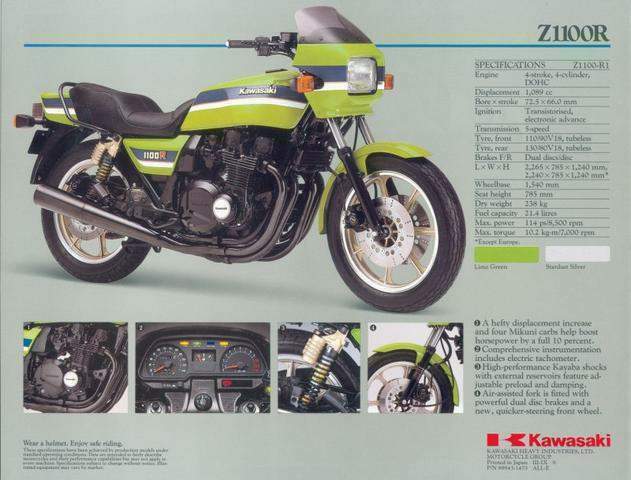 Kawasaki KZ1000R: The Original Lawson Replica
Back in the days when men were men and sheep were scared, the word "Superbike" meant fire-breathing 1000cc four-cylinder machines-not these namby-pamby 750s they're using today. And riders didn't have the luxury of full fairings and aluminum perimeter frames, either-regular ol' handlebars and a steel-cradle chassis were the norm back then. These four-stroke monsters were on the verge of becoming the premier class in AMA racing, and it was already turning into out-and-out war between the manufacturers. Honda, Kawasaki and Suzuki were crossing swords with high-dollar factory teams and riders like Wes Cooley, Eddie Lawson,
Fred Merkel and Freddie Spencer. The competition was intense, reflecting the increasing prestige of the once-disdained class.
But when all was said and done at the end of the season, one bike-and-rider combination stood above the rest: Eddie Lawson and the lime-green Kawasaki. Despite an engine that lacked the latest four-valve technology sported by the competition, Team Green had emerged victorious against considerable odds. In commemoration of its 1981 AMA Superbike championship, Kawasaki built a very limited number of special KZ1000Rs that, although appearing to be nothing more than a tarted-up KZ1000 at first glance, turned out to be a far better performer than the standard J-model, even with a suggested retail price that was listed as "set by dealer."
The biggest improvement was a change in steering geometry and riding position. The rake angle was extended to 29 degrees from the J-model's 27.5-degree spec, with an accompanying increase in trail from 3.89 to 4.50 inches. Generous scalloping to the standard saddle dropped the seat height by half an inch, and the footpegs were set four inches farther back and an inch higher. Suspension was altered, with a revalved (read: stiffer rebound and compression damping) fork and twin gas-charged, piggyback Showa shocks handling the road-hugging chores. A Kerker 4-into-1 exhaust replaced the standard 4-into-2 pipe, with other subtle changes such as a four-row oil cooler, wider rear rim (wow, a 2.50 incher!), an "Eddie Lawson bend" handlebar, some decent Dunlop rubber replacing the usual rim protectors of that era, and various GPz componentry (brake system, fairing, gas tank, etc.) completing the picture. Maybe the most surprising change, however, was the lack of weight. The KZ1000R scaled in a full 41.5 pounds lighter than the J-model.
Of course, it should be kept in mind that this is early '80s technology we're dealing with, so the KZ1000R's performance-while excellent for its time-isn't nearly up to today's standards. The added rake and trail give the R's chassis good stability in the fast stuff, and the steering is fairly neutral all the way down to max lean. But there's a pretty big slab of metal in the engine bay and keeping the motor high to stop the cases from grinding means a fairly tall center of gravity. The suspension on the bike we rode was pretty worn out (22,000 miles were already logged on the odometer) so handling was rather loose and not representative of the actual item. Keep the KZ1000R's year of manufacture in perspective, though, and you find it to be a fun sporting mount with an exclusivity that can't be matched by any Japanese sportbike of that era.

This article was originally published in the October, 1999 issue of Sport Rider.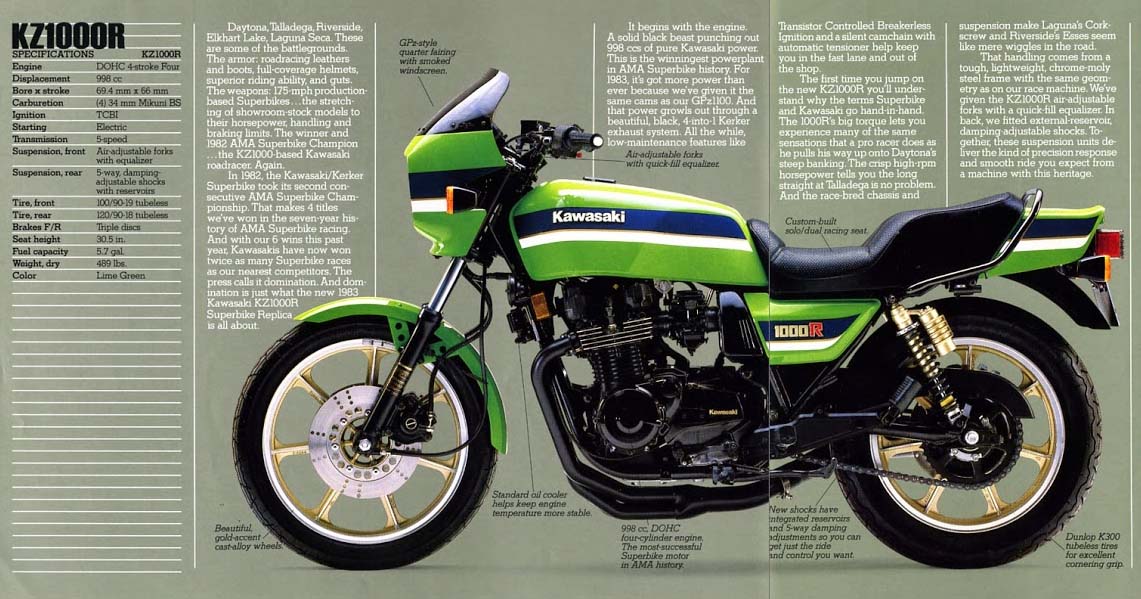 Eddie Lawson

AMA Superbike Champion: 1981, 1982

Eddie Ray Lawson was raised on the dusty dirt tracks of California in the mid-1970s and began road racing in the late-70s, at first of 250 Grand Prix bikes, then later on Superbikes.

Lawson seemed destine for greatness from the very beginning, In his first AMA Superbike finish he won at Talladega in 1980. In only his second full year of Superbike racing, 1981, Lawson won the title in a close battle with rivals Freddie Spencer and Wes Cooley. Lawson became known as "Steady Eddie" for his consistent performances during the course of a season.

Lawson came back to win his second AMA Superbike title by the slim margin of nine points over Honda's Mike Baldwin. The 1982 season was to be his final full year of racing in America. In 1983 he left to compete in the 500cc World Championship Grands Prix where he brought home four World Championships.

Eddie Lawson will go down in history as one the greatest motorcycle road racers of all time. Lawson won the 500cc World Championship four times during the 1980s. When he retired from GP racing in the early 1990s, he ranked third on the all-time 500cc Grand Prix wins list with 31 victories.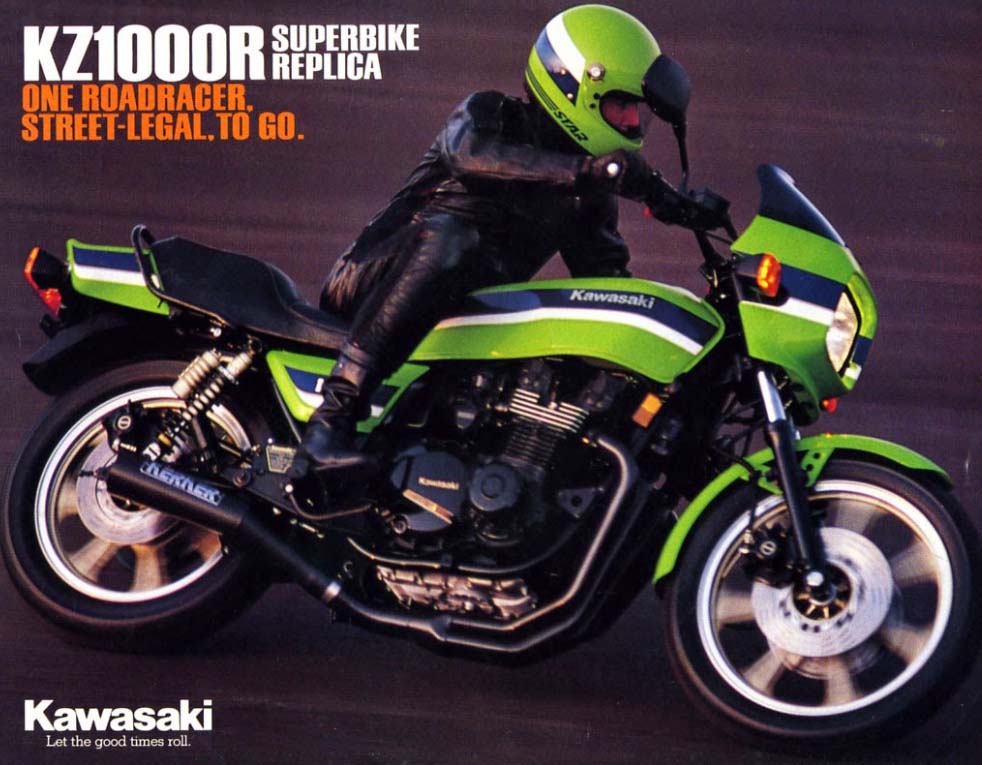 In addition to his international accomplishments, Lawson was equally successful on the domestic front. The Californian won the AMA Superbike Series twice (1981 and 1982) and the AMA 250 Grand Prix Series in 1980 and 1981. When inducted into the Motorcycle Hall of Fame in 1999, Lawson was the only rider to ever win the AMA Superbike and 250GP titles during his career. Lawson also won the Daytona 200, the first time during the prime of his racing career in 1986, then again in 1993 when he returned to the event after retiring from full-time motorcycle racing.

Lawson was born in Upland, California, on March 11, 1958. He grew up around motorcycles. Both his father and grandfather raced. Some of Lawson's earliest memories are of going out to the desert races with his father. Lawson started riding an 80cc Yamaha when was 7 years old, having to hold the nearly full-sized bike up on his tiptoes when he came to a stop. By the time he was 12, Lawson was racing the local Southern California dirt track circuit.

"We rode mainly at tracks like Corona and Ascot. I didn't do very well for the first couple of years," admitted Lawson. "I just sort of rode around cautiously trying to not fall off my little 90cc Kawasaki Green Streak."

It didn't take Lawson long to get over his timidity. He quickly became one of the fastest young amateurs in Southern California during the early 1970s heyday of dirt track competition.

Besides dirt track racing, Lawson also began to hit the local road races after his grandfather bought him a 50cc Italjet. He later graduated to a Yamaha RD350. This road racing experience would later prove to be very valuable for Lawson.

By 1978, Lawson obtained his AMA expert license. He was riding Shell Thuett Yamahas, which were very fast for Yamaha dirt trackers, but were no match for the Harley-Davidsons that dominated dirt track racing. Lawson did manage to do decently on TT tracks. His best finish of his rookie expert season was fifth in the TT national at Santa Fe Speedway near Chicago.

By 1979, it was becoming clear that Lawson was fighting an uphill battle on the dirt tracks, while just the opposite was happening at the road races. At 20, Lawson was already considered one of the top road racers in West Coast club racing. In 1979, he proved that he was a force to be reckoned with when he finished second to a young Freddie Spencer in the AMA 250 Grand Prix national at Sears Point Raceway in Sonoma, California. Lawson finished the season as the second-ranked rider behind Spencer in the AMA 250 GP series.

While doing a made-for-television Superbikes event late in 1979, Lawson was invited to a Superbike tryout at Willow Springs Raceway by Kawasaki. Lawson set fast time in the tryout and was offered the ride.

"It was really pretty fun to ride those old 1000cc Superbikes," Lawson recalls. "They were pretty heavy and had a lot of power and with the wide handlebars you could actually ride them a lot like a flat tracker, power-sliding out of the corners and everything."

It did not take long for Lawson to get used to racing Superbikes. Lawson won his first Superbike national at Talladega, Alabama, in April of 1980. That season saw some epic battles between Lawson, Freddie Spencer and Wes Cooley. The season ended with Cooley winning the title in a controversial manner, with protests and counter-protests being filed between the Kawasaki and Suzuki Superbike teams. Cooley had to wait two months after the season to finally be awarded the championship. The same season, Lawson dominated the AMA 250 Grand Prix Series.

The Superbike controversy at the end of 1980 just made Lawson more determined. He came back in 1981 and won the title after another great year of battling Honda and its top rider, Freddie Spencer. The Lawson/Spencer rivalry would go down as one of the best in the history of Superbike racing. During this period, AMA Superbike racing really came into prominence and started to replace the Formula One class in importance. Lawson again won the 250GP title in '81. Lawson's '80 and '81 championships marked the only times that Kawasaki would win the AMA 250 Grand Prix titles.

Lawson's last full season of racing in the U.S. was 1982. Again, Lawson and Kawasaki held off a serious challenge from Honda, that year with Mike Baldwin, who finished second in the series.