Kawasaki Ninja 650R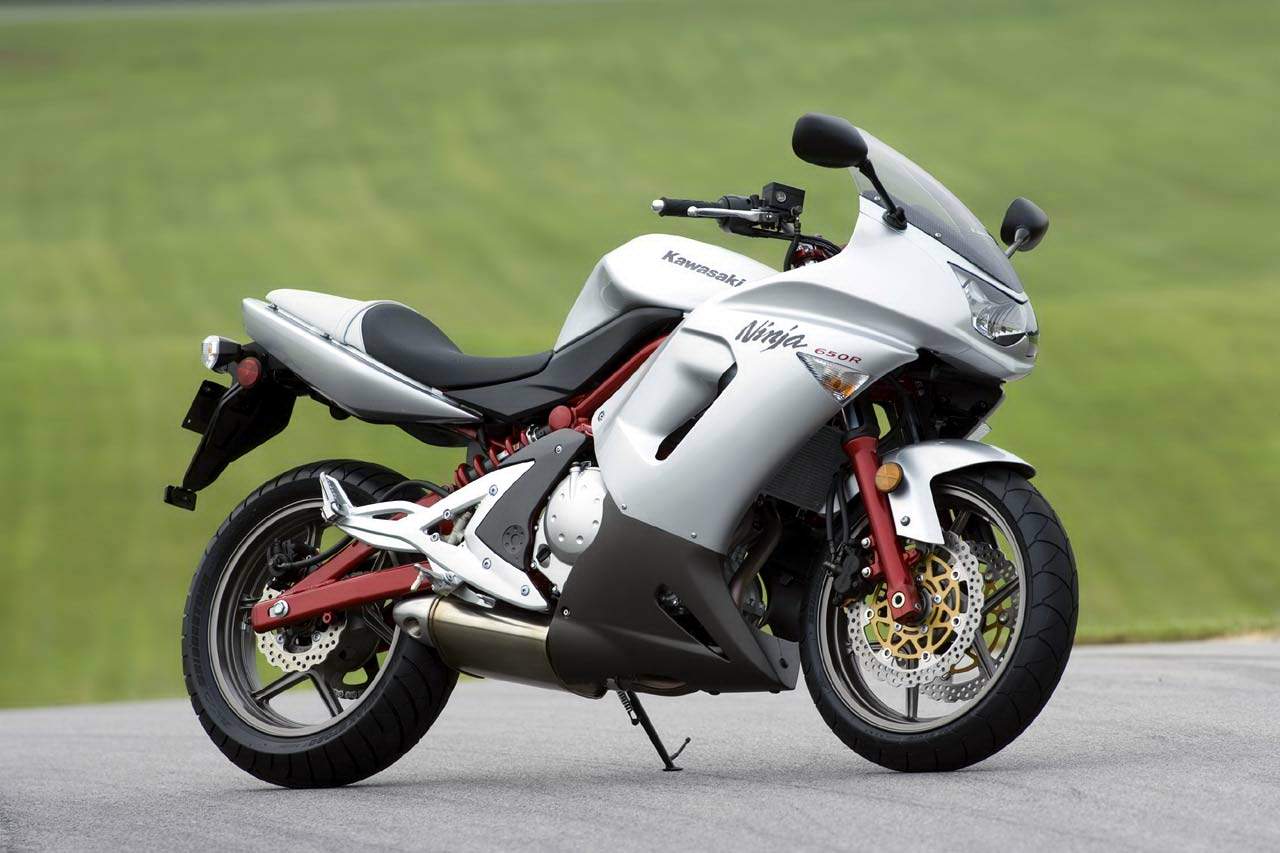 Make Model

Kawasaki

Ninja 650R

Year

2006 - 07

Engine

Four stroke, parallel twin cylinder. DOHC, 4 valves per cylinder.

Capacity

649 cc / 39.65

cu /in

Bore x Stroke

83 x 60 mm
Cooling System
Liquid cooled

Compression Ratio

11.3:1
Lubrication
Wet sump
Engine Oil
Semi-Synthetic, 10W/40

Induction

2x Keihin 38mm throttle bodies
Spark Plug
NGK, CR9EIA-9

Ignition

TCBI with digital advance

Starting
Electric

Max Power

70.4 hp / 51.8 kW @ 7000 rpm

Max Torque

65.7 Nm / 48.5 lb/ft @ 7000 rpm
Clutch
Wet, Multi Disc

Transmission

6 Speed
Final Drive
O-ring chain
Gear Ratio
1st 2.438 (39/16) 2nd 1.714 (36/21) 3rd 1.333 (32/24) 4th 1.111 (30/27) 5th 0.966 (28/29) 6th 0.852 (23/27)
Frame
Semi-double cradle, high-tensile steel

Front Suspension

41 mm hydraulic telescopic fork
Front Wheel Travel
119 mm / 4.7 in

Rear Suspension

Single offset laydown shock with adjustable spring preload,

Rear Wheel Travel
124 mm / 4.9 in

Front Brakes

2x 300mm discs 2 piston calipers

Rear Brakes

Single 220mm disc

Front Tyre

120/70 -17

Rear Tyre

160/50 -17
Rake
25° .
Trail
106 mm / 4.2 in
Dimensions
Length 2105 mm / 82.9 in.
Width 760 mm / 29.9 in.
Height 1270 mm / 50.0 in
Wheelbase
1410 mm / 55.5 in.
Seat Height
787 mm / 31.1 in
Ground Clearance
146 mm / 5.7 in

Dry Weight

177.8 kg / 393 lbs

Wet Weight

208 kg / 460.8 lbs

Fuel Capacity

15.5 Litres / 4.1 US gal
KAWASAKI NINJA® 650R BRINGS REAL WORLD PERFORMANCE TO BOTH THE TWISTIES AND MORNING COMMUTE
Powerful 650 is efficient and easy to ride
With a unique look and feel, the 2007 Kawasaki Ninja® 650R delivers cutting edge design and astonishing versatility. This is a motorcycle that excels in real world riding. With a comfortable seating position and sportbike performance levels, the Ninja 650R is well-suited for freeway commutes, around town errands and weekend track days.
Look at Kawasaki Ninja 650R sportbike and the first impression is one of pure design appreciation. Look a little longer and many of the innovative engine and chassis elements begin to come into play. However, the entire package doesn't truly project its intended engineering outcome until the motorcycle is viewed with a rider seemingly melded into its unique posture. Because the 650R was meant to have broad rider appeal, Kawasaki's development team began its task with the rider – not the motorcycle.
After studying every kind of rider, and all types of riding, Kawasaki's engineers focused on the human-machine interface. Different riding positions were examined to discover which instilled the most confidence. Narrowing the distance between the footpegs and striving for a lower seat height and low effort controls all played into the design effort.
The compact liquid-cooled, fuel-injected, DOHC, 8-valve 649cc parallel twin engine delivers a smooth responsiveness that is tuned for rider-friendly power characteristics – especially in the low and medium rpm ranges. It is a power delivery that will inspire confidence in new motorcyclists. Its excellent mid-range characteristics will make the 650R a natural in commuting environments, and slipping in and out of traffic will be a cinch thanks to its lightweight trellis frame and responsive steering.
The 650R's engine may be tuned for manageable power delivery, but it also has outstanding roll-on response when making a highway pass and more than enough power to make it an entertaining trackday companion. Kawasaki engineers called on their vast experience building Ninja supersport machines to develop a motorcycle possessing performance characteristics that will be a match for anything currently available in the middleweight arena, including those with larger displacement.
Ultimately, this exceptionally well-proportioned Ninja 650R represents a genre of motorcycle which is at home with both novice and experienced riders – and one that will be seen equally in daily midtown commuting situations as well as back-road-blasting on the weekends.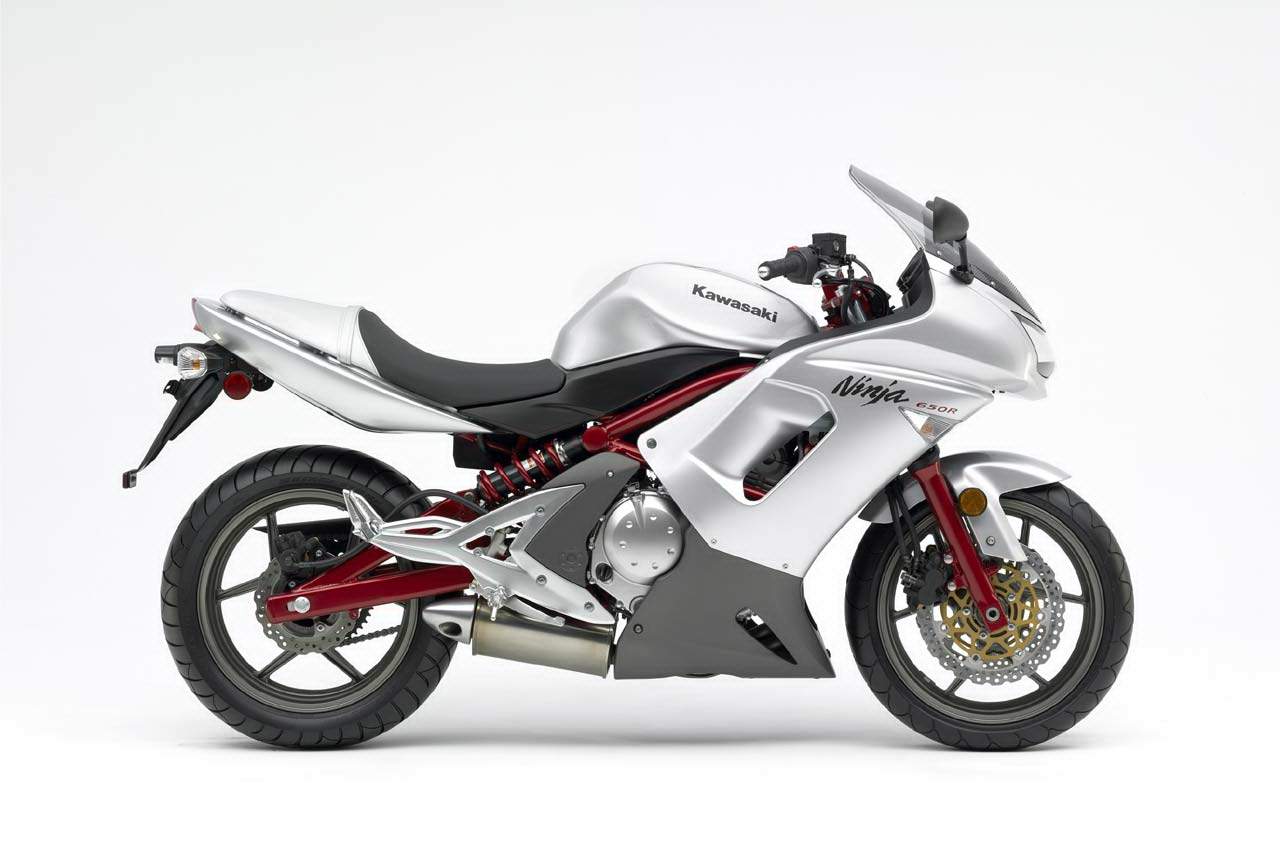 FEATURES:
Unique features
- Aggressive Ninja styling
- Powerful parallel-twin engine
- Compact size and weight
- Low seat height
Engine
- 649cc twin-cylinder, DOHC engine
- Parallel twin engine is the most compact in its category. The engine is considerably smaller than that of the Ninja 500 and helps reduce the dimension of the entire motorcycle
- Tuned to deliver smooth, responsive power in the low-to mid-rpm range with exceptional roll-on response for negotiating city traffic
- Triangular crank and transmission shaft layout makes the engine very short from front to back, a semi-dry sump oil system reduces overall engine height, while narrow pitch of the chrome composite plated aluminum cylinders helps reduce engine width
- Muffler with 3-way catalyzer and bullet-tip opening is mounted below the engine to help lower the center of gravity and aid weight centralization
- 180-degree crankshaft plus balancer shaft for extremely smooth engine operation
- Oil jets on the connecting rod big ends spray oil on the undersides of the pistons to aid cooling
Liquid Cooling
- Maintains consistent engine temperatures for long engine life and sustained power during hard use
- Allows closer engine tolerances for more horsepower
- Coolant is routed through the engine cases to reduce external hoses
Digital Fuel Injection
- 38mm Keihin throttle bodies feature sub-throttle valves for optimum performance and rideability. The sub-throttles, located behind the main throttle valves, are controlled by the ECU so that the DFI system gives a more precise throttle response, similar to a constant-velocity carburetor
- Precise fuel injection plus exhaust catalyzer significantly reduce emissions
- Automatic fast idle system makes starting and warm-up easy
Digital Capacitor Discharge Ignition (CDI) System
- Microprocessor-controlled timing never needs adjustment and is ultra-responsive to engine needs
- Spark plug mounted "stick" ignition coils are compact and help reduce weight
Six-Speed Transmission
- Cassette-style transmission puts the transmission shafts and shifts into a compact layout that is easily removed as a single unit from the cases for easier maintenance
Trellis Frame
- High tensile steel trellis frame is small and light
- Designed using 3-dimensional computer analysis to achieve the optimum stiffness balance for better handling
- Narrow at the knees and feet for rider comfort and control
Single-shock Rear Suspension
- Braced swingarm and offset, laydown single rear and shock complement the frame design to create an integrated line flowing from the steering head to the rear hub
- Short, compact frame and engine design allows the swingarm to be longer, which helps improve overall handling
Triple Petal Design Brake Discs
- Petal design rotors offer improved cooling and warp resistance
- Same rotor design as found on the Ninja ZX™-6R and ZX-10R supersports machines
Six-spoke wheels
- With the same engineering as the Ninja ZX-6R and ZX-10R, the six-spoke design requires much less material between spokes so that the rim thickness is thinner and overall wheel weight is reduced
Confidence-Inspiring Cockpit
- Low, narrow seat combined with the slim overall design allows riders to firmly plant both feet on the ground when stopped
- Carefully designed ergonomics result in a natural, comfortable riding position
- Textured seat cover helps keep the rider planted
Bodywork
- Stylish full fairing with aerodynamic windscreen cuts through the wind and helps protect the rider
- Integrated front turn signals with clear lenses enhance appearance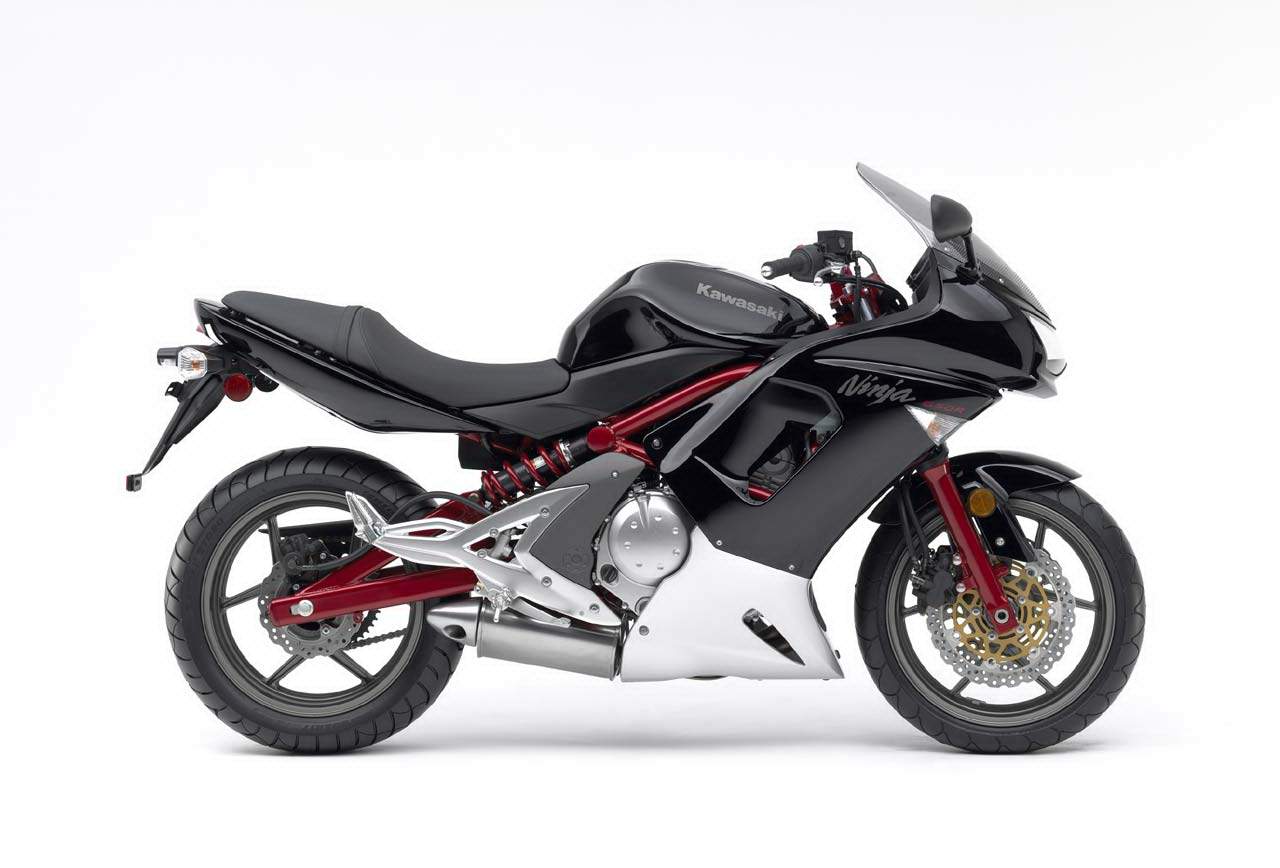 Review
Story by: Gabe Ets-Hokin, Feature Editor, January 2006
Today's story starts way back in 1987, when Honda introduced an unpretentious little motorcycle with a mildly-tuned, liquid-cooled 647cc V-twin engine in a rigid aluminum frame. Priced almost as high as its fully-faired and much more powerful cousin, the 600 Hurricane, the Hawk GT sold about as well as Ann Coulter t-shirts at a Phish concert. However, savvy enthusiasts quickly recognized that with a few choice suspension and engine modifications, the Hawk was an incredibly sweet-handling and fun bike that did double duty as a lightweight racer. Many racing clubs had classes filled completely with Honda Hawks, as no other manufacturer made a middleweight twin with the Hawk's potential.

That all changed in 1998, when Suzuki introduced the SV650. With a stiff aluminum frame and swingarm and modern suspension and wheel sizes, the SV was virtually as good as a heavily modified Hawk right out of the showroom. The icing on this cake was a smooth, four-valve liquid-cooled 90-degree V-twin that made 68 hp with a stock exhaust, a power output that a Hawk could achieve only by being a heavily breathed-on grenade. By the end of the 1999 racing season, Hawks were winning races only in the hands of the most skilled and dedicated riders. The popularity of the SV as a street bike ensured a steady supply of cheap race bikes, and seven years later, club racing grids are packed with SV650s.

Sean went out on the Suzuki first to scuff in the new tires. When he came back, he was all smiles...
Last year, Kawasaki showed an interesting bike built for the European market. The ER-6n is a naked standard with a steel trellis frame and a sophisticated 650cc parallel-twin motor. Power output was claimed at 69.7 hp, clearly targeting the second-generation SV's 71.1 claimed hp. The weird styling and lack of full fairing meant this bike probably would never come to American riders.
Imagine our surprise when we got invited to the introduction for Kawasaki's all-new for 2006 Ninja 650R. Pete's day aboard the new bike revealed a nice-handling little bike that was let down only by budget suspension and braking components. We also found out that a unit would be available for a full test in just a few weeks.
We knew our readers would want to know how this bike -- the first serious competition for the SV available in the US -- would do against the Suzuki twin, so we called up Suzuki and begged for an SV650 to test as well. All we had to decide was which flavor SV to compare it to. Some of us felt the standard SV would be a closer match, as the Kawi has tall bars that would feel very different from the S model's clip-ons on a racetrack, where the other school of thought held the majority of readers would feel only bikes with fairings should be compared, as a buyer in the market for a faring-ed bike wouldn't consider a naked, and vice-versa. In the end, the fairing people won, and Suzuki graciously and kindly gave up a fresh-from-the-crate 2006 SV650S.
Both Publisher Sean Alexander and I are club racers and trackday junkies with many miles on SV650s, so we wanted to see how the two bikes stacked up on the racetrack. A few phone calls secured us a trip to the Streets of Willow racetrack, courtesy of Hyperclub trackdays, and a call to Michelin got us two new sets of Pilot Power street/trackday tires.
After a week of all kinds of riding, from the track to the canyons, from bumpy LA freeways and city streets to the smooth sweepers of the Angeles Crest, we think we have enough data to have an intelligent opinion on who makes the best 650 twin streetbike. Does the Kawi have what it takes to unseat the SV from its middleweight-twins throne?
The Contenders
2006 Suzuki SV650S :: 71.15 hp :: $6,449 :: Friendly and Furious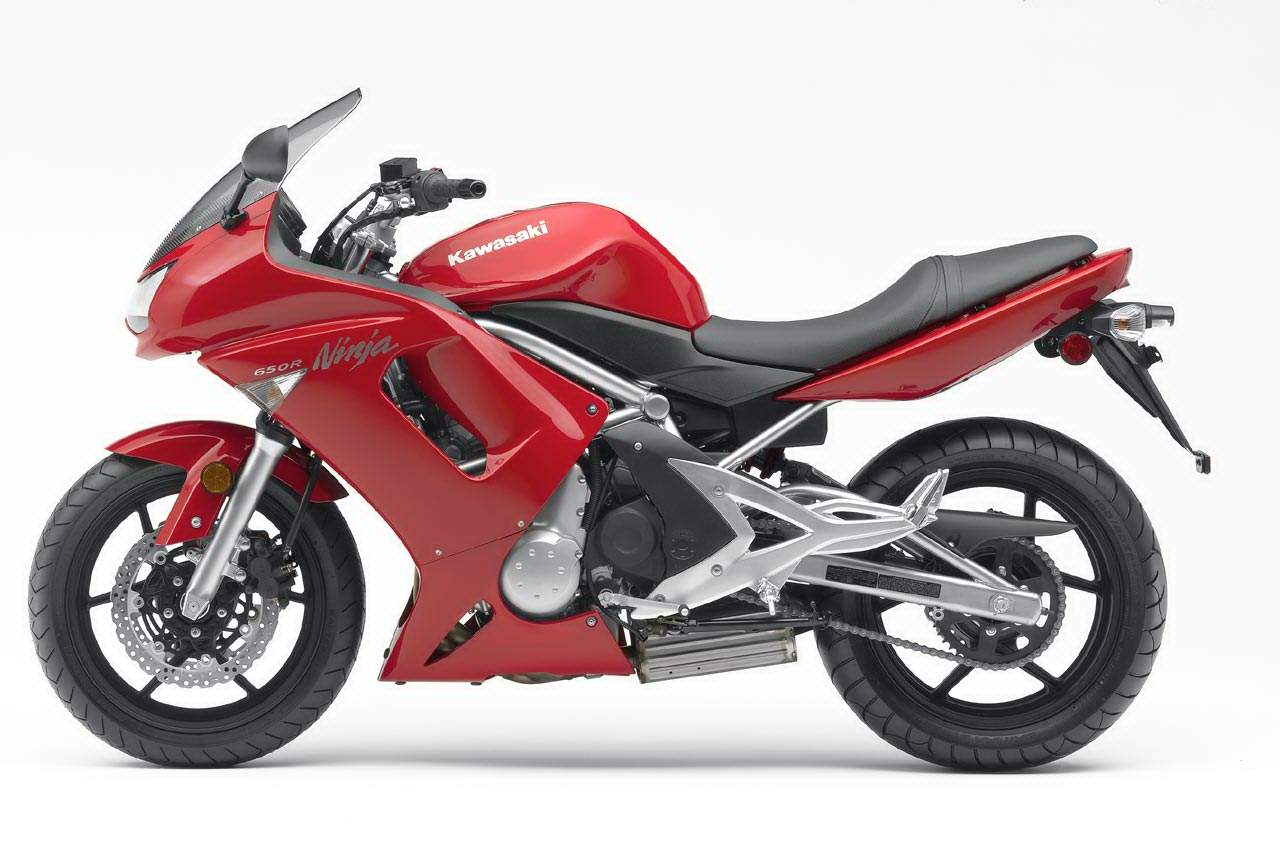 Completely revamped for 2003, the SV650S is an awful lot of motorcycle for $6,449. It uses the same basic formula that was so successful in 1999 with just enough tweaks to keep it fresh and modern.

The heart of the SV is the liquid-cooled, four-valve per cylinder V-twin motor. It uses an 81 mm bore and 62.6 mm stroke and precise electronic fuel injection to pump out 71.15 hp at 9,000 rpm; an unheard of number from a stock 650 twin not so long ago. The Vincent Black Shadow -- one of the most feared bikes ever-- made less than that. Do you still dismiss this as a "beginner" bike?
If only a Vincent had such a good chassis. The SV's "truss"-style frame was all-new for 2003, with a boxier, more creased appearance than the old one. It retained the aluminum swingarm and linkage-type rear suspension of the old bike, along with a 41 mm damper-rod fork. The front and rear suspensions are adjustable for preload only. Wheels are 3-spoke aluminum jobs shod with Dunlop D220s, a 120/60-17 in front followed 56.3" behind by a 160/60-17 rear. Braking is handled by a trio of Tokico two-piston sliding-pin calipers and 290 mm front discs- the rear disc is 220 mm.
Perched on top is 1980's-esque bodywork with lots more sharp edges. Our 2006 was in a fetching shade of red, the bodywork contrasting nicely with the black frame and wheels. There are plenty of amenities, like a metal grabrail for your passenger and a hazard light. The LCD speedometer sits above the tachometer. As a bonus, you can view the coolant temperature and clock at the same time. The bike weighs in at a claimed dry weight of just 372 pounds.
Aside from the Duran Duran-esque fairing and five extra Ben Franklins, the S differs from the standard version of the SV650 by having higher and more rearset footpegs, low clip-on handlebars, a slightly shorter swingarm, and taller gearing. It's a complete package that looks like something much more powerful, expensive and sophisticated than it is, which partially explains the bike's continuing success. What does the Ninja need to surpass it?
2006 Kawasaki EX650R :: 65.65 hp :: $6,299 :: Meet The New Kid
Lest Pete's endurance of the long tech briefing go in vain, check out his coverage of the 650R's press introduction. If you'd rather have me give you a quick rundown, we'll start with the motor.
Kawasaki's engineers faced a daunting task: make a motor that matches the SV's power output without making a peaky mess that intimidates novice riders while saving enough money to keep the price competitive. One way to do this is to use a parallel twin powerplant. A single cylinder head saves money in many ways: there's only one cylinder block, one cam chain, one cam chain tensioner, two cam shafts instead of four, and so on. Additionally, it's more compact, saving mass and making it easy to package.
To inform you cynics out there, it's not a bored-and-stroked EX500 motor. With a very oversquare 83 mm bore and 60 mm stroke, it's a much more compact and modern design, with a cassette-style gearbox, semi-dry oil sump and liner-less cylinders to make it smaller than the 500. A 180-degree crank and balance shaft keep it smooth, and 38 mm injectors directed by a microprocessor-controlled engine management system keep it precisely fueled.
The motor nests in a slick red-painted steel trellis-style tube frame that's designed to be narrow, light and compact. The most remarkable feature of the frame is the "laydown"-style rear shock adjustable only for preload (but incredibly easy to adjust- you don't even have to bend over). The 41 mm damper-rod fork is non-adjustable.
Brakes and wheels are nothing fancy. The six-spoke wheels sit just 55.3" apart and carry Bridgestone BT-020s, a 120/70-17 in front and a 160/60-17 on the back hoop. The brake calipers look just like the two-piston units on the SV, but with the fashionable "petal"-style 300 mm rotors like those found on the ZX-6R and ZX-10R.
It's wrapped up in a muted, sophisticated fairing with a chest-height windscreen and integrated turn signals. Large integrated footpeg brackets carry the rider and passenger pegs on one immense unit, which will be challenging for racers to modify. The seat is carefully styled to blend in with the bike's lines and is very narrow and low at the front, but thickly padded and wider at the rear. The handlebars are high and pulled back, but not too wide.
...For $6,299, this is a nicely-finished, good-looking bike.
Instrumentation is a bit spare, with no temperature gauge to distract the rider. There is a clock, dual tripmeters, and hazard lights as well. The build quality is just OK; the unit appears nicely designed, but the plastic is thin and some plastic panels have unsightly gaps and seams. Still, for $6,299, this is a nicely-finished, good-looking bike.
SourceMotorcycle.com