Kawasaki Ninja 250R Limited Edition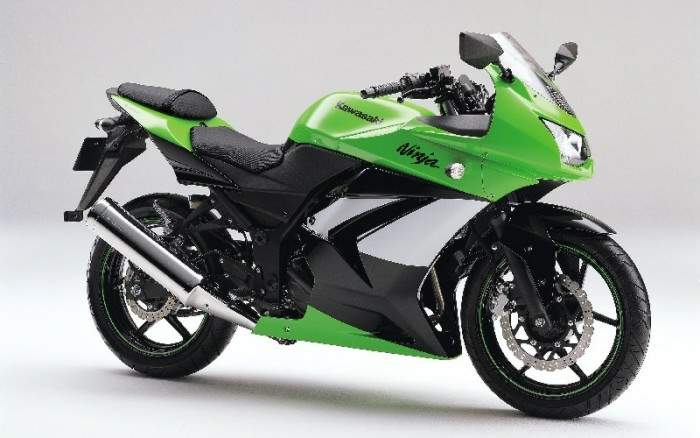 Make Model

Kawasaki Ninja 250R Japanese Limited Edition

Year

2018

Engine

Four stroke . parallel twin, DOHC, 4 valve per cylinder

Capacity

248 cc / 15.1 cu-in

Bore x Stroke

62 х 41.2mm
Cooling System
Liquid cooled

Compression Ratio

11.6:1
Lubrication
Wet sump
Engine Oil
Semi-Synthetic

Induction

2x Keihin CVK30 carburetors

Ignition

TCBI with Digital Advance / electric
Starting
Electric

Max Power

29.9

hp /

22 kW

@

10500

rpm

Max Torque

21.7 Nm / 2.21 kgf-m / 16.0 lb/ft @ 10000 rpm
Clutch
Wet, cable operated

Transmission

6 Speed
Final Drive
O-ring chain
Frame
Semi-double cradle, high-tensile steel,

Front Suspension

37mm hydraulic telescopic fork
Front Wheel Travel
119 mm / 4.7 in

Rear Suspension

Uni-Trak® with aluminum linkage
Rear Wheel Travel
130 mm / 5.1 in

Front Brakes

Single 260mm hydraulic petal disc 2 piston caliper

Rear Brakes

Single 220mm petal disc 2 piston caliper

Front Tyre

110/70-17

Rear Tyre

130/70-17
Rake
26°
Trail

84

mm

/ 33 in
Dimensions
Length 2080 mm / 80.0 in.
Width 711 mm / 28.0 in.
Height 1115 mm / 43.1 in.
Wheelbase
1389 mm / 5.1 in.
Seat Height
780 mm / 29.3 in

Dry Weight

151 kg / 304 lbs.
Wet Weight
170 kg / 374.7 lbs

Fuel Capacity

18.2 Litres / 5.8 US gal
Kawasaki has introduced a limited edition Ninja 250R in Japan.
It has a great paint scheme with black side panels echoes the MotoGP ZX-RR.
Kawasaki has significantly re-engineered and redesigned the venerable Ninja 250R for 2008.

Engine and chassis changes, new bodywork and a larger, more powerful front brake are part of the new package. Here is the information from Kawasaki.
One look at the new Ninja 250R tells everyone that this bike is the genuine article. With a new full-fairing similar to the Ninja ZX-6R and -10R supersport bikes, a single kicked-up muffler, UNI-TRAK® rear suspension, high-performance petal disc brakes and a dual seat, this is the most stylish performer in its category.

Compact size, exceptional personality and a low price tag highlight Kawasaki's new Ninja® 250R quarter-liter performer. Considering how much fun it is to ride and the fact that it's the only 250cc sportbike sold in the U.S., it's no wonder the Ninja 250R has been a strong seller for over a decade. Its successful blend of a rider-friendly engine, easy-to-operate chassis and supersport styling worthy of its Ninja moniker, this model was developed to offer real world performance to riders of all skill levels and goes to show that good things do come in small packages.

At the core of the lightweight Ninja 250R is an engine that thrives on high-rpm excitement. The gutsy 249cc parallel twin has been retuned to spice up its smooth and predictable power delivery. It now offers more low- and mid-range torque thanks to revisions to its dual overhead camshafts and a new 2-into-1 exhaust system. A silky smooth six-speed transmission tops off the sportbike equipment list, enabling the 250R to exploit a powerband that's sure to please riders with its beginner friendly low-end grunt and a lively top-end rush that'll keep seasoned veterans satisfied. The coup de' grace, is its ability to deliver excellent fuel economy.

The 250R's new fairing and windscreen not only look great, they deliver improved wind protection for a wide range of riding situations. This lightweight sportbike is loaded with even more rider-friendly features such as an easy-to-read instrument panel and positive neutral finder.

A natural riding position and comfortable ergonomics combined with its lightweight handling, easy controllability and improved throttle response make the 250R a pleasure to ride on city streets. Also new for 2008 are larger 17-inch wheels that offer great handling and improved stability. A larger 290mm front brake rotor is gripped by a powerful 2-piston caliper to provide a healthy dose of stopping power with a responsive feel at the lever. Like Kawasaki's other sport models, the Ninja 250R is fitted with petal discs for efficient heat dissipation.

The simple formula of providing easy-handling agility, lightweight responsiveness, and low ownership costs make the Ninja 250R a force to be reckoned with in the entry-level sportbike category.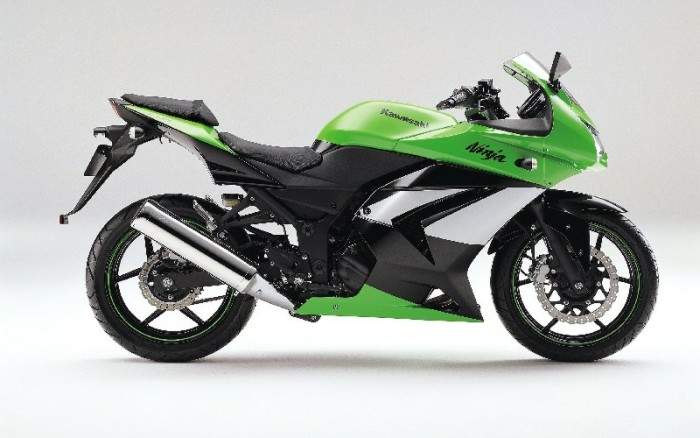 Review
Quick. Name the best-selling Kawasaki motorcycle in the United States in 2007.

The ever-popular and recently redesigned KLR650? The flagship Ninja ZX-10R sportbike? Maybe the Vulcan 900 Classic, an affordable cruiser?

No. While all those bikes rank in the top 10, Kawasaki's best selling model last year was the Ninja 250. And just as Kawasaki waited 20 years to redesign its popular KLR650 dual-sport, it let the smallest Ninja languish virtually unchanged from 1988 to 2007.

Can you blame them? Why mess with success?

Well, one reason to mess with success is to make it even better, and fortunately, that's what Kawasaki has done with the 2008 Ninja 250R.

While the changes for 2008 run through every part of the motorcycle, the exterior facelift demands immediate attention. The Ninja 250 was right in the mainstream of sportbike styling when it first came out in the 1980s, but trends moved on as the 250 stayed put, and nostalgia doesn't play in the sporting world the way it does in the cruiser world.

For 2008, the Ninja 250R gets sleeker bodywork, a two-piece seat (the rear seat cowl shown in some of the photos is a $99.95 option) and a single exhaust canister, all of which bring the look smartly up to date. In fact, with bodywork determined more by styling than by the aerodynamic concerns dictated by racing, the smallest Ninja will actually be more attractive to many eyes than its more rounded 600cc and 1,000cc siblings.

As soon as you settle into the 250R's seat, you notice a couple of additional differences from its bigger brothers. For one, although the seat is slightly higher than before, at 30.5 inches, it's narrow and still allows even shorter riders to get both feet on the ground. With the majority of Ninja 250 buyers being first-time riders (and 33 percent being women), user-friendly ergonomics are important.

Which brings us to a second difference from the bigger sportbikes. The riding position is more sport-touring than sportbike in feel. The rider leans forward just slightly and leg room isn't cramped for anyone under six feet in height. Ninja 250 riders told Kawasaki they use their bikes mostly for riding around town, backroads excursions, commuting and shorter weekend trips, and this riding position matches that mission, especially for urban use, better than a racetrack-oriented sportbike crouch would.

Past Ninja 250 owners said they wanted a fuel gauge, so Kawasaki gave them a big one. It's as prominent as the tachometer, which makes the gauge cluster a little unusual in the sportbike world. The small tachometer is still easy enough to read, however.

And you will want to keep an eye on it. You just don't have to monitor the tach as closely as before.

That's because much of Kawasaki's work in redesigning the engine was aimed at providing more low-end and midrange torque. Revving the old Ninja 250 was fun, but also essential for forward progress.

Kawasaki updated the head of the engine with reshaped intake and exhaust ports, a newly shaped combustion chamber and thinner valves. Cam timing was also revised.

The 250R uses two Keihin carburetors, with the jetting revised for the new engine. Informed readers will wonder why the U.S. version doesn't come with the fuel injection system found on the 250R in Europe. The answer is on the price tag.

When Kawasaki asked Ninja 250 buyers to rank the level of importance of different aspects of the bike, they placed "price" number one. That's not the case for any other motorcycle Kawasaki sells in the U.S. market.

"We had a choice," said Kawasaki's Karl Edmonson. "We could have carbureted or fuel injected. To keep the cost down, we went with carbureted."

Meanwhile, the company's European division felt it needed fuel injection to be able to sell the 250R in Europe. Either way, emissions is not a problem and the 250R is 50-state legal. Its new exhaust system includes two catalyzers.

Along with the additional power from the engine redesign, the 250R got more stopping power with a slightly larger single disc up front and petal discs front and rear. The Kayaba rear shock is now adjustable for preload.

Oh, and one more change that will bring cheers from knowledgeable riders. The Ninja 250R gets 17-inch wheels in place of the old 16-inchers. In addition to better stability, the modern-size, six-spoke wheels allow a greater choice of tires.

"This is probably the thing that has had the biggest impact on making this feel like a different motorcycle," Edmondson said of the switch to 17-inch wheels.

While I personally haven't had much experience with the former Ninja 250, test riders who owned the old version and sampled the 2008 model at the press intro in San Diego were quick to confirm Edmondson's assertion that the 250R feels like a different motorcycle.

We rode the bike the way Ninja 250 buyers say they ride: On city streets, jumping onto the freeway to get out of town, looping some tasty backroads -- everything except riding to work (luckily for us).

Pulling onto a southern California freeway on a 250cc motorcycle, there's reason to wonder about the bike's ability to keep up with traffic. No problem, as it turns out. About 8,000 rpm in sixth gear will have you speeding on any highway in the country, and the Ninja pulls to its 13,000 rpm redline. The additional power is crucial on the highway, and makes the 250R a far more versatile bike. You still have to plan passes in advance with a downshift or two, but really, you can ride this bike anywhere there's pavement.

Venturing onto curvier roads, the Ninja's light weight pays off. There's nothing exotic here. Non-adjustable (except for rear pre-load) suspension, a single brake disc at both ends and bias-ply tires. But you don't need much exotica when you have well under 400 pounds of motorcycle to accelerate, turn and stop and a modest 16.2 foot-pounds of torque twisting the rear wheel.

The wide-spaced hand grips and narrow tires add to the nimbleness and the disc brakes provide plenty of stopping power. The footpegs are high enough that you're unlikely ever to scrape pavement. And while you need to keep the revs up above 8,000 rpm if you want to keep forward momentum going at a brisk pace, that's not a bad thing. I predict that new riders will actually hone their skills faster on a small bike like the 250R than they would on a bigger machine. If you're in the wrong gear, you can't just twist the throttle harder to get out of the hole you dug for yourself.

Fortunately, the six-speed transmission shifts easily and I never had trouble finding neutral at a stop.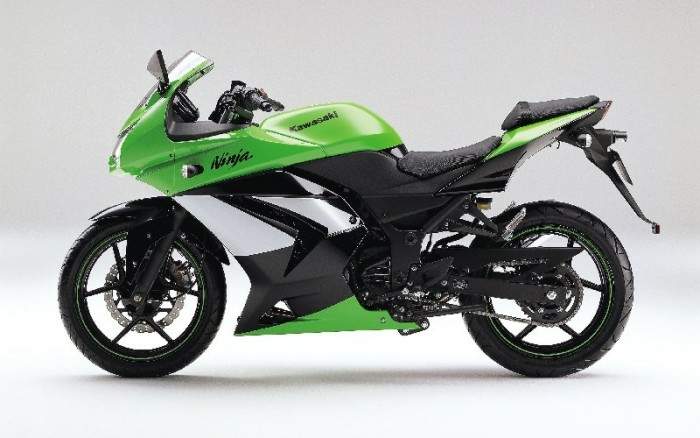 If I could suggest any areas for improvement, I'd look at the seat and the clutch. The seat is narrow, to help shorter riders get two feet firmly on the ground, and it starts to feel a little hard on longer rides.

More importantly, the clutch lever's engagement point is pretty close to the end of its travel, the reach is typical of most motorcycles and the pull effort is heavier than I'd expect for a small bike. A shorter reach would be helpful to many of the women riders buying the Ninja 250, and a lighter pull and broader range of engagement would help new riders learn clutch-throttle coordination. Some riders said a little adjustment improved the clutch. It might be a good idea for new riders to make sure the dealership pays extra attention to getting the clutch adjusted just right before the bike leaves the showroom.

The bottom line is that the improvements for 2008 make the Ninja 250R a more broadly usable bike than ever before, one that's aimed at exactly the types of riding that past buyers say they use their motorcycle for: around-town transportation, commuting, weekend sorties in search of fun. For an MSRP of $3,499, less than the price of similar-size scooters, buyers can get a real motorcycle that's cheap to buy, cheap to insure, cheap to keep filled with gas and will take you wherever the road leads.

The Ninja 250 has introduced thousands of newcomers to the joys of riding. Many of them moved on to bigger bikes. New riders will still get their first taste of street riding on the Ninja 250R. But now, more than ever, the Ninja 250R is all the motorcycle some riders will need.

Source By Lance Oliver,Amadirectlink.com