Kawasaki KR-1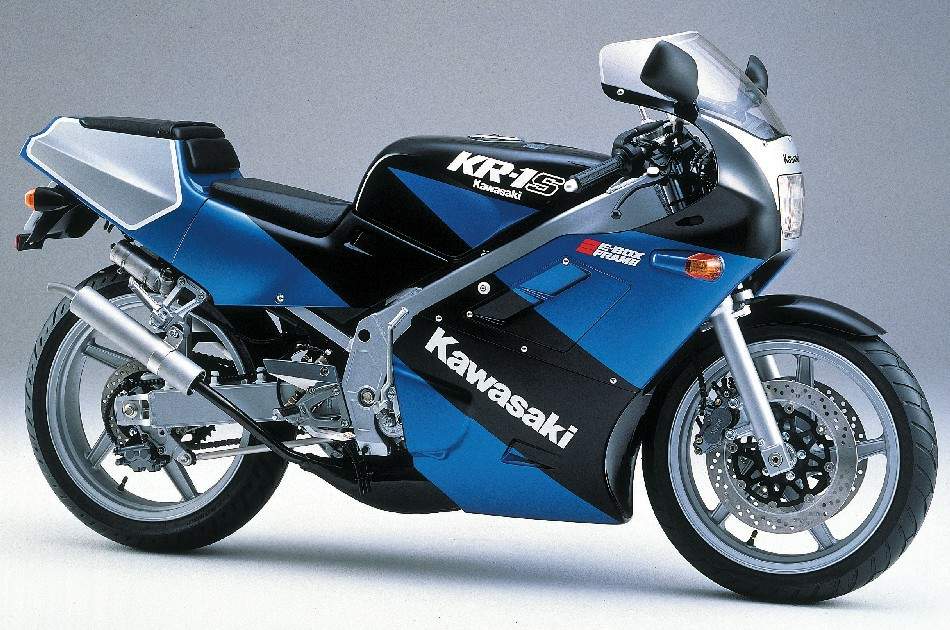 | | |
| --- | --- |
| Make Model | Kawasaki KR1 |
| Year | 1989 |
| Engine | Ttwo stroke, parallel twin cylinder |
| Capacity | 249 cc / 15.2 cu-in |
| Bore x Stroke | 56.0 x 50.6 mm |
| Cooling System | Liquid cooled |
| Compression Ratio | 7.4:1 |
| Induction | 2x 28mm Keihin PWK carburetor |
| Ignition | Capacitor discharge |
| Starting | Kick |
| Max Power | 55 hp / 41.0 kW @ 10500 rpm |
| Max Torque | 3.75 kgf-m / 27.1 lb-ft @ 10500 rpm |
| Transmission | 6 Speed |
| Final Drive | Chain |
| Front Suspension | 41mm stanchions, air assisted telescopic fork with unstopped preload adjustment |
| Rear Suspension | Bottom Link Uni-Trak with air adjustable gas shock, unstopped preload, and four-way rebound damping |
| Front Brakes | 2x discs 4 piston calipers |
| Rear Brakes | Single disc 2 piston caliper |
| Front Tyre | 100/70 VR17 |
| Rear Tyre | 130/60 VR18 |
| Wheelbase | 1365 mm / 53.7 in |
| Seat Height | 855 mm / 29.7 in |
| Dry Weight | 123 kg / 271 lbs |
| Fuel Capacity | 16 Litres / 4.2 US gal |
it is a human trait to shy clear of perfection, whether it is to avoid offending some deity or simply to leave something to do next, he major imperfection with the KR-1 was at it was available in Japan a full 12 months before it appeared here. And the disc-valve KR250-A1, first built in 1984, never made it here at all, apart from the odd grey-market import.
Otherwise, the 250 Kawasaki did everything you might expect of a 50bhp machine which weighs 271 lb. It was significantly quicker than the RGV and the 1990, KR-1 S version has been uprated to give more power still — enough to make it some 5mph faster.
Given the weight, less than 54 inches of wheelbase and 66 degrees of castor, the KR-1 could turn faster than a politician in full cry. Given all that, it was a surprise to find that the suspension not only worked, but worked well, combining with an uncramped riding position to make the bike comfortable at full tilt and even acceptable on long, boring motorways.
The power characteristics and the tall gearing meant that it didn't like steady 70mph cruising. And the nature of the bike means sub-40mpg fuel consumption, which means you don't get very far on a standard tankful. But who needs perfection?
The KR1S' life story is as brief and spectacular as the Kawasaki's powerband. Launched in spring '90 (only a year after Kawasaki surprised everyone, especially Suzuki, with their RGV-eating KR-1), the completely redesigned KRl-S quickly established itself as a winner on the street and track. Two years later it was finished; no longer imported and soundly beaten by RGVs everywhere. The KR1-S took razor steering and insane power-to-weight ratios a stage further than anyone had before. Tall gearing pushes it past 130mph and makes it still lOmph faster than even the latest RGVs. This is important when you're a budding headbanger recently graduated from a restricted 125.
The power delivery is stunning. From 6,000rpm the KR1-S lights up like a roman candle and sparkles all the way to 11,000, making a proper racing two stroke crackle rather than the RGVs polite
chuffing. Although the two are evenly matched on horsepower, the KRl-S feels stronger because the RGV shuts down abrubtly at 12,000 while the KR1-S overrevs by 500rpm after peaking.
The KR1-S handling experience is a combination of light weight, instant steering, and overdamped suspension which adds up to superb racetrack manners and massive tankslappers on real roads.
But bumpy back lanes are the
KR1-S' natural habitat, where slappers, an explosive powerband and whippet handling make the Kawasaki a high-adrenaline handful.
Dual carriageways and motorways don't overwhelm the KRl-S. It's cruise at 80mph on the bottom edge of its powerband for as long as the tank lasts (90-110 miles), and do it in relative comfort thanks to a roomier riding position than the RGV.
More important to impoverished teenagers in the early '90s was the price: in '91 a new KRl-S cost £3,779—£311 less than the RGV.
WHAT TO LOOK FOR
Raced KRs are easy to spat dried, lockWired nuts, crash damage on both sides of the bike or mint bodywork on corroded metahvorfc are all indications of track Me. Unless you want to race, steer dear.
Unreiable horrors are harder to pick out. Sloppy factory quality control led to wildly varying engine tolerances. Common problems include wonky barrels causing piston slap followed by ring peg failure, with are consequences for al components concerned. Listen for top end knock when starting from cold.
Other KR1-S probs: leaky base gaskets.