| | |
| --- | --- |
| Make Model | Kawasaki KLX 650 |
| Year | 1995 - 96 |
| Engine | Four stroke, single cylinder, DOHC, 4 valve |
| Capacity | 651 cc / 39.7 cu-in |
| Bore x Stroke | 100 x S3mm |
| Cooling System | Liquid cooled |
| Compression Ratio | 9.5:1 |
| Induction | Single 40mm Keihin CV carburetor |
| Ignition | CDI |
| Starting | Kick |
| Max Power | 48 hp / 35.0 kW @ 6500 rpm |
| Max Torque | 5.3 kgf-m / 38.3 lb-ft @ 5500 rpm |
| Transmission | 5 Speed |
| Final Drive | Chain |
| Front Suspension | Kayaba upside-down |
| Rear Suspension | Kayaba single shock |
| Front Brakes | Single disc |
| Rear Brakes | Single disc |
| Front Tyre | 90/90-21 |
| Rear Tyre | 130/80-17 |
| Seat Height | 885 mm / 34.8 in |
| Dry Weight | 145.0 kg / 319.7 lbs |
| Wet weight | 153 kg / 337 lbs |
| Fuel Capacity | 12 Litres / 3.1 US gal |
| Consumption Average | 19 km/lit |
| Braking 60 - 0 / 100 - 0 | 14.1 m / 42.03m |
| Standing ¼ Mile | 13.7 sec / 148.3 km/h |
| Top Speed | 161.2 km/h |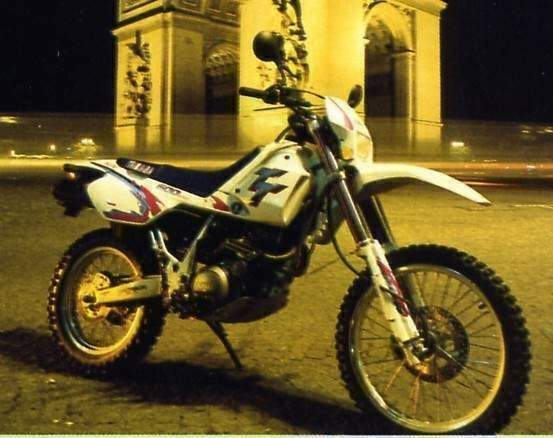 XR 650L vs KLX 650
For the last two years, looking for a serious dual-sport mount meant looking no further than your Honda dealer. In 1992, Honda reshuffled the dual-sport deck with its XR650L, the most dirtworthy big-bore single we've tested. Armed with top-drawer suspension bits, potent brakes and far better trail manners than anything in anybody else's showroom, the Honda beat all comers once the pavement ran out.
Meanwhile, Kawasaki already had a dual-sport contender in the KLR650. But rather than lose potential sales to riders who figured the big, heavy KLR couldn't handle hardcore off-road work, Kawasaki countered with a dirtier big-bore weapon of
Despite having the same basic electric-start, liquid-cooled, four-valve, 651 cc engine layout as the KLR, the KLX comes from an otherwise blank CAD/CAM computer console.
The KLX design team started with a new steel perimeter frame inspired by Kawasaki's KX motocrossers. In the suspension department, the KLX is blessed with 11.2 inches of travel from a new but sadly nonadjustable inverted fork. The Uni-Trak rear suspension delivers 10.2 inches of rear-wheel travel, allowing for a lower, more accessible seat height. But for all the attention Kawasaki lavished on broadening the off-road side of the bike's performance envelope, we were surprised to find the KLX's 337-pound claimed dry weight was only 1 pound under the KLR's. That's primarily because of the KLR's larger fuel tank and more complete instrumentation. Credit the unexpected heft of the KLX to the more rugged frame and suspension bits, bigger 262mm front-brake rotor and a host of other changes aimed at making sure this bike is up to arduous off-road work.
Though it's hardly noticeable on the street, the KLX's extra pork puts the Kawasaki at a serious disadvantage hammering down a gnarly trail alongside Honda's class-conquering XR650L. Honda's air-cooled, four-valve, 644cc machine scales in at 347 pounds full of vital fluids 32 pounds fewer than the KLX. The KLX's radiator, coolant, pump, hoses and attendant liquid-cooling hardware account for most of the weight difference, along with incidentals like a luggage rack and greater fuel capacity (.4 gallon more).
When it's time to saddle up, Honda made it easier to touch the ground from the XR650L saddle by reducing rear-shock preload, which effectively lowers seat height by .7 inch. But at 37 inches high, it's still about 2 inches taller than the KLX. The Kawasaki has about half an inch less travel at each end than the Honda, which boasts 11.6 inches of travel from its 43mm fork and 11.0 inches of wheel travel through its Pro-Link rear end.
When you get them off the road, suspension performance defines the two bikes. The extra travel and superior suspension rates make the Honda a better vehicle for blasting across rough terrain at speed. Testers from our companion publication Dirt Rider called the XR-L suspension "plush and balanced," although they felt it was just a bit too soft for full-bore charges by top-level riders.
The Honda's more composed, compliant suspension makes truly heinous terrain more manageable for less aggressive riders as well. And even though the Kawasaki has a more rigid, solid-feeling chassis, its suspension always has the bike feeling a bit less poised in the dirt. We found the fork's harsh initial travel delivered a rough ride over sharp hits. The rear shock in particular provides poor control and is quickly overwhelmed during aggressive high-speed use. Hammering through big bumps, the KLX's rear end bottoms against the inside of the fender.
In the slow stuff, the XR-L's extra height can become something of a liability for shorter humans. All but our tallest testers preferred the KLX to the Honda when plodding through a rocky stream bed or switchback-infested trail. Such situations make the KLX's lower seat an important advantage, especially when you want to take a dab on the low side. The Kawasaki steers more accurately at plonking speeds, thanks in part to a lower center of mass. It also emerges on top on fast, smooth fire roads, where its rigid chassis and lower height give it an edge.
Another mark in the KLX's favor is the riding position. The flatter seat lets you put your weight where you want it. The Honda feels roomier and works well when you're standing on the pegs, but it slides you into single position when you're seated.
The two machines are remarkably similar in terms of absolute power. The Honda provides better off-idle throttle response, warming quicker from cold. The liquid-cooled Kawasaki gets better fuel mileage, which combines with its slightly greater fuel capacity to offer almost 50 percent greater range before you need to switch to reserve. The Honda normally drank its main fuel supply in about 80 miles of off-road riding, but the Kawasaki logged over 110 miles before sputtering onto reserve. This turns into an extra-large off-road handicap for the Honda since riders couldn't get much farther than 50 miles from a gas station when exploring new trails. Out here in the wide-open spaces of the western deserts, that's just not enough. On one particularly hairy ride, the few street upshifts. As the miles mounted, the gearbox seemed to smooth out somewhat and required less pressure to switch cogs, but it still didn't shift as smoothly as the Honda after 1500 miles. Both clutches worked with comparable consistency.
Though they are a major improvement over KLR brakes, the KLX stoppers lack the power of the Honda units. Still, some riders felt they offered better control than the XR brakes. We got the KLX's binders to fade slightly during hard street use and on long off-road downhills.
Both bikes use the same tires—Dun-lop K850As—front and rear, although the Kawasaki Takasago alloy rims are wider (1.85 versus 1.60 for the 21 -inch fronts and 2.50-17 versus 2.15-18 in the rear) than the XR-L's D.I.D hoops. The tires are about as dirt-oriented as a motorcycle intended for any kind of regular street use can realistically carry. Predictably, most riders wished for more aggressive tires off the road, but those are available in a growing number of aftermarket choices. On the street, the tires can't match the sheer grip of average standard-issue street rubber and are quick to tell you when they're nearing their cornering limits.
With more street-oriented rubber, these two motorcycles could provide impressive performance on kinky roads, though again, the lower KLX has a marginal edge. It dives less under braking, and a lower center of mass makes it a bit easier to flick around. Because these bikes are so light and narrow compared to the average pavement-only mount, they turn quickly enough and lean far enough to embarrass the Alpines-tars off unsuspecting sport-bike pilots through a tight set of esses.
Both of these dirtworthy dual-sports make excellent day-to-day traffic
scalpels with quick, broad-band power delivery and the extra visibility afforded by tall seating positions. All that suspension travel makes it easy to negotiate those bottomless potholes. And with the added bonuses of street-only fuel-consumption figures over 50 mpg and relatively low insurance rates, both provide practical transportation too.
Neither one makes a good long-distance runner the way some other dual-sports, notably the KLR, do. They vibrate a bit too much, offer little wind protection and are too narrow in the saddles. However, if you're happy on them on the open road, the big singles seem content to putt along all day.
Since it's little changed from the KLR, the KLX engine should wear well. On the other hand, just changing the spark plug requires fuel-tank removal. The air-cooled XR-L may need slightly more regular attention, but it's much easier to work on.
Neither of our test bikes required more than regular service, and aside from a KLX inner rear fender that was eventually eaten up by repeated arguments with the rear tire (Kawasaki is fixing this under warranty, and the fix includes a new rear shock—standard on the '94 model with about .7 inch less wheel travel), nothing failed.
Choosing the right dual-sport becomes a matter of matching what you want with what the bike can do. Both of these machines fall far on the dirt end of the dual-sport continuum, but the XR650L with its great suspension still sets the standard for off-the-rack dual-sport dirt work. At $4799, the XR-L costs $100 more than the KLX, but the KLX650 is better for riders who are shorter of inseam, planning to ride on tight trails, want more responsive street manners or
just need that extra range. Neither of these 650 thumpers offers the range, comfort or multitask capability of the KLR650. But if you want electric starting and big-bore power in a bike that leans toward the dirt, you're looking at a field of two. And for our money, the Honda narrows it down to a field of one. M
Source MOTORCYCLIST 1993