Kawasaki KLX 250R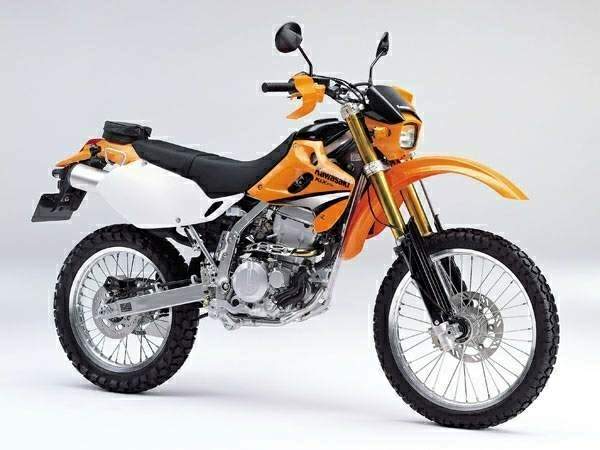 Make Model

Kawasaki KLX 250R

Year

2004 - 06

Engine

Four stroke, single cylinder, DOHC, 4 valve

Capacity

249 cc / 15.2 cu-in

Bore x Stroke

72 х 61.2 mm
Cooling System
Liquid cooled

Compression Ratio

11.0:1

Induction

Keihin CVK34 carburetor

Ignition

Digital CDI

Starting
Kick

Max Power

27 hp / 22.3 kW @ 8500 rpm

Max Power Rear Tyre

23.5 hp @ 8200 rpm

Max Torque

2.6 kgf-m / 18.5 lb-ft @ 7500 rpm
Clutch
Wet, multiple discs, cable operated

Transmission

6 Speed

Final Drive
Chain
Frame
Steel, Double cradle frame

Front Suspension

43 USD cartridge fork with 16-way adjustable compression damping

Front Wheel Travel
285 mm / 11.2 in

Rear Suspension

Bottom-Link UNI-TRAK with gas-charged shock, adjustable preload, 16-way rebound and compression damping

Rear Wheel Travel
280 mm / 11.0 in

Front Brakes

Single 250mm disc 2 piston caliper

Rear Brakes

Single 230mm disc 1 piston caliper

Front Tyre

3.00 -21

Rear Tyre

4.00 -17

Rake
26.5°
Trail
105 mm / 4.1 in
Wheelbase
1480 mm / 56.3 in.
Seat Height
880 mm / 35 in

Dry Weight

116 kg / 255.7 lbs
Wet

W

eight
130 kg / 286 lbs

Fuel Capacity

10 Litres / 2.6 US gal

Braking 60 - 0 / 100 - 0

- / 44.4 m

Standing ¼ Mile

15.2 sec / 130.7 km/h

Top Speed

139.0 km/h / 86.3 mph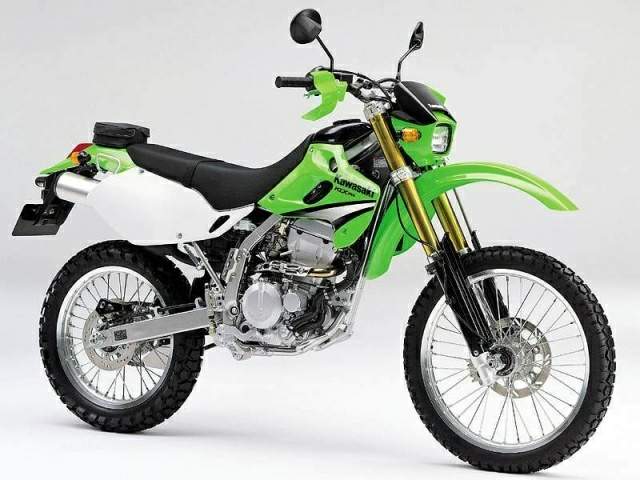 From Australian Motorcycle Trader

Want a littlie that simply won't let you down? Rob Smith of Australian Motorcycle Trader reckons the KLX250R might just be what you're looking for...

Right-oh then, hands up all those who've traded down from a big bore off-roader to something a lot smaller, lighter and manageable? Judging by the amount of large capacity thumpers filling the pages of AMT, there's a fair few who've made the readjustment.

So what to buy? There are a heap of superb quarter litre off-roaders on the market at this time, but if your loyalties lie over in the team green camp then the KLX250R may be the tool of choice.
Sizing up

The KLX is a well proportioned machine for just about everyone. With a fairly low seat height of 885mm there's no need to pole vault into the saddle and at 116kg, while it's still no featherweight it's no lard-arse either. There's a 'lob it in the bushes' tough steel perimeter frame supported at each end by the familiar 43mm USD forks used elsewhere in the range, complete with 16-way adjustable compression damping and offering 285mm of travel. Taking care of the rear is a gas-charged, preload, 16-way compression and rebound adjustable shock providing 280mm of travel.

Kitting up

In terms of equipment there's nothing new, working on the principal of "don't fix what ain't broke" the bars, switches, clocks etc are exactly the same as those on my own '93 KLX 650. The only difference that made a difference is the location of the choke, which on my bike is conveniently located up by the clocks but on the 250 is located in the dumbest and hardest to get to position imaginable. How dumb? You have to stop, get off the bike and peer under the fuel tap to turn the bugger off!

Fact is the KLX is a great little urban get-about and that shows with the inclusion of the smart and useful steel rack, a reasonably comfy seat and a bright and well-focussed headlight. Brakes are excellent on and off road and indicators are "look at me!" big. Being mounted on bendy rubber mounts they're still capable of surviving some fairly serious off-road lobs.

Powering up

In keeping with the "don't fix" philosophy, Kawasaki has the highly successful liquid-cooled, 249cc, DOHC, single that won the 2000 250 class Australian Thumper Nats in the hands of Andrew McFarlane - breathing through a 34mm Keihin driving through a six-speed gearbox. From the factory and with the factory muffler fitted the poor little KLX struggles to make any serious zap anywhere in the rev range, a matter that is easily overcome I might add, (see panel story). That's not to say it's not fun because it is, it's just that rice puddings and their skins everywhere are sleeping easy tonight. Once sorted, which should be number one on a any KLX owners to-do list, the KLX would undoubtedly start easier as starting can be less than immediate.

Ripping up

Once on the move the KLX is immediately composed and natural to ride. There's no doubt that the KLX has all the right numbers in the chassis department, as steering is spot on at low speeds, especially on tricky downhill sections where you can pick your way around the ruts and rocks like a trials rider while the suspension soaks everything up. If, like me, that's something you enjoy, slugging out of snotty holes or up slimy hills will be a big challenge on standard gearing, as first is simply too tall and the lack of throttle response and bottom,end urge means the chances of sliding backWards into an early bath of mud is a distinct possibility as gravity overcomes drive. Talking of muddy holes, despite repeated attempts at drowning it, not once did the electric start fail to bring the KLX to life.

Chances are most KLX's will spend a lot of time on fire trails and dirt roads. So that's where we went. Luckily(?!) there'd been a lot of rain over the weekend, so all the forest roads had 3-4 centimetres of fine slippery mud covering everything, including the pot-holes. On the faster dirt roads the KLX was even more at home, most noticeably when lining up for a corner while standing up at around 80-90km/h. Using footpeg pressure to tilt the bike over the KLX responds quickly and once committed stays on line through mud or piles of gravel. At times like this, not having mondo-horsepower is a major plus as you can hold the throttle wide and maintain decent speed without fear. Pot-holes and layers of protruding rock which normally cause my 40 kilos heavier 650 to shake me like a rat were absorbed without the usual uncoordinated theatrics I'm used to.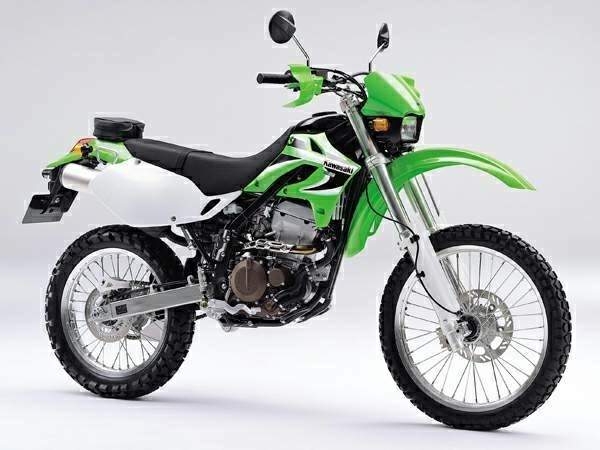 Summing up

If there's a downside to the standard KLX250R it's the lack of power. Hoiking the front wheel up over puddles or ruts or even just elevating the front wheel enough to avoid nose diving into holes is hard work - it's not that it can't be done, it's just not easy. The rest of the bike is excellent in just about every respect and should be a serious contender for the weekend bush rider and sometime competition rider. Being a 250 means that it sips petrol at about 30km/l and gives the tyres, chain, sprockets and wallet an easy time.

Would I buy one? Possibly, although the KLX300R addresses every concern for only an extra $300 and what's more retains all the qualities of the 250 with the exception of an electric start. Having said that an electric start is just so civilised and it'd be easy to lose a lot of weight out of the 250 and just as easy to gain a lot of power. I wouldn't be disappointed that's for sure. N

Tuning it up

In standard from the KLX is heavily restricted, so here's the hot set up to make the bike perform in the manner it was supposed to. First of all pull the carburettor slide out and fill the two holes drilled in the top with epoxy resin or similar and smooth off so that it doesn't snag in the body. Alternatively fit a new slide without holes, Kawasaki part #161261382. Remove the airbox snorkel and the spark arrestor in the end of the exhaust. Finally, go up three teeth on the rear sprocket. The result is an extra seven PS and more power everywhere. Sorted!

What we liked: Low speed steering; High speed handling; Crash durable/waterproof. Not so much: Lack of bottom end pick-up; Choke location; Gearing.

Source: BikePoint