Kawasaki KLR 650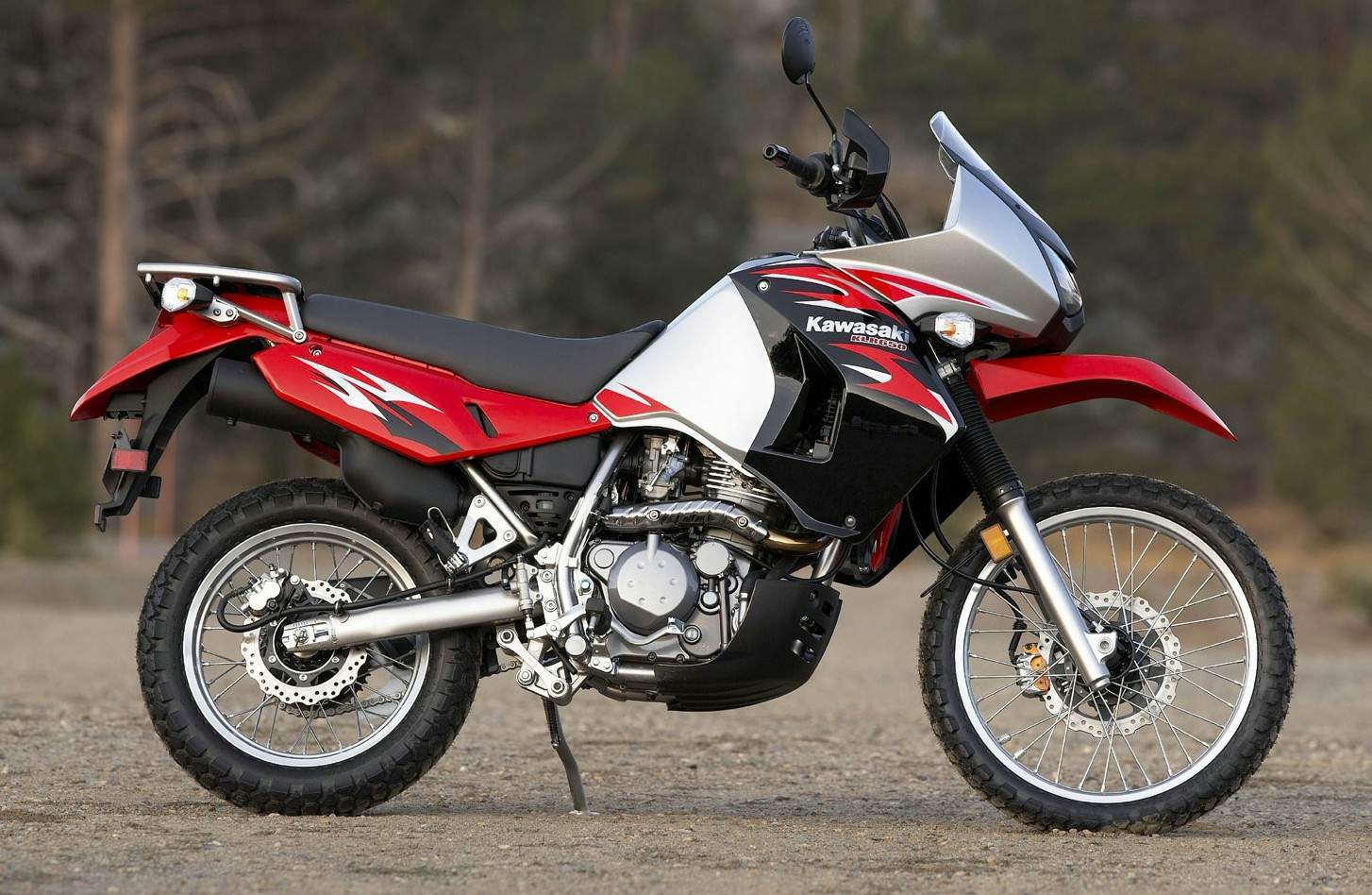 Make Model

Kawasaki KLR 650

Year

2008 - 09

Engine

Four stroke, single cylinder, DOHC, 4 valves per cylinder

Capacity

651 cc / 39.7 cu-in

Bore x Stroke

100 x 83 mm.
Cooling System
Liquid cooled

Compression Ratio

9.8:1

Induction

Keihin CVK40
Lubrication
Forced lubrication (wet sump)
Engine Oil
Semi-Synthetic, 10W/40
Spark Plug
NGK, DPR 8EA/9

Ignition

Transistorized
Starting
Electric

Max Power

42.1

hp /

31 kW

@

7000

rpm

Max Torque

47

Nm

/ 4.7 kgf-m

@

5000

rpm

Clutch
Wet multi-disc, cable operation

Transmission

5 Speed
Final Drive
Sealed Chain
Primary Reduction Ratio
2.272 / 75/33
Gear Ratio
1st 2.266 (34/15) 2nd 1.444 (26/18) 3rd 1.136 (25/22) 4th 0.954 (21/22) 5th 0.791 (19/24)
Final Reduction Ratio
2.867 (43/15)
Frame
Semi-double Cradle Made of high-tech, round-section, high-tensile steel

Front Suspension

41mm Air-adjustable forks,

Front Wheel Travel
200 mm / 7.8 in

Rear Suspension

UNI-TRAK® linkage, 5-way preload shock absorber with 4way rebound damping.
Rear Wheel Travel
185 mm / 7.2 in

Front Brakes

Single 280mm disc 2 piston caliper

Rear Brakes

Single 203mm disc 1 piston caliper

Front Tyre

90/90 -21

Rear Tyre

130/80 -17
Rake
28.0°
Trail
112 mm / 4.4 in
Dimensions
Length 2295 mm / 90.4 in
Width 960 mm / 37.8 in
Height 1350 mm / 53.1 in
Wheelbase
1480 mm / 58.3 in
Ground Clearance
210 mm / 8.3 in
Seat Height
889 mm / 35 in

Wet Weight

194 kg / 432 lbs

Fuel Capacity

23 Litres / 5.8 US gal.
The new KLR650 is well suited to life on the highways, deserts, mountains or even the challenging terrain of today's urban jungle. For 21 years, the Kawasaki KLR650 has been the smart choice for riders seeking reliable on and off-road performance. Now, the 2008 KLR650 features thorough updates aimed at making it a better tour-ready dual-purpose bike than ever before.
Featuring new suspension and brakes, the KLR650 is a fun, functional commuter during the week and an adept dirt road blaster on weekends. The new 41mm front forks now have less static sag for a taut, smooth ride on pavement. Front suspension travel is reduced from 9.1 in. to 7.9 in. A redesigned UNI-TRAK linkage reduces sag and compliments the new front suspension by reducing rear wheel travel from 8.1 in. to 7.3 in. The 2008 KLR650 features enhanced stopping power, thanks to a new 280mm petal-style front brake rotor that's similar to ones used on Kawasaki's Ninja sportbikes. Rear braking performance is also improved, thanks to a new rear brake calliper. These new suspension and brake upgrades boost the KLR650's on-road performance, without diminishing its versatile off-road capabilities.
Several new refinements help make the KLR650 an even more worthy touring companion. There's a larger rear luggage rack that's 3.5 in. longer and 5.1 in. wider than the old rack, and a new, narrower tail section which makes it easier to mount saddlebags. Wind protection is also improved with all-new bodywork featuring a taller windscreen and large shrouds. A large 6.1-gallon fuel tank and miserly fuel economy mean the new KLR650 retains its legendary range between fill-ups.
Riders will be able to take full advantage of the KLR's range, thanks to a revised seat design and new urethane foam for greater long-distance comfort. A high-capacity 36W alternator powers a new higher-output headlight and offers extra capacity to power the add-on electronic gadgets touring riders can't live without.
The KLR650 motor, already renowned for being rugged, reliable and powerful, is now even better. There's improved throttle response from revised ignition mapping, and revised cam timing contributes to improved high-rpm performance. A redesigned cylinder head boasts new intake porting for greater low-end torque and quicker throttle response in city traffic, as well as improved top-end power for high-speed cruising on the open road.
More on-road competence doesn't mean less off-road fun. The KLR650 has a U.S. Forest Service-approved spark arrestor for access to any road open to licensed vehicles, and a tough engine guard protects the engine from loose rocks and gravel. With an optional Kawasaki tank bag and soft luggage on the larger standard rear rack, KLR650 owners can tote enough gear for an extended trip to any remote location.
All these improvements mean that more than ever, the new KLR650 is the ideal go-farther, multi-surface motorcycle for riders craving on and off-road adventure.
651cc Four-stroke Single
Revised cam timing contributes to improved high-rpm performance
New intake porting offers greater low-end torque
New piston rings are thinner and have more tension, for improved oil consumption
New one-piece exhaust pipe features smoother bends for improved exhaust efficiency at all rpm
Special tuning to improve low- and mid-range power
Light, silent cam chain reduces engine noise
Oil-level window permits easy and accurate inspection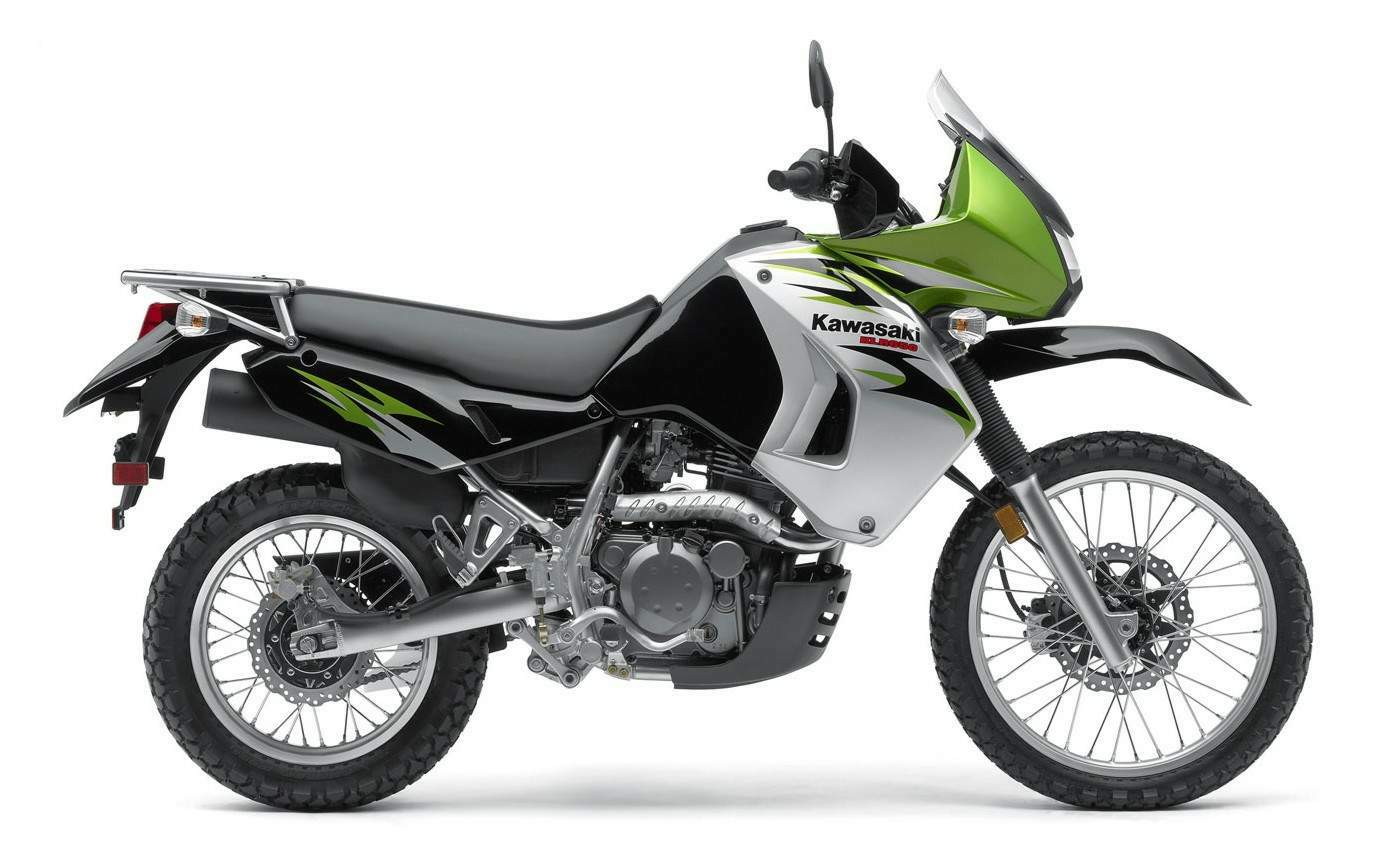 Liquid Cooling
New Denso radiator is thin and lightweight. Fitted with a lightweight and thin cooling fan, the new radiator has a greater cooling area and offers a 20% increase in cooling efficiency
Maintains consistent engine temperatures for long engine life and sustained power during hard use
Allows tighter engine clearances for quieter running
Automatic fan keeps things cool in all conditions
Includes a temperature gauge
Four-valve Cylinder Head
Better breathing for more power at all rpm
Compact combustion chamber allows increased compression ratio with less detonation
The use of a secondary air (ASV) system helps reduce harmful exhaust emissions
Provides maximum valve area for optimum flow
Boosts low-end torque
Double Engine Balancer
Engine runs smoothly from idle to redline for rider comfort and less fatigue on long rides
Fully Transistorised Ignition
Fully transistorised ignition unit replaces the earlier analog CDI for better ignition performance
More precisely controls timing no matter how fast the rpm changes
Fewer moving parts for long, trouble-free life
Five-speed Transmission
Designed to handle the engine's unique power characteristics
The engine's broad torque curve only requires five speeds for off-road and relaxed highway cruising
O-ring drive chain reduces maintenance and increases chain service life
Handlebar-mounted Choke
Convenient location makes starting and warm-up easier
Revised Front Suspension
New, beefier 41mm front fork is offers increased rigidity. (Previous unit was 38mm)
Re-calibrated suspension offers less static sag and now offers greater on-road riding performance.
Front suspension stroke was reduced from 9.1 in. to 7.9 in.
High-mounted front fender for any adventure-touring situation
Revised UNI-TRAK Rear Suspension
Rear suspension travel was reduced from 8.1 in. to 7.3 in. but usable travel is unaffected due to a reduction in static sag
New D-section swingarm contributes to the bike's excellent traction
Redesigned UNI-TRAK linkage compliments front suspension changes
Progressive rate provides a smoother, more controlled ride
Features a five-way preload shock absorber with four-way rebound damping
Stronger Wheels
New 4mm spokes (up from 3.5mm) provide increased wheel stiffness, enhanced handling performance and improved steering response.
Semi-double Cradle Frame
Made of high-tech, round-section, high-tensile steel
Engine Guard
Protects engine from rocks and trail debris when the going gets tough
Detachable Rear Subframe
Simplifies maintenance by providing better access to the rear shock, airbox and carburetor
Large rear cargo rack included
Front and Rear Disc Brakes
New lightweight front and rear petal discs offer excellent braking.
Front brake disc diameter increased from 260mm to 280mm.
New rear calliper offers improved feel and power
Electric Starter
Easy and convenient starting
Lighting and USFS-Approved Spark Arrestor
New dual-bulb headlamp offers greater night visibility
New high-mounted turn signals improve the KLR650's visibility at night or under poor visibility conditions
Rear taillight parking light
U.S. Forest Service-approved spark arrestor
Large 6.1-gallon Fuel Tank
Significant capacity permits adventure touring
Additional Comfort and Touring Features
All-new bodywork features a larger fairing, which contributes to increased wind protection
Alternator output has been increased from 14.5A to 17A. Total capacity is 36W to provide ample power for the new headlight as well as add-on grip heaters and other accessories
New, easy-to-read instrument panel is mounted to the frame, contributing to lighter steering
Full instrumentation includes a large-face speedometer, tachometer, odometer, trip meter and water temperature gauge
Firmer urethane seat foam offers greater comfort for long-distance riding
Seat height is lower, but reduced suspension sag means the rider's ability to reach the ground is about the same
Optional extended warranty
The Kawasaki KLR650 has been a long-standing model in Kawasaki's lineup, having been introduced in 1987 and remaining almost unchanged through the 2007 model. Kawasaki has announced that the 2008 model will be the first significant redesign of the KLR650.
For 2008 the Kawasaki KLR650 has received many updates aimed at continuing its tradition as being the most reliable and touring ready dual sport on the road. It includes new front and rear suspension that both reduce the wheel travel. It also features a new petal style front rotor for increased heat dissipation, and resistance to warping. The KLR650 motorcycle is heavier than specialized off-road dirt bikes, but it can handle most conditions when ridden carefully by a skilled rider. To improve upon its touring abilities Kawasaki lengthened the luggage rack 3.5 inches, added all new body work with a taller windscreen. It now features high output headlights, and the time tested engine has been updated with a throttle position sensor, revised ignition mapping and cam timing, as well as a revised cylinder head.
This motorcycle is considered by many to be one of the best all-round motorcycles made, with legions of fans and websites for support & add-ons.
KLRs have been ridden to the Arctic, across North and South America, and throughout Europe, Africa, and Asia, as well as on full global circumnavigation rides. Nicknames include "The Mule" and "The Tractor."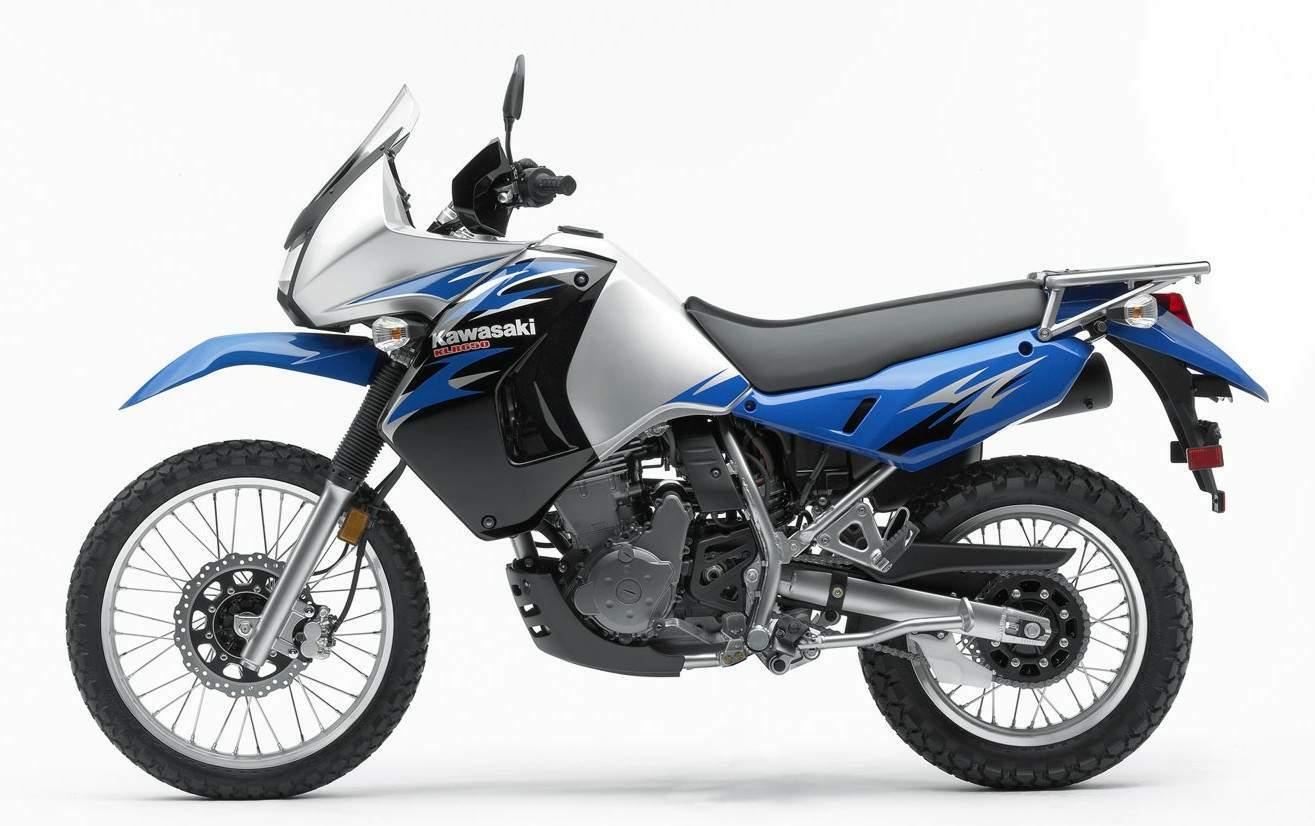 Review
This quote has been on my mind lately -- and how fitting that last week I received an email from new MO Editor-in-Chief Kevin Duke inviting me to the press introduction of the newly changed Kawasaki KLR650. My invitation to attend asked that I promptly respond with my availability. It took me 0.03 second to accept.

"I used to own a KLR," I replied. And indeed I did. I logged thousands of miles on my former police-issue KLR, both on pavement and off. I have been on every kind of terrain imaginable with that bike, and because of my past experience on the old KLR, I knew what changes needed to be made.

A sea of change for the 2008 KLR?

A sea of change for the 2008 KLR?
Oh, give me a home where the KLRs roam...

Oh, give me a home where the KLRs roam...
...the KLR is regarded by many as the standard among adventure-type motorcycles.

...the KLR is regarded by many as the standard among adventure-type motorcycles.

Kawasaki claims to have made over 50 modifications to the new model KLR650. I didn't think the old model needed 50 changes, but I am not a Kawasaki designer or engineer. My complaints with the old bike were simple: I did not like the suspension, brakes or lack of electricity to power my accessories. I wasn't really crazy about the seat or styling either. That said, the old KLR was one of my favorite bikes simply because of its do-it-all ability -- single track or super highway, it just depends on your mood.

Enter the 2008 KLR650. Kawasaki conducted surveys of KLR owners to determine what changes were desired for the new model. Owners responded that they would like improvements in handling, power, and comfort. In addition to frequent around-town and small trips, 80% of those surveyed claimed to ride their bikes on back roads, and 73% take their KLRs to the trails. Kawasaki's number crunchers determined the growth rate of motorcycling and Adventure Touring in particular to be worth their time to remodel the KLR. I commend Kawasaki for endeavoring to change the KLR. After all, the bike remained basically the same for 20 years and was the fourth-best selling motorcycle for the company. In fact, the KLR650 saw a sales increase of 68% in 2005, a 19% increase in '06 and 15% in '07 even after announcing a new and improved model for 2008.

Ranking first on the list of improvements was handling. The improvements on the '08 were designed to increase the versatility of the already versatile KLR. The spokes on the wheels were upgraded from 3.5mm diameter to 4mm. Up front the 38mm forks were replaced with beefier 41mm legs with stiffer progressive-rate springs. Suspension travel was reduced from 9.1 inches to 7.9 inches which, I know, makes hardcore dual-sporters cringe. Out back is a re-designed Uni-Trak linkage, new progressive shock, swingarm, and reduced suspension travel from 8.1 to 7.3 inches.

I'll admit it; initially I was turned off by the reduction in suspension travel on the new model. Kawasaki claims to have eliminated much of the old bike's static sag, which somewhat reduced overall dynamic travel. The fact is there are situations when some riders will bottom out on either bike. I have bottomed out the old KLR many times while riding the Rocky Mountains. However, with the new suspension's added rigidity, most will never miss the extra travel. I did not give it a second thought while riding the '08 across northern California, both on and off pavement. The bottom line is that the new suspension is a great improvement.

No wonder that so many manufacturers came up with replacement brake systems. The new bike comes with a Ninja-inspired 280mm petal-style disc (up from the old 260mm rotor) and twin-piston caliper up front and a petal-style disc with a twin-piston caliper on the rear. Unfortunately, no stainless steel brake lines, but I immediately noticed improved stopping power with no fade under strenuous braking. Our 400-mile ride through twisting California was the perfect testing grounds for the new KLR. Changing the suspension and brakes were the best things that Kawasaki could have done to the new KLR. Ah, but those changes are just the beginning.

Part of the improvement mandate was to make the bike more suited to Adventure Touring. You know, packing as much luggage and electronics on to the bike as possible, then taking it across the country or the world, on and off pavement, then throwing it on the ground a few times, all in the pursuit of adventure while touring. Personally, I'm big on that kind of travel, and the KLR is regarded by many as the standard among adventure-type motorcycles. There are many others that are bigger, faster, and more expensive, but it is difficult to beat the KLR in this segment.

That said, Kawasaki has made many changes to broaden the touring capability of the KLR. All new bodywork, in three colors, with a larger fairing for better wind and elements protection, tops the list. The seat has been replaced (yeah!) with a firmer unit that greatly reduces gluteus-primatis. Vibration transfer to the rider has been reduced with a weighted handlebar and thicker rubber footpegs. A new alternator boosts electrical output from 14.5 to 17 amps to power a new dual-bulb headlight and any electrical accessories. A new luggage rack measures in 90mm longer and 130mm wider. Kawasaki also offers soft luggage, a taller windshield and a gel seat among its factory accessories.

Of all the dramatic changes made to the bike in the interest of improving its touring capability, I can't believe that they did not switch to a six-speed transmission. Yes, the newly tuned engine revs higher and is smoother, but it still buzzed like a horsefly at the Preakness above 80 mph. A six-speed tranny for a calmer highway ride would have been a great change.

Speaking of the engine, Kawasaki's desire to increase the performance and smoothness of the tried and true 651cc Thumper can be categorized as a grocery list of changes.

- Revised cam timing for higher rpm performance.
- New intake ports for better low-end torque.
- New piston rings.
- Throttle-position sensor.
- New one-piece exhaust pipe with smoother bends for increased efficiency.
- New tuning for low- and mid-range grunt.
- New cooling system including lightweight radiator offers a 20% increase in efficiency.
- And last but not least, a new Doohickey.

(All KLR owners know what a Doohickey is, but for those who aren't in the loop, it's a two-piece part called the Idler Shaft Lever that adjusts cam-chain tension, which has been known to fail on old KLRs. Deano tells us that it is the first thing to replace on earlier KLRs because its breakage can cause major engine damage. Kawasaki has upgraded the part to a solid piece for '08. -Ed)

A fresh new bike to ride, stunning scenery, and a belly full of free food, life is good for our new freelancer Dean Hight, a former KLR650 owner.

A fresh new bike to ride, stunning scenery, and a belly full of free food, life is good for our new freelancer Dean Hight, a former KLR650 owner.
The do-it-all KLR650 has been taken to a higher level.
The do-it-all KLR650 has been taken to a higher level.

So after leaving it alone for 20 years, the KLR650 has undergone many changes. Some are just a facelift, others are dramatic improvements. So what's it like to ride, you ask? In a word: better.

Well, let me tell you about the ride we took. The press corps was divided into two groups of five with a lead and sweep rider for each group. Our route started in Monterey and traveled south to Cambria for day one; 250-plus miles of spectacular scenery, winding, silky smooth roads, tight, twisty, pock-marked blacktop and double-track dirt.

'The bike feels rock solid and quick up to around 80 mph'

Given the variety of road surface conditions, there was not a better motorcycle for the trip. The new suspension is excellent. The bike felt planted on all surfaces in both cruise and attack modes. The new brakes are another dramatic improvement. I used to consider hard braking on my old KLR a type of Russian roulette; I never knew when or if the brakes would fail (they failed on the White Rim Trail in Moab). Braking is secure and confident on the new KLR.

The frame of the new bike remains unchanged, so there's still a 28.0-degree rake and 4.4 inches of trail. All of the aftermarket bash plates that fit the old KLR will fit the new model. The wheelbase, 58.3 inches, is now 0.6 inch shorter. Riders that prefer to take their motorcycles off pavement have expressed concerns about the lack of suspension travel on the new KLR. Frankly, I prefer the new suspension for the improved handling it provides both on and off pavement. The stock tires are the same Dunlop K750s as the old KLR and are well suited for pavement and lighter off-pavement riding.

The revised engine grunts like an Olympic power lifter in the low range and revs smoothly to 7000 rpm. Kawasaki claims to have increased the power of the new bike, but I didn't notice any significant change in the way the bike accelerates. We were not given any horsepower or torque ratings.

Above 85 the front end feels vague and the engine vibration coaxed me down to about 75 where everything smoothed out. The powerband is well suited to back-road and off-road travel where speeds range from, say, 30 to 65 mph. Don't get me wrong, the '08 KLR can cruise all day at interstate speeds and get about 50 mpg while doing so, I just prefer the ride at a lesser pace.

Day two was 150 or so miles from Cambria back to Monterey via California's coastal Highway 1. It was raining for most of the ride which gave us all an opportunity to test the new bodywork. The larger new fairing does indeed provide substantially better protection. Buffeting was not a problem, but I would like to see the taller accessory windshield as standard. It is a touring bike after all.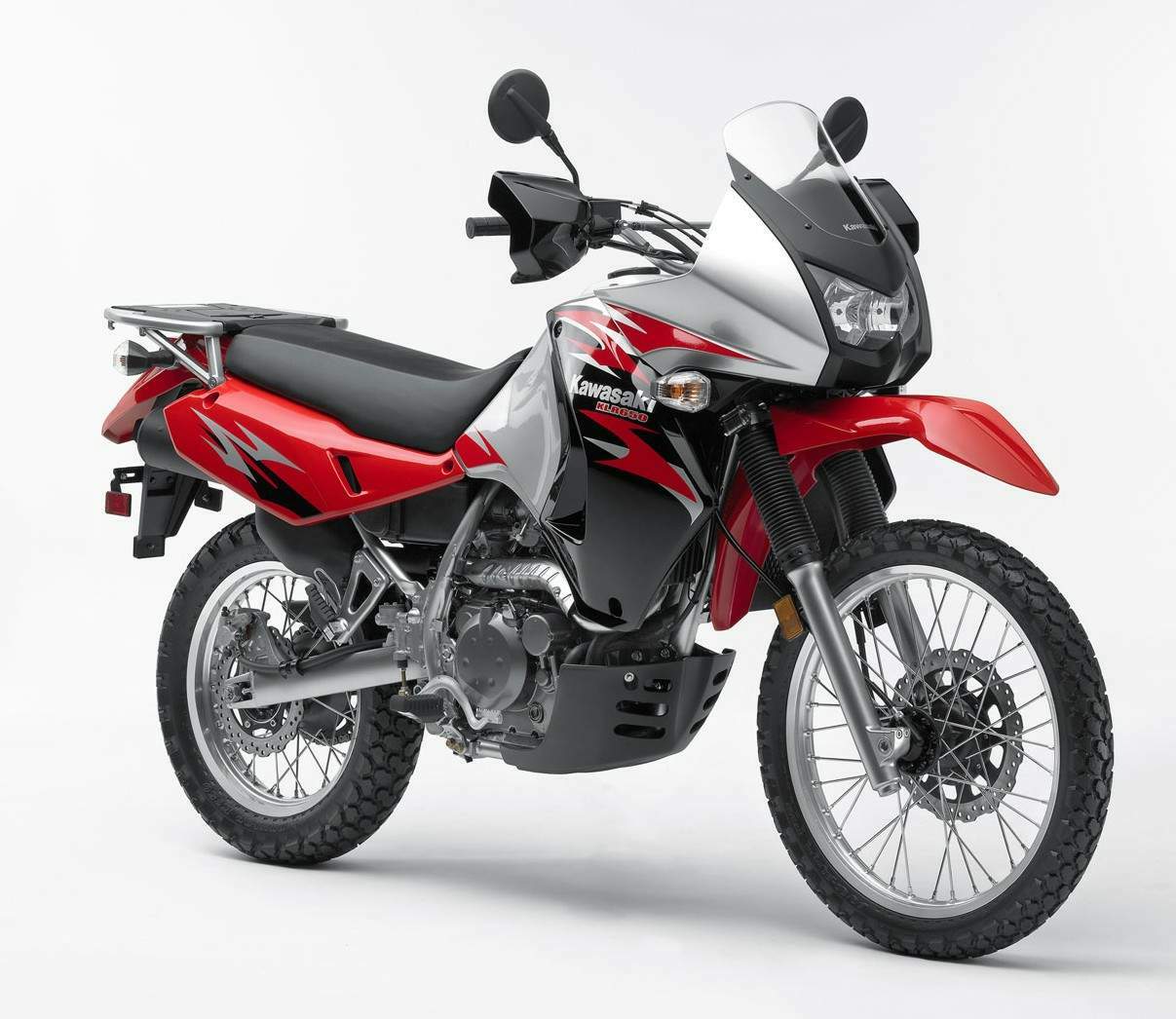 With a greater focus on adventure-touring capabilities and a new look, the 2008 KLR should appeal to more riders than ever.

With a greater focus on adventure-touring capabilities and a new look, the 2008 KLR should appeal to more riders than ever.

'The do-it-all KLR650 has been taken to a higher level'

The new tank shrouds were the hit of the day for me, as they completely protected my legs from the wet. They disguise the fact that it is the same 6.1-gallon tank underneath that has been used on the previous 20 years worth of KLRs. That said, I know from my experience on the old KLR that one can get nearly 300 miles of adventure out of that fuel tank. Thanks to the new bodywork and larger hand guards that kept my hands from getting wet and chilled, I had an enjoyable ride despite the rain.

The new headlight is brighter than the old bike's, but that's not saying much, as my head-mounted, battery-powered camping light is brighter than the old KLR lamp. The new dual headlight provided much better visibility in the rain, which made it much easier for me to keep track of the riders that I led from Cambria to Monterey.

So the winds of change have blown through Kawasaki headquarters. The do-it-all KLR650 has been taken to a higher level. The 50-plus changes have resulted in a much better, more versatile motorcycle. If past performance is a predictor of future results, then the new KLR will do very well for Kawasaki.

At a MSRP of just $5349, the 2008 KLR650 is my first recommendation for someone interested in an adventure-touring motorcycle. Anyone shopping for a versatile explorer would be hard pressed to find a better value than the KLR. A Honda XR650L ($5849) or Suzuki DR650 ($5049) might work better in the dirt, but they can't match the KLR's street prowess. It has all the comfort and versatility of a BMW's F650GS at a cost that's thousands less.
Source Motorcycle.Com