Kawasaki H2 750 Mach IV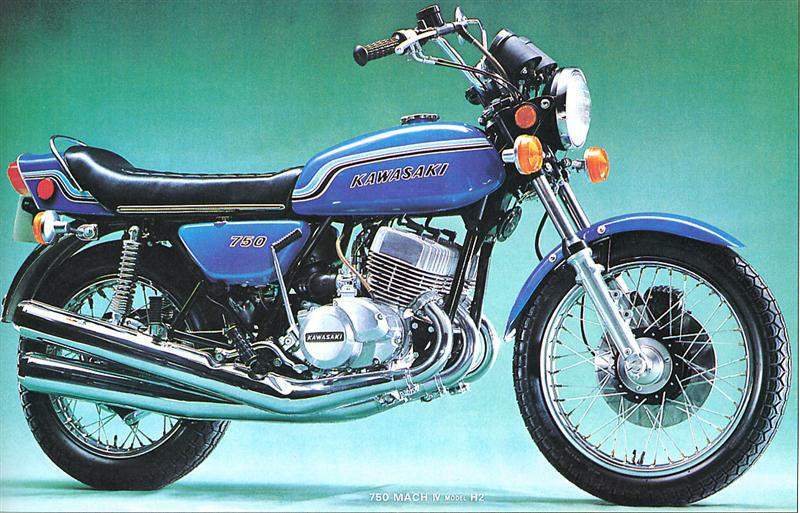 | | |
| --- | --- |
| Make Model | Kawasaki H2 750 Mach IV |
| Year | 1972 |
| Engine | Two stroke, transverse three cylinder |
| Capacity | 748 cc / 45.6 cu-in |
| Bore x Stroke | 71 х 63 mm |
| Cooling System | Air cooled |
| Compression Ratio | 7.1:1 |
| Lubrication | Oil injection |
| Induction | 3 x 30mm Mikuni VM30SC carburetors |
| Ignition | CDI |
| Battery | 12V-6AH |
| Starting | Kick |
| Max Power | 74 hp / 55.1 kW @ 6800 rpm |
| Max Torque | 77.4 Nm / 7.9 kgf-m @ 6500 rpm |
| Clutch | Wet, multi-plate |
| Transmission | 5 Speed |
| Final Drive | Chain |
| Gear Ratio | 1st 12.75:1 2nd 8.64:1 3rd 6.53:1 4th 5.42:1 5th 4.76:1 |
| Frame | Tubular, double cradle |
| Front Suspension | Telescopic forks non adjustable |
| Rear Suspension | Dual shocks preload adjustable |
| Front Brakes | Single 295mm disc |
| Rear Brakes | 203mm drum |
| Front Tyre | 8.25-19 |
| Rear Tyre | 4.00-18 |
| Wheelbase | 1410 mm / 55.4 in |
| Seat Height | 795 mm/ 31.25 in |
| Ground Clearance | 183 mm / 7.2 in. |
| Dry Weight | 192 kg / 423.2 lbs |
| Fuel Capacity | 16.7 Litres / 4.4 US gal |
| Braking 30 mph - 0 | 33 ft |
| Braking 60 mph - 0 | 111.7 ft. |
| Acceleration 0-30 mph | 2.9 sec. |
| Acceleration 0-60 mph | 5.0 sec. |
| Standing ¼ Mile | 12.3 sec / 105 mph / 168 km/h |
| Top Speed | 120 mph / 192 km/h |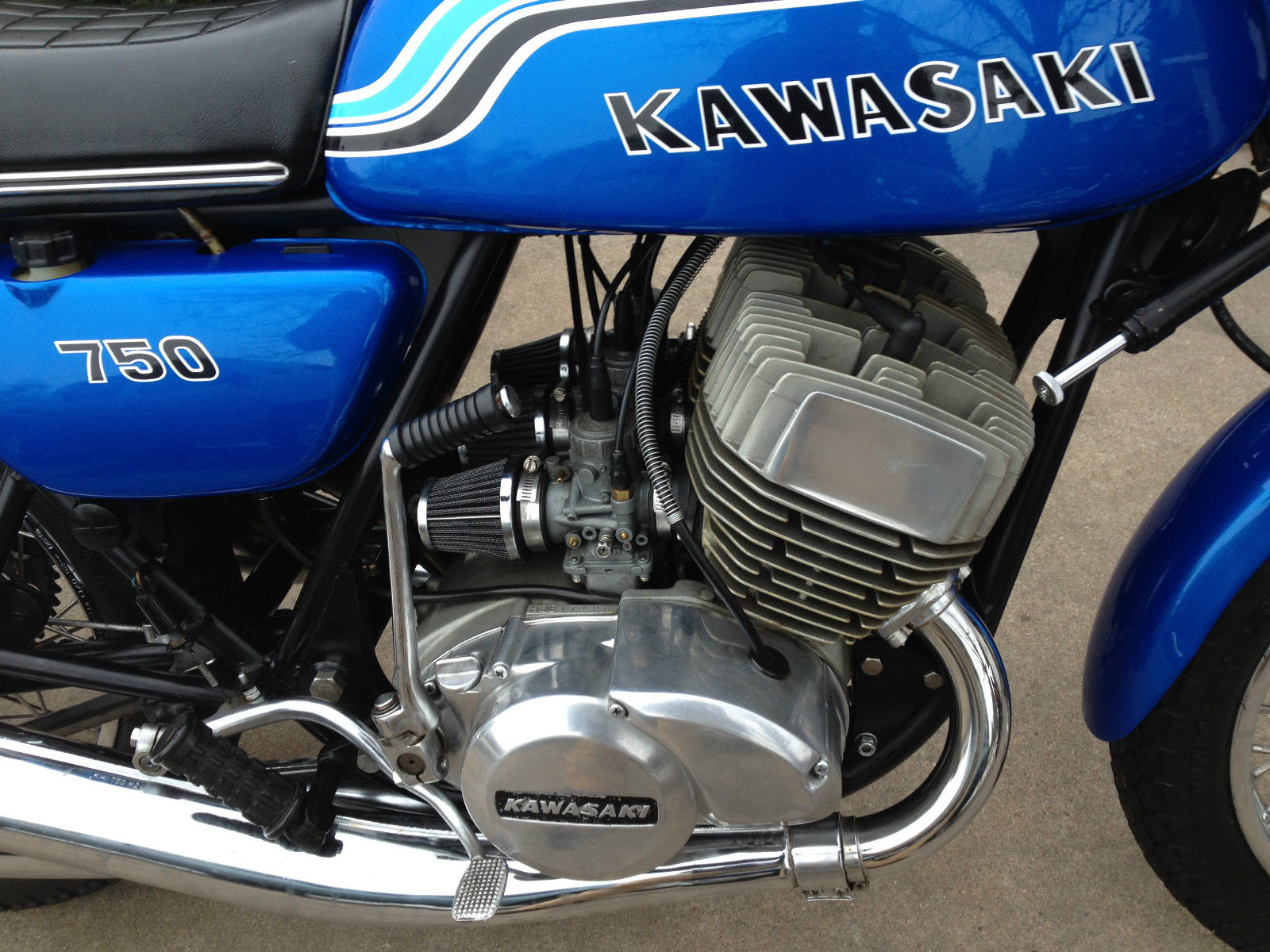 Take a ride on Kawasaki's 750 H2 now, in these times of safety-consciousness and environmental awareness, and the legendary two-stroke triple would seem like a bike from another planet. Fast, loud, smoky, vibratory, thirsty and evil-handling, the H2 and its predecessor the Mach IV were outrageously anti-social even by the somewhat lax standards of the early Seventies. Kawasaki pulled no punches in setting out to establish the snarling stroker's performance credentials. The first paragraph of their brochure read:
'The Kawasaki 750 Mach IV has only one purpose in life: to give you the most exciting and exhilarating performance. It's so quick it demands the razor-sharp reactions of an experienced rider. It's a machine you must take seriously.' They weren't joking. The original aircooled 748cc motor put out 74bhp, which was enough to send the triple screaming to 120mph while spewing clouds of oily blue smoke from its exhausts. Light weight and a short wheelbase meant fearsome acceleration and plenty of wheelies. Awful fuel consumption - around 22mpg was common - necessitated frequent fill-ups, but the upright riding position and tingling engine vibration meant the rider was often relieved to stop. And sometimes relieved to be alive, for the triple's handling was even more notorious than its engine performance.
The Mach IV, in particular, was distinctly lively, combining a none-too-strong frame with crude suspension with the result that its chassis was all too prone to high-speed tankslappers. Add in the poor wet-weather tire and braking performance typical of the bikes of the time, and the results were frequently disastrous. The H2, introduced a year later in 1974, was slightly more sane all round. Its motor was less smoky (and 3bhp less powerful); its chassis more stable thanks to less-steep forks and a longer wheelbase. But the H2 was still by far the nastiest, most aggressive and most outrageous bike on the street. Racing was an obvious progression, and the Kawasaki factory triples, nicknamed 'Green Meanies,' notched plenty of wins in the mid-Seventies, notably in the hands of Mick Grant, Barry Ditchburn and Yvon Duhamel. But tightening emission controls, especially in California, spelled doom for big road-going two-strokes. The H2's reign of motorcycling terror was relatively short.
Source of review: Roland Brown