Kawasaki GPz 750 Turbo (ZX750-E1)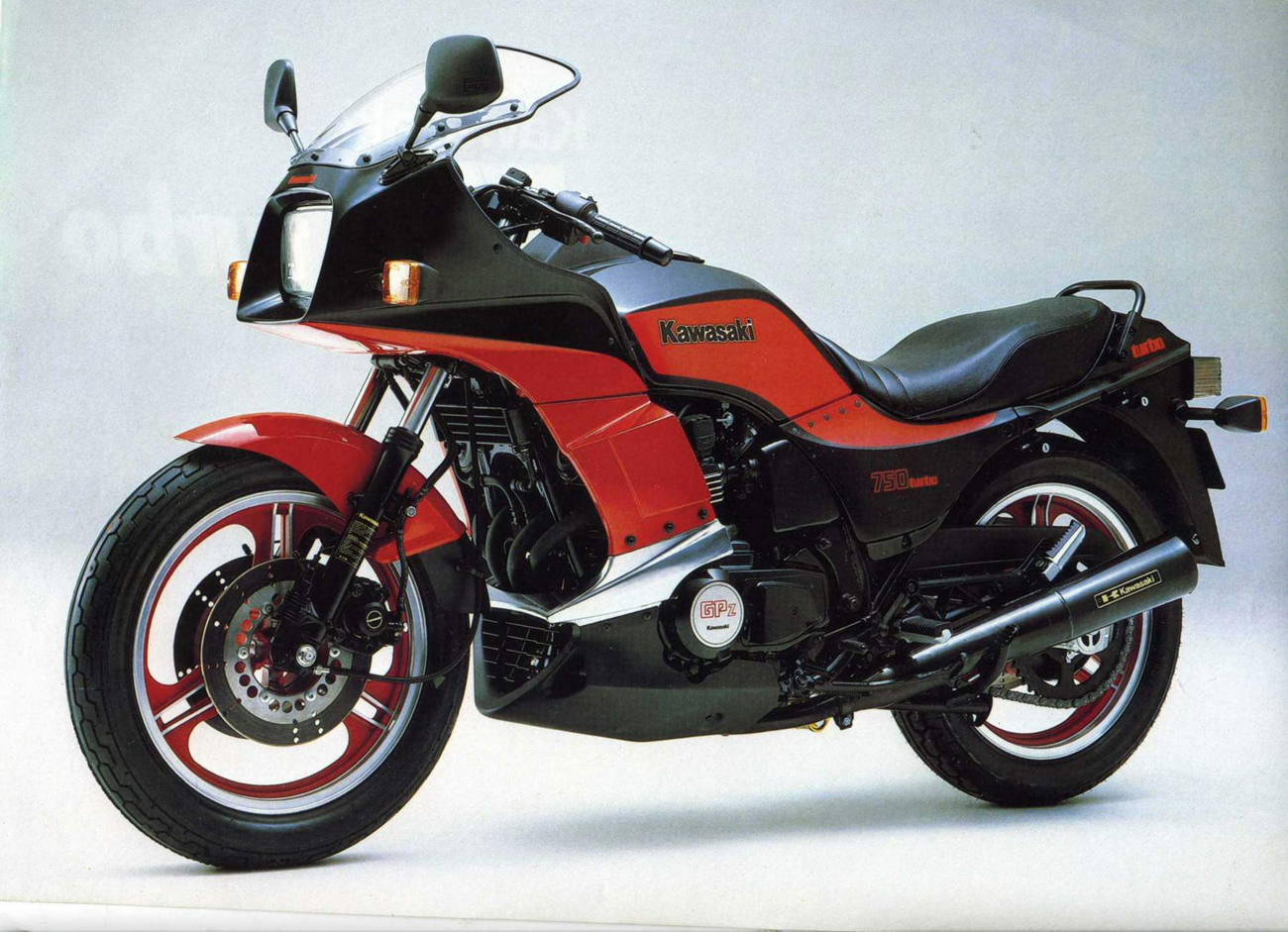 | | |
| --- | --- |
| Make Model | Kawasaki GPz 750 (ZX750-E1) |
| Year | 1983-85 |
| Engine | Air-cooled, turbocharged, four-stroke, transverse four cylinder, DOHC, 2 valves per cylinder |
| Capacity | 738 |
| Bore x Stroke | 66 x 54 mm |
| Compression Ratio | 7.8:1 |
| Induction | Mikuni fuel injection |
| Ignition / Starting | Digital / electric |
| Max Power | 112 hp 82.4 kW @ 9000 rpm |
| Max Torque | 99.1Nm 73.1ft-lb @ 6500 rpm |
| Transmission / Drive | 5 Speed / chain |
| Front Suspension | 37mm air-adjustable forks, adjustable anti dive, 130mm wheel travel |
| Rear Suspension | Kawasaki Uni-Trak air-adjustable single shock, adjustable for rebound damping, 104mm wheel travel |
| Front Brakes | 2x 280mm discs |
| Rear Brakes | Single 270mm disc |
| Front Tyre | 110/90 V18 |
| Rear Tyre | 130/80 V18 |
| Dry Weight / Wet-Weight | 233 kg / 243 kg |
| Fuel Capacity | 17 Litres |
| Standing ¼ Mile | 11.5 sec |
| Top Speed | 136 mp/h |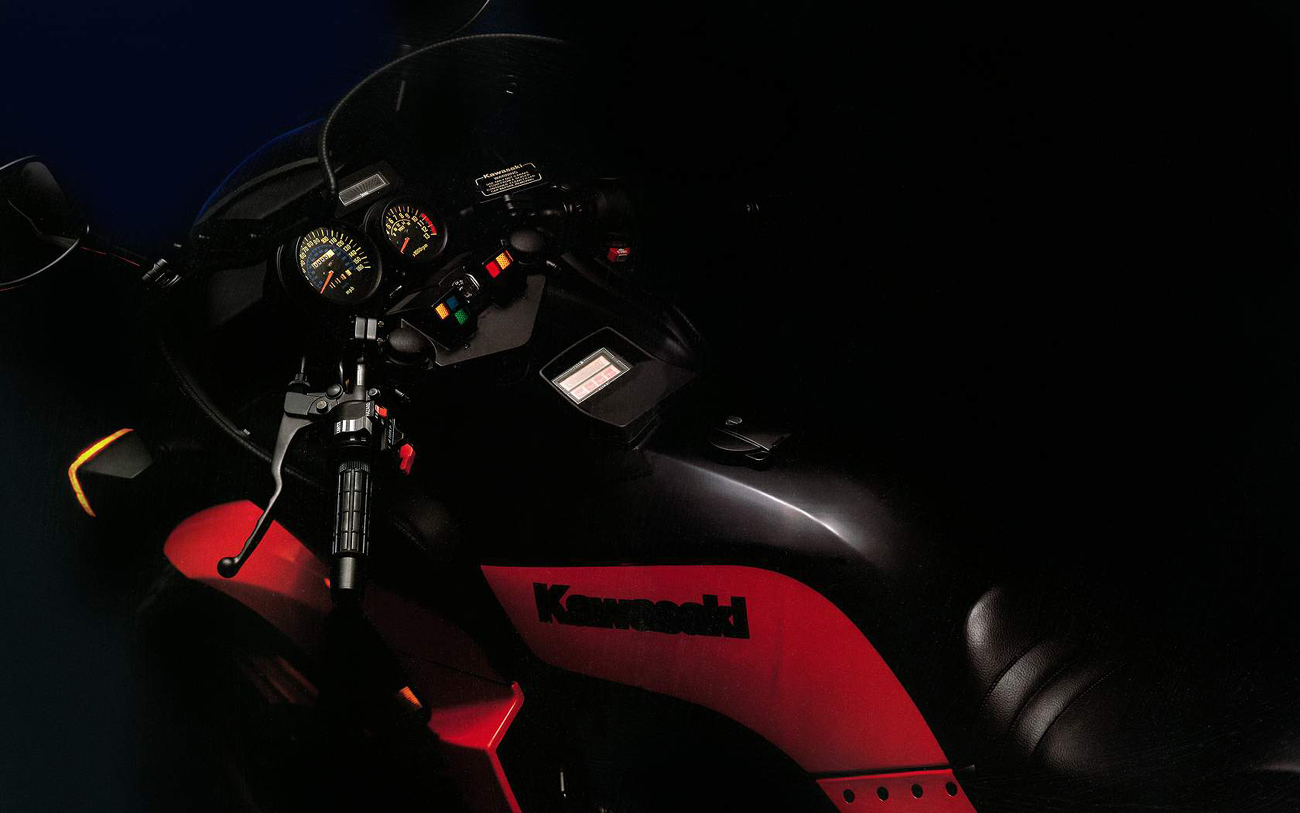 Kawasaki were the last of the four major Japanese manufacturers to release a turbo-charged motorcycle but were the only factory to achieve the ultimate turbo ambition - to transform a medium-sized motorcycle into something as quick as anything around. The Z750 is the world's fastest production turbo motorcycle - 112bhp at 9,000rpm, a top speed of 146mph and road-tearing acceleration that can cover the standing quarter mile in 10.9sec.
For many years, turbo-charged bikes had been the preserve of individual builders, tuners and drag racers, who adapted big Japanese four cylinder engines with bolt-on conversions for extra, high-speed thrills. Later Honda, Suzuki and Yamaha produced turbo bikes, all 650cc and all dismally received in the market. Kawasaki's 750 was bigger yet lighter than any and an instant, well-acclaimed success. The others have all been withdrawn, and enhances yet further their reputation for building large, powerful, bulletproof engines.
On full boost, the Z750 Turbo shoots, shouts and screams speed.
Where Kawasaki significantly differed from the other manufacturers was in the design and location of their turbo-charger unit. They beefed up one of their existing inline four cylinder engines, the Z750, but instead of mounting the turbo behind the engine, Kawasaki put it up in front of the cylinders, very close to the exhaust ports. In a limited space of 7.5in, they managed to run four highly heat resistant steel pipes from the ports to a collector and thence to a tiny Hitachi turbo-charger. Such innovative positioning reduced turbo lag significantly.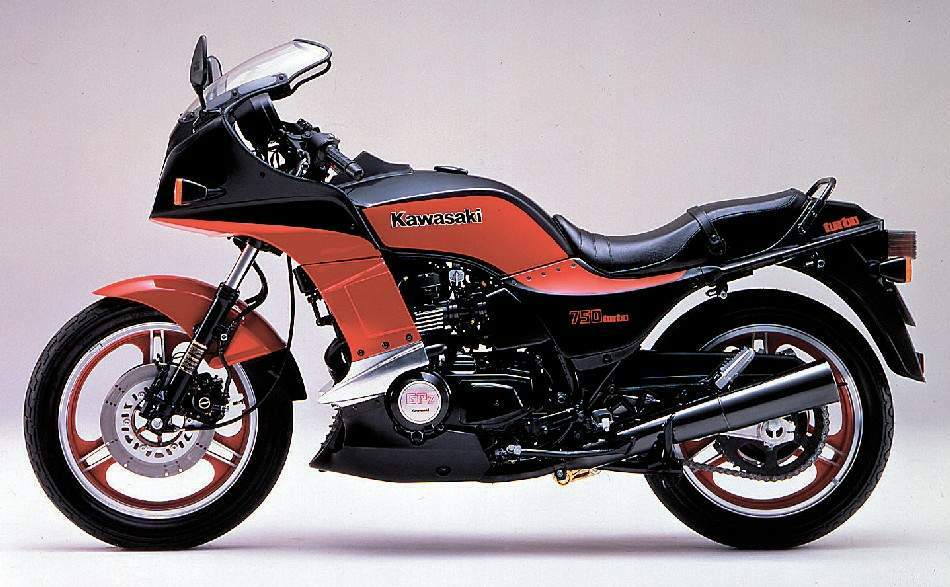 The result is instant response. Running a fairly modest 10.5psi of boost pressure the Z750 has excellent pick-up and strong acceleration anywhere above 5,000rpm when the turbo is spinning hard.
The turbo power does not bang in at a set rpm like many back street, bolt-on turbo bikes. From 5,000 to the 10,000rpm redline, there is plenty of boost and real poke, yet it is smoothly delivered. The turbo effect is unobtrusive. The acceleration is unforgettable.
In roll-on tests in high gears, the Kawasaki will annihilate much larger capacity bikes including its own big brother, the mighty GPz1000.
The smooth response and excellently rounded power curve are helped considerably by Kawasaki's digital fuel injection system. Kawasaki pioneered fuel injection on modern sports bikes and their computer-linked system, measuring and monitoring engine speed, throttle opening, intake pressure and engine/air temperature, ensures the Turbo runs at its best.
The rolling chassis is unremarkable but for the sleek, full fairing which features an integrated, aluminium frame member. This is a central section located between the frame's front down tubes which makes the double steel cradle more rigid, improving stability and protecting the turbo unit from crash damage. One notable detail can be found in the sealed, O-ring, final drive chain which is silicone lubricated and has special cut-outs in every other link to reduce weight and heat build-up.