| | |
| --- | --- |
| Make Model | Kawasaki GPX 750R |
| Year | 1986 - 87 |
| Engine | Four stroke, transverse four cylinders, DOHC, 4 valve per cylinder |
| Capacity | 742 cc / 45.6 cu-in |
| Bore x Stroke | 68 x 51.5 mm |
| Cooling System | Liquid cooled |
| Compression Ratio | 11.2:1 |
| Lubrication | Wet sump |
| Induction | 4x 34mm Keihin CV carburetors |
| Ignition | TCI (Transistor Controlled Ignition) |
| Starting | Elctric |
| Max Power | 106 hp / 74.5 kW @ 10500 rpm |
| Max Power Rear Tyre | 90.4 hp @ 10200 rpm |
| Max Torque | 77.8 Nm / 57.3 lb-ft @ 8500 rpm |
| Clutch | Wet, multiple discs, cable operated |
| Transmission | 6 Speed |
| Final Drive | Chain |
| Frame | Steel, Double cradle frame |
| Front Suspension | 38mm Telehydraulic forks electrically activated anti-dive |
| Rear Suspension | Unit-track air assisted 4-way rebound damping adjustment. |
| Front Brakes | 2x 270mm discs 4 piston calipers |
| Rear Brakes | Single 230mm disc 2 piston caliper |
| Front Tyre | 110/90-16 |
| Rear Tyre | 140/70-18 |
| Wheelbase | 1495 mm / 58.6 in |
| Dry Weight | 195 kg / 430 lbs |
| Wet Weight | 220 kg / 485 lbs |
| Fuel Capacity | 21 Litres / 5.5 US gal |
| Consumption Average | 16.2 km/lit |
| Braking 60 - 0 / 100 - 0 | 14.0 m / 40.5 m |
| Standing ¼ Mile | 11.1 sec / 193.2 km/h |
| Top Speed | 238.7 km/h |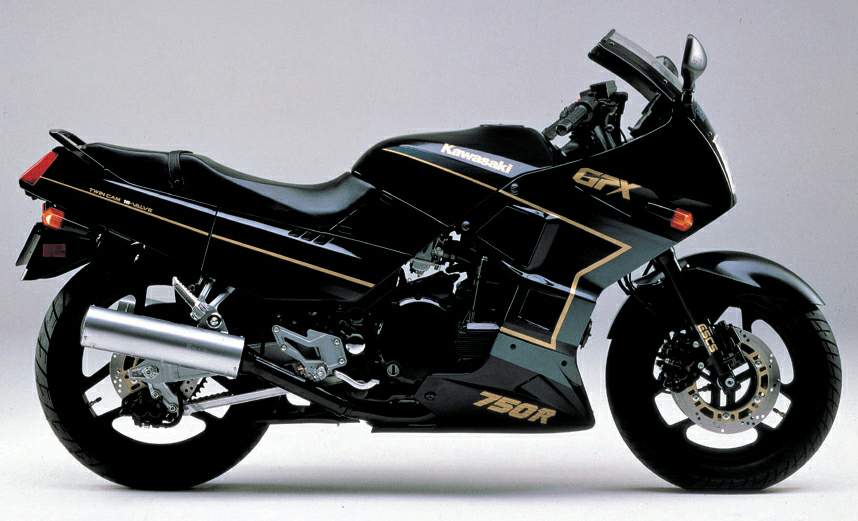 In 1986, the market for 750cc sportbikes was extremely competitive. Suzuki's GSX-R750, Yamaha's FZ750, and Honda's VFR750 were all awesome machines. Bigger-displacement bikes had a dispensation to go porky, so the 750cc class was the thing.
Kawasaki decided they had enough hardcore sportbikes (Ninja 600, 900, 1000) and made what today would be called a sport-tourer. With higher bars and lower pegs than your typical race-rep, the 750R was comfortable for long hauls and low-speed errands, while giving up little on the sport end of things. Cycle World chose it as "best 750cc streetbike" for 1987 and 1988.
While aluminum beam and perimeter frames had become the rage by the late '80s, Kawasaki chose to use a steel cradle for the 750R. They claimed their steel frame was actually lighter than competitive aluminum designs. This did make it harder for feature-obsessed moto journalists to get fired up over the bike. It was obligatory in the reviews of the day to apologize for the steel frame, as the Kawi was the only bike in its class still using one.
The 18-inch rear and 16-inch front wheel sizes were also on the way out in 1987, and by 1990 were seen as archaic, though even for sportriding the handling is fine, the major drawback being limited tire selection.
The 750R engine was all-new. This gave Kawasaki the ability to make it lighter and smaller than other 750 mills, without skimping on power. Putting out about 85hp at the rear wheel (you will see some reviews mention the claimed crank output of 106hp), it was at the top of the class. This motor formed the basis for the hardcore sporting ZX-7 which came along in 1989 and which eventually led to the ZX-7RR racing superbike.
... and now
Motorcycles have come a long way since 1987. But for the money, it's hard to beat the 750R if you can find one. For a mix of sportriding and tamer riding -- including long-distance, two-up, or commuting -- it's excellent. In terms of flexibility I often compare it to present-day bikes like the Honda VFR, Yamaha YZF 600R, and Kawasaki's own ZX-6E.
The motor is very smooth from 2000 rpm into the low powerband at 4500rpm and the high-end goose at 8500rpm. It has plenty of power for aggressive sport riding, track days, and even two-up trips.
Tire selection is limited due to the odd-size rims and bias-ply spec. However, there are several good options depending on your riding style, many of which offer all-around performance which was only dreamed of in 1987.
The transmission ratios are good and shifting is consistent. Kawasaki's Neutral Finder can really keep you from looking like a dork at stoplights. Clutch plate drag does seem to be a common problem, meaning a big clunk when you kick down into first. The bike gets 40-50mpg, giving a touring range of over 200 miles. Riding position is incredibly comfortable but doesn't make you feel disconnected when the going gets twisty.
The narrow fairing offers good wind protection, yet is much less obtrusive from the rider perspective than the fairings on later-model sportbikes.
Shame it's not better looking. The original Ninja, the GPz900R, holds up aesthetically today, but the 750R plastic looks more like a Hurricane knockoff. At least the color schemes were tame.
The thing that the bike benefits from most, besides good tires, is suspension work. The stock suspension is somewhat squishy, and the bike can weave mildly in high-speed sweepers. Most of the magazine reviews of the day thought it was fine except for a dearth of rebound damping in back.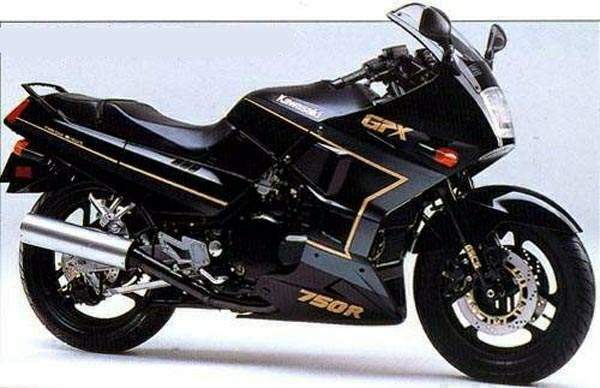 Mine
I bought my 750R in April 2002. I rode it over 12,000 miles that year, including a 4,000 mile tour through eastern Canada, and used it in an MSF Experienced Rider Course and a track day with great results.
It's probably the most comfortable bone-stock bike I have ever ridden. (For reference, I'm 5'11", long limbed, 175 lbs., and have ridden these bikes.)
A few notes that might be of use to other owners:
The best tires I've found are the new Metzeler 330/550 combo. The Metzelers feel great on the street or track. They're also great in the rain. I got about 6,000 miles out of the rear and close to 8,000 out of the front, which exhibited minimal cupping. If these didn't exist I'd probably run the Bridgestone BT45. I can't recommend the Dunlop options (the GT501 or its predecessor the K591), because while they're good in the dry they are dangerously slippery in the wet. The same is true, to a lesser extent, of Avon Supervenoms. (Update: I'm told that the 330/550 combo has already been discontinued. Can anyone confirm?)
The headlight bulb is a standard H4 and so can be upgraded with many aftermarket options (many of which are illegal for on-road use of course).
The stock speedometer is about 6-8% optimistic. I learned this by installing a Sigma BC800 bicycle computer.
If your windscreen is decomposing like mine was, JC Whitney sells a tinted replacement, as does MCW.
Front suspension: I have gold valve cartridge emulators installed, stock springs and about 3" of PVC preload spacer. I think the front is about as good as it's going to get.
Rear suspension: I recommend putting 20-30psi in the rear shock (check to see that it still holds air) and setting the rebound damping to "4" (maximum). This was suggested in many of the old reviews, and has worked well for me.
Source cycl.info