Make Model

Kawasaki GPX 250R

/ EX250 Ninja

/ ZZR 250

Year

1986 - 90

Engine

Four stroke . parallel twin, DOHC , 4 valve per cylinder

Capacity

248 cc / 15.2 cu-in

Bore x Stroke

62 х 41.2mm
Cooling System
Liquid cooled

Compression Ratio

12.4:1

Induction

2x Keihin CVK30 Constant velocity, diaphragm-type

Ignition

Electronic advance
Spark Plug
NGK CR8HSA, CR8HIX, CR8HVX option CR7HSA, CR7HIX
Starting
Electric

Max Power

45 hp / 33.5 kW @ 11000 rpm

Max Torque

24 Nm / 17.7 lb-ft @ 10000 rpm
Clutch
Wet, multi-disc, manual, cable-actuated

Transmission

6 Speed
Final Drive
Chain
Frame
Tubular diamond design

Front Suspension

Telescopic forks

Front Wheel Travel
140 mm / 5.5 in

Rear Suspension

UNI-TRAK

single shock

Rear Wheel Travel
130 mm / 5.1 in

Front Brakes

Single 260mm disc

Rear Brakes

Single 230mm disc

Front Tyre

100/80-16

Rear Tyre

130/80-16
Rake
27°
Trail
84 mm / 3.3 in
Wheelbase
1400 mm / 55.1 in
Seat Height
740 mm / 29.3 in
Ground Clearance
150 mm / 6.1 in

Dry Weight

138 kg / 304 lbs

Wet Weight

160 kg / 355 lbs

Fuel Capacity

18 Litres / 4.7 US gal

Standing ¼ Mile

13.8 sec / 82.3 mph 132.4 km/h

Top Speed

152.7 km/h / 94.9 mph
The Kawasaki Ninja 250R (codenamed EX250; previous generations had market-specific names) is a motorcycle in the Ninja sport bike series from the Japanese manufacturer Kawasaki originally introduced is 1986. As the marque's entry-level sport bike,[1][2] the motorcycle has undergone few changes throughout its quarter-century lifetime, having received only three substantial redesigns. In some markets the Ninja 250 has been succeeded by the Ninja 300.
Since 2008, the bike is marketed as the Ninja 250R in all markets. It is also referred to by its platform designation, EX250, to which a generational suffix is attached. In the United States, previous models (EX250-E/F/G/H) were already being marketed as members of the Ninja family of sport bikes, while outside of the U.S. the bike was known variously as the ZZR-250, ZX-250, or as the GPX-250R. One of the earliest models, the EX250-C, was given the name GPZ-250.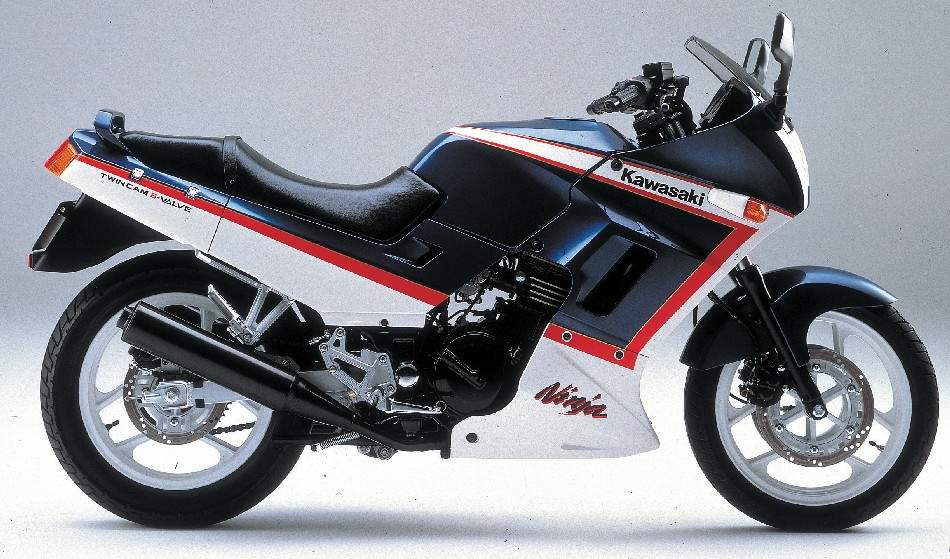 It was 1959 when the Japanese first built a four-stroke 250 that revved to 14,000rpm and produced 35hp - it was a four cylinder Honda racer. Twenty-nine years later Kawasaki have produced a four-stroke 250 that revs to 14,000rpm and produces 37hp - it's a twin-cylinder road bike. Plus ca change, plus la meme chose.
Ever since the 125cc, 12hp learner regulations were introduced into this country
the 250cc class has been languishing in the doldrums, only being kept alive by a handful of trail bikes, commuter machines and a very competitive production racing class. It seemed that people progressing from a learner bike wanted something a little bigger and more exciting than a pedestrian 250 -the 350LC sold in its thousands. Not even the desirable RG250 Gamma could tempt the British back to 250s.
In Japan, meanwhile, the 250 class was at the leading edge of technological progress. Because there is a stepped licensing system there, of which the 250 class is the first rung on the ladder, the Japanese manufacturers have invested milions of Yen on research and development in this all-important class. Sales of 250s in Japan are astronomical and Tokyo is knee-deep in quarter-litre bikes of all shapes and sizes. Purpose-built delivery bikes jostle with state-of-the-art two-stroke race replicas, and in a market where the top-selling 250s sell at a rate of 40 a day it's small wonder that the Japanese consider this class to be so vital. Despite the stunning performance of modern two-stroke 250s there's still a resistance in this country to buying something that not all that long ago would've been a learner bike. It seems that in this country cubic capacity is more important than anything else - never mind that something like aTZR250 will give any 750 a good run for its money (you only have to watch the antics of the 250 proddie boys at the Isle of Man to see that). Even so, some of the importers in this country have taken their courage in both hands and begun to import some of Japan's hot 250s.
Suzuki started it with the 250 Gamma, but it was a long time before Yamaha replied with their TZR. Having achieved moderate success with it Yamaha took then the brave step of bringing in the TDR250 while at the same time Kawasaki announced the introduction of the GPX250, an update of the highly acclaimed GPZ250 that wowed them all in Japan and the States. Suddenly Britain is reawakening to the fact that 250s can be fun as well as relatively cheap to buy and run, and now the only Japanese manufacturer not to have a sports 250 in its range is Honda. Kawasaki's offering is the only one, however, not to feature the very latest in two-stroke technology, mainly because it's a four-stroke... or is it? Well obviously it is a four-stroke because it has double overhead cams and four valves per cylinder, but it's totally unlike any other four-stroke I've ridden because it behaves in many respects like a two-stroke.
The GPX250's twin-cylinder motor is not so much an all new creation as a much modified GPZ250 engine, sporting many features common to its bigger GPX brothers. The 62mm bore and very short 41.2mm stroke displace 248cc, with a compression ratio of 12.4:1. The double overhead cams are chain-driven and actuate four minuscule valves per cylinder by what is now very much standard Kawasaki valve gear. Each valve is moved by an individual cam lobe and rocker arm follower, with the lash adjustment via a screw and locknut on the pivot end of the rocker arm like the GPX750. Although common to all GPX Kawasaki's, this type of valve gear was first used in the GPZ250 and greatly improves intake efficiency over their old valve gear set ups.
In order to iron out some of the inherent vibes put out by a parallel twin, Kawasaki have fitted the GPX with a gear-driven balancer that does a good job of keeping vibration to a minimum.
The engine breathes through a pair of 30mm Keihin CV carbs which are fed from the large airbox via Kawasaki's 'special patented' rubber ducts, and the whole plot is water-cooled by a similar, but smaller system to that used on the bigger GPX's. Drive to the rear wheel is by chain rather than the belt fitted to some 250 Kawas. The effect of all this high-techery is a four-stroke 250 twin that makes a claimed 37hp at 11,000 and 1 Sftlb of torque at 10.000rpm. That's the equivalent of 148hp-per-litre.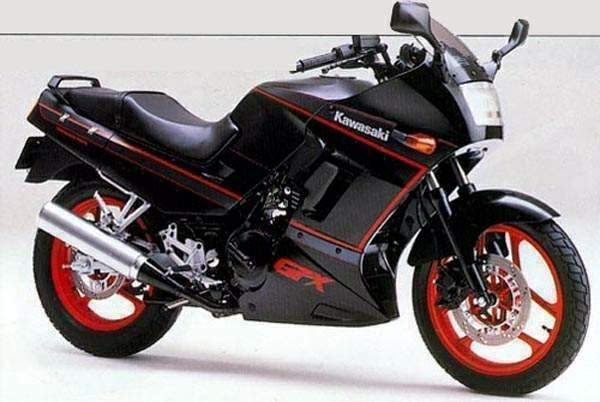 The figures really speak for themselves -this is one peaky motorcycle. From the moment you start it up you realise that it is very different from anything you've ridden before - only the naff choke action (either 'on' at 4000rpm, or 'off' and no go) is there to remind you that this is a Kawasaki. The GPX also takes a long time to warm up and can't easily be ridden around the minute you start it up first thing in the morning. Once under way the engine feels totally unremarkable at the lower end of its rev range. Pottering around town below 6000rpm the GPX feels much like any other four-stroke 250 - pretty sedate and pedestrian. It's only when you ride it in the manner for which it was designed that it begins to show its mettle, pulling with increasing urgency from 6000 revs all the way up to the 14,000rpm redline.
Because it's so gutless at low revs the GPX has a definite two-stroke feel about the way it puts out power. It doesn't have a vicious power band like most two-strokes, but it does build power very quickly from seven grand, and that's where the GPX feels happiest. Just as on a two-stroke, the little Kawasaki needs to be ridden hard and fast, making frequent use of the slick six-speed gearbox and surprisingly (for a Kawasaki) progressive clutch. Considering the rewy nature of the beast, fuel consumption is a reasonable 54mpg. Keep it in the power and the GPX will go with surprising rapidity, revving cleanly up to the redline in the first five gears.
Top gear, however, seems to be something of an overdrive gear because the Kawasaki won't rev beyond 12,000rpm in top (a thousand revs beyond the point that peak horsepower is produced), which gives it a rather disappointing top speed of an indicated 10Omph - a real life 97mph that isn't much faster than a VT250.
If the engine's performance is not as exciting as one would have hoped, the suspension, chassis and brakes make up for it. Surprisingly, there is no suspension adjustment avaiable either front or back but the GPX seems none the worse for it. Front forks are 36mm items, while at the back nestles the familiar Uni-Trak monoshock that for the first time is not even adj ustable for preload. Despite the apparently low-tech nature of the set-up, handling is uncompromised. With a meaty diamond-type frame (similar in design to that used on the GPZ900) keeping everything flex-free, the GPX handles very well. Because the bike is so light and narrow it feels very much like the GPZ500S in its handling characteristics. The springing in the forks and rear shock is fine for someone of my 1751b, butis too soft for anyone much heavier or for serious two-up work. The damping, however, is spot-on and the lack of adjustability isn't missed until you really start working the suspension hard.
Pushing the GPX to its limits is a thoroughly enjoyable experience, mainly because they're not too easily reached. On winding back roads the Kawasaki is in its
element, sixteen inch wheels front and back make It very quick steering, and this f lickability Is further Increased by the racy 27° of rake and a mere 83mm of trail. The GPX250 actually puts more rubber on the road than the GPZ500 and feels very sure-footed as a result. Hustling the Kawasaki through the twisties produces very few dramas, and the only time the handling becomes upset is after giving it prolonged welly, when the damping at the back end begins to fade. Fortunately the 250 lacks the ground-clearance problems of the GPZ500, so the first things to touch down are the rubber hero-bumps on the footrests rather than part of the fairing.
Another piece of trickery inherited from other GPXs is the excellent brake system. Although it only has a single disc front and rear, the set-up is so good that the GPX feels somewhat overbraked. Kawasaki's dual-piston Balanced Actuation Caliper has been fitted to the front disc with the result that the GPX will almost literally stop on a sixpence. The rear brake is just a standard item, but the power and feel of the brakes is truly remarkable and the bike can be brought to a halt with amazing speed and safety.
Styling is always very subjective, but I don't think there are many people who'd argue that the GPX250 is anything other than very pretty. Unlike the GPX750 and 600, the 250 has such smooth, flowing lines and looks very tasty in its black and red livery (the only colour scheme available). The way the fairing, seat and tail unit blend together much better than on other G PXs, but the fairing is also much less effective than on the 600 and 750. The 250's screen is so low as to make crouching down behind it all but impossible, and in trying to make the GPX as slim as possible, Kawasaki have made the fairing so narrow that it affords virtually no weather protection at all. Your hands, arms, upper body and feet are all stuck out in the breeze ready to get nice and wet at the first sign of rain.
Fortunately, the GPX makes up in other ways. The instrumentation is clear and easy to read, switchgear is much improved now that Kawasaki have finally started fitting push-in-to-cancel indicator switches, and the seat is more comfortable than that of bigger GPXs. The riding position is on the sporty side without being too radical or placing too much weight on your wrists, and Kawasaki have even gone as far as fitting the GPX with all sorts of luxuries we all thought had died out - you know, things like pillion grabrails, centrestands, and petrol tanks that take more than three gallons of fuel. The GPX even has practical touches like retractable bungee hooks and a fairing that can be removed in something approaching a trice. What a pity the Japanese still haven't got round to putting decent, loud horns on their motorcycles.
After two weeks with the GPX2501 still don't quite know what to make of it. Kawasaki are touting it as a performance motorcycle, yet it doesn't quite have the performance it needs to succeed at the top end of the hot 250 class. It has all the disadvantages of a two-stroke - a peaky and frenetic engine that needs to be worked hard -without any of a two-stroke's advantages - power and speed. Compared to a TZR250 or RG250 the GPX is heavier by 221b, slower by 15mph, down on power bv around 10hp and produces 30 percent less torque.
All of which would be well and good if the GPX was significantly cheaper than the TZR or the Gamma, but it isn't. At £2499 the GPX is only £60 cheaper than a Gamma, only £100 cheaper than a TDR250, only £250 less than a TZR and the same price as an RD350LC. Even if you wouldn't be seen dead on a two-stroke there are four-strokes that offer much more for almost the same
money - the VT500, GT550 and most of the big singles. Kawasaki's own GPZ500S is only £150 more. The GPX250 is an interesting and capable 'entry-level' bike because of its low seat height and light weight, but it's too expensive by about £500. Then again, the sort of technology that's used in the GPX doesn't come cheap
Source Motorcycle magazine 1988